Stockton News - April 29, 2022
WHAT WE'RE TALKING ABOUT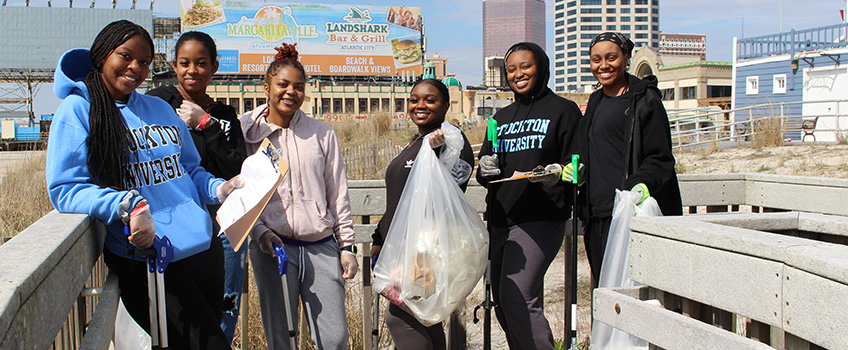 A.C. Community Cleanup and Party in the Park Attracts 1,000
More than 500 people worked up an appetite collecting more than 360 bags of trash at the Stockton University Community Day Cleanup in Atlantic City on Saturday, April 23.
When they got back to O'Donnell Park for the Party in the Park there were four food trucks ready and waiting for them.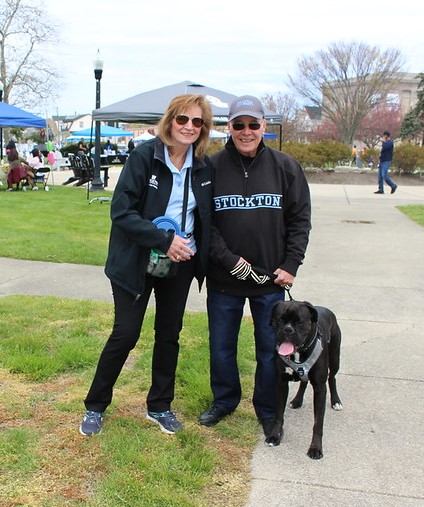 Stockton University Atlantic City hosted its first combined Community Cleanup and Party in the Park as part of the University's 50th anniversary celebration. The City of Atlantic City co-sponsored the event and offered support in picking up the collected bags of trash.
"We have always said we want to be part of the city, not just in the city," said Stockton University president Harvey Kesselman, who attended with wife Lynne. "This day is such a great way to bring people together for fun and a good cause."
📸 View a gallery of photos from the event.
📰 In the News:The Press of Atlantic City
---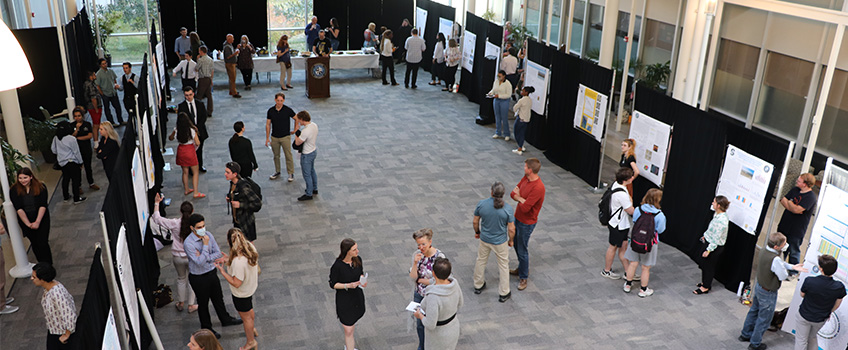 Undergrads Present Research at Science and Math Symposium
A fitting way to celebrate Earth Day, more than 70 students shared35 research projects at the School of Natural Sciences and Mathematics (NAMS) Symposium on April 22 in the C-D Atrium.
"The NAMS symposium is a showcase for the extraordinary talent of our students working with an engaged and nurturing faculty," NAMS Dean Peter Straub said. "I am proud of their current accomplishments and see great things in their future."
STOCKTON UNIVERSITY ATLANTIC CITY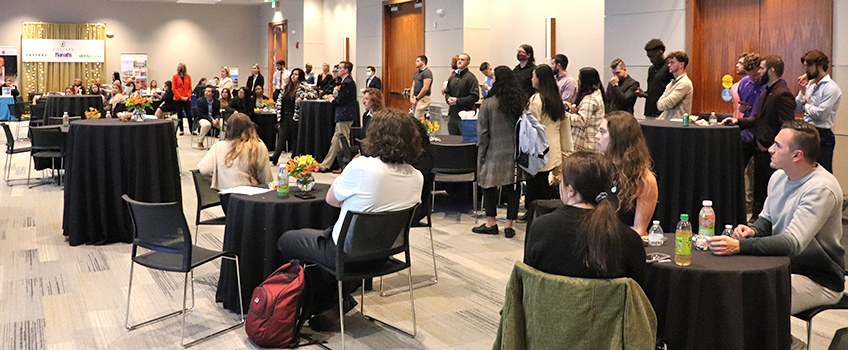 Young Leaders Expo a Success for Student Organizers
The inaugural Young Leaders Expo helped students in Stockton's School of Business learn the ropes when it comes to establishing a professional career while giving them the opportunity to network with prominent business professionals.
Over two semesters, students in the Event Experience class organized the event from ideation to execution. More than 100 students, faculty, staff and employee partners attended the expo April 25 in Stockton Atlantic City's Fannie Lou Hamer Event Room.
WHAT'S TRENDING

@ #STOCKTONU
Facebook: SNEAK PEEK 👀 Meet some of the future #StocktonU Class of 2026.
LinkedIn: The redbuds are bursting with beauty at #StocktonU this week.
Instagram:We missed seeing your smiles, Ospreys 🦅. It's been a while.
FROM THE SIDELINES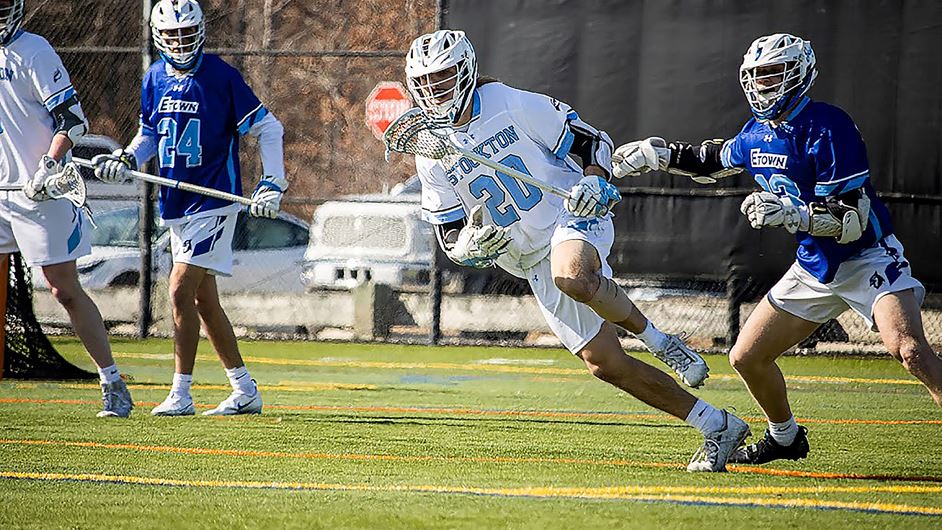 Stockton Holds On for 22-19 Win
Men's Lacrosse: Stockton fell behind by five goals early, but rebounded for a 22-19 win over Eastern University on April 28. Luc Swedlund led the Ospreys with seven goals, as Stockton won their 12th straight game.
The Eagles came out firing, potting the first five goals of the game, including the first two within the first 42 seconds of the game. The home team hit the net three more times, before the Ospreys righted the ship.
📅 Stockton will begin the CSAC Tournament as the number one seed, starting on Tuesday, May 3, at home. Time and opponent are to be determined.
---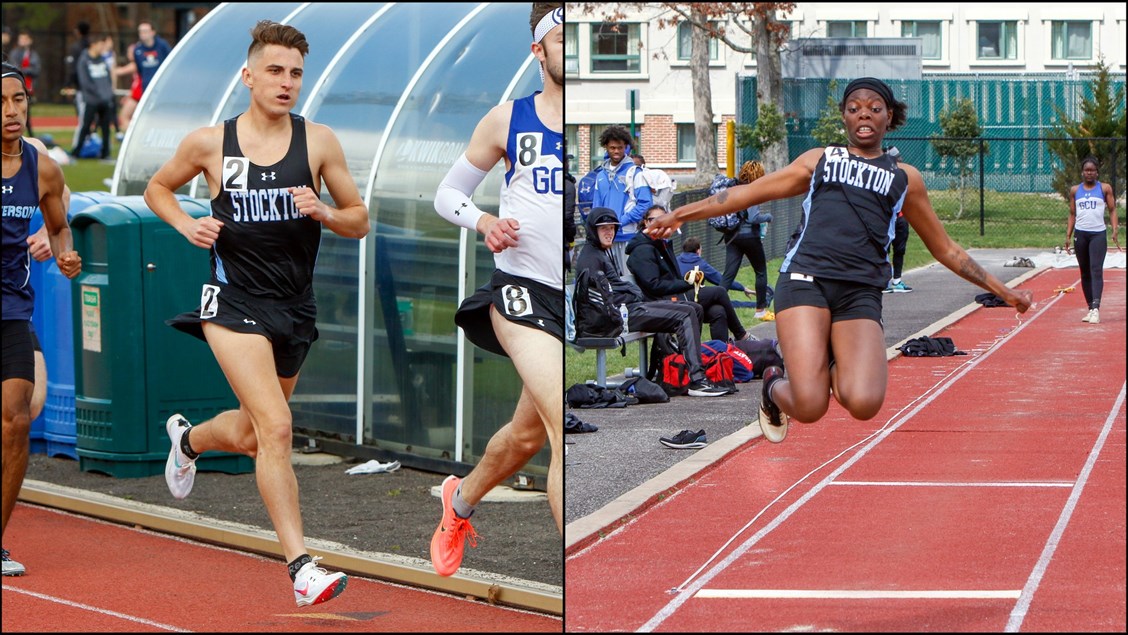 Stockton Competes in Widener Invitational
Track & Field: Stockton was one of over 30 teams to compete in the two-day Widener Invitational last weekend. The Ospreys won a total of three events and broke one school record at the large meet.
Carson Latham won the 100m in a field of 75 sprinters (10.98 seconds) and finished third out of 94 in the 200m (22.04 seconds). Keith Holland collected another victory in the pole vault (4.65m) and teammate Joseph Morales was the runner-up.
---
⚾ Stockton Prevails Over NYU 12-11
Baseball: Stockton and New York University hooked up for the third time this season on April 27, with the Ospreys coming out on top 12-11. Ryan Mihlebachblasted a solo home run in the bottom of the ninth to give Stockton the victory. NYU had won the previous two matchups this year.
🗓️ View the full schedule of upcoming athletic events here.
WE'RE HERE TO HELP
COVID-19 Information
😁 MASK UPDATE: The University is now mask optional. Faculty may continue to require masks in their classes. KN95 and surgical masks remain available at the Campus Center Information Desk, Wellness Center, Division offices, the library, and off-site Stockton locations. Details are in the Campus Operations FAQ.
💉 BOOSTER REQUIREMENT: Employees are now required to receive a COVID-19 booster dose. Use the Employee tab in the Portal to update your booster status or submit to Joyce.Wilson@stockton.edu in the Office of Human Resources so that your status can be confirmed. Should you have any questions, contact Mamta.Patel@stockton.edu.
💉 VAX UP!: AtlantiCare will hold COVID-19 vaccine clinics in West Quad 103 through May 2. Boosters are available. Details and dates are on the COVID-19 website.
Resources for Faculty and Staff
The Office of Human Resources announced a series of employee training and development opportunities for 2022. Visit here for a calendar of the opportunities available, and here for descriptions of the specific trainings and development offerings.
🧠 Stockton provides faculty and teaching staff with professional development, training, teaching ideas, resources and individual consultations via the Center for Teaching and Learning Design. Upcoming events include: Show Up & Write with FAWN sessions, So, How Did It Go?, May 6; and Stockton University Leadership Series for New Program Chairs - Exploring Your Career Goals, May 6. Visit here for more offerings and information.
📧 Add Yourself to Stocktalk: Stocktalk is an email discussion forum where Stockton employees are able to share a number of topics including birth announcements and obituaries; scholarly tips, tricks and recommendations; approved survey announcements and faculty/staff book releases. If you would like to join the Stocktalk Distribution Group to receive Stocktalk emails, log into your Outlook account in your web browser and followthese steps located under "Adding/Removing Yourself From Distribution Groups."
OSPREY NOTES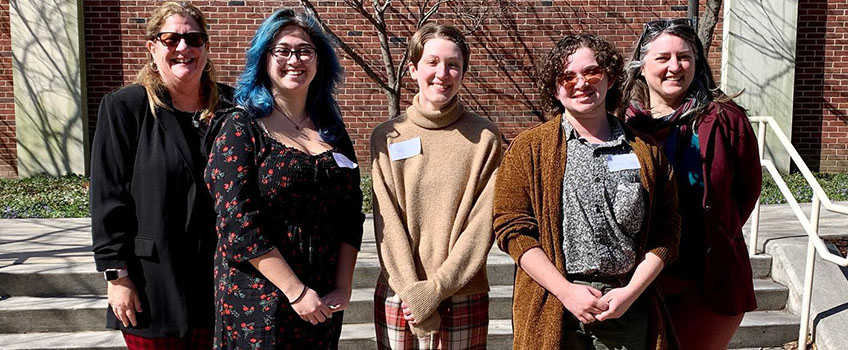 Students Represent Stockton in Annual Colloquium
Three Stockton University students presented their research in a student panel during the New Jersey Women and Gender Studies Consortium 18th Annual Undergraduate Colloquium.
Students Jennah Figueroa, Cassius Navarro and Mary Reitmeyer were a part of the "Intersectional Literary Analysis" panel discussion at the colloquium, which was held at The College of New Jersey in March. Reitmeyer was also awarded an Emerging Scholar Prize.
---
Stockton Sentiments and Memories . . .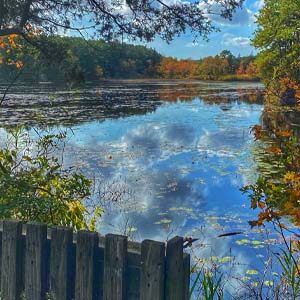 "Started in 1976, right after the certification of Stockton. I am the first student to graduate with two full degrees (B.S. Geology, B.S. Environmental Science.) Those three years were some of the best, and yet, they gave me the platform to continue making better days. Seven years as a staff geologist in Kansas. Thirty-four years of teaching high school science... 22 years as an adjunct professor. I have traveled to science destinations my whole life: rafted the Grand Canyon, mountain climbing, swimming in the exact middle of the Pacific Ocean, scuba diving, working as a volunteer in an aquarium, and animal husbandry... and now as I retire, I am working as an adjunct professor at Coastal Carolina University teaching in their marine science institute. I miss the quiet walk across Lake Fred in the morning for that 8 o'clock class... I can never quite find that peace... I miss those days, and used those days as a platform to an adventurous life... thank you, Stockton."
-Jeffrey Stewart '79
Have a memory you'd like to share in celebration of Stockton's 50th anniversary? Submit it here.
UPCOMING EVENTS