Stockton News - Friday, April 24, 2020
WHAT WE'RE TALKING ABOUT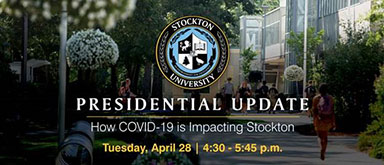 COVID-19 Update on Impact to University April 28
PresidentKesselman will provide an update on how COVID-19 is impacting Stockton during a Zoom webinar from 4:30-5:45 p.m., Tuesday, April 28. He will be joined by Susan Davenport, executive vice president and chief of staff; Michelle McDonald, interim provost and vice president for Academic Affairs; and Jennifer Potter, chief financial officer.
There will be time allotted for questions. Please submit questions in advance by email to PresidentialUpdateQuestions@stockton.edu.
Zoom webinar instructions will be provided on the day of the update.
We are looking forward to this opportunity to come together as a community and address the unprecedented challenges we are facing as a University.
---
'How We Are Helping #StopTheSpread' Feature Launches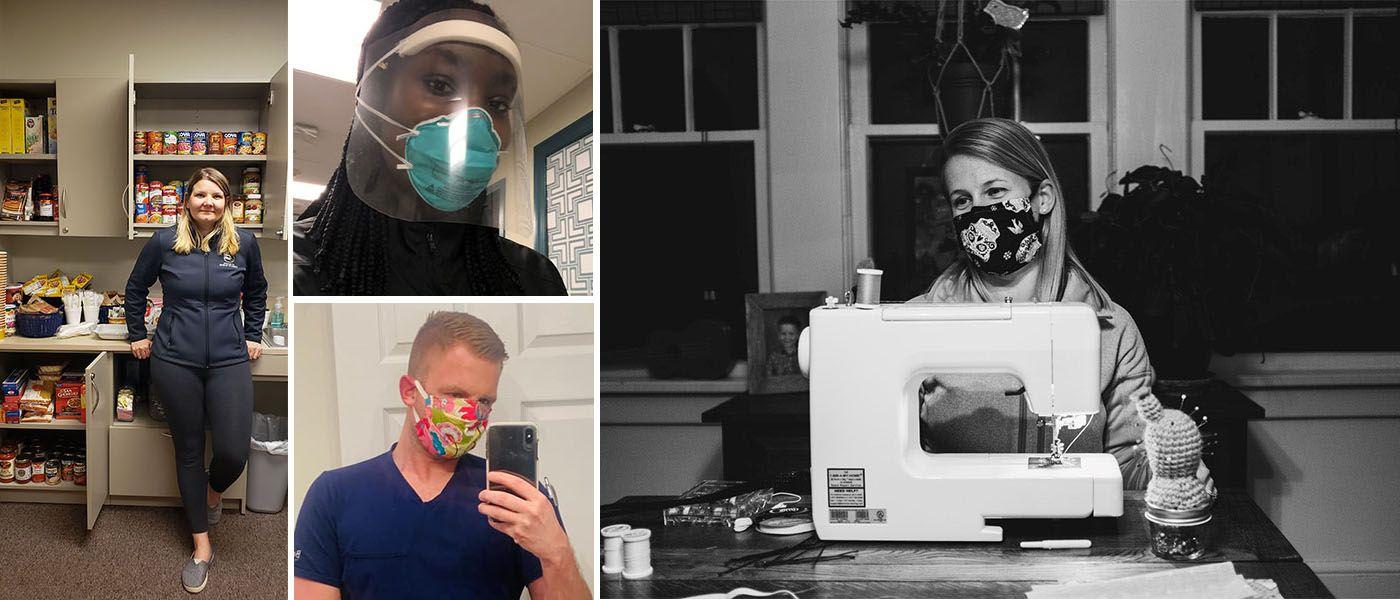 Community service and civic engagement are integral to Stockton's mission. Stockton faculty, staff, students and alumni have taken that mission to heart, reaching out to help others as we all battle the COVID-19 pandemic. Their efforts make all of us at Stockton proud and show that when the going gets tough, Ospreys soar.
University Relations & Marketing is highlighting these stories in the new, ongoing feature "How We Are Helping #StopTheSpread."
Have a story to share? We want to hear it! If you, or someone you know in the Stockton community, is doing something to help, let us know by emailing Diane D'Amico or sharing on social media and tagging @stockton_edu or #stocktonu. Don't forget to include a photo!
---
S.J. Economic Review Projects Impact of COVID-19
In 2019, the South Jersey Regional Economy had its best year since 1984.
But, the very personal nature of the hospitality, tourism and gaming industries on which South Jersey's economy depends will create extra challenges for a quick recovery in 2020 from the ongoing COVID-19 pandemic, according to the Spring 2020 edition of The South Jersey Economic Review, released April 20.
---
Stockton Celebrates Earth Day from Home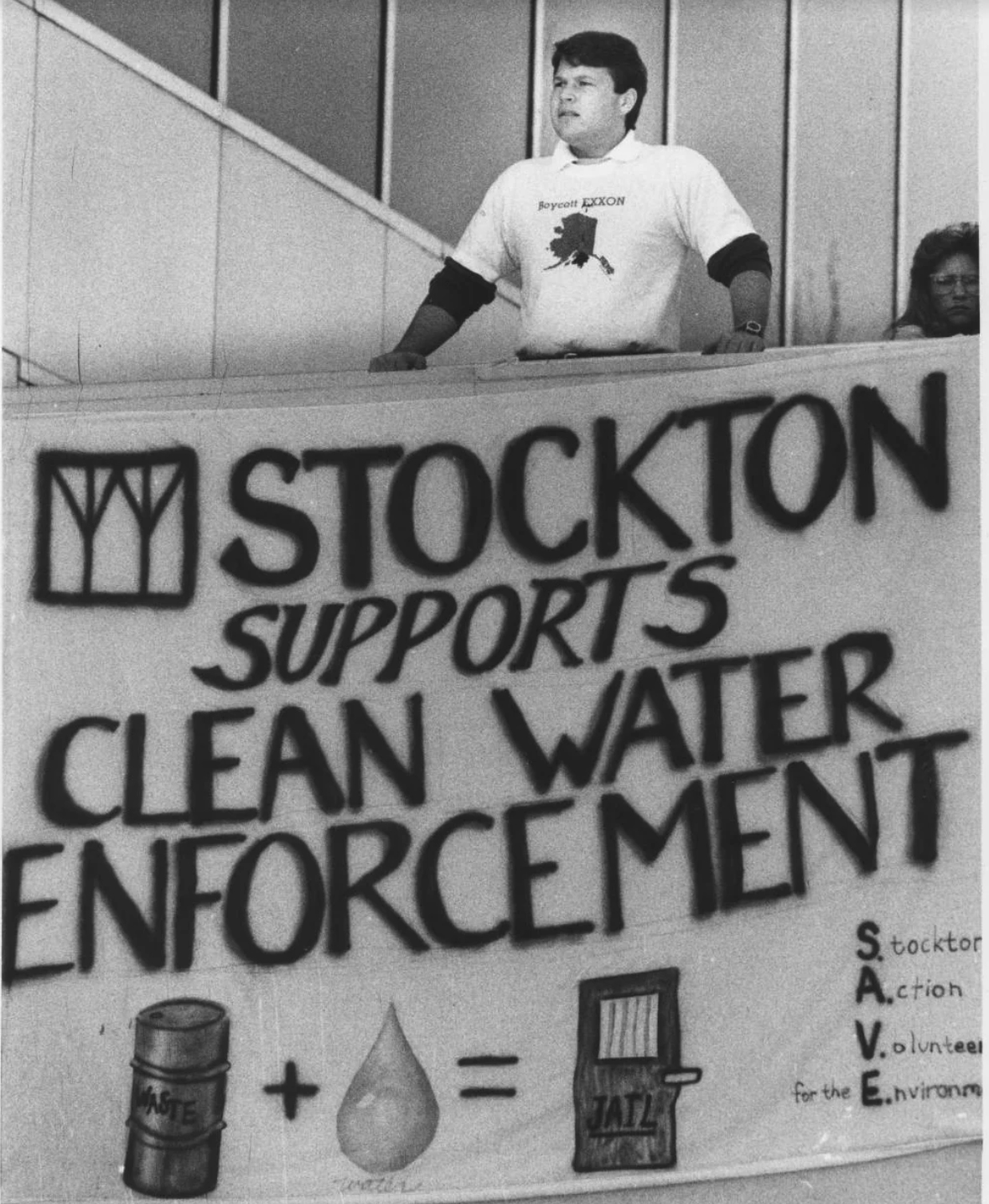 For the first time in 50 years, there are no public Earth Day gatherings, but the Stockton community is still celebratingfrom their homes and backyards.
Although this may not be how a milestone anniversary is typically celebrated, the stay-at-home orders have resulted in needed environmental changes and a break for Mother Nature. Right here in South Jersey, migratory shorebirds and turtles are arriving to empty beaches for undisturbed nesting and clearer skies are wowing stargazers.
Both Stockton and Earth Day are celebrating their 50th anniversaries this year, and one Osprey remembers the inaugural Earth Day and Stockton's early commitment to maintaining an environment for excellence.
WE'RE HERE TO HELP
Resources Available to Staff, Faculty During COVID-19
There are many resources and best practices being made available to staff and faculty working remotely that can be found by visiting Instructional Technology's website. Tips for online course instruction can be found here.
The Center for Learning Design has upcoming workshops to assist faculty in using Blackboard. Go to "events" section of the CDL website for details and the Zoom connection.
The Office of Human Resources offers online Training Options for Stockton Employees. In case you missed it, this week's online training spotlight focuses on services offered by our Employee Assistance Program. Highlights include Deer Oaks Working From Home Tip Sheet, Build Psychological Immunity During the Coronavirus Outbreak and Keep Calm and Carry On: Maintaining Your Composure Amidst the Pandemic Panic.
Join M. Alysia Mastrangelo, professor of Physical Therapy, for weekly Wellness Wednesdays through May 6 from 8-8:30 a.m. on Zoom. Learn how to infuse wellness into your day. Zoom Password is 4wellness.
The Office of University Relations and Marketing has created a file of templates for Stockton Zoom backgrounds that can be downloaded from the URM website. They include scenes of the campus, Lake Fred, and the Campus Center as well as the Osprey and Stockton logos.
Stockton News invites faculty and staff to share any tips & tricks for working and teaching remotely and your stories on your experiences operating remotely. Please share by emailing UniversityRelations@stockton.edu.
SPOTLIGHT ON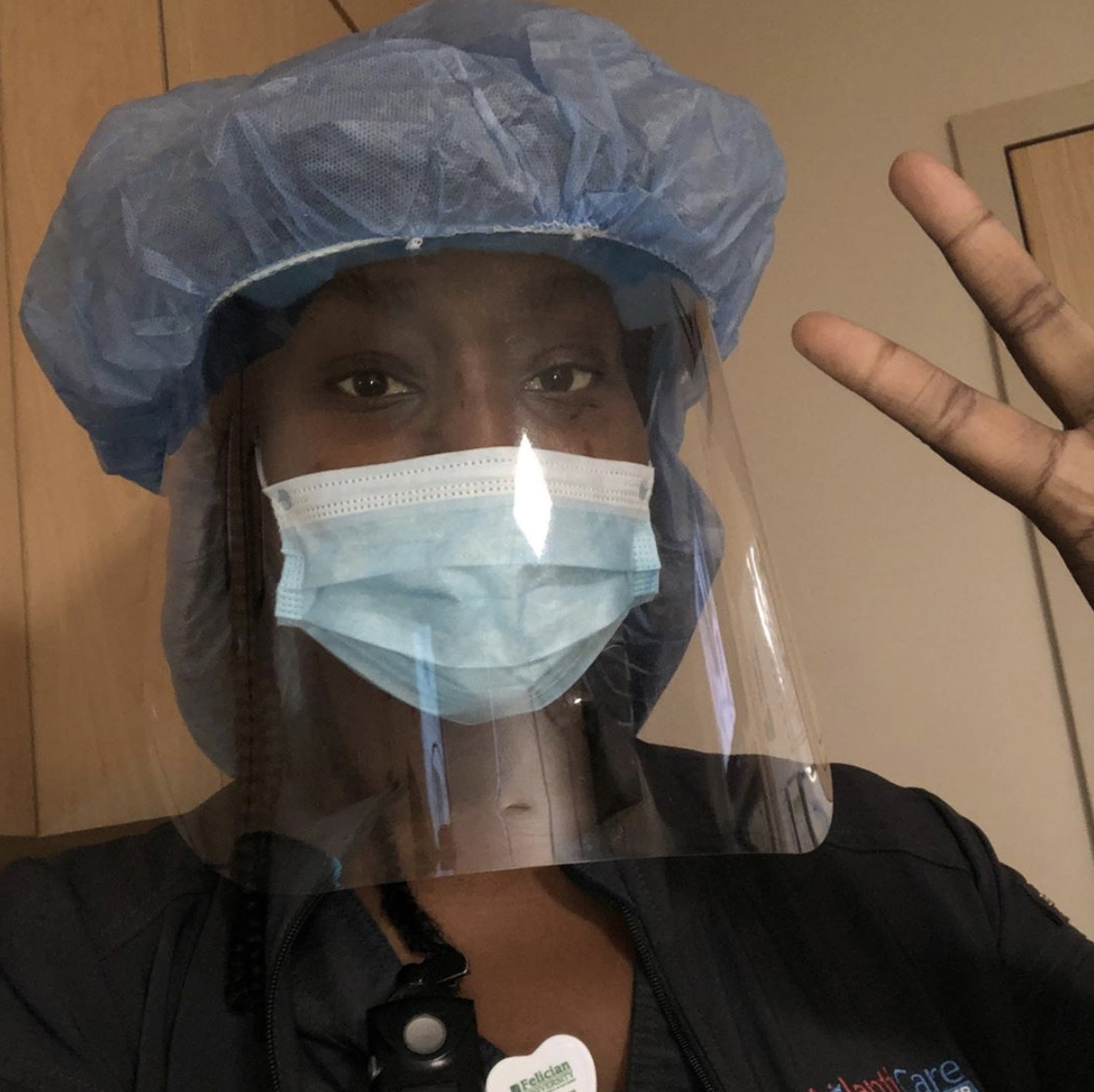 Health Science Student Also Works in Emergency Room
Amanda Onyeyemla, a junior Health Science major at Stockton University, is finding the courage to help patients with the coronavirus from her childhood experience conquering sickle cell anemia.
When Onyeyemla couldn't join the Transition Activity Leaders of New Students (TALONS) for a virtual Zoom meeting, she texted a photo as proof.
The selfie shows Onyeyemla, of Sicklerville, N.J., wearing a mask, shield and cap sending a peace sign to her peers before she started her 12-hour shift in the Emergency Room at AtlantiCare's Mainland Hospital.
FRAME-WORTHY

A Virtual Stroll around Lake Pam
I think it's safe to state I am not alone in missing strolls on the beautiful grounds we are lucky to work on.
While not exactly the same, you can take a virtual walk around Lake Pam by flipping through this flickr album.
Learn more about Pam and how she was formed by visiting Stockton's Natural World blog managed by Jack Connor, professor emeritus of Writing.
🍁 If you want to stay in the woods a little longer, take a walk with Aaron Stoler, assistant professor of Environmental Science, as he begins to identify red maple trees for the Stockton maple grant project.
WHAT'S TRENDING #STOCKTONU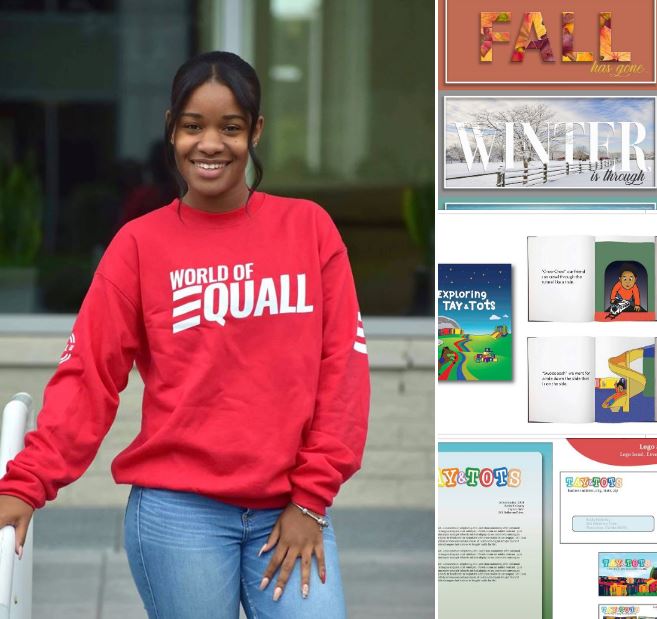 Facebook:
Without access to the Stockton University Art Gallery, the Visual Arts Program is doing what they do best--creative visual communication--to showcase senior art projects. Instead of the gallery walls, the Senior BFA Exhibition is happening right here.
FROM THE SIDELINES
Stockton Teams Were Off to Great Start Before Cancellation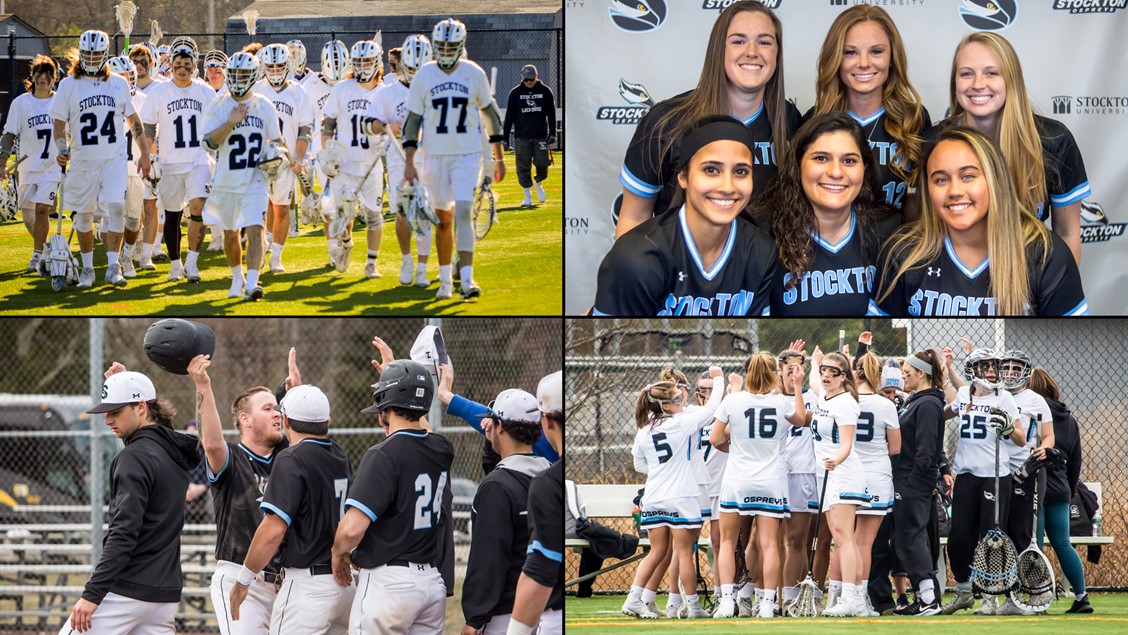 The Spring 2020 season was off to a fantastic start at Stockton University before its unfortunate cancellation due to the COVID-19 pandemic. The Osprey baseball, men's lacrosse, softball and women's lacrosse teams were a combined 18-5 (.783 winning percentage) in the abbreviated slate of games.
OSPREY NOTES
FAFSA Filing Deadline Extended to June 1
The New Jersey Higher Education Student Assistance Authority (HESAA) announced on April 1 that the deadline for current students to apply to renew their State financial ai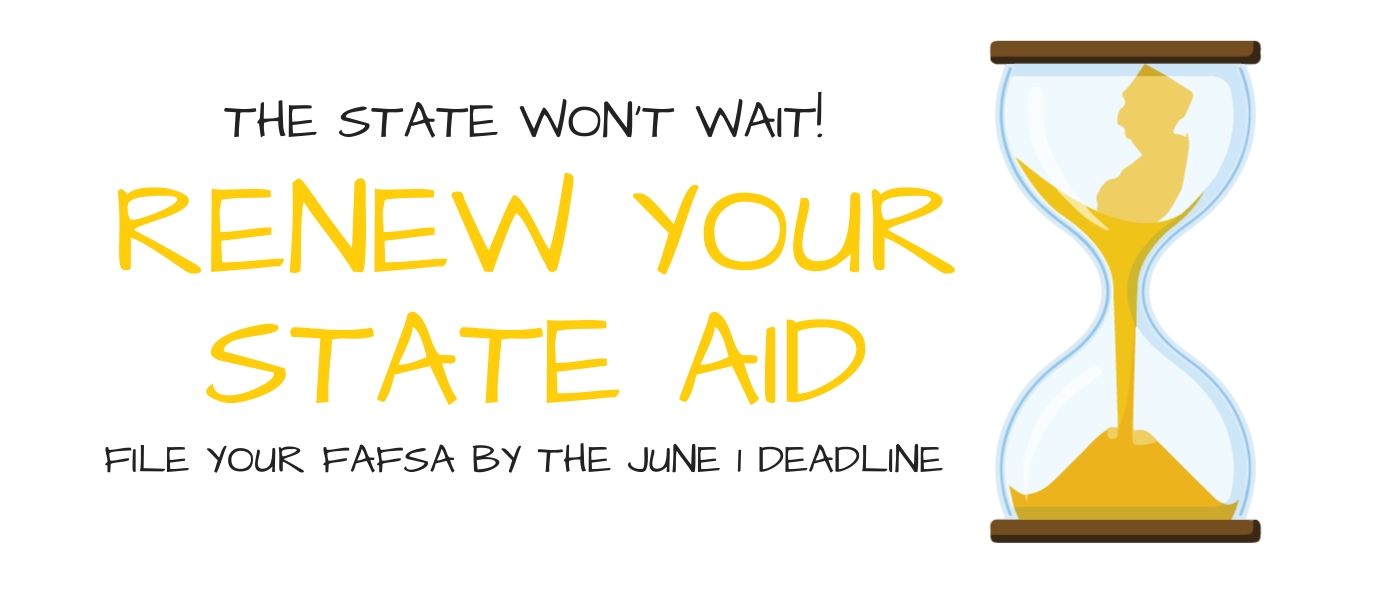 d has been extended from April 15 to June 1.
Faculty, please encourage your students to file the 20-21 FAFSA by June 1. Anyone who misses this deadline will lose out on over $7,500 of free money for the 20-21 academic year, if eligible.
Please note: All remaining FAFSA Friday sessions for the Spring 2020 semester have been cancelled; however, the Office of Financial Aid is still available to help.
Remember, the State Won't Wait! Students can apply at fafsa.gov.
Staff in the office are working remotely, so please have students contact us at finaid@stockton.edu with any questions they may have and someone will work to respond as soon as possible.
UPCOMING VIRTUAL EVENTS
April 24-25: The annual Emerging Choreographers Showcase
April 24-27:Yom HaShoah Holocaust Remembrance Week events
May 6: 12th Annual Jersey Shorecast