Stockton News - April 23, 2021
WHAT WE'RE TALKING ABOUT
President Kesselman Addresses Chauvin Verdict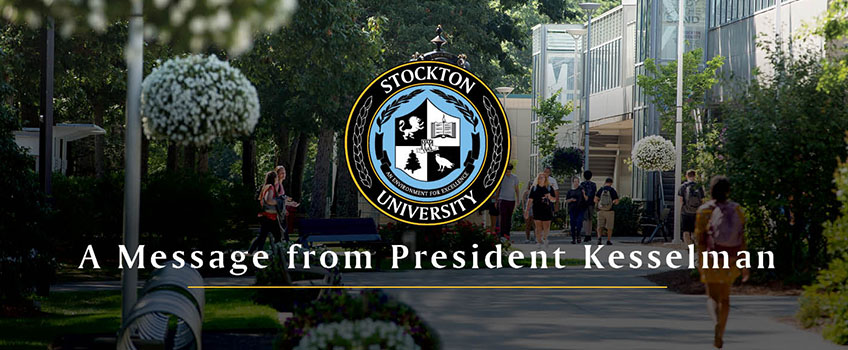 In a message to the campus community on April 20, President Kesselman shared the following:
It's been said, "Throughout history, it has been the inaction of those who could have acted, the indifference of those who should have known better, [and] the silence of the voice of justice when it mattered most that has made it possible for evil to triumph." - Haile Selassie
On May 25, 2020, it was this inaction, this indifference, this coldness of heart, and the astonishing callousness of sickening resolve that once again, caused the death of a black man in America, Mr. George Floyd.
But for today, however, the voice of justice was not silent nor muzzled. For today, the voice of justice spoke resoundingly, proclaiming the sentiments of what the global and national audience demanded. For today, the deliberators confirmed what former police officer Derek Chauvin could not see… that the life of George Floyd mattered, and still does.
And yet for many, today is still a day of sadness. For minutes away from the very courthouse that gave voice to Mr. Floyd, a family, a community, and the nation mourns the life of Mr. Daunte Wright, another black man, just 20 years old, killed by the hands of those in authority.
Read the entire message here.
---
School of Business Forms New Advisory Board
The Stockton University School of Business has formed a Dean's Executive Advisory Board to assist its efforts to provide students with advanced skills, internships and job placement opportunities.
The members of the board represent a cross-section of business and industry.
"The vast experience and diverse backgrounds of these professionals made them uniquely positioned to help the Stockton School of Business achieve its goals and expand its reach," said School of Business Dean Alphonso Ogbuehi. "We are thrilled and honored they have agreed to work with Stockton for the benefit of our students and the community."
📰 In the News:Press of Atlantic City, New Jersey Business
---
Model UN Team Named Distinguished Delegation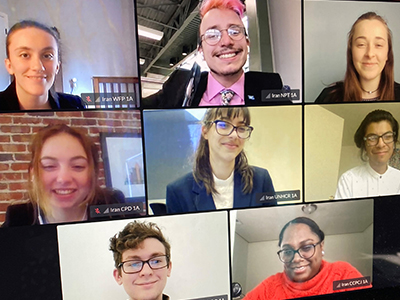 The Stockton University Model UN team won a Distinguished Delegation award for their performance at the virtual National Model UN (NMUN) conference March 26-31.
Working with Model UN Advisor and Associate Professor of Political Science Tina Zappile, the team of eight students represented the Islamic Republic of Iran. They worked eight hours a day for four days, collaborating in the Gatherly platform with over 1,400 students from around the world and using Google to negotiate and write resolutions for global issues in eight different UN committees.
---

Tune in for the sixth episode of Stockton Now, Saturday, April 24 at 10 a.m. on WIBG 1020 AM and 101.3 FM or Monday, April 26 on WLFR. In April's episode, Alphonso Ogbuehi, dean of the School of Business, talks about the future of the school and its programming; Robert Gregg, dean of the School of General Studies, explains the benefits of taking summer courses at Stockton; and Heather Medina, director of Admissions, discusses the new Stockton Promise grant and how Stockton is working to make education more affordable.
If you missed previous episodes, you can listen online at the Stockton Now archive page.
WE'RE HERE TO HELP
There are many resources and best practices being made available to staff and faculty working remotely that can be found by visiting Information Technology's website.
💻 IT Services has a new page for people who want to request hardware, software or programming services. Anyone wishing to make an IT request should fill out the appropriate form here.
Surveys indicate that as the pandemic drags on, student, faculty and staff stress levels have increased. Is this what you are noticing in yourself, in your students, in others? There are resources and events available to Stockton community members, including training, self-care tips and yoga. See how you can Choose Wellness.
🧠 Stockton provides faculty and teaching staff with professional development, training, teaching ideas, resources and individual consultations via the Center for Teaching and Learning Design (CTLD). Visit the CTLD events page for a variety of workshops.
👉 Employees who have returned to work on campus fulltime are reminded to update their email and voicemail messages. Departments that are no longer fully remote should remove or update COVID-19 operational statements from their webpages.
🧪 Stockton is offering FREE COVID-19 testing to students and employees at the Lodge at Lakeside. Go to Stockton University Testing to select a date and time to be tested and register on the Visit-Health portal. Visit Health Care now provides antigen rapid tests, which take 15-20 minutes to receive results. Students and employees may choose that option when they arrive at their appointment.
💉 Faculty, staff and students can check with their local providers and schedule a COVID-19 vaccination appointment. All residents over the age of 16 in New Jersey are eligible to receive the vaccine. You may voluntarily report if you have been vaccinated. The link is included in the Daily Health Pledge email; personal information remains confidential. A daily report is on the coronavirus website.
📸 If you received your vaccine, you can update your Facebook profile picture with a "Stockton Vaxxed Up" frame. Search "Stockton Vaccine" under the frame options and apply the graphic.
🔴 The New Jersey Civil Service Commission (CSC) has adopted a new, temporary rule which provides eligible State employees in the career, unclassified or Senior Executive Service with two new types of COVID-19 Paid Leave: COVID-19 Sick Leave and COVID-19 Family Leave. For more details and additional FAQs, visit here.
If you have an appointment to be vaccinated during your normal work hours, you do not need to utilize personal sick time. When completing your timesheet you will record these hours under the "CV19SickSelf" code to cover that time. If you use this code, you must submit your vaccine documentation to Joyce Wilson in Human Resources at Joyce.Wilson@stockton.edu. If you have already submitted sick, personal or vacation time for a COVID-19 vaccine appointment, you can submit a payroll recap form through stockton.edu/payroll.
SPOTLIGHT ON: SCOTT HUSTON
Huston Named 2021 Digi-Tech Innovator Award Honoree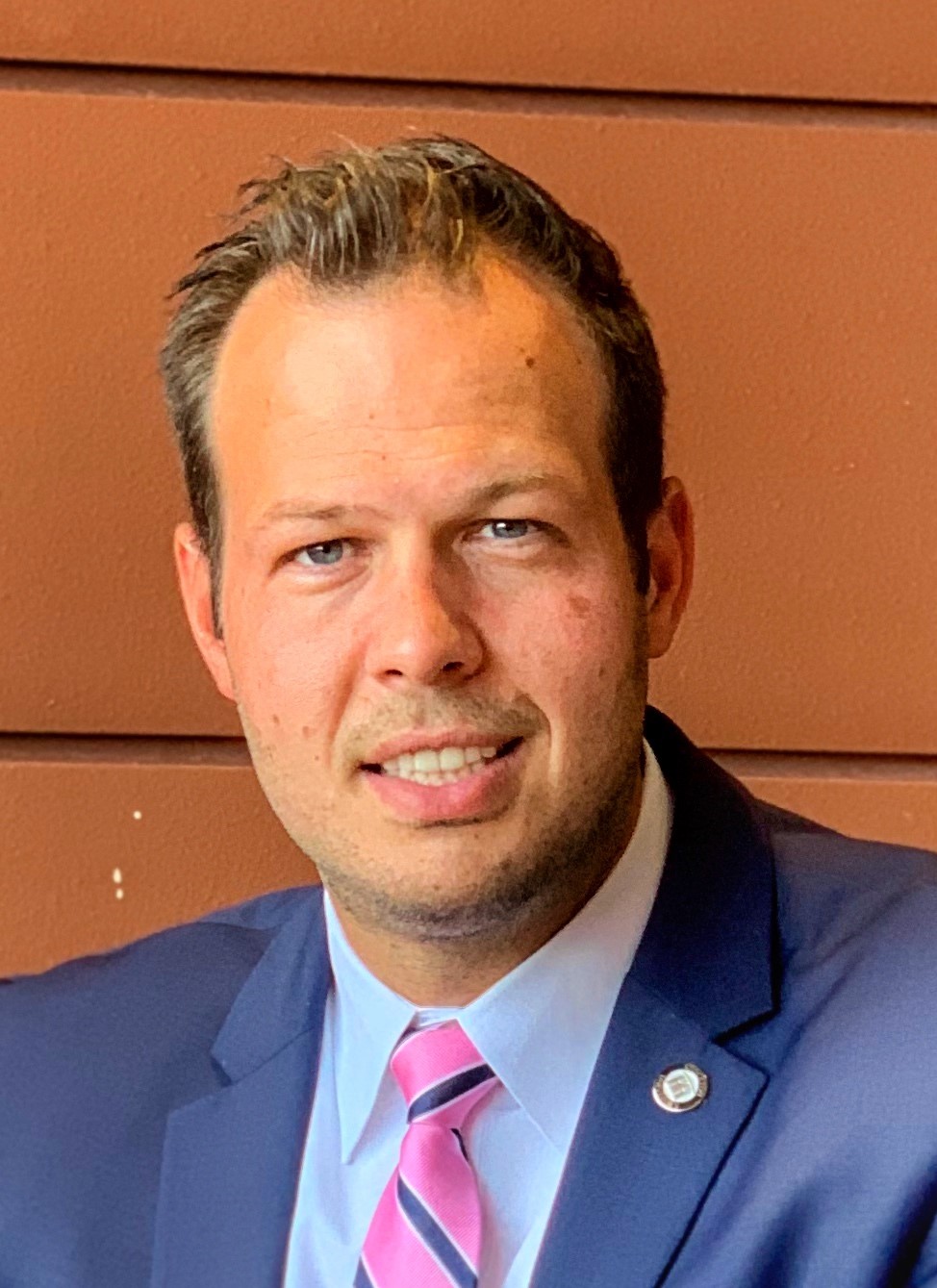 Scott Huston, chief information officer at Stockton, was recognized recently as a leader in the business community, being named a 2021 Digi-Tech Innovators Awards honoree by NJBIZ. Honorees were showcased yesterday, April 22, during a virtual awards presentation.
An announcement on NJBIZ's website states, "These executives represent pioneers from New Jersey who have and are, introducing significant advances in the technological and digital space at their organizations, thus enhancing the overall productivity and performance of their companies.
In today's tech-reliant world these trailblazers represent a wide swath of industries from real estate to health care, to public relations to – of course – technology, and more."
"I am truly honored to be recognized by NJBIZ as a 2021 Digi-Tech Innovator Award honoree. It inspires me that my work at the University is allowing for the education of the future leaders of tomorrow," Huston reflected. "All the innovative, reliable and sustainable technologies that we implement at Stockton are providing the means for our students to continue advancing their knowledge and abilities while also becoming engaged in their communities. I take great pride in my work knowing the huge role it will play in shaping the future of our society."
WHAT'S TRENDING @ #STOCKTONU
FROM THE SIDELINES
Women's Tennis: Stockton Blanks Rutgers-Camden 9-0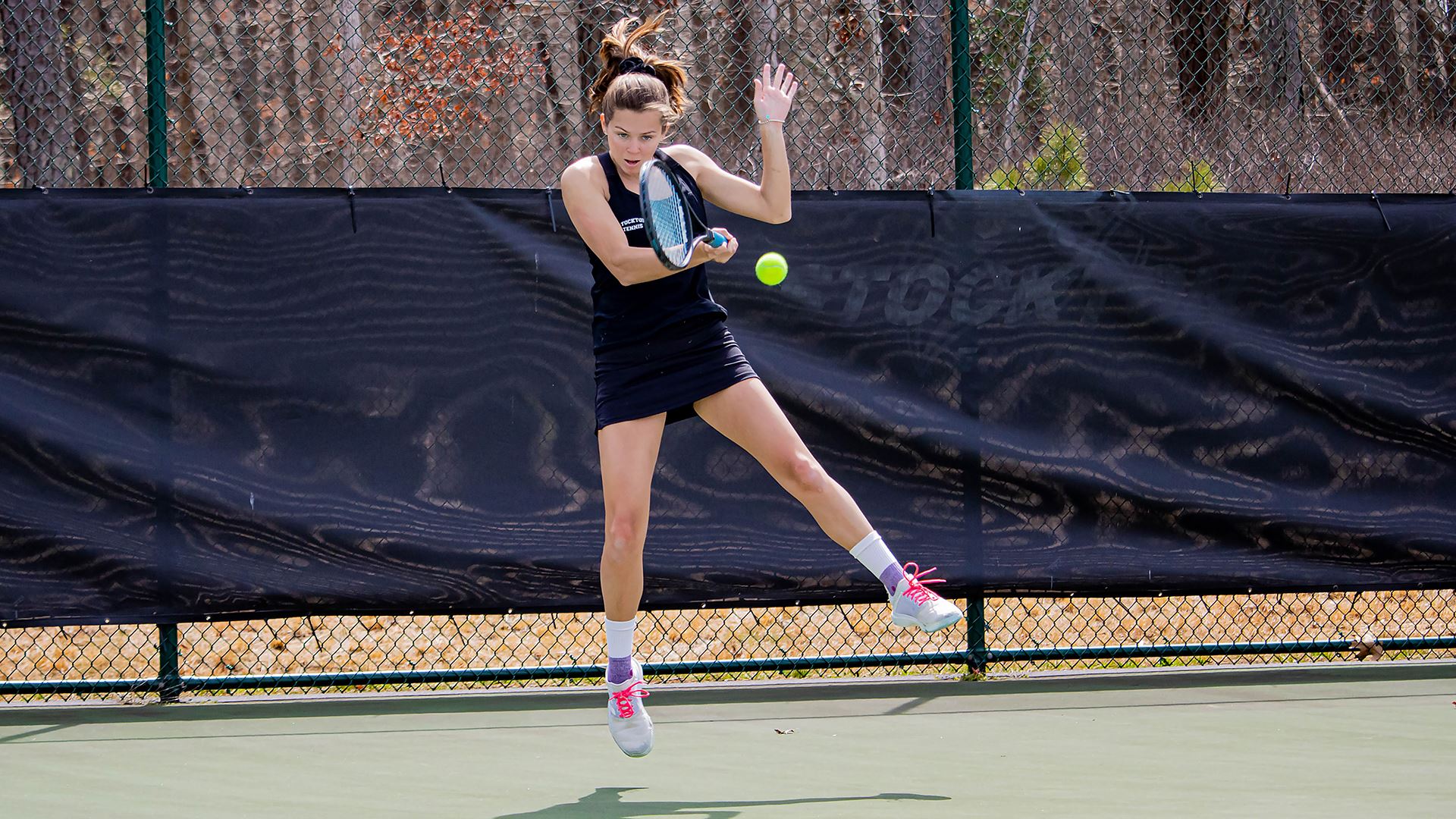 Stockton University won all nine matches for a 9-0 victory over Rutgers-Camden. The win was the third straight for the Ospreys. Five Stockton players won matches in both singles and doubles.
---
Men's Soccer: Five Ospreys Selected NJAC All-Conference
Five Stockton University men's soccer players received NJAC all-conference honors for the Spring 2021 season. Junior James McCombs and freshman Owen Kitch were selected to the NJAC First Team.
---
Women's Soccer: Five Ospreys Garner NJAC All-Conference Nods
Five Stockton University women's soccer players were recognized with NJAC all-conference honors for the Spring 2021 season. The quintet led Stockton to a 3-2-2 record and a berth in the NJAC Tournament semifinals.
⚾️ Catch more athletic news here
OSPREY NOTES
Library Streaming Video Service Update; Survey Available on Library Instruction
The streaming video service offered through the library will end on June 31, 2021. This impacts faculty who use video content in their courses. Joe Toth, director of Library Services, has set up a "Zoom Room" at 2 p.m., Monday, April; 26; and 10 a.m., Thursday, April 29, to explain these changes and answer any questions.
Additionally, the library is in the process of revising and updating its instruction program. A brief survey is open to all faculty, even if you've never requested library instruction in the past. The input collected will help determine the library's next steps.
UPCOMING EVENTS