Stockton News - Friday, April 12, 2019
WHAT WE'RE TALKING ABOUT
Stockton Research Focuses on Effects of Teeth Whitening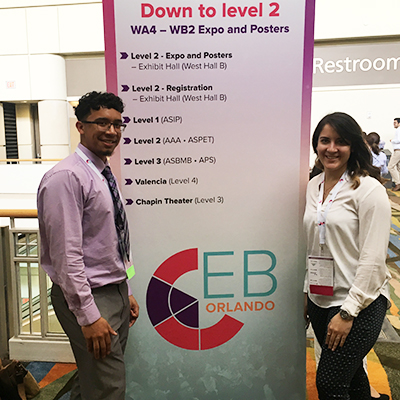 Getting whiter teeth may have some negative side effects according to research by a Stockton faculty member and her students.
Undergraduates working in the laboratory of Associate Professor of Chemistry Kelly Keenan presented their research on teeth whitening products at the American Society for Biochemistry and Molecular Biology annual meeting during the 2019 Experimental Biology meeting April 6-9 in Orlando, Florida.
Many media outlets, national and international, shared the research including The Today Show, WebMD, Men's Health, The Sun, The Daily Mail and more.
---
Stockton Campaigns Win Multiple Marketing Awards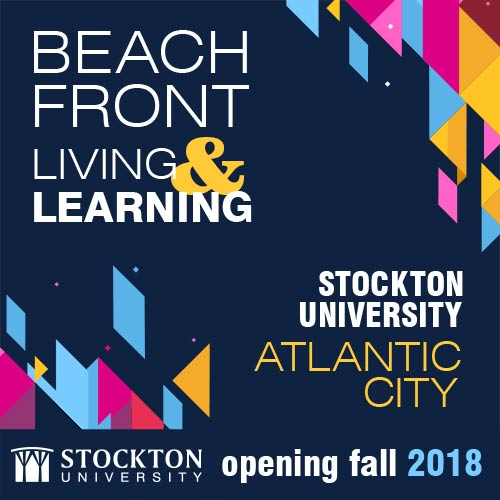 University Relations & Marketing (URM) earned a record number of awards in 2018 for both its "Choose Stockton" admissions campaign and its "Beachfront Living & Learning" marketing for the opening of Stockton University Atlantic City in Fall 2018.
---
Stockton Poll Indicates Residents Want Repair Work
Motorists say New Jersey roads and bridges are in bad shape and should be fixed. But only a minority are willing to personally pay more for road work, preferring federal funding to repair infrastructure, according to a Stockton University Poll released on April 9.
STOCKTON UNIVERSITY ATLANTIC CITY
Stockton Women's Leadership Council Debuts Speaker Series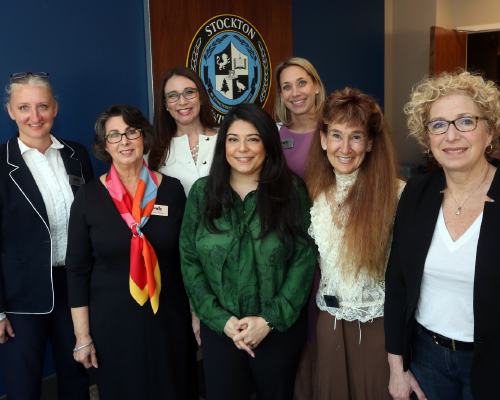 The Stockton Women's Leadership Council (SWLC) kicked off its Distinguished Women. Distinctive Voices. series April 4 with Ferial Govashiri, former personal aide to President Barack Obama, as the inaugural speaker. The event brought more than 115 members of the community, as well as Stockton faculty, staff, alumni and students, to the Fannie Lou Hamer Room at the Stockton University Atlantic City Academic Center.
Pictured are SWLC Speaker Series sponsors and members Cristina Stummer, Johanna Johnson, Whitney Ullman, Alicia McMackin, Gayle Gross and Cookie Till.
---
Math Day a Fun Day for Atlantic City Third Graders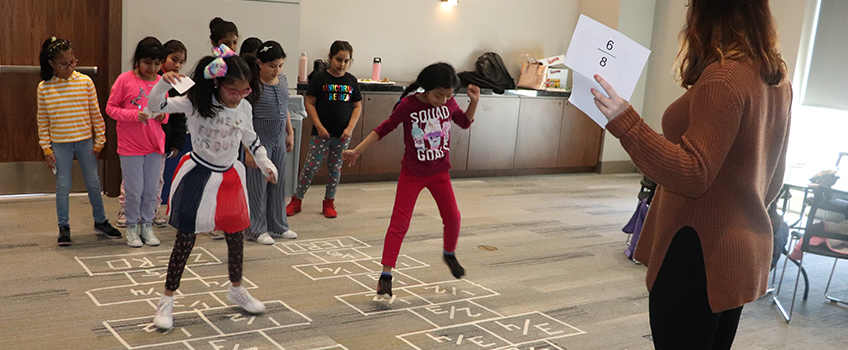 The 90 third graders at the Sovereign Avenue School spent a day at Stockton University Atlantic City applying their math skills to games and activities at a Math Day sponsored by the School of Education on March 28. Students in the program coordinated with the classroom teachers to create activities that linked to what the teachers were doing in class.
---
Catch a Movie at Stockton University Atlantic City
"AC Campus Movie Nights: Cinema in the City" is featuring Spiderman: Into the Spiderverse at 8 p.m. on Friday, April 19, in the Stockton University Atlantic City residential classrooms B119/120. Attendees are asked to bring their Stockton IDs.
For events happening at Stockton University Atlantic City, visit the online calendar.
SPOTLIGHT ON
Jacobson Brings Back Global Perspectives from Bishkek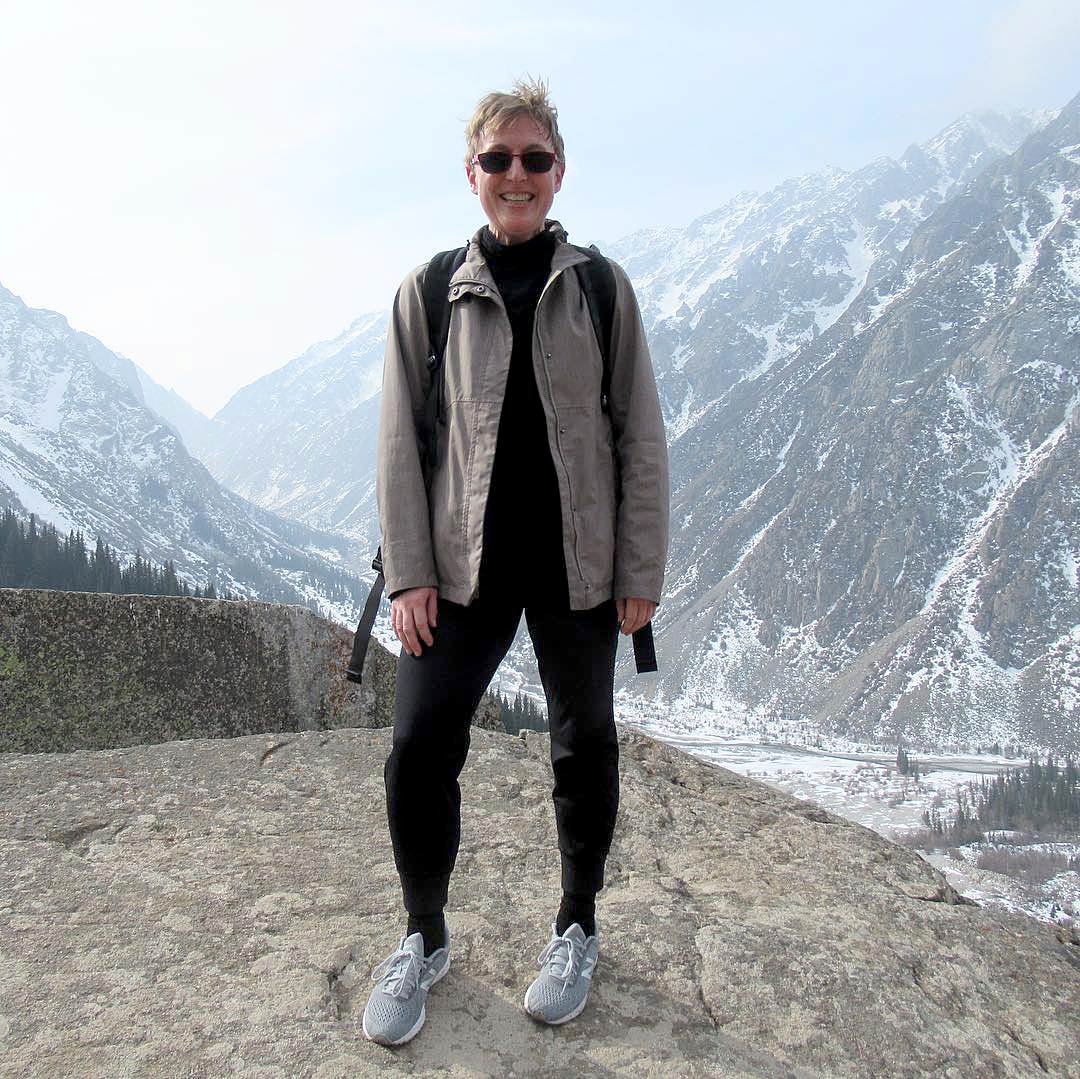 Kristin Jacobson, professor of American Literature at Stockton University, was a Fulbright Specialist from Feb. 15-March 19 at the International University of Kyrgyzstan in Bishkek, Kyrgyzstan. This was the second Fulbright experience for Jacobson, who taught American Environmental Literature and Research Methods in Spring 2018 at Aristotle University in Thessaloniki, Greece.
The Fulbright Specialist program operates with a roster of specialists in different concentrations. Based on Jacobson's expertise in American Studies, she was matched and asked to apply to University of Kyrgyzstan's (IUK) request.
---
Women of Color in Leadership Share Successes, Challenges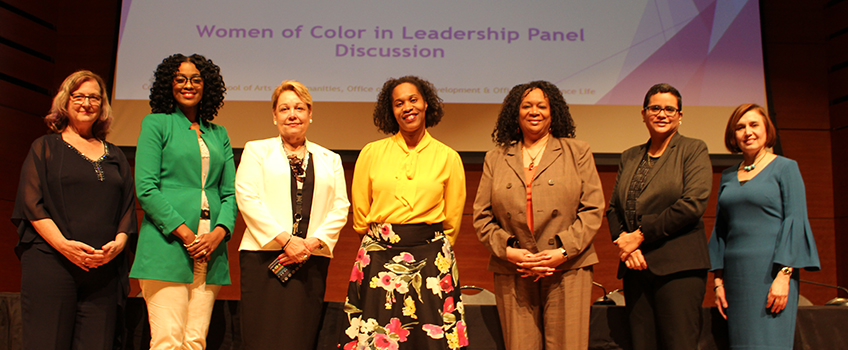 It's not easy being a woman of color in a leadership position, but it is crucial for women to take on those roles so they have a voice when decisions are made, speakers told the audience at a Women of Color in Leadership panel on March 27 in the Campus Center Theatre.
---
Interview features Rodriguez's Experience as Washington Internship Program Liaison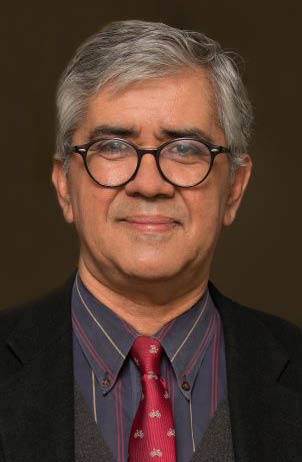 An interview with Michael S. Rodriguez, associate professor of Political Science and campus liaison for the Washington Internship Program, was featured in this article by The Washington Center. The piece discusses the partnership between the University and the center and the resulting benefits for students. Rodriguez has been the campus liaison for the program since 2006.
"Stockton students can count on levels of support most institutions in the country do not provide; our interns receive an exclusive $2,550 discount from the Washington Center and an $800 stipend from the University," Rodriguez said. "This unique level of support makes an internship semester in Washington comparable, in terms of affordability, to a semester on campus."
FRAME-WORTHY
Woodstockton IX Draws Thousands to Big Blue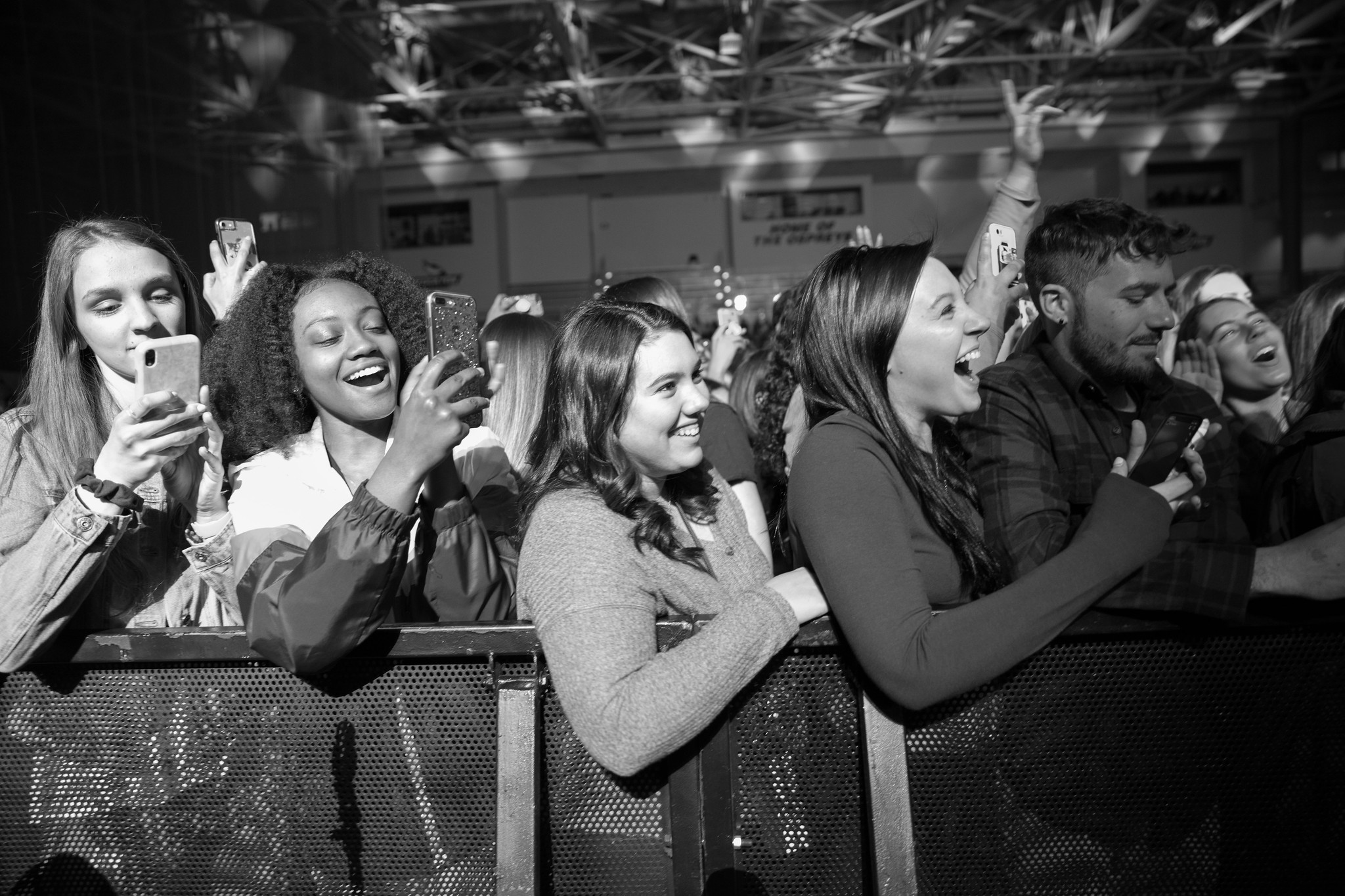 Woodstockton IX Spring Concert, sponsored by the Stockton Entertainment Team, took place April 2 at Big Blue at Stockton's Galloway campus where musicians Jesse McCartney and PNB Rock performed for nearly 2500 audience members.
A highlight included McCartney singing to a student on stage. Stockton students Cole Moore and Lillian "Lills" Nicklens opened for the headliners.
See more photos from Woodstockton IX on flickr.
---
Doctor of Physical Therapy Students Receive White Coats
Stockton University class of 2020 students enrolled in the Doctor of Physical Therapy (DPT) program received their honorary white coats at the DPT Commitment to the Profession Ceremony on April 3, in Alton Auditorium.
Thomas Nolan, associate professor of Physical Therapy; Lori Vermuelen, provost and vice president of Student Affairs; and Margaret Slusser, dean of the School of Health Sciences opened the ceremony with remarks relating to pride, hope and best wishes for graduates.
WHAT'S TRENDING #STOCKTONU
Instagram: Theater Performance major Amira Lee takes us behind the scenes to meet the costume designers, stage crew and actors who brought A Midsummer Night's Dream to the Stockton Performing Arts Center. Don't miss the interview with the director, Aaron Moss, assistant professor of Theater, who talks about adding his own unique twist to the production.
Facebook: Whale, this is an article you de-FIN-itely don't want to miss. Jacalyn Toth Sullivan, an adjunct professor of Marine Science, explains that the recent sightings are the result of whales following their food source into the bay and nearshore waters.
Instagram: Stockton Service-Learning Bonner Leaders hosted a Spring Fling with the Arc of Atlantic County at the Noyes Arts Garage in Atlantic City on April 6, to give children and adults with special needs an afternoon of dancing, games, food and fun.
THE SIDELINES
Stockton Wins Eight Events at West Chester
Stockton University won eight events and added six runner-up finishes to highlight a strong day of competition, April 6, in the Bill Butler Invitational at West Chester University. The Ospreys won six men's events and two women's events on the day.
OSPREY NOTES
New Strategic Plan Draft Available for Review
A new Strategic Plan draft is available for review and can be accessed by logging into your GoStockton portal.
Winter 2018/19 'SoJourn' Published
The South Jersey Culture & History Center (SJCHC), an organization supported by Stockton University, has released its Winter 2018/19 edition of SoJourn. SoJourn is a publication dedicated to South Jersey history and folklore, released twice a year, consisting of numerous essays penned by local community members, avocational historians, and scholars.
FAFSA Fridays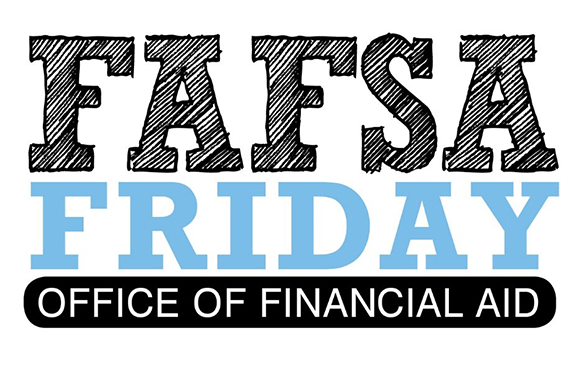 Do you have students who are looking for financial aid assistance? The Office of Financial Aid is hosting "FAFSA Fridays" from 11 a.m.-1 p.m. every Friday, through April 19, in the F114 computer lab to assist students with the financial aid process. Returning students need to file their FAFSA applications by April 15 and answer their additional questions on NJFAMS in order to be considered for the State Tuition Aid Grant (TAG). If they fail to meet this deadline, they will not be considered eligible and may miss out on free money to pay for school. Students who have utilized federal student loans are required to complete EXIT Counseling on studentloans.gov before the Grad Finale, which starts on April 22.
Choose Summer at Stockton
Stockton's summer sessions are open to undergraduate and graduate students enrolled in degree programs, non-matriculated students, and students currently enrolled at other institutions who wish to study during their summer break and transfer Stockton credits.
UPCOMING EVENTS
Friday, April 12-Saturday, April 13: African-American Cultural Heritage Short Course
Wednesday, April 17: noon-2 p.m., Origami Showcase 2019, lower E-Wing lower gallery, lower F-Wing Atrium
Tuesday, April 23: NAMS Symposium
Wednesday, April 24: Graduate Research Symposium
Thursday, April 25: Bring Your Child to Work Day
Tuesday, April 30:Graduate Open House at Kramer Hall in Hammonton
Tuesday, May 7: Doctoral and Master's Commencement Ceremony, Sports Center, Galloway campus
Friday, May 10: Baccalaureate Commencement Ceremony, Jim Whelan Boardwalk Hall, Atlantic City