Stockton News - April 8, 2022
WHAT WE'RE TALKING ABOUT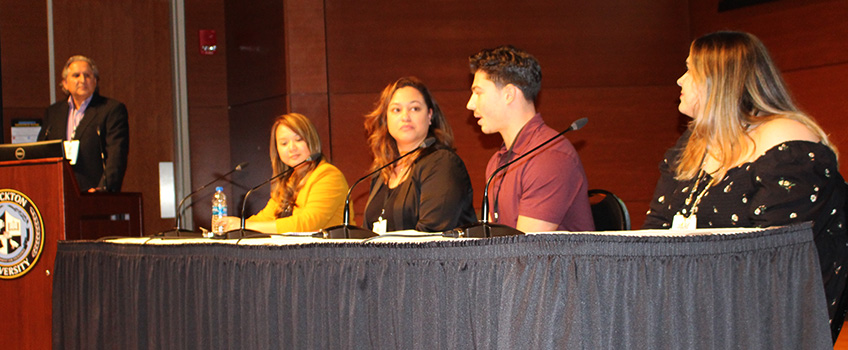 Cannabis Businesses Ready to Hire
Business owners and vendors collected student resumes, a photographer offered free professional portraits, and visitors to the April 5 Cannabis Career Fair and Business Expo walked away more educated about the programs in Cannabis studies offered at Stockton University.
More than 300 people attended the day-long event, held in the Campus Center and co-sponsored by Stockton University, the New Jersey CannaBusiness Association and NJ Cannabis Insider.
Expo visitors – many with resumes in hand – spent the day shaking hands with cannabis business owners, filling out employment applications, and getting the scoop about open employment.
📰 In the News:The Press of Atlantic City, Daily Journal
---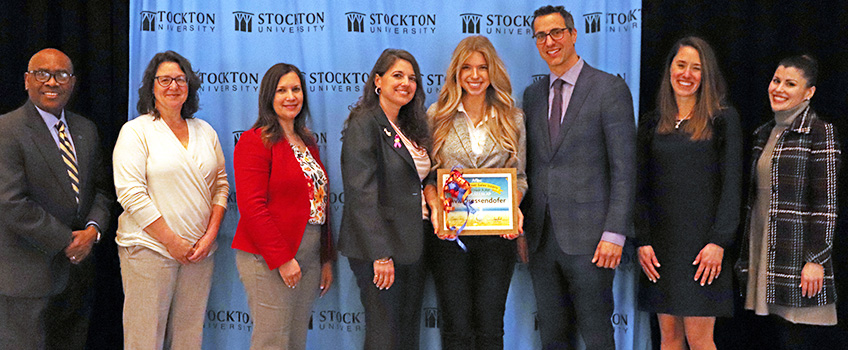 Ava Dressendofer Named Aflac Top Sales Intern
Freshman Ava Dressendofer is a political science major on the pre-law track at Stockton University, but she's learned through experience that selling insurance opens many doors.
Dressendofer was named by Aflac insurance as the top sales intern in the country during the summer of 2021, closing 27 accounts and selling over $120,000 in annual premium. She also was named Rookie of the Year for the New Jersey territory and won a trip to Aflac's 2022 National Convention in San Diego.
---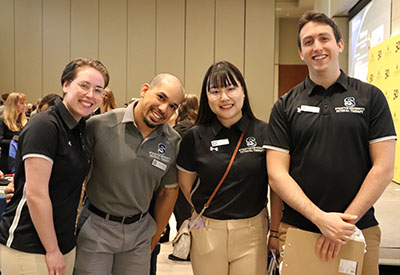 Stockton Health Sciences Graduates in Demand
The Campus Center Event Room buzzed with activity as over 100 Stockton students and 30 clinical partners from the tristate area connected in person during the School of Health Sciences Networking Career Fair on March 29.
Many of the students in attendance were eager to learn about the job opportunities available to them as they start clinicals and begin to think about life after graduation.
"I met my clinical instructor who's going to be guiding me through my clinical experience this summer. That's an eight- to 10-week experience, so it's good to see them face-to-face already," said Connor Pagkalinawan, a second year Doctor of Physical Therapy student.
STOCKTON UNIVERSITY ATLANTIC CITY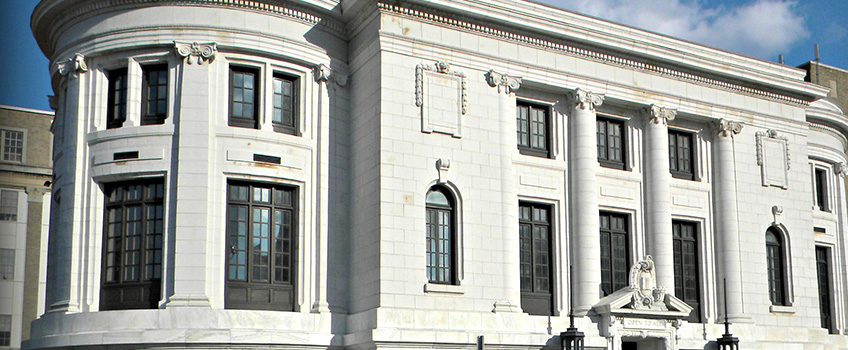 Carnegie Center Ownership Returned to City of Atlantic City
Stockton University has formally returned ownership of the Carnegie Center to the City of Atlantic City.
The historic Carnegie Library, built in 1904, served as the city's library until the library moved to a more modern facility in 1985. The Casino Reinvestment and Development Authority acquired the then abandoned building in the 1990s and spent several million dollars to restore it.
The CRDA conveyed ownership of the property to Stockton in 2009 and the University used the building for various academic programs and events in the city. When the new Stockton Atlantic City campus opened in Fall 2018, the University began moving those programs to the new Academic Center.
📰 In the News: The Press of Atlantic City, Downbeach.com, NJBIZ
---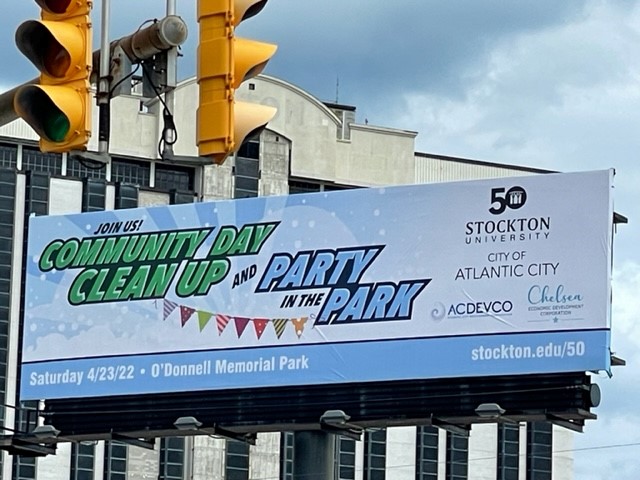 There's Still Time to Volunteer for Community Day Cleanup
In celebration of the University's 50th Anniversary, Stockton is partnering with the City of Atlantic City and several City Neighborhood Associations and other supporters for a massive Community Day Cleanup and Party in the Park from 11 a.m.-4 p.m. on Saturday, April 23.
Faculty and staff can volunteer during the event by filling out this form.
---
Stockton AC Mailroom Closed April 15
FYI: Due to required HVAC repairs, the Atlantic City mailroom will be closed Friday, April 15.
FRAME-WORTHY: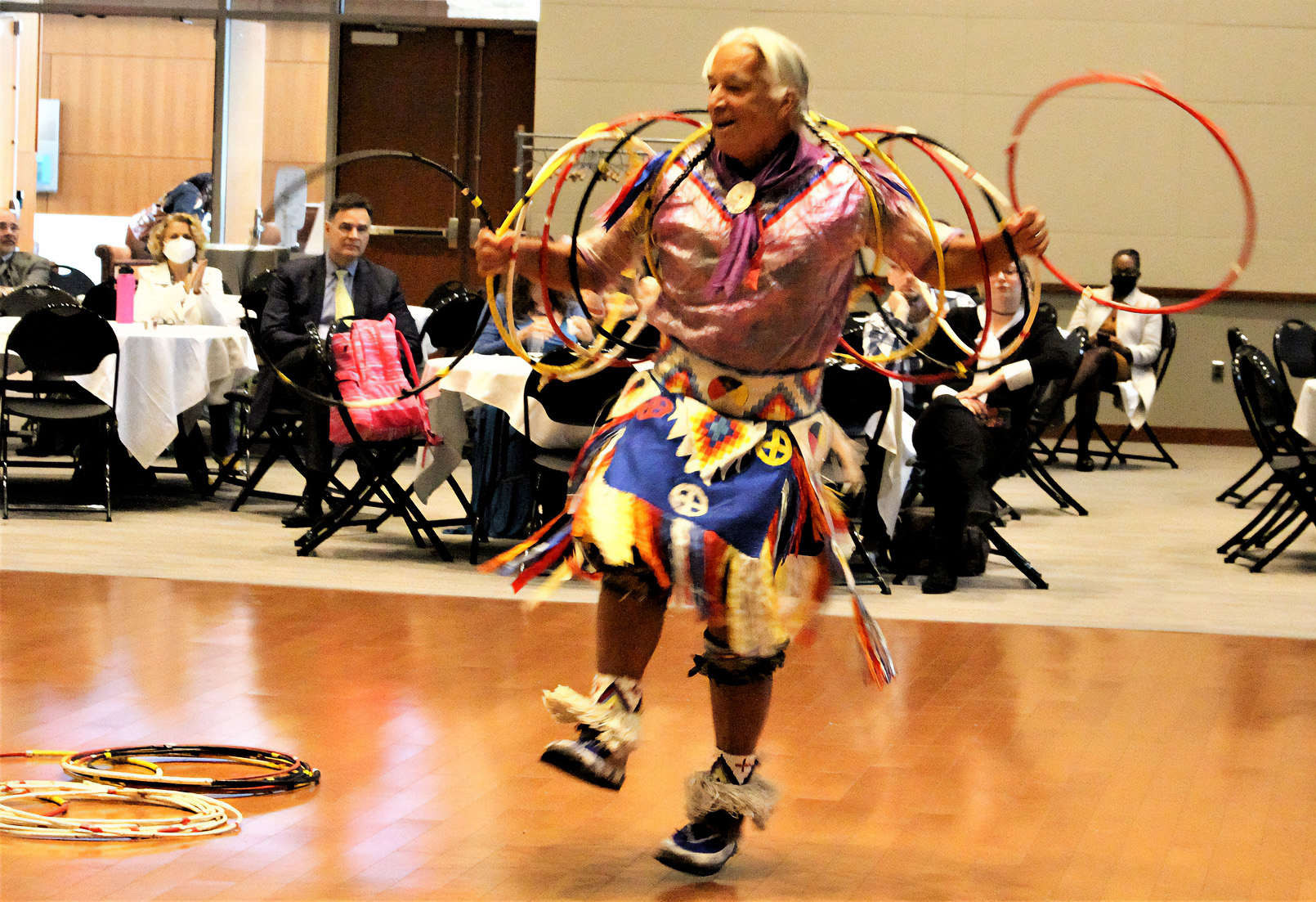 Unity Day a 'Spiritual' Experience
The 2022 Unity Day Conference took center stage March 31 in the Campus Center with an event that included a world-famous Indian Hoop Dancer, and speakers who discussed the importance of fostering a better understanding of the world through listening, learning and talking with people of different cultures, genders and points of view.
The theme of the Unity Day celebration was "Unity of Religions & Spirituality."
The Unity Day conference is organized by the Social Justice and Education subcommittee of the Committee on Campus Diversity and Inclusive Excellence (CCDIE) and co-chaired by Guia Calicdan-Apostle, associate professor of Social Work, and Valerie Hayes, Stockton University Chief Officer for Diversity and Inclusion. The focus of the event was to promote civic learning and foster an environment that values civil debate and critical thinking from multiple points of view.
📸 Viewa galleryof photos from the event.
WHAT'S TRENDING

@ #STOCKTONU

Facebook: We missed seeing your smiles! It's been a while, Ospreys!
Twitter: A new student Residence Hall is bringing six stories of apartment style rooms to Atlantic City in 2023.
Instagram: Commencement is officially six weeks away!
FROM THE SIDELINES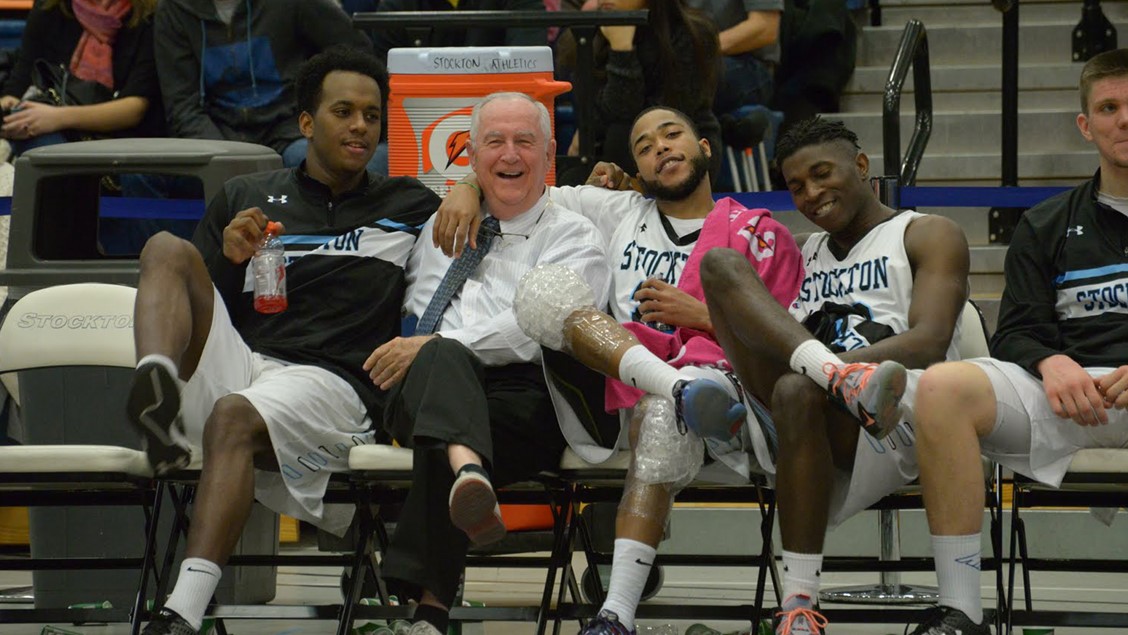 Matthews Inducted into NJ Basketball Hall of Honor
Former Stockton University men's basketball coach Gerry Matthews was inducted as part of the first class of the newly created New Jersey Basketball Hall of Honor on April 4. Matthews' induction was part of the inaugural The Basketball Reunion at the Prudential Center in Newark.
The Basketball Reunion is a statewide event that seeks to reunite former and current New Jersey high school and college basketball teammates and coaches. Matthews was inducted into the Basketball Hall of Honor along with a group of honorees that includes fellow coaching legends Pete Carril of Princeton University and Mark Corino of Caldwell University.
---
Eight-Goal Run Lifts Stockton to 15-11 Win
Women's Lacrosse: Stockton (5-4) reeled off eight consecutive goals to pull away from Moravian College (5-5) for a 15-11 victory in a non-conference road game on April 6. The Ospreys held Moravian scoreless for nearly 22 minutes during the run.
Michelle Pascrell led Stockton with five goals and two assists for seven points plus four draw controls, three ground balls and two caused turnovers. Jennifer Toal contributed three goals, two assists, two draw controls and two ground balls.
---
Stockton's 50 Greatest Athletes, Part 4
Stockton Athletics has a rich history that dates back practically to the inception of Stockton University. Osprey teams and student-athletes have achieved success at the highest levels of NCAA Division III, winning national championships and earning All-American honors. Thousands of student-athletes have worn a Stockton uniform as the intercollegiate athletics program has grown to its current plateau of 19 sports.
In conjunction with the 50th anniversary of Stockton, Athletics has chosen its 50 greatest athletes. Hereis part four, with the honorees listed alphabetically.
🗓️ View the full schedule of upcoming athletic events here.
WE'RE HERE TO HELP
COVID-19 Information
😁 MASK UPDATE: The University is now mask optional for those who are up to date on their vaccinations. Faculty may continue to require masks in their classes. KN95 and surgical masks remain available at the Campus Center Information Desk, Wellness Center, Division offices, the library, and off-site Stockton locations. Details are in the Campus Operations FAQ.
💉 BOOSTER REQUIREMENT: Employees are now required to receive a COVID-19 booster dose. Proof should be submitted immediately or within two weeks of becoming eligible. Use the Employee tab in the Portal to update your booster status or submit to Joyce.Wilson@stockton.edu in the Office of Human Resources so that your status can be confirmed. Should you have any questions, contact Mamta.Patel@stockton.edu.
💉 VAX UP!: AtlantiCare will hold COVID-19 vaccine clinics in West Quad 103 through May 2. Boosters are available. Details and dates are on the COVID-19 website.
Resources for Faculty and Staff
The Office of Human Resources announced a series of employee training and development opportunities for 2022. Visit here for a calendar of the opportunities available, and here for descriptions of the specific trainings and development offerings.
🧠 Stockton provides faculty and teaching staff with professional development, training, teaching ideas, resources and individual consultations via the Center for Teaching and Learning Design. Upcoming events include: Show Up & Write with FAWN sessions, Organizing Course Content in Blackboard for Fully Online Courses, April 13; Developing Students' Global Perspectives Through Global Virtual Exchange, April 18; and Tips for Ending A Course Successfully, April 22. Visit here for more offerings and information.
OSPREY NOTES
📧 Add Yourself to Stocktalk
Stocktalk is an email discussion forum where Stockton employees are able to share a number of topics including birth announcements and obituaries; scholarly tips, tricks and recommendations; approved survey announcements and faculty/staff book releases.
If you would like to join the Stocktalk Distribution Group to receive Stocktalk emails, log into your Outlook account in your web browser and follow these steps located under "Adding/Removing Yourself From Distribution Groups."
M.A. in Counseling's Annual Report, Post-Grad Data Posted
As per the requirements of the Council for Accreditation of Counseling and Related Educational Programs (CACREP), the Master of Arts in Counseling's annual report and post-graduate data is available for review on the program's website. Any questions or feedback may be directed to Sara Martino, professor of Psychology and program director, at martinos@stockton.edu.
State Aid Renewal Deadline April 15
All students who have previously filed a FAFSA are required to file the 22-23 FAFSA before April 15 to be considered for state financial aid programs for the 2022-2023 academic year.
Eligible students who miss this deadline could miss out on free money from programs including the Tuition Aid Grant (TAG), the Educational Opportunity Fund (EOF) and the new Garden State Guarantee (GSG), which offers eligible students a $0 net price for tuition and fees.
Students who receive the Stockton Promise Grant must also file by April 15 to be considered for the grant in the 22-23 academic year.
Remember, the state won't wait! Students can apply at fafsa.gov.
---
Stockton Sentiments and Memories . . .

"My Stockton experiences were phenomenal and these incredible professors were my "game-changers."
I participated in the first outstanding and historical C-Wing Kwanzaa and Roots Production - My son La Quay followed, and my family still comes to Stockton Kwanzaa Celebrations- Thanks, Dr. Patricia Reid-Merritt. You are an exceptional academic leader.
Secondly is the exceptional Professor Will Jaynes, the historian and scholar. Each class was a critical think tank for learning.
Truly, I honor each of them for the exceptional education that they brought and taught at Stockton."
- Patricia Dansby '80
Have a memory you'd like to share in celebration of Stockton's 50th anniversary? Submit it here.
UPCOMING EVENTS