Stockton News - Friday, April 5, 2019
WHAT WE'RE TALKING ABOUT
Stockton Esports Team Wins ECAC Fortnite Championship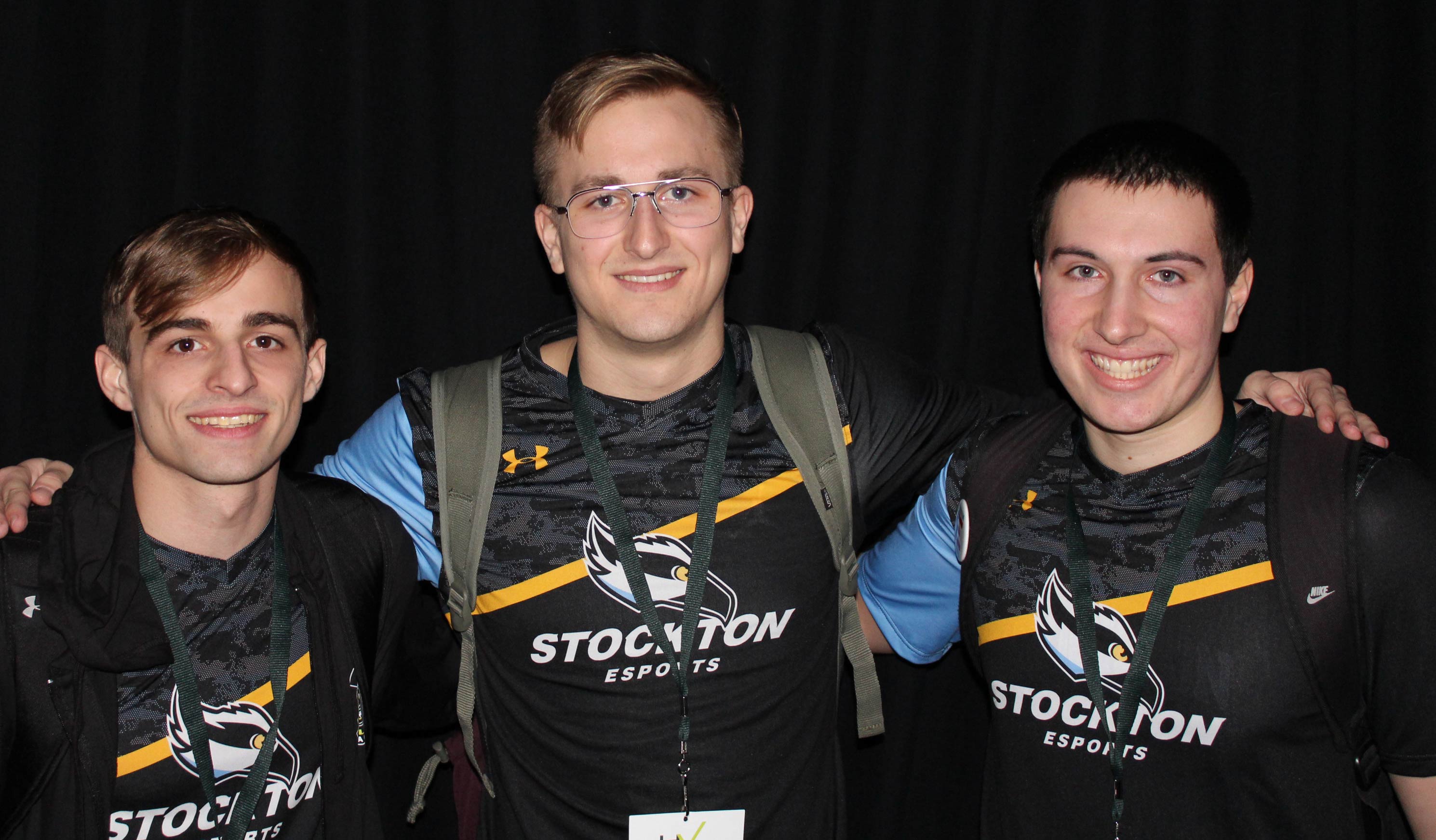 The Stockton University esports team of Austin Van Zant, Damian Majewski and Parker Teliszewski won the Eastern College Athletic Conference Fortnite Championship held during the Hudson Valley Gamer Con at the Albany New York Capital Center on March 30-31.
The Barnegat-Manahawkin Patch and the Press of Atlantic City covered the story.
---
Stockton Signs MOU with Ørsted U.S. Offshore Wind
Stockton University has signed a Memorandum of Understanding with Ørsted U.S. Offshore Wind that will support research, academic programs and events at Stockton.
The agreement could also provide Stockton students and faculty with opportunities to assist with the development of Ørsted proposed Ocean Wind project, should that project receive state approval. Ørsted has submitted an application to the New Jersey Board of Public Utilities to develop an offshore wind farm 15 miles from the coast of Atlantic City.
SNJ Today and the Press of Atlantic City covered the story.
---
Math Mayhem Participants Calculate Way to Win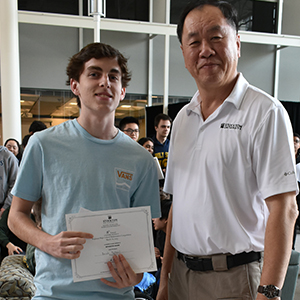 Students from Egg Harbor Township High School, Absegami High School and Clearview Regional High School took home awards in the eighth annual Math Mayhem tournament held at Stockton University on March 30.
Professor of Mathematics Chia-Lin Wu (pictured right) was the competition director, with faculty committee members Bradley Forrest, Judith Vogel, Pam Kosick, Suzanne Nezzar, Yujin Shen and Juan Tolosa.
---
South Jersey Culture & History Center Publishes 'Blogging 40'
The South Jersey Culture and History Center (SJCHC), an affiliate organization of Stockton University, has released another publication titled Blogging 40, authored by Stockton Professor Emeritus of Literature Ken Tompkins and Stockton Dean of General Studies Robert Gregg.
STOCKTON UNIVERSITY ATLANTIC CITY
Hughes Center Hosts Town Hall with Sweeney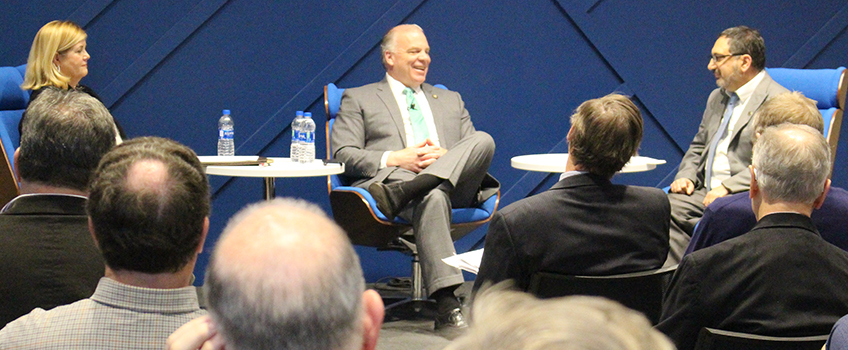 Almost 200 people came to hear and question N.J. Senate President Steve Sweeney at a public Town Hall hosted by the William J. Hughes Center for Public Policy at Stockton Atlantic City on April 3.
Sweeney outlined the Path to Progress (the report of the New Jersey Economic and Fiscal Policy Working Group), which covers pension and benefit reform, education reform, county and municipal government reform and shared services, and state and local government tax structure.
For events happening at Stockton University Atlantic City, visit the online calendar.
SPOTLIGHT ON
Grant Award Helps Connect People in Need with Resources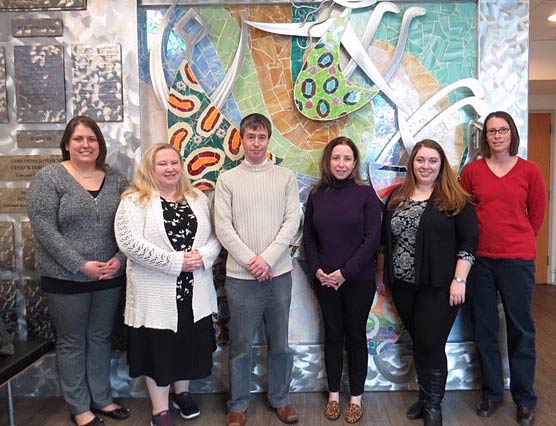 Stockton University, Jewish Family Services and the University of York (England) won a $326,000 grant from Robert Wood Johnson to introduce "Connecting People" to the United States. Connecting People is a program that works to link social workers to marginalized populations which in this case is individuals with mental illness and people incarcerated at the Atlantic County Jail.
"This is a very exciting opportunity for collaboration between Stockton, Jewish Family Services, and the University of York. The Connecting People Project helps social workers develop partnerships with clients to work collaboratively to raise social capital," said Christine Tartaro, professor of Criminal Justice (pictured right). "That social capital should help individuals with mental illness and jail inmates returning to the community enhance positive social networks. These positive relationships are expected to present people with better social, educational and work opportunities."

In February, the group met with service providers throughout the county and spent a day at Stockton to work on matching the existing services in the county with the Connecting People framework. The pilot project is anticipated to begin in November 2019.
---
Faculty Present at National Council for Black Studies Conference; Students Inducted into Honor Society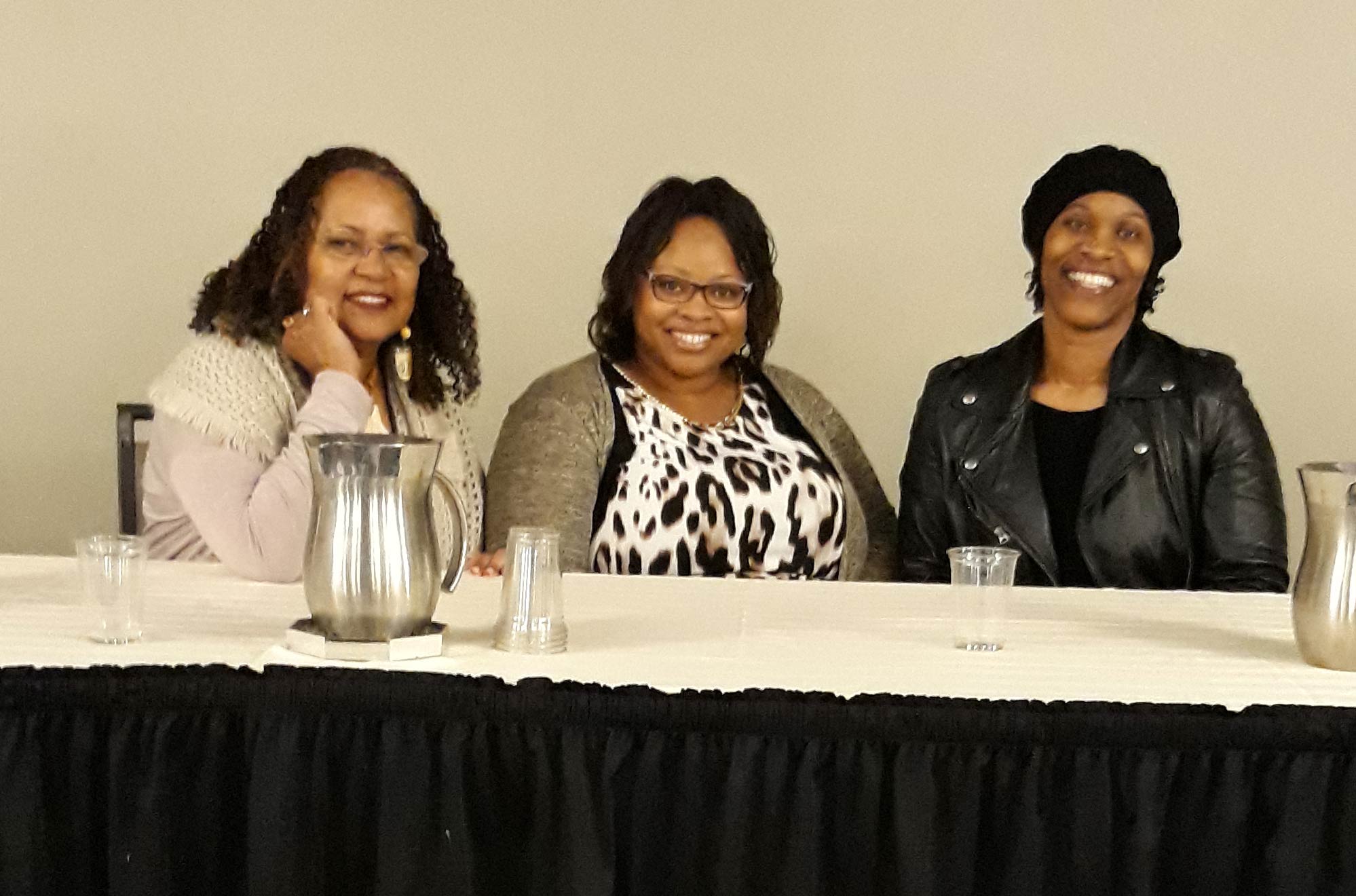 Three Stockton University faculty presented at the National Council for Black Studies (NCBS) Conference that was held March 6-9 in New Orleans, Louisiana. Kameika Murphy, assistant professor of Atlantic History (pictured middle), presented "Centering an African American Diaspora in Teaching anti-Slavery;" Donnetrice Allison, professor and coordinator of Africana Studies (pictured right), presented "Writers, Directors, Showrunners and Shot Callers: Black Women Behind the Camera in Film and Television;" and Patricia Reid-Merritt, Distinguished Professor of Social Work and Africana Studies (pictured left), presented, "Temple University's Africana Studies Ph.D @30: Molefi Asante and the Afrocentricity Vanguard."

Stockton also inducted the most students of any university represented at the conference into the Ankh Maat Wedjau Honor Society, which is the national honor society for Black Studies students and scholars. The nine inductees included Christopher L. Barnes, Justice Cistrunk, Natalie Doucette, Chelsi R. Johnson, Prairie Reaves-Ortiz, Kady Ridgway, Morgan Rush, Valencia Thompson-Manago and Skye Zuniga.

"The Stockton University Africana Studies Program has had a strong presence at NCBS for many years, and for 12 – 13 years we have had the most students inducted into the honor society," Allison said. "It is a wonderful organization to be associated with and NCBS is a leader in guiding Africana Studies curriculum and many institutions across the country. We were able to announce our new major this year and it is a perfect place to begin recruiting new and dynamic faculty to join us here at Stockton."
FRAME-WORTHY
Future Students Experience 'A Day in the Life' at Stockton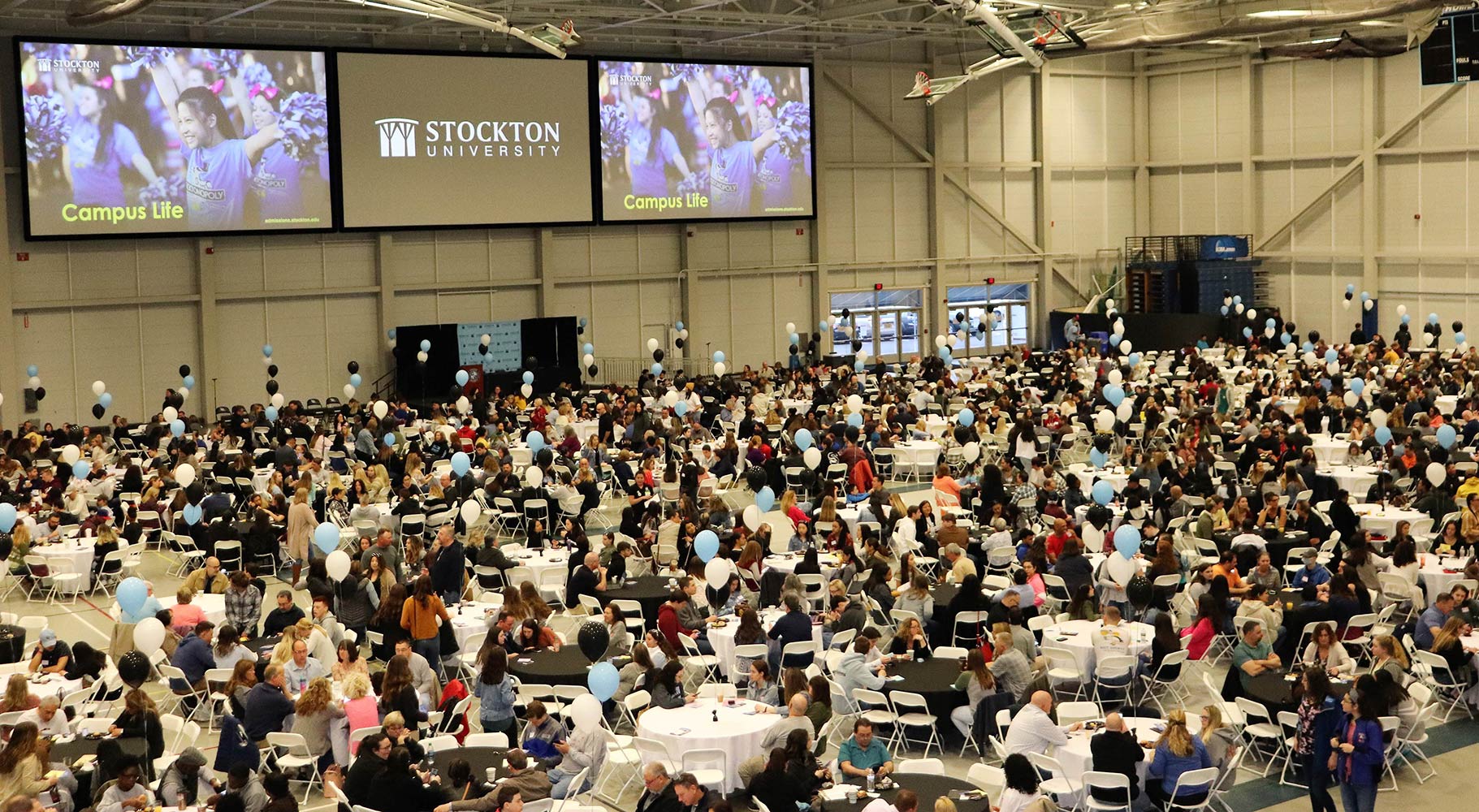 A Day in the Life, organized by the Division of Enrollment Management, was held on March 30 at Stockton University. The event welcomed 655 students and their families to Stockton's Galloway campus – the largest crowd on record – to engage with current students, faculty and staff and experience what life is like at Stockton. Highlights included a meet & greet with student ambassadors, a panel discussion with administrators, sample classes, information fairs and workshops, as well as tours of Stockton Atlantic City tours.
University Relations & Marketing intern Tori Sisbarro highlighted the day in an Instagram story.
---
Picture Stockton: Raising Platforms for Ospreys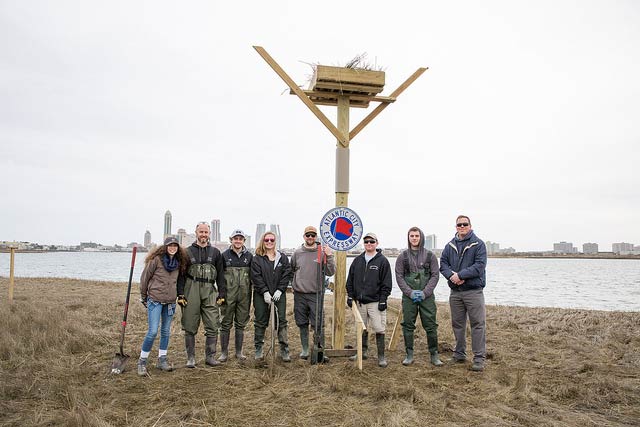 Right before the 44-mile expressway ends in Atlantic City, it enters a coastal ecosystem that is home to ospreys from spring into early fall. Stockton University volunteers helped to install three new nesting platforms on March 29, just in time for returning ospreys that nest and fish along the marsh.
WHAT'S TRENDING #STOCKTONU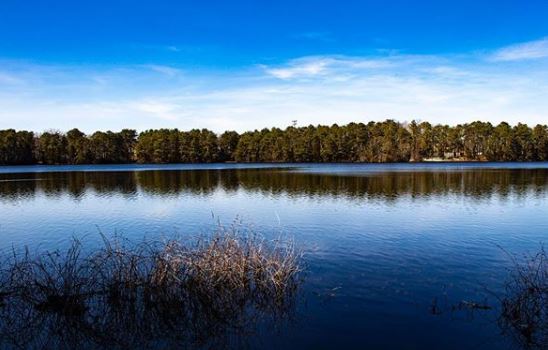 Instagram: This post highlighted stunning photos of Lake Fred by senior Brittany Johnson captured on a spring-like day this week.
Facebook: The Stockton University Dance Team performed during halftime at a Philadelphia 76ers game on March 28.
THE SIDELINES
Ibarra, Qadiri join Murzello as Arthur Ashe Jr. Sports Scholars
Three Stockton University student-athletes were recognized as 2019 Arthur Ashe Jr. Sports Scholars by the publication Diverse: Issues in Higher Education. Women's tennis player Maria Ibarra received the accolade for the second straight year. Ibarra, a senior, was joined by first-time honorees Meg Murzello and Qudratullah Qadiri, both juniors, as Arthur Ashe Jr. Sports Scholars in softball and men's track & field respectively.
The Press of Atlantic City posted about the athletes' recognition in this article.
---
Stockton Women's Lacrosse Notches Third Straight Win
The Stockton University Women's Lacrosse Team snapped a 4-4 tie with three straight goals early in the second half and went on to its third straight win, 11-8 over St. Joseph's-Long Island on March 30. Michelle Pascrell had a hand in more than half of Stockton's goals, scoring five and assisting on one.
'ROLE' CALL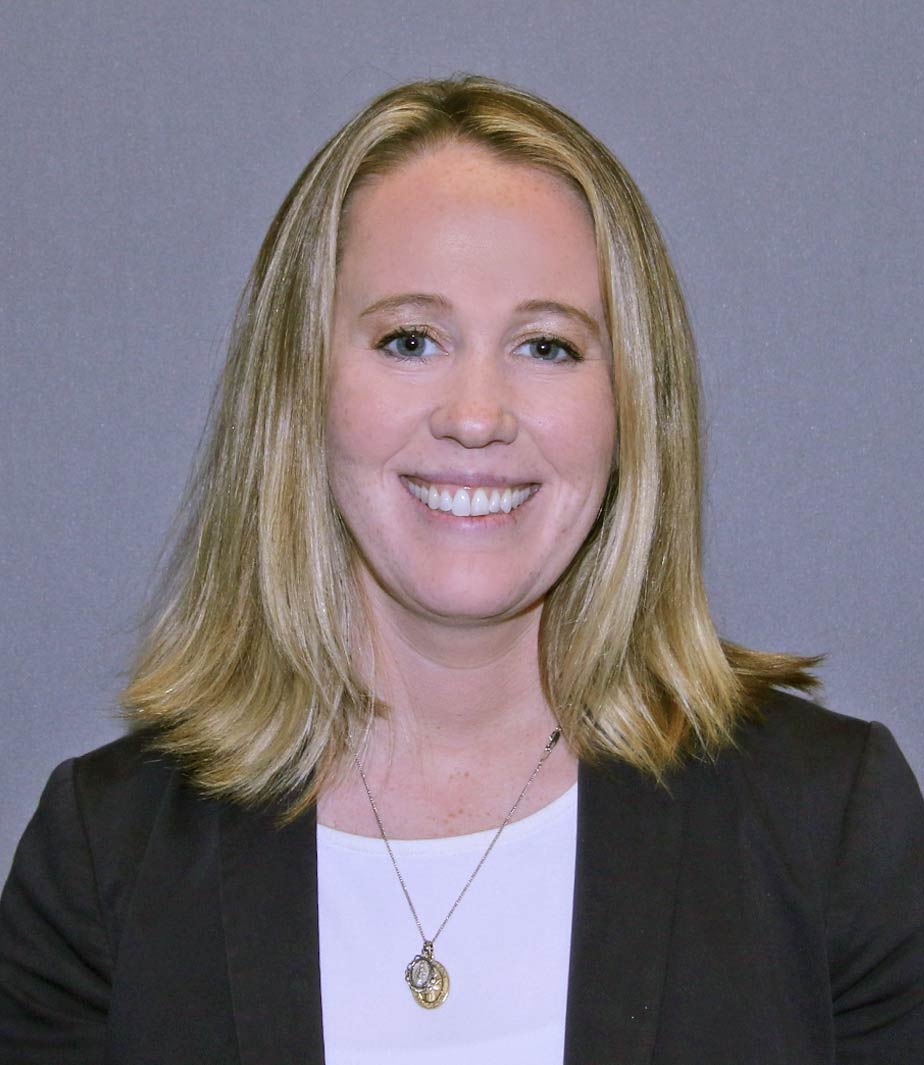 Allie Sandberg joined the Office of Development and Alumni Relations as the director of Alumni and Development Communications effective Feb. 25. In her new role, Sandberg will develop and implement a comprehensive communication strategy that results in increased engagement and philanthropic support among the University's key audiences, write and edit newsletters including The Nest; and manage the Stockton Alumni social media channels and campaigns. Prior to her role at Stockton, she was a communications manager at BAE Systems, Inc. in Arlington, Virginia, responsible for overseeing the corporate digital strategy and executing communications strategies to enhance the company's reputation. Before starting at BAE Systems, Inc., she worked for Edelman Public Relations in Washington, D.C., as part of their Digital Energy & International team. Sandberg received her bachelor's degree in Corporate Communications from James Madison University in 2010.
OSPREY NOTES
April is 'Stockton Undistracted' Month
For the entire month of April, Stockton University will participate in the "Driving Undistracted" campaign — a nationwide effort to reduce distracted driving accidents and fatalities. "Stockton Undistracted" will include education, commitment and enforcement, all focusing on the message that no text is worth a ticket, your life, or someone else's life; put away the distractions and drive.
'Preservation Month' at Bjork Library
April is also "Preservation Month" at the Richard E. Bjork Library, and the staff has created a weekly set of free activities for students and the public dedicated to raising awareness of the importance of preserving books.
FAFSA Fridays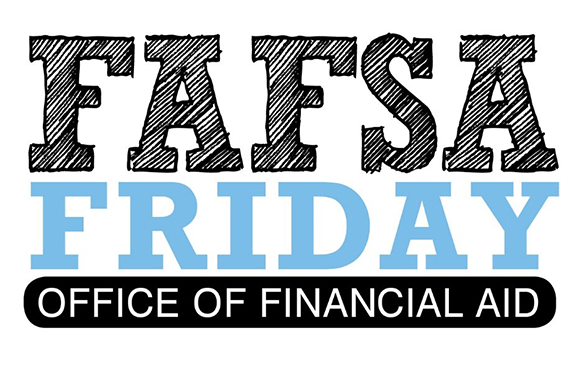 Do you have students who are looking for financial aid assistance? The Office of Financial Aid is hosting "FAFSA Fridays" from 11 a.m.-1 p.m. every Friday, through April 19, in the F114 computer lab to assist students with the financial aid process. Returning students need to file their FAFSA applications by April 15 and answer their additional questions on NJFAMS in order to be considered for the State Tuition Aid Grant (TAG). If they fail to meet this deadline, they will not be considered eligible and may miss out on free money to pay for school.
Choose Summer at Stockton
Stockton's summer sessions are open to undergraduate and graduate students enrolled in degree programs, non-matriculated students, and students currently enrolled at other institutions who wish to study during their summer break and transfer Stockton credits.
UPCOMING EVENTS
Sunday, April 7: Open House
Tuesday, April 9: 10 a.m.-3:30 p.m., Transfer Admissions Day, Woodbine Instructional Site
Friday, April 12-Saturday, April 13: African-American Cultural Heritage Short Course
Wednesday, April 24: Graduate Research Symposium
Thursday, April 25: Bring Your Child to Work Day