Stockton News - April 1, 2022
WHAT WE'RE TALKING ABOUT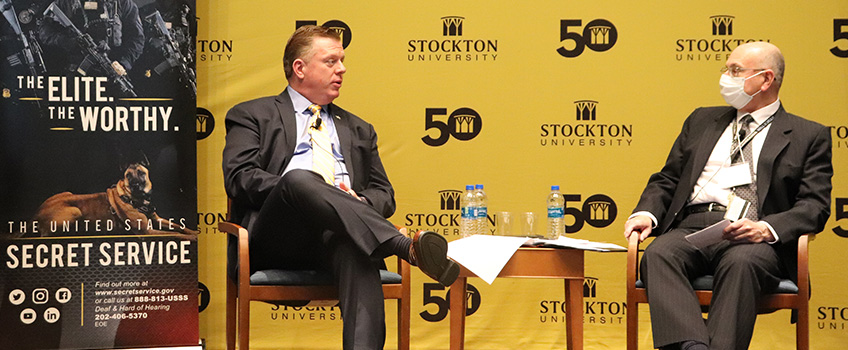 U.S. Secret Service Director Shares Tips for Success
There's a lot about the U.S. Secret Service that its director, James Murray, can't talk about.
But the secret to getting into the Secret Service and being successful Murray told studentsat Stockton University March 22 is a combination of character, attitude, self-discipline, perseverance, resilience and consistency.
"Just try to do a little bit more, and do it a little bit better, each day," Murray said. "The road to mastery is to tolerate being a beginner over and over."
The 2022 Criminal Justice Lecture Series keynote speaker said being in law enforcement is not a requirement to work for the Secret Service.
---
Stockton gets $500,000 STEM Grant
Stockton will receive $500,000 from the federal government to support its coastal resiliency and management programs and provide STEM educational and career opportunities for middle- and high-school students in South Jersey.
The Coastal Resiliency Equipment, Education and Outreach funds were approved as part of the FY22 federal budget and were among a list of New Jersey Community Projects supported by N.J. Senators Bob Menendez and Cory Booker.
📰 In the News:New Jersey Business Magazine, The Press of Atlantic City, Downbeach.com
---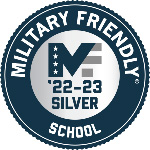 Stockton Earns Silver Military Friendly Designation
Stockton announced it has earned a 2022-2023 Silver Military Friendly® School designation.
"This is exciting news because a lot of hard work has gone into supporting military veterans at Stockton and providing them with resources to be successful," said Michael Barany, D.Sc., director of the Military and Veterans Success Center at Stockton.
Institutions earning the Military Friendly ® School designation were evaluated using both public data sources and responses from a proprietary survey. More than 1,800 schools participated in the 2022-2023 survey with 665 earning special awards for going above the standard.
STOCKTON UNIVERSITY ATLANTIC CITY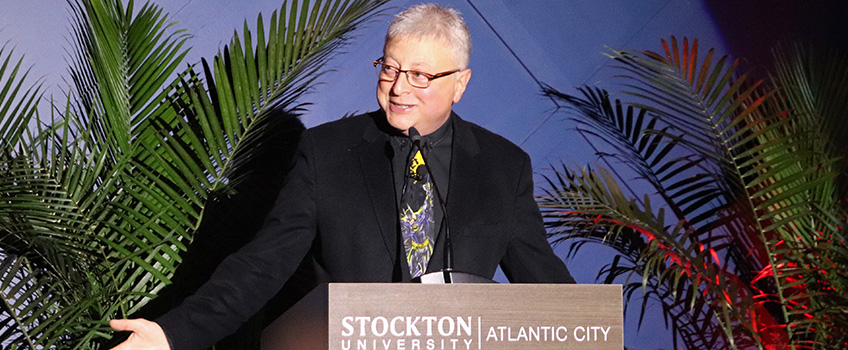 🦇 Meet the Man Behind Batman Movies
Michael Uslan's passion is comic books. By the age of 18 he had 30,000 comics dating to 1936 stored in his parent's garage on shelves built by his father.
"I am a comic book geek," Uslan told an audience of more than 125 students and adults March 22 as the School of Business Dean's Distinguished Guest Speaker at the Stockton University Atlantic City campus. "But what do you do with that? I was a blue-collar kid from New Jersey."
That blue collar kid is now a grandfather. But his love for comics remains, and he held the audience spellbound as he told the story of going from a kid who loved comics to the owner of the film rights for the Batman movies.
---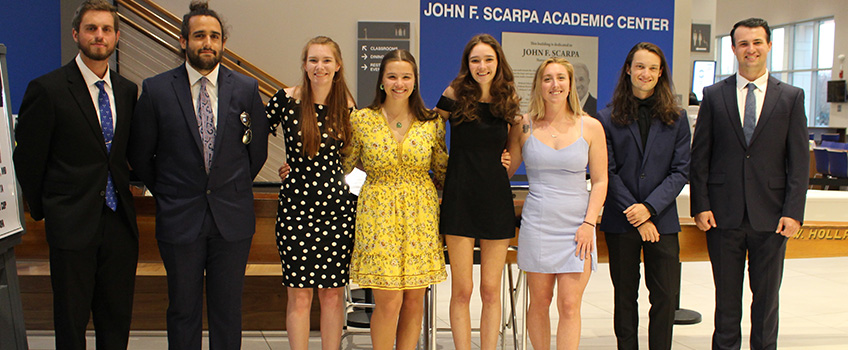 Stockton Rowing Honors Sue Peterson, 'Doc' Holland
Two of the area's most dedicated rowing supporters, Sue Peterson and the late Dr. John Holland were honored by Stockton University, family and friends at the Rowing and Growing with the Ospreys event at Stockton Atlantic City on March 25.
In 1957, Holland started the Viking Rowing Club in Ventnor, which has since trained thousands of rowers of all ages and abilities. Peterson worked tirelessly behind the scenes as former president of the South Jersey Scholastic Rowing Association for 16 years and a member of the Board of Directors, coach, and regatta director for the Atlantic County Rowing Association for 29 years.
📰 In the News:Downbeach.com
SPOTLIGHT ON: RAMYA M. VIJAYA
Ramya M. Vijaya, professor of Economics, was a panelist during a virtual United Nations high-level meeting on March 20 that focused on the role of Credit Rating Agencies in implementing the 2030 Agenda for Sustainable Development.
Credit ratings have a significant influence on the ability of countries to access financing for important development and crisis-related policies. During the COVID crisis, credit ratings exacerbated global systemic inequalities by preventing developing economies from accessing funding for crucial healthcare and other crisis relief investments.
This meeting explored the options to reform the current rating system and industry as part of the need to address the systemic inequality in the global financial system.
Vijaya, who has taught at Stockton 17 years, said her role as a professor of economics and global studies includes research on issues related to the global economy and systemic inequalities.
"I have recently published several pieces on global inequalities exacerbated by the COVID-19 crisis and the reforms needed in the credit rating industry," Vijaya said. "I was invited to make my expert presentation and offer recommendations for reform at this meeting based on my published work."
When asked about how she felt having participated in this meeting, Vijaya said, "It was interesting to be able to bring a critical research perspective to the UN discussions on reforming the credit rating industry. While there is momentum now at the UN level, industry groups will inevitably push back or try to water down reforms. It, therefore, felt useful to be one of the few representing a critical academic perspective on systemic inequalities at this level. It also provided me with a useful experience on global negotiations that I can bring back to my classes on economics and global studies."
FRAME-WORTHY: THIS WEEK IN PICTURES 🖼️🦅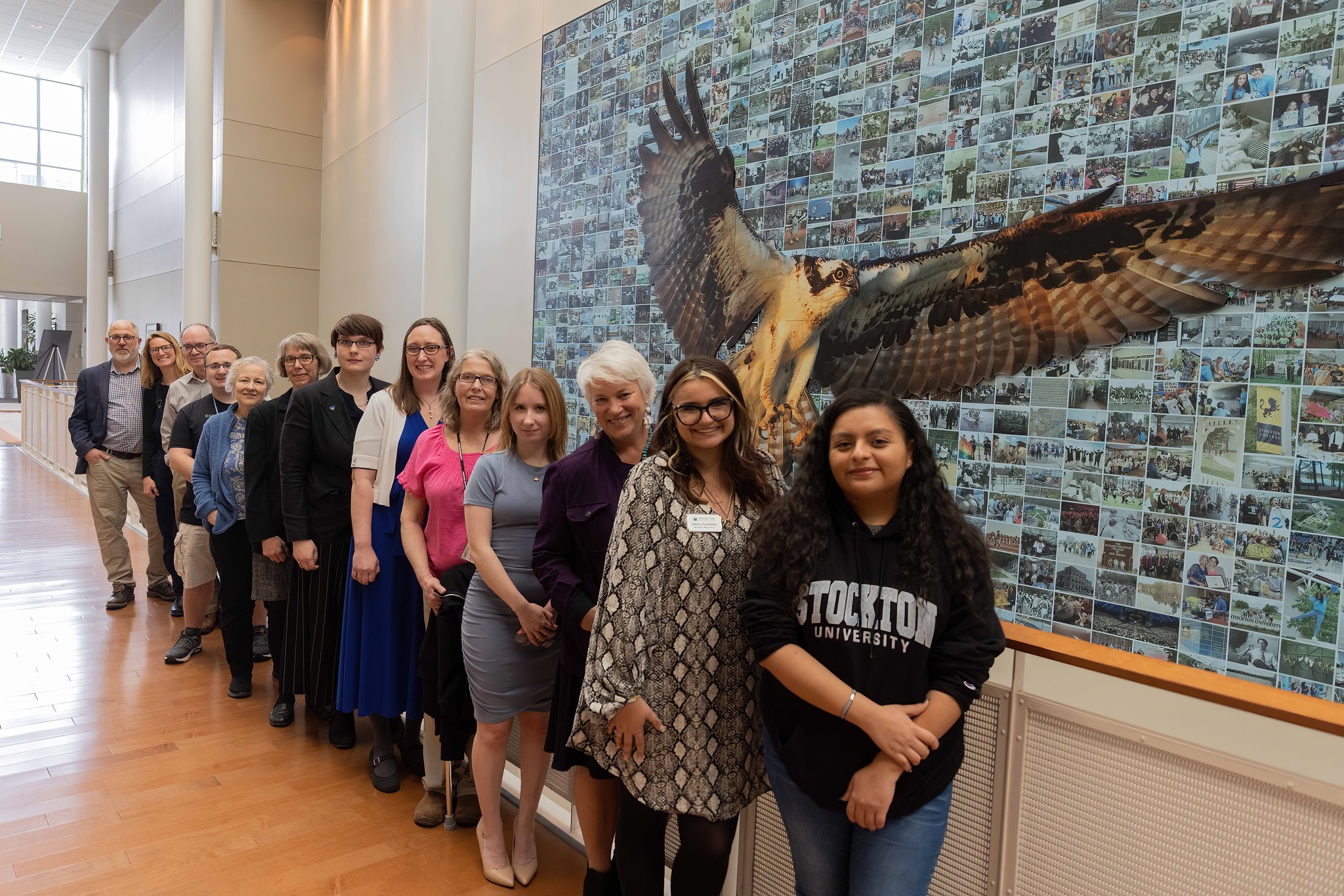 '50th in Flight' Mural Soars in Campus Center
The story of Stockton University is now displayed on a wall of the Campus Center in a 30x16-foot mural composed of almost 1,000 photos showing the history of the university over its first 50 years.
The 50th Anniversary Exhibit, titled "50th in Flight," was dedicated on March 31 as students, faculty and staff peered at the photos, looking to see if they might recognize someone.
The mural photos include Stockton presidents, faculty, staff and hundreds of students and student-athletes. An image of the Stockton mascot, the osprey, is superimposed over the photos.
View a timelapse of the installation of the mural.
📰 In the News:The Press of Atlantic City, Downbeach.com
📸 View a gallery of photos from the event.
WHAT'S TRENDING

@ #STOCKTONU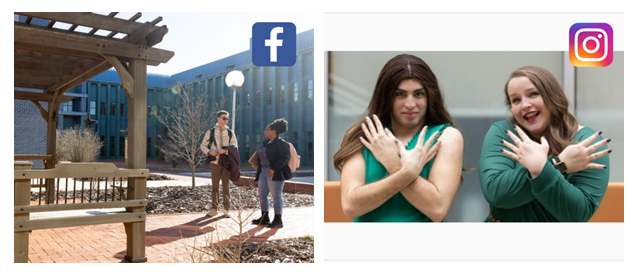 Facebook: There are so many places on campus to get lost in your thoughts and creative ideas.
Instagram:Kendall Ficili's friends call her the network because connecting people comes naturally to her.
FROM THE SIDELINES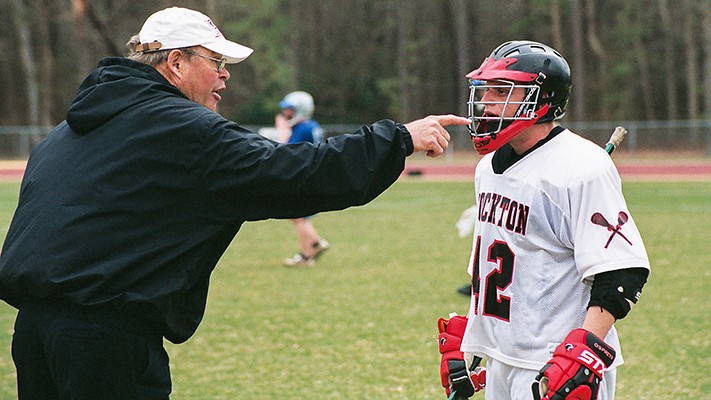 Men's Lacrosse Success Traces Back to Coach Rizk
The Stockton University men's lacrosse program has become a force to be reckoned with in the college lacrosse world.
The Ospreys have gone 93-31 over the last eight seasons.
Stockton head coach Kevin Zulauf is in his 13th season at the helm and entered the 2022 season with an impressive 123-67 career record with the Ospreys. He has coached them to at least 12 victories in each of their last six full seasons.
He gives credit to former Stockton head coach Dick Rizk for helping to set the positive tone for the program. Rizk, who passed away in 2017 at the age of 84, was the head lacrosse coach at Stockton from 1992 to 2009, compiling a 140-116 record.
🥍 Speaking of men's lacrosse . . . during their March 30 game, the team started quickly, potting 10 goals in the first period and cruised to a 23-13 win over Neumann University. Go, Ospreys!
---

Stockton Rows in Manhattan Invite
Stockton rowed against Manhattan College, Iona College and Skidmore College in the Manhattan Invite on Overpeck Lake on March 26. The races were the first for the Ospreys since returning from their spring break trip to Florida.
Stockton posted a time of 7:38 in a close varsity eight race that was won by Skidmore (7:19), followed by Manhattan (7:33) and Iona (7:36). The second through fourth place teams were separated by just five seconds.
This weekend: The Stockton University women's and men's rowing programs will host the Stockton-Brigantine Boat Race at the Brigantine Rowing Club boathouse on April 2-3. Time trials will begin at 5 p.m. on April 2 and racing will start at 8 a.m. on April 3.
Stockton Starts Outdoor Season with Home Meet
Stockton University opened the 2022 outdoor track & field season on March 26 by hosting the Stockton Invite at G. Larry James Stadium. The Ospreys won 11 events on the day, led by freshman Carson Latham with one individual win and a leg in one relay victory.
Latham won the 200m (22.15 seconds) and joined Devante Greene, Ryan Fisher and Donnie Scott to win the 4x100 relay (42.93 seconds).
🗓️ View the full schedule of upcoming athletic events here.
WE'RE HERE TO HELP
COVID-19 Information
😁 MASK UPDATE: The University is now mask optional for those who are up to date on their vaccinations. Faculty may continue to require masks in their classes. KN95 and surgical masks remain available at the Campus Center Information Desk, Wellness Center, Division offices, the library, and off-site Stockton locations. Details are in the Campus Operations FAQ.
💉 BOOSTER REQUIREMENT: Employees are now required to receive a COVID-19 booster dose. Proof should be submitted immediately or within two weeks of becoming eligible. Use the Employee tab in the Portal to update your booster status or submit to Joyce.Wilson@stockton.edu in the Office of Human Resources so that your status can be confirmed. Should you have any questions, contact Mamta.Patel@stockton.edu.
💉 VAX UP!: AtlantiCare will hold COVID-19 vaccine clinics in West Quad 103 through May. Boosters are available. Details and dates are on the COVID-19 website.
Resources for Faculty and Staff
The Office of Human Resources announced a series of employee training and development opportunities for 2022. Visit here for a calendar of the opportunities available, and here for descriptions of the specific trainings and development offerings.
🧠 Stockton provides faculty and teaching staff with professional development, training, teaching ideas, resources and individual consultations via the Center for Teaching and Learning Design. Upcoming events include: Show Up & Write with FAWN sessions, Moving On From Languishing: Tools For Coping and Building Resilience, April 1; Having Anti-Bias Discussion in Class, April 5; Setting Up the Summer Research Agenda, April 6; Your Legal Rights as Educators, April 6; and Organizing Course Content in Blackboard for Fully Online Courses, April 13. Visit here for more offerings and information.
OSPREY NOTES
Celebrate Diversity: February/March Issue of the Stockton CCDIE Digest
The latest issue of the Celebrate Diversity Digest is available now, featuring articles about campus diversity, equity, inclusion and social justice initiatives. Read the full issue here.
State Aid Renewal Deadline April 15
All students who have previously filed a FAFSA are required to file the 22-23 FAFSA before April 15 to be considered for state financial aid programs for the 2022-2023 academic year.
Eligible students who miss this deadline could miss out on free money from programs including the Tuition Aid Grant (TAG), the Educational Opportunity Fund (EOF) and the new Garden State Guarantee (GSG), which offers eligible students a $0 net price for tuition and fees.
Students who receive the Stockton Promise Grant must also file by April 15 to be considered for the grant in the 22-23 academic year.
Remember, the state won't wait! Students can apply at fafsa.gov.
---
Stockton Sentiments and Memories . . .

"Thursday night residency 5-year plans, D-Court mud wrestling, water gun fights, and no parking on Lake Fred Island (IYKYK)! Despite all of the shenanigans, learning enough to make a 35-year career with three Fortune 100 companies from a single resumé submission! Priceless!"
- Brian Mills '87
Have a memory you'd like to share in celebration of Stockton's 50th anniversary? Submit it here.
UPCOMING EVENTS