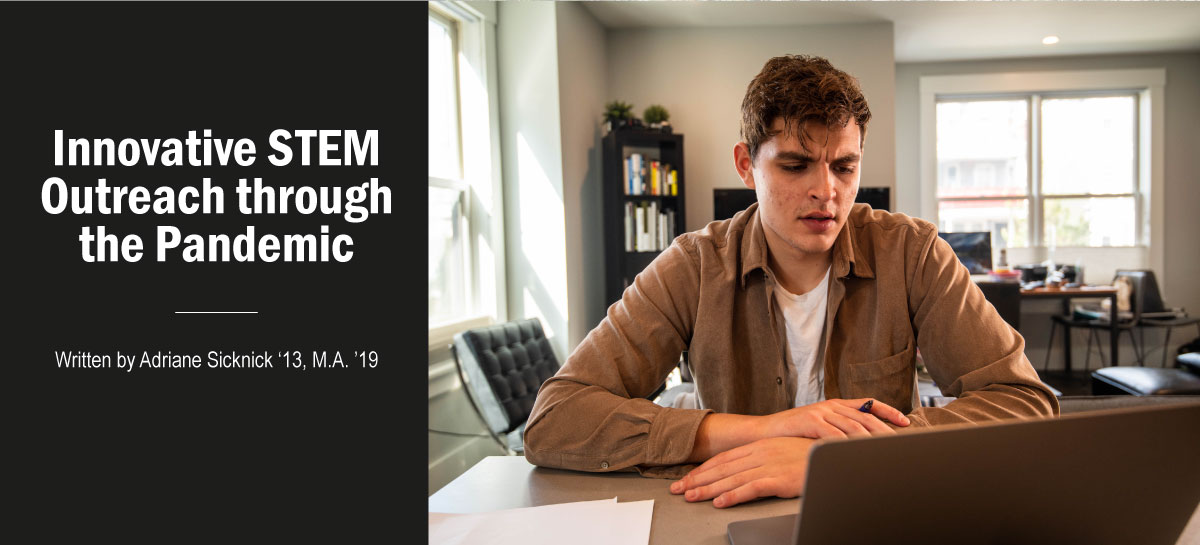 Photo credit: Pxfuel.com
---
NAMS has a long history of supporting STEM outreach through initiatives such as TechTrek, Teen Teck, Science Enrichment Academy (SEAS), and the Army Research and Engineering Apprenticeship Program (REAP). Unfortunately, all but Tech Trek came to an abrupt halt in Spring 2020 when COVID-19 hit the U.S. The pandemic created new challenges in different aspects of our daily lives – from the way we shop, accessorize and socialize, to how we connect and educate.
In the early days of the pandemic, everything felt isolating, and our faculty yearned for a way to stay connected, not only with our students but with the community as well. We had to think of innovative ways of reengaging.

Connecting with the Community
Last summer, NAMS faculty took to social media to help bridge the gap with the community. Our faculty grabbed their gear, headed out into the field, and turned their cellphones on themselves, one of the few things they could do safely to take science to the community, without fueling the pandemic.
The summer started with a weekly Facebook live stream series, Streaming with Stoler. Each week, Aaron Stoler, assistant professor of Environmental Science, invited the community to join him as he got knee-deep in the wetlands to explore the ecology of the Pinelands.
In June, our Marine Science faculty went live from the field during Live Lab Days. This series started with Susanne Moskalski, associate professor of Marine Science, as she took viewers on a tour of flora, fauna and everything below the surface in the salt marshes of Atlantic County. Then, Elizabeth Lacey, associate professor of Marine Science; and Christine Thompson, assistant professor of Marine Science; headed out to the Barnegat Bay and taught us about the use of seagrass habitats and oyster reefs respectively, to keep our coast safe.
"COVID created a unique opportunity for us to try virtual events through the Facebook Live over the Summer of 2020 and virtual events with the high schools [throughout the 20/21 academic year]," explained Thompson.
The series "rocked" late July as we culminated the live stream events for the season with Matthew 'Rocky' Severs, associate professor of Geology, when he took us on an adventure searching for dinosaur relics and megalodon teeth in a well-known fossil area in the Big Brook region. This was followed by a tour of a mineral locality in Essex County as he explained how minerals found in these areas are used in modern technology and buildings today.
Videos from all the events can be found on our Facebook page and YouTube Channel.
Outreach with Secondary Education
Popular shows like The Big Bang Theory have helped normalize the proverbial "nerd culture" associated with science. Yet the incorrect portrayal of scientists in the media and lack of accessibility to first-hand experiences (due to financial, geographic barriers, knowledge of opportunities) have influenced students' perception of science. In addition, traditional K-12 STEM education isn't always successful in relating scientific concepts to real-world issues, applications and professions. Many students are unable to relate their science education studies to a career path and lose interest as they progress through the educational system. By participating in extracurricular science initiatives, students can gain a better understanding and appreciation for STEM disciplines.
With this goal in mind, NAMS wanted to break down barriers to STEM access, and not let the pandemic get in our way; we just needed a new strategy to engage them.
Committed to diversity and inclusion, we wanted to ensure we were connecting with the next generation of science students from underrepresented areas across the state. Our desire was to expand our outreach into communities outside the local vicinity and into those we typically do not have much contact with. The question was, how can we still provide meaningful outreach with the social distancing restrictions?
"Even though it is more dynamic to be in the classroom in person, the benefit of the virtual modality is being able to have the time to visit schools that aren't in our immediate vicinity," - commented Anna Pfeiffer-Herbert, assistant professor of Marine Science.
Building off the virtual information series we started pre-pandemic, our faculty saw the benefit of using technology to reach students in their K-12 science classrooms across the state. We contacted the administration in the public high schools throughout New Jersey with an initial offer to collaborate with one of our three exploratory programs: Environmental Science, Sustainability and Geology. The hour-long engaging sessions with the professors provided the high school science classes an opportunity to learn about the different disciplines, career opportunities, research and advanced technologies used in the field.
Through this outreach, our faculty were able to engage in discussions about contemporary and pressing environmental issues and the growing demand for scientists and specialists in the field. The response from high schools to engage with science professors was positive, adding a new flavor to overcome the setbacks of teaching the traditional/regular science curriculum remotely during a pandemic. We quickly expanded our offer to include two more of our programs, adding marine science and physics disciplines mid-way through the year.
One of the first schools to respond was the Malcolm X. Shabazz (MXS) High School in Newark. They were excited about our offer and asked us to participate in their monthly STEM Fair. Eight of our professors participated in the monthly fair with one or two faculty presenting each day on a variety of topics ranging from sustainable, small-scale farming to black holes.
In the latter session, Philip Eaton, assistant professor of Physics, gave an illuminating presentation on the formation/existence of black holes and gravitational waves [A gravitational wave is an invisible (yet incredibly fast) ripple in space. Gravitational waves travel at the speed of light (186,000 miles per second). These waves squeeze and stretch anything in their path as they pass by. – NASA Science.].
Eaton explained, "Special and General Relativity are quite a complicated idea, and the students seemed to be really interested in the weird results that come from those theories." The MXS students were able to correlate the theory of general relativity and its use in the movie Interstellar, which Eaton confirmed was an accurate depiction of the theory. "I was shocked at how creative and thoughtful some of the answers I got from the students to very conceptually complicated questions," said Eaton.
In addition to the MXS monthly STEM Fair, our faculty also participated in 18 individual school events in classrooms across Atlantic, Cape May, Essex, Passaic, Middlesex and Monmouth counties throughout the academic year. Those students were taken into a new world of possibilities.
"What I liked most about the event was how engaging it was for my students. Students were able to interact with Professor Hossay and ask him questions as he toured his lab and explained projects going on – real life problem solving and research...students were talking about the presentation in their other classes as well," explained Theresa Smyth, Engineering Technology faculty at Colonia High School.
Through this initiative, our faculty were also able to meet their outreach goals, not only to engage students when in-person visits weren't possible, but also to reach audiences outside of regular reach. Thompson was able to extend her outreach activities beyond the usual Bay locality and into hard-to-reach non-traditional audiences. Thompson was able to give a demo and presentation on oyster restoration – what it is and how it is executed – in New Jersey with two school districts with different socioeconomic statuses, Malcolm X. Shabazz and Rumson-Fairhaven high schools.
"Aaron Stoler [assistant professor of Environmental Science] was passionate about his research and the students loved talking with him about it. He was also very honest with the kids about how to get into and what to expect from college," said Cheryl Fisher, Biology and Environmental faculty at Overbrook High School.
"Not having to travel opens it up [the possibility] to more of these opportunities that I can fit in during the week amongst other classes or research," said Thompson.
Steve Ordog, oceanography faculty at Woodstown High School commented, "It was great to have a researcher and professional marine scientist share her experiences with the class. It allowed the students to have a much more intimate glimpse into the world of marine science than I can usually provide in the classroom."
Our faculty were mindful that some of the districts we were working with had a large community of potential first-generation students. Many are academically ready but lack the information they need as they are preparing to transition to college. They made sure to include a portion of their presentation on information and advice regarding college. "Presentations included information on how to apply for scholarships/financial aid which I learned from being on the Administration and Finance Committee, and how students can ready themselves to go to college," said Thompson.
It was an amazing experience to be able to give back to our community in a time where the whole world was struggling to maintain connections. The relationships built are extending beyond the virtual classroom experience, as some of our faculty will be helping some of the schools set up clubs and community gardens and collaborating on virtual components in the upcoming year. The virtual experience is now part of our outreach repertoire and we look forward to continuing to offer it beyond the pandemic.


References:
https://www.spsnational.org/the-sps-observer/spring/2014/importance-science-outreach
https://www.immpressmagazine.com/cultivating-scientific-curiosity-starts-early-the-importance-of-stem-outreach-initiatives-for-k-12/