Project Tells Stories of Holocaust Survivor-Owned Businesses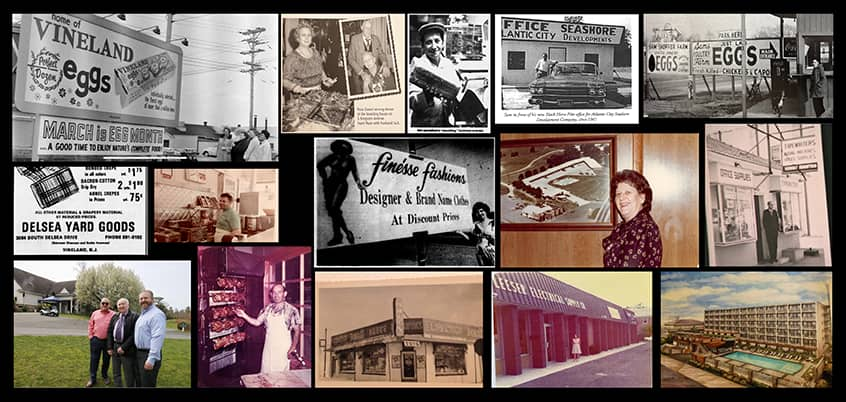 Galloway, N.J. - Egg farming gave many Holocaust survivors a chance to start a new life in rural southern New Jersey. But many survivors expanded that opportunity into other successful businesses. Twenty-six of those businesses in Atlantic, Cape May and Cumberland counties are profiled on a website and presentation, "Holocaust Survivor-Owned Businesses in South Jersey."
The presentation was created for the Sara & Sam Schoffer Holocaust Resource Center at Stockton University by political science major George Quinn of Mays Landing. Quinn received a Stockton University Board of Trustees Fellowship for Distinguished Students to work on the project with Michael Hayse, associate professor of Historical Studies.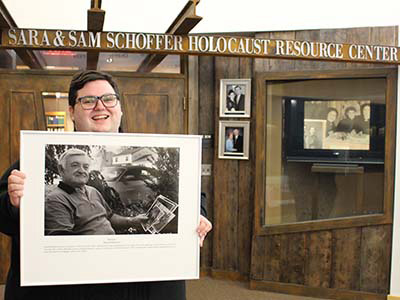 The project is part of the Holocaust Center's Digital Archive and Exhibition Project of Holocaust Survivors in Southern New Jersey.
"What language do chickens speak? English wasn't needed. It wasn't a prerequisite to running a farm and enjoying life on the farm for themselves and their families," said Quinn, who recently graduated with a bachelor's degree from Stockton and is headed to a Ph.D. program at Rutgers University in the fall. "For the majority of Holocaust survivors in this region of the country, it was chicken farms."
Quinn, who recently gave an online presentation on the project, said often the farmers would cluster with other Holocaust survivors to make egg farms profitable. The biggest collections of egg farms included Vineland in Cumberland County, Woodbine in Cape May County and Mays Landing and Oceanville in Atlantic County.
"Life was difficult. There was a lot of work for children and a lot of work for their parents," Quinn said. "But the big thing they enjoyed the most was that they were independent. They finally had a chance to make a living for themselves."
However, a decline in egg prices in the 1950s forced these Holocaust survivors to reinvent themselves. Many of the families diversified and invested in other business ventures. Quinn and other students working on the project were able to create a database of 134 small businesses in the tri-county area, with many of those families getting their start in the egg farming industry.
One business Dave's Fantastic – a hot dog shop on the Atlantic City Boardwalk owned by David and Esther Berkowitz, who fled Poland during World War II. After living in exile in the Soviet Union and spending five years in a displaced persons camp in Germany, the couple came to the United States and eventually moved to Egg Harbor City and opened a poultry farm.
While still operating the farm, they opened Dave's Fantastic on what is now the site of the Hard Rock Hotel & Casino. The stand boomed with the promotion of Dave's "mile-long hot dogs," Quinn said.
Another example was Tower Hospitality, started by Sam and Elizabeth Roth. The couple emigrated to the U.S. in 1949, settled in Philadelphia and bought a poultry farm in Cumberland County in 1952. After 20 years with the farm, they bought the Buena Vista Motel in western Atlantic County, which led to a series of hotel and restaurant franchises. The Roths currently maintain three hotel franchises and in 2019 sold three Denny's restaurant locations they opened in Northfield, Millville and Vineland, Quinn said.
"Sam Roth was able to use his contacts in distributing eggs to then move into other businesses," he said.
Quinn said that one of the biggest challenges of the project was getting in touch with the families and the time involved in getting the research together.
"We had so much detailed information from family members, community members, Stockton's archives and other local archives," he said.
Quinn said that currently the Holocaust Center's website has stories on the 26 family businesses, but the plan is to continue to add new profiles.
"Our ultimate goal would be to have profiles on each of the (134) businesses in the database," he said. "This initial launch is just a taste. … The best thing we could do is publish these online because it allows us to show a lot of information."
Hayse said now that Quinn has graduated, he's hoping to solicit more undergraduate and graduate student volunteers to contribute. He said students could set up an independent study to work on the project.
"One of the things that I love about this project is that you get to know the families. It's really meaningful to see the kind of community that was built up here. You really get a sense of the Jewish and especially the Holocaust survivor community here in South Jersey," Hayse said.
Click here to view the website with the 26 business profiles.
Click here to watch the video presentation.
Story by Mark Melhorn. Photo by Diane D'Amico/Stockton University
# # #
Media contact:
Diane D'Amico
Director of News and Media Relations
Galloway, N.J. 08205
Diane.DAmico@stockton.edu
609-652-4593
609-412-8069