New Digital Archive Brings Together Holocaust Survivors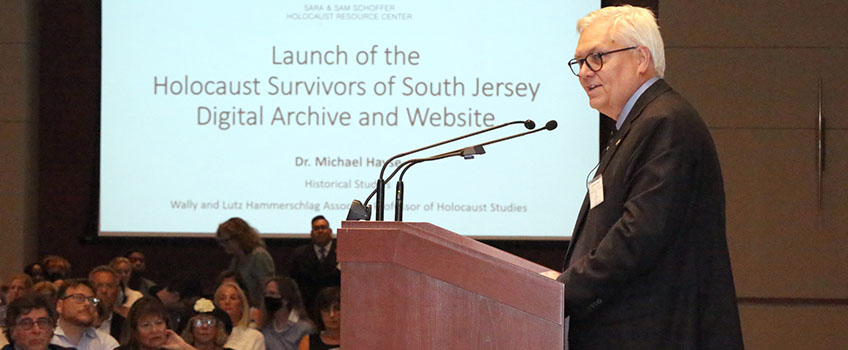 Galloway, N.J. – Henry Ackerman only recently realized the extent of his parents' experiences in Europe during and after the Holocaust.
"She really didn't want to talk about anything," said the second-generation survivor from Vineland about his mother, Eve.
Now a new project by Stockton University's Sara & Sam Schoffer Holocaust Resource Center has brought him closer to his parents than ever before. The center on Sunday launched the Holocaust Survivors of South Jersey Digital Archive and Website at the university's Campus Center Event Room.
The project, which includes more than 1,500 names of survivors who lived in Atlantic, Cape May and Cumberland counties, has two main components — a digital archive that will reside at the center and a website featuring individual profiles of some survivors.
The digital archive contains documents, copies of memoirs and ancestry information that researchers and Holocaust survivors' family members can search and access. The website will be a searchable database featuring about 80 profiles of survivors. Both the archive and the website will be regularly updated as new profiles are completed about survivors.
Eve and her husband, Jacob, arrived in the United States in 1951 and settled in Vineland where they started a chicken farm — a business the project discovered was common among hundreds of Holocaust survivors who settled in South Jersey. The Ackermans later got involved in real estate and general contracting, founding the Jacob Ackerman Realty Company. Jacob Ackerman died in 1976.
However, Henry didn't really learn much about his family's background until his mother retired seven years ago. Henry and his wife, Kim, discovered boxes of paperwork documenting his parents' emigration to the United States from Poland. Henry turned over all of it to Michael Hayse, a Stockton associate professor of History who heads the project.
"She kept it all hidden," Henry Ackerman said of his mother who was not able to attend Sunday's event. "If it wasn't for my wife who found paperwork from my mother we would have never known. I would have thought that my mother was an international spy."
On Sunday, the Ackermans were able to spend some time looking through the digital archive. Thanks to research by Stockton students, they were able to see additional historical documents, including his father's Green Card and a manifest from the day his parents arrived in the United States.
"I think (the archive) is absolutely fantastic," Henry said. "I think everyone should know about what happened (during the Holocaust) and maybe it will change the way some people are acting today."
Those thoughts were echoed by many of the hundreds of people at the project's release, including seven Holocaust survivors and their families.
"This is very good for future generations because there aren't too many survivors left," said survivor Elizabeth Ehrlich Roth, whose granddaughter Lisa spoke at the ceremony.
Elizabeth Roth's family was deported to Auschwitz in 1944. Upon arrival, only Elizabeth and her sister Rella survived. Her parents and other siblings were sent to the gas chambers, and she never saw them again.
"We don't want it to be forgotten," said the Vineland resident. "That's how the future generations will learn what can happen to people. So they can learn something from it and be alert."
Not only can future generations learn from the survivors' stories, but they also have a responsibility to keep their legacies alive, said Leo Schoffer, a member of the Stockton Board of Trustees and a member of the executive committee for the Holocaust Resource Center named after his parents.
"This survivor project is intended to preserve this special history of the Holocaust and how it relates to our community here in South Jersey," he said. "It is intended to be a useful tool for your families and for future generations of your families, for researchers and for students of the Holocaust."
The archive is also something unique, said Michael Berenbaum, a former Stockton Ida E. King Distinguished Visiting Professor and a world-renowned scholar on the Holocaust.
"There is no other community that has done this," he said. "No other community has embraced its survivors and integrated them into the community. Now, through the university, the stories about their lives inside the United States are being told."
Stockton President Harvey Kesselman reiterated the educational importance of the archive and strongly emphasized that the university will continue to support the Holocaust Resource Center's mission.
"One lesson we have learned from our survivors is the value of education. That value is at the very core of who we are and what we do at Stockton," he said. "I'm proud to proclaim that we are absolutely committed to continue offering more courses in Holocaust and genocide students than any other university."
Hayse said the project's work isn't complete as at least 200 more people still have to be vetted and possibly added.
"It will never really be done because there are always going to be stories to tell," he said. "We are constantly getting more information and new people coming forward to talk to us."
There are also plans to add to the project. In the fall of 2023, the center plans on releasing a digital exhibition that will present a more comprehensive look at the Holocaust, refugee issues and the positive impact of Holocaust survivors on South Jersey.
"This project is critically important," Kesselman said. "We must learn from and never forget the past. We must always remember that Holocaust survivors have taught us a most important lesson — from despair can come hope and resilience."
-- Story by Mark Melhorn / Photos submitted by Vernon Ogrodnek