Spotlight On: Husnul Amin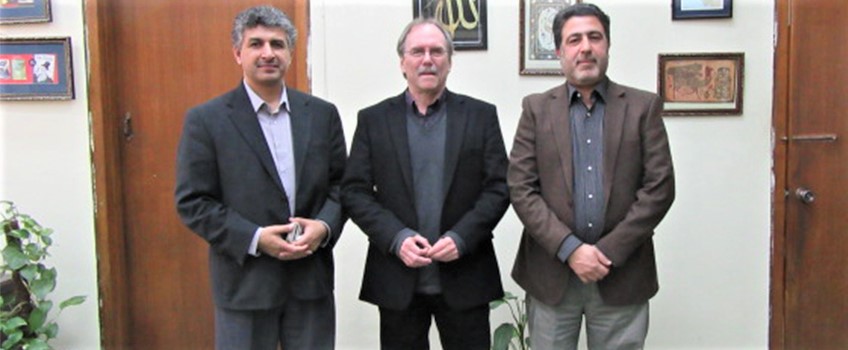 Galloway, N.J. - Husnul Amin has an impressive resume. The ethnopolitical sociologist has traveled, studied and lived all over the world. He speaks so many languages fluently, he does not keep count anymore. A published author of more than six books and 25 research papers, Amin is Stockton University's first visiting Fulbright Research Fellow on a year-long grant.
Amin is an associate professor of politics and the executive director of the Iqbal International Institute for Research and Dialogue (IRD) at the International Islamic University of Islamabad. While at Stockton, he will complete his post-doctoral research on the Pashtun Protection Movement under the mentorship of renowned historian Robert Nichols, professor of history.
"During research and advising trips to universities in Pakistan, I have met Dr. Amin several times and am familiar with his institute's progressive social and cultural activities," Nichols explains. "His international academic training and sophisticated research proposal are of a Fulbright standard of excellence and we hope colleagues and students will have many chances this year to meet with him, discuss his work, and hear about his research."
The millennial-driven Pashtun Tahafuz Movement (PTM) aims to reform the protections and rights of the Pashtun people in northwest Pakistan, an area riddled by intense conflict for decades. Specifically, Amin is examining the role of social media and how the ease of access to information has sparked this youth movement. During his year at Stockton, he is completing a manuscript on his research.
So far, Amin's favorite part of working on his research at Stockton is the academic freedom. "There's an openness in academia in the United States, a frankness. In Europe, language is often a barrier to communication, it's difficult to be heard," explains Amin. "But in the U.S., I feel comfortable, I am heard, I have a voice. I can talk and think about anything I want with anybody."
Amin arrived at Stockton University in January and will stay until December. He is enjoying life in South Jersey with his family, "America is the land of immigrants, after all. There's something that holds you here…it's subjective, it keeps you here and holds you to this land, the people and society."
His main areas of research and teaching include: religion and politics in the Muslim world; Islamic social movements and post-Islamist trends; conflict, peace and development; and International Political Economy. He is published in journals such as Romanian Journal of Political Science; Journal of Islamic Studies; Pakistan Journal of History and Culture; and Pakistan Journal of Criminology, Historicus. His most recent book is called Post-Islamism: Pakistan in the Era of Neo-liberal Globalization.
For more information on student and faculty Fulbright opportunities, visit https://stockton.edu/global-engagement/ or stop by the Office of Global Engagement in F-101Q.
Reported by Eliza Hunt