Marine Technology Society Helps Students Discover Careers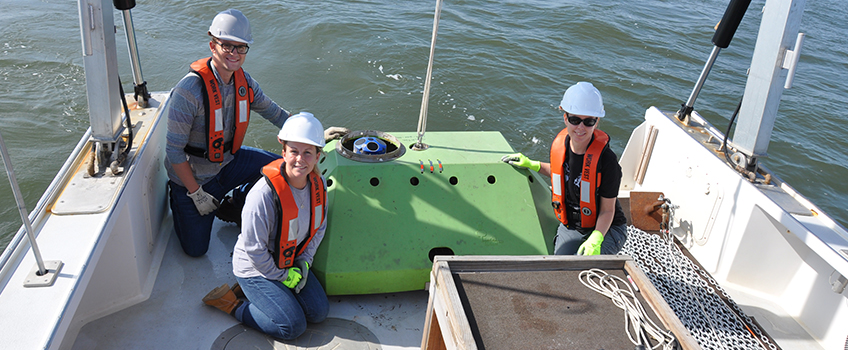 Galloway, N.J. - Marine Science seniors Peyton Benson and Caitlin Turner helped to organize a Marine Technology Society summer webinar series for students to connect with experts and learn about careers in hydrography, the science of surveying bodies of water.
Six presentations throughout the summer will feature discussions by industry professionals, researchers and software developers on the tools, techniques and applications for future hydrographers. Each session will provide a Q&A period and a chance for students to engage with professionals in the field of hydrography. For dates, topics and free registration, visit the Marine Technology Society.
Stockton University's Marine Field Station in Port Republic puts marine technology into the hands of students studying oceanography allowing them to discover and map shipwrecks, natural resources, underwater hazards, marine debris and physical properties like water flow through an inlet.
Experiences with faculty and staff at the Field Station have had an impact on both Benson and Turner, who co-founded the Stockton student chapter of the Marine Technology Society with Anna Pfeiffer-Herbert, assistant professor of Marine Science, and Steve Evert, director of the Field Station.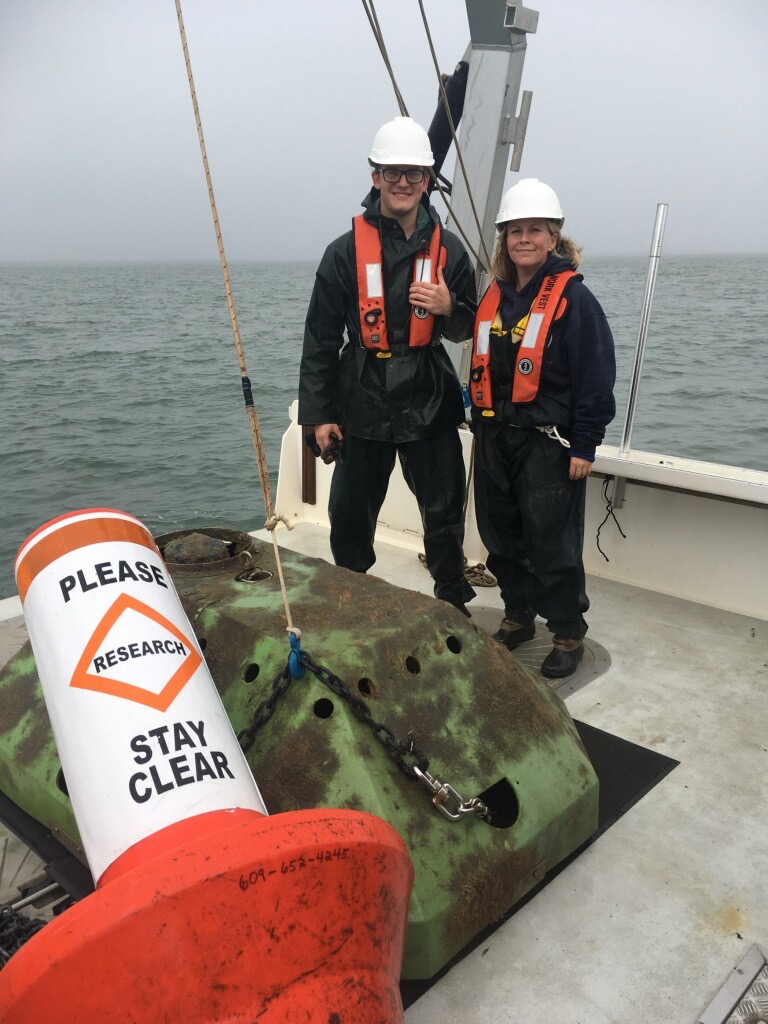 Benson is taking the position of president this year after Turner led the group as president for the first year.
During a Coastal Oceanography lab on the Mullica River, Benson recalls looking at a map of the seafloor right below him displayed on a computer screen. The image was created by multibeam sonar.
"I thought this technology was amazing because you could create 3D maps of bathymetry in real time. During the lab, Steve Evert taught us the basics of the functionality of the device and let us control the simpler aspects of the survey. It was one of my most memorable experiences at Stockton and inspired me to pursue the field of hydrography," said Benson.
Caitlin Turner's favorite marine technology is the Acoustic Doppler Current Profiler, which uses sound waves to measure water velocity and currents.
"This device has been mounted to the boat and moored at the bottom of Little Egg Inlet on Great Bay to understand estuarine exchange flow for the estuary. These data can be used to measure currents to better understand water circulation patterns in our area, as well as climate change, fish migration and ocean mapping studies," she explained.
Benson and Turner are both interning this summer with ECHO81, a hydrographic instrumentation, training and rental company that spent a week at Stockton last year to train students and staff on how to use its marine technology. The opportunity came from a partnership with Ørsted U.S. Offshore Wind, which won state approval to build a wind farm off the Atlantic City coast and is now collaborating with Stockton to support research, academic programs and events.
During that training, Benson learned the basics of surveying, data collection, planning routes, operation and data processing that will be used in marine survey studies for offshore wind in New Jersey. "We were even able to participate in the open ocean surveys, which was an unforgettable experience," he said.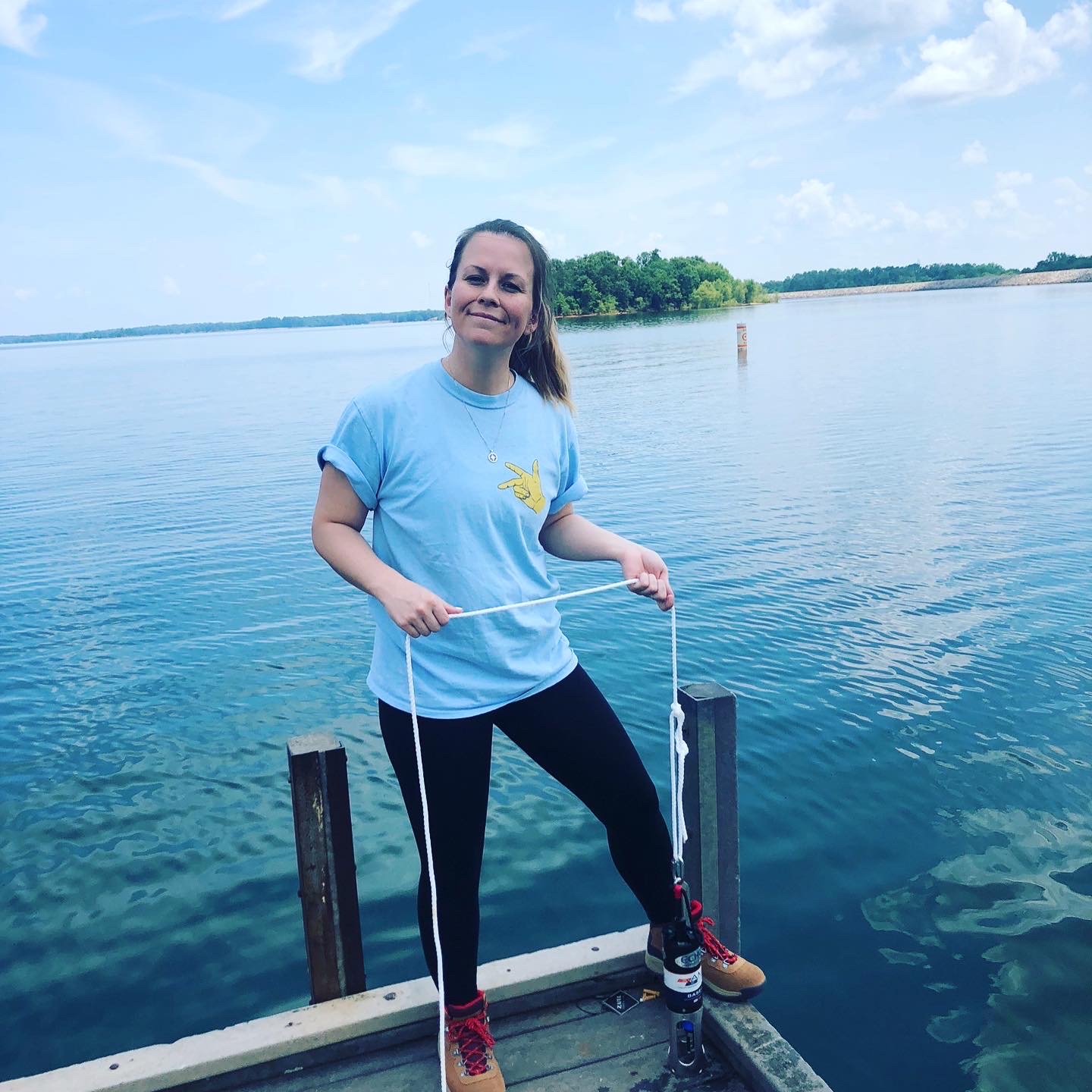 Turner's most memorable experience with the Marine Technology Society was watching Pleasantville Middle School students build robots capable of picking up plastic bottles and recycling them into receptacles during an annual competition designed by the Navy to challenge students to solve problems affecting our oceans. Turner was part of a demonstration that showed the students how to use a remotely-operated vehicle.
Anna Pfeiffer-Herbert is leading a research project that measures estuarine exchange flow at Little Egg Inlet on Great Bay, and Turner got involved last summer through a Summer Intensive Research Experience (SIRE). "I used tilt current meters, which measure current speed and direction, to study how curvature in a river effects water flow patterns at the bottom of the water column," she explained.
Turner enjoys sharing science with young people and has been a role model to many middle school and high school girls who come to Stockton for Tween, Teen and Tech Trek programs that encourage girls to pursue STEM.
The summer webinar series is a way for students to get engaged with the Marine Technology Society and to see where the future is heading.
Learn more about the degree programs offered by the School of Natural Sciences and Mathematics and the opportunities offered through the Marine Field Station.
Reported by Susan Allen