Hospitality Students Present Event Design Plans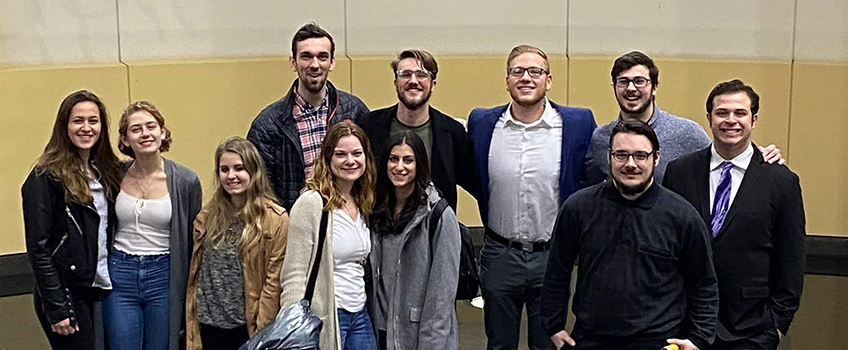 Galloway, N.J. _ More than 30 students who spent the semester learning about the power of creating a successful event presented an event of their own May 5 when the first cohort of students in Stockton University's new Event Design Management program received their Young Professional certificates in an online ceremony and presentation.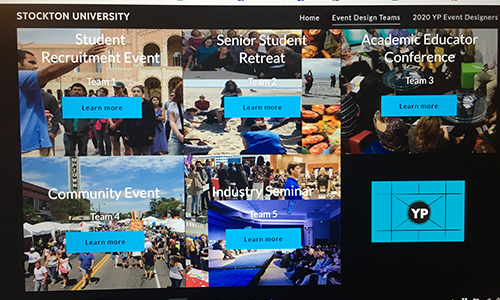 The course incorporates the curriculum of the Event Design Collective Young Professional program. Stockton is the only university on the East Coast offering this certification, and is one of three such programs in the United States.
Teams of students presented the case studies for the five events they organized to faculty and the founders of the Event Design Collective, Ruud Janssen and Roel Frissen, both of whom were impressed with the students' work.
"I've never seen such a great example of students working with a professor," Frissen said. "It is impressive to see it all online. You took it to an advanced level your very first time."
Janssen said he was delighted with the narrative and the detail in the student projects.
Students presented their plans for five events, a Student Recruitment Event, a Senior Student Retreat, an Academic Educator Conference, a Community Event and an Industry Seminar. The presentations included details on scheduling, theme, and combining business with fun. Students said they learned the importance of knowing the audience and the stakeholders for their event.
"Emotion is key to a successful event," said Caelinn O'Dea.
Students took advantage of the Atlantic City location to mix activities in casino hotels with academic and industry workshops. The Community Engagement event proposal included activities to help the Atlantic City Rescue Mission and a beach cleanup along with tours of the Stockton Atlantic City campus and a talk with the president on the university's role in Atlantic City.
Assistant Professor of Hospitality and Tourism Management Studies Noel Criscione-Naylor said students knew from the first day of class that the course was going to be a different kind of experience.
"Look how far you've come," she said. "And now you are all certified."
Students shared their experiences in comments posted on the website:
"Event Design has taught me there is a deeper process behind making an event and connecting with the stakeholder's experiences," Hannah Cressman said.
"Event Design has shown me how events cause behavior changes in all of us, and we probably don't even know it," said Michael Misko, Jr.
The students who earned the certificate are: Grace Babilot, Christina Bradley, Brittany Cabrera, Hannah Cressman, Jacob Davies, Alexandra Dudley, Donovan Duelly, Morgan Elstad, Salvatore Facciola, Veronica Fallas, Gloria Finnan, Kayla Gutnikov, Megan Hobler, Sarah Karcher, Christine Kelly, Jenna Kenny, Maxmillian Matthies, Riley-Jo McKenna, Michael G. Misko, Jr., Kathleen Monahan, Lindsey Nelson, Caelinn O'Dea, Kayla Pitzo, Michael Raguso-Failla, Alaina Rush, Genesis Sandoval, Jennifer M. Smith, Gage Streppone, Kelly Thornton, Nicole Vaccarella, Abigail Waid, Haley Waters, Philip Young
Teams of students presented the five events they organized to faculty and the founders of the Event Design Collective, Ruud Janssen and Roel Frissen.
The student's case studies cane be viewed on the web at https://ypeventdesign.godaddysites.com/.
# # #
Contact:
Diane D'Amico
Director of News and Media Relations
Galloway, N.J. 08205
Diane.D'Amico@stockton.edu
609-652-4593
609-412-8069
stockton.edu/media