Meet the Class of 2020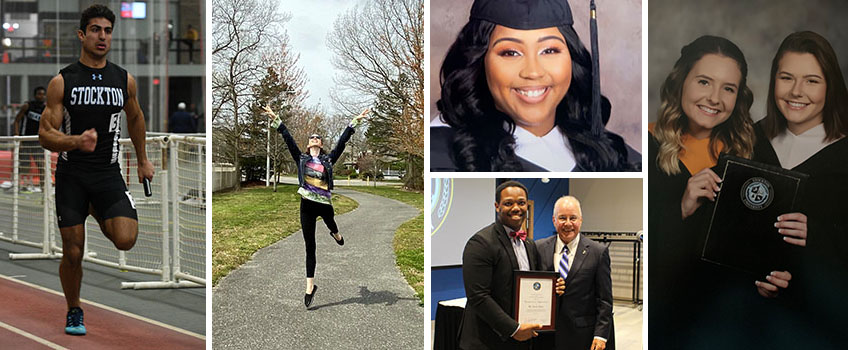 Galloway, N.J. - The Class of 2020 at Stockton University did not have the ending they were expecting, but these students still have a lot to celebrate. Some have overcome obstacles to arrive at this milestone while others remain positive in the face of new struggles ahead.
The more than 2,000 undergraduates and 350 graduate students together make up the Osprey community. Each has taken a personal journey to reach a shared destination. Now they will start on new paths as Stockton alumni. Here are a few of their stories:
Qudratullah Qadiri, Biology/Pre-Med
Qudratullah, "Quad" Qadiri was supposed to give the student speech to a full house at Boardwalk Hall at Commencement May 15. He applied to speak because as captain of the men's track team, he said he was always giving motivational speeches to his teammates.
"To me it's just like doing that, but the academic version," he said of his planned speech to the graduating class, which he still hopes to present at a ceremony in the fall.
Qadiri's family emigrated from Afghanistan, and he wasn't the strongest student in high school, the Ocean Township resident said. But he found his stride in college and developed the grades and the confidence to consider going to medical school.
"I really put in the effort," he said.
His efforts led to him being chosen as a National 2019 Arthur Ashe Jr. Sports Scholar. He also earned three New Jersey Athletic Conference Second Team honors in his career (2018-19 indoor pole vault, 2017 outdoor decathlon).
He is working as a TMS technician for a doctor to get experience in a medical field and is applying to medical schools. He wants to be an orthopedic surgeon.
"I've always been interested in athletics and how the human body functions," he said, explaining his career aspirations.
Alena Kumta, Master of Science in Occupational Therapy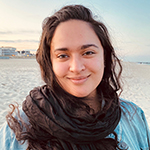 Alena Kumta was a fine arts major studying in New York when she started to learn about occupational therapy.
"The whole idea of developing meaningful activity through movement and to help people reach their goals, it just clicked with me," the Holmdel resident said.
Kumta said some of her most memorable experiences at Stockton have been the clinical opportunities and field word. She traveled with a cohort of students to Bogota, Colombia where they visited with students at a university there, and she also did fieldwork at Greystone Psychiatric Hospital in Morris Plains, Occupational Therapy Associates in Princeton and Eden Autism Services in Princeton.
"The more I learned, the more I realized this is what I want to do," she said.
Kumta is receiving her Master of Science in Occupational Therapy, and has passed her exams and received her license. She is currently apply for jobs and teaching yoga and art at Inspired Minds Fine Art School.
Kumta said she is proud to have been chosen to be the student speaker at the Graduate Commencement, and she hopes to be able to return to give her speech in person in the fall, though it may depend on where she gets a job. Her family is moving to California, so she has expanded her job search there.
"It was so special to be chosen," she said. "I was very touched."
Alay'Ziah Haraksin, Education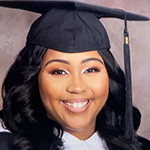 When the Pleasantville public schools closed and moved to online teaching in March, Alay'Ziah Haraksin was ready. She had been student teaching in a fifth-grade class at South Main Street School and said her Instructional Technology class at Stockton gave her the skills she needed to make the transition.
"I was able to help the classroom teacher," she said. "We talked almost every day."
A native of Pleasantville, she said would like to work in the district, ideally teaching fifth grade.
"I was always a straight A student," she said. "At first I wasn't sure what I wanted to do. But once I signed up for teaching, I loved it."
Her mother is also graduating from Atlantic Cape Community College and they are planning a family celebration.
Monica O'Kane, Business/Art and Dana O'Kane, Communication Studies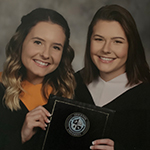 Dana O'Kane graduated from high school a year early and when she and her older sister Monica visited Stockton, they knew it was the college they wanted to attend together. They are so close they roomed together in Galloway and even took a formal graduation photo together.
Dana, 21, finished her coursework in December, and after an internship at Bernie Robbins Jewelers in Somers Point was offered a job there in December doing social media and digital marketing. With the physical store closed, they have been relying on online sales, so her job has been both demanding and creative as she works from the family home in Cherry Hill.
"Mother's Day was good," she said of business.
Monica, 22, took classes in the spring and had planned to take a class trip to South Africa with Associate Professor of Social Work Robert Barney, but the trip was cancelled.
Monica hopes to work in Philadelphia, either in marketing or human resources. For now, the sisters are living at home and also working at Wegmans. Their younger sister, Rebecca, is a rising sophomore at Stockton.
"There are five of us, all girls, in the family," Monica said of their commencement plans. "We'll have dinner with our mom, a houseful of girls."
Brendan Honick, Liberal Studies/Holocaust & Genocide Studies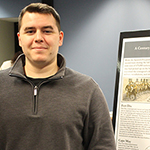 As a Liberal Studies major, Honick has had the opportunity to have diverse experiences at Stockton.
In 2019, while interning in the library Special Collections he curated an exhibit on the Spanish flu pandemic of 1918, the challenges residents faced and its impact on New Jersey.
This year he interned with the Stockton Stories team, developing stories for the webpage that highlight the university's 50-year history, and was a finalist for Commencement speaker.
The Linwood native has also been working with the Atlantic County Historical Society, where he has served on the Board of Trustees since October 2019, the youngest member in decades. He drafted a set of directions to help visitors use the collection's database system.
"Most of these visitors were older adults who had difficulty navigating the organization's collections database program," he said.
This fall, he will begin pursuing a master's degree in Library and Information Science (Data Librarianship Concentration) at Syracuse University where he received a full merit scholarship and will work as the administrative and research assistant to the program director Dr. Jian Qin.
Ryan Rodriguez, Computer Science and Information Systems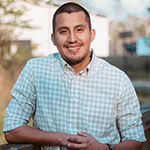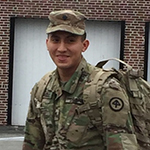 Ryan Rodriguez was on track to graduate in spring 2019 when the Army National Guardsman was deployed to the Middle East for nine months.
When he got back to Stockton, most of his friends had graduated and he had to readjust to college and civilian life. The Egg Harbor City native said he chose Stockton because it was military friendly, and his brother had also attended the university.
"It was hard to get back into classes, but I got involved with the Student Veteran Organization, and that helped," he said.
The Office of Military and Veteran Services helped link him with military benefits, and he has now applied to Stockton's master's degree program in Data Science and Strategic Analytics.
"Data science is really what I'd like to get into," he said.
Jenna Tomkins, Health Science: Pre-Communication Disorders/Dance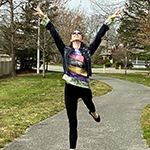 Dancers don't expect to perform without an audience or a stage, but Jenna Tomkins did just that as one of the students chosen for the Emerging Choreographers Showcase, which was performed alone, but viewed by hundreds through an online platform.
"Stockton Dance created a virtual platform allowing us to record our solos while also experimenting with new locations," the Waretown, Ocean County, resident said. "Having the opportunity to share my work through this online performance allowed me to learn new skills about choreographing for film and also view the performance with my family and friends through a Zoom watch party."
Tomkins is proud to have graduated with a 3.99 GPA and a double major. She will be entering Stockton's Master of Science in Communication Disorders program and plans to become a pediatric Speech-Language Pathologist while continuing to pursue her passion for dancing and performing.
Favad Akhtar, Doctor of Physical Therapy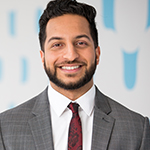 Favad Akhtar's family really is a Stockton family. Two of his brothers attended Stockton and Akhtar earned his bachelor's degree in Biology from Stockton in 2016, then stayed on to earn his doctorate in Physical Therapy. He is graduating, but the work is not quite over.
"Currently, along with my fellow classmates we are rigorously studying for our National Physical Therapy Examination scheduled for late July," he said.
Akhtar wants to work as a travel physical therapist to explore different areas and settings in the health care industry, but he also recognizes that opportunities during the pandemic have become more limited. He is working with recruiters to explore the options.
Until then, he is at home in Brigantine with his mother and four siblings, where his mother is planning an appropriate family celebration.
"My mom has been waiting a long time for this moment and I will make sure she gets it!" he said.
Marissa Luca, Communication Studies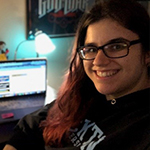 Marissa Luca helped produce stories for the Stories of A.C. project and edited a special Young Leaders section for The Press of Atlantic City, where she worked as an intern. She tutored students in the Stockton Tutoring Center and served as head tutor for the spring semester.
"I am so proud of all the students and the tutors," she said of the transition to online assistance in the spring.
An Egg Harbor Township native who now lives in Mays Landing, she recently interviewed for a position as an ArtistYear Americorps fellow in Philadelphia, where, if she is approved, she will teach creative writing in schools. Eventually, she wants to get a PhD in Media Studies and teach at the college level.
She said not having a formal graduation ceremony is a disappointment, and she will spend the day with her partner at their apartment in Mays Landing and try to see her parents in Egg Harbor Township, though her father works in a nursing home and is being careful about his outside contacts.
"My parents didn't finish college, so they are over the moon about me graduating," she said.
Melissa Nash, Dance Pre-Movement Science/Holistic Health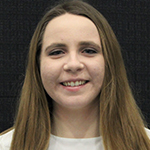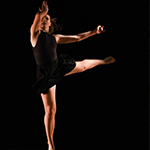 "Learning to transition to taking classes online was very difficult for me, but I decided to make the best of my situation and learn how to dance in the relatively small spaces of my house," West Caldwell resident Melissa Nash said. That meant sometimes having to use a chair as a ballet barre.
She continued working on an independent study project, The Mind Dance, with Professor Beau Hancock in which she researched how mental health impacts the way people dance. The research was submitted for the Certification of Distinction. In the fall she will begin graduate school at Montclair State University where she will study for a master's degree in Counseling.
Deon Davis, Communication Studies/Africana Studies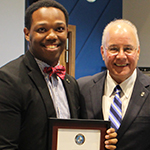 During his time at Stockton, Deon Davis served as a Student Senator and was chosen to be a Student Trustee on the Stockton Board of Trustees.
But he did not get to make the video he had hoped would be his capstone video production project.
"I couldn't have other people involved," he said.
He did get to work on a television production in Atlantic City and made some connections he hopes might lead to work in Philadelphia, or even better, New York City.
"I really want to get into filmmaking," the Atlantic City High School graduate said. "I know I can't go to New York right now, but I can't wait to go."
# # #
Contact:
Diane D'Amico
Director of News and Media Relations
Galloway, N.J. 08205
Diane.D'Amico@stockton.edu
609-652-4593
609-412-8069
stockton.edu/media