Art, Science Collaborations Featured in Spring Exhibits
Galloway, N.J. – Stockton University's Art Gallery focuses on creative collaborations of the Arts and Sciences in two spring exhibitions from Jan. 21 through April 5.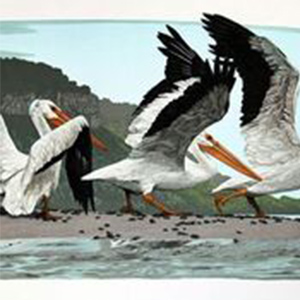 The lower gallery features artist, activist and environmentalist, John Sabraw, whose paintings and mixed media installations are produced in an eco-conscious manner. He continually works toward a fully sustainable practice. The main focus of his current research is working with a team of engineers and watershed experts to remediate streams polluted by acid mine drainage from abandoned coal mines.
Gaylord Schanilec, master fine printer and wood engraver, is a historian, writer and naturalist. His fine press books and color wood engravings of the Mississippi and his Wisconsin environment are the pinnacle of the lost art.
The upper gallery features Intersecting Methods Portfolios, limited edition prints with artist, scientists and engineers, curated by artist and proprietor of R&D Press, Matthew T. McLaughlin.
Each artist will give a Gallery Talk about their respective work and participate in a roundtable discussion. The schedule is:
February 17, 2:30 p.m. Gaylord Schanilec
February 18, 2:30 p.m. John Sabraw
February 19, 11:30 a.m. Roundtable Discussion
February 20, 11:30 a.m. Matthew T. McLaughlin
The roundtable will enable scholars, artists, and students to meet and discuss art and science and how these two subjects overlap in their own work. After a brief introduction of the participants, breakout sessions will be established on the following topics:
"Natural Science and History as Reflected in Art," Sustainability and Artistic Research – Creation," and New Technology and Contemporary Art Applications in Academia and Research."
An RSVP for the Roundtable is encouraged. Please call 609-652-4566
All events are located in the Stockton University Art Gallery and are free and open to the public. The gallery is open to the public Monday through Saturday 12-7:30 p.m. and Sunday 12-4 p.m. The gallery is closed during spring break March 14-22.
Contact:
Denise McGarvey
Exhibition Coordinator for the School of Arts & Humanities
609-652-4566.
Stockton.edu/artgallery
denise.mcgarvey@stockton.edu