Graduate Students Share Research at Symposium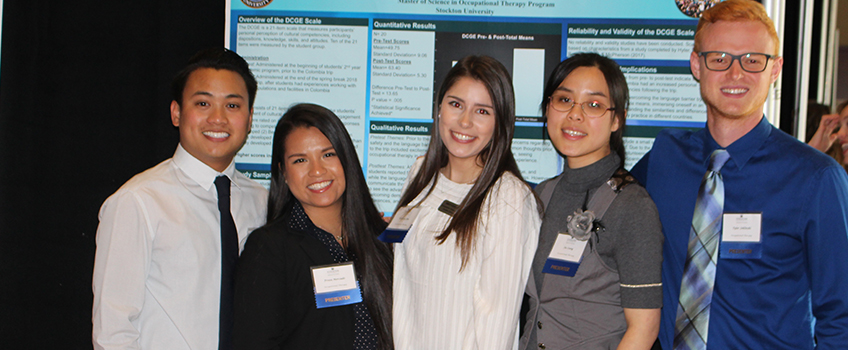 Galloway, N.J. – Tia Tilton, a teacher at the Winslow Township Middle School received the award for best poster presentation at the spring Graduate Research Symposium held in the Campus Center Event Room.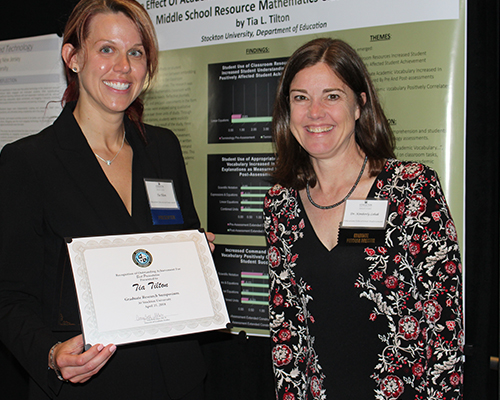 Tilton, a student in the Graduate School of Education, did her research project on "The Effect of Academic Language on Student Achievement in a Middle School Resource Room Mathematics Classroom." She found that embedding academic language into lessons increased student understanding and performance. Her advisor was Associate Professor of Education Kimberly Lebak.
The runner-up was Lisa Magliano, a ninth grade English teacher in the Pinelands Regional School District. Her project was "Digging Deeper in Writing: The Impact of Peer-Review and Self-Assessment on High School Students' Writing."
Magliano found that students liked doing peer review of their work, but mostly if they could choose their own partner. Self-assessments worked best if students had to show evidence that they had met the goals.
Magliano is also a student in the Graduate School of Education. Her advisor was Associate Professor of Education Priti Haria.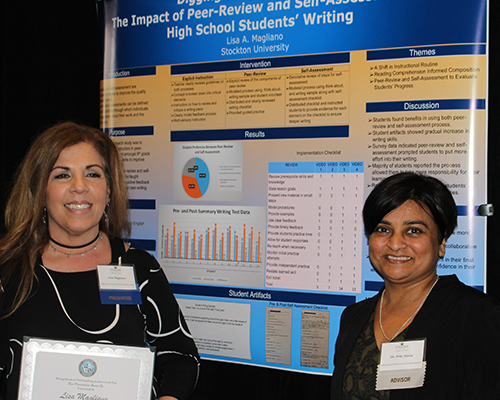 Forty-one presentations from different disciplines were displayed.
"I know how important and labor-intensive research can be," said Director of Graduate Studies Amy Beth Glass. "We are here to celebrate your graduate school journey."
Provost Lori Vermeulen thanked the participants for their commitment, focus and passion and mentioned the variety of projects on display and several she had a personal interest in reviewing
"We are a community of lifelong learners," she said.
Students represented were from the Doctor of Physical Therapy program, and the Master Degree Programs in American Studies, Criminal Justice, Education, Instructional Technology, Business Administration, Communication Disorders, Data Science and Strategic Analysis, and Occupational Therapy.
Other project topics included the use of hippotherapy for children with cerebral palsy, the effect of yoga and regular exercise in reducing falling in older adults, the use of mindfulness meditation to lower blood pressure, challenges facing South Jersey historical preservation, formative feedback and math anxiety, and the use of sign language in the practice of speech-language pathology in New Jersey.
To view a gallery of photos from the event, click flickr.
# # #
Contact:
Diane D'Amico
Director of News and Media Relations
Galloway, N.J. 08205
Diane.D'Amico@stockton.edu
609-652-4593
stockton.edu/media