18 Reasons to Celebrate Stockton in 2018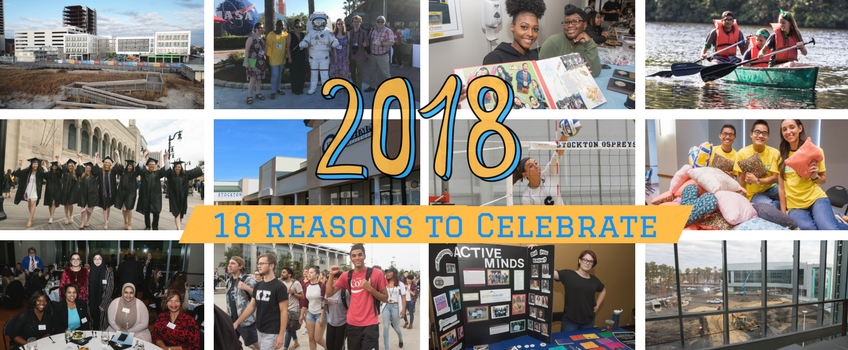 We're celebrating the New Year by sharing 18 exciting things happening at Stockton in 2018.
---
1. Live and learn at Atlantic City campus
Be among the first students to experience beachfront living and learning at our new Atlantic City campus opening in fall 2018. At Stockton in AC, you'll live steps away from the beach, the Boardwalk, and your classes. Become engaged in the community and learn from real-life internships and partnerships in the city. Always find a parking space in the new parking garage adjacent to the residential and academic buildings. Catch the new wave of opportunity.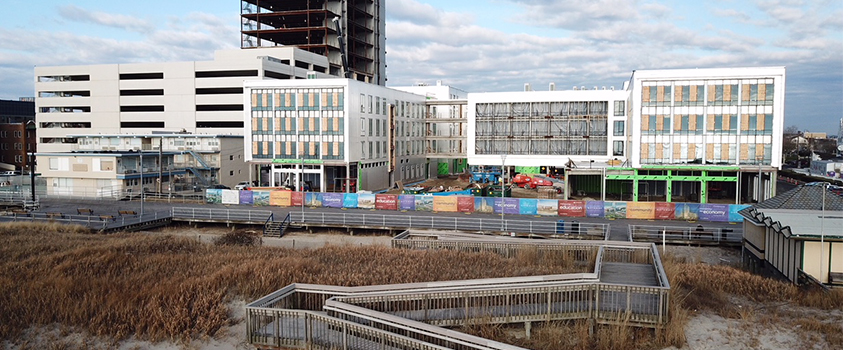 ---
2. Sign up for Martin Luther King, Jr. Day of Service
Join almost 1,000 volunteers at Stockton University's 14th Annual MLK Day of Service on Jan. 15. Service projects including Books Without Borders, beach cleanups, card making for senior citizens, animal projects, building renovations with Allies in Caring and much more! Projects will be held on the Galloway campus, at instructional sites in Hammonton and Woodbine and at the Tuckerton Seaport. This year's event will span an entire week and include an exhibit and panel discussion. Register and learn more!

---
3. Mark your calendar for Associate Justice Neil M. Gorsuch

United States Supreme Court Associate Justice Neil M. Gorsuch will speak at Stockton University at a special event for students, faculty and staff on Jan. 23. The William J. Hughes Center for Public Policy at Stockton will host Justice Gorsuch as a special academic initiative for the Stockton community.
---
4. Support Scholarships at the Gala & Golf Tournament
The Stockton University Foundation has awarded more than $700,000 to almost 500 students so far in 2017-18. The annual Scholarship Benefit Gala on April 28 at Borgata Hotel Casino & Spa and the Annual Golf Classic in fall 2018 at Stockton Seaview Hotel and Golf Club raise funds to support those scholarships. Learn how to make a direct impact. Learn about available scholarships.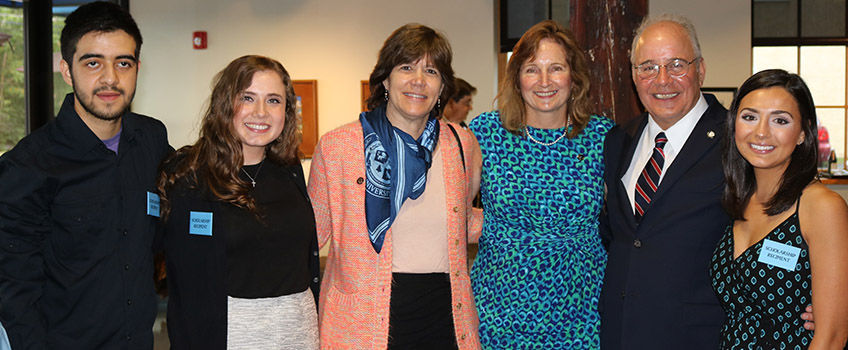 ---
5. Study at the expanded Manahawkin instructional site
Stockton at M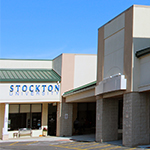 anahawkin is expanding in January to include the former Rothman building, an 8,000 square-foot site adjacent to the existing location on East Bay Avenue. As part of the health sciences expansion plan, the larger facility in Ocean County will include classrooms and lab space. The site hosts the RN-BSN nursing program and other health sciences and general studies courses, providing students from central and southern New Jersey with a convenient location to earn degrees in several fast-growing fields of health care. Learn more.
---
6. Welcome teachers from Panama
Stockton University will be hosting teachers from Panama as part of the government's Bilingue Initiative. The first group of teachers will arrive in January and stay at the Stockton Seaview Hotel and Golf Club. Participants will attend classes, visit area schools, participate in local social and cultural events, and explore the region more broadly through trips to Philadelphia, New York, and Washington, D.C. This partnership is the latest in a series of projects supported by Stockton's Global Engagement Initiative to prepare students for a multicultural and interdependent world. Learn about opportunities to study abroad and become globally engaged.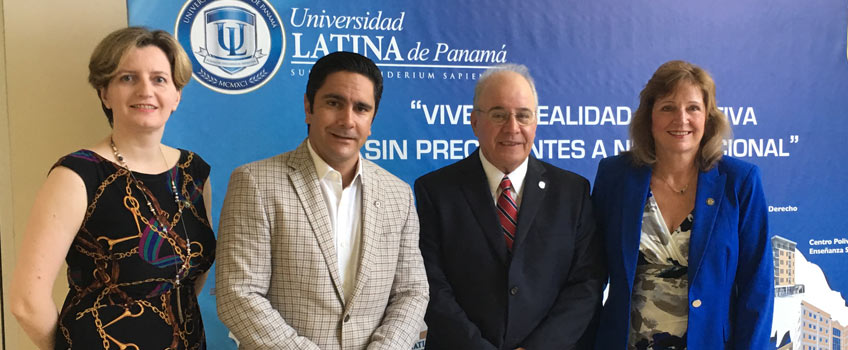 ---
7. Find something to do at the Get Involved Fair
Two days just weren't enough! For the first time ever, the Get Involved Fair will be held on campus for three days. From Jan. 23-25 students can learn how to get involved in over 150 student clubs & organizations, plus dozens of community organizations. See a list of all Stockton clubs and organizations.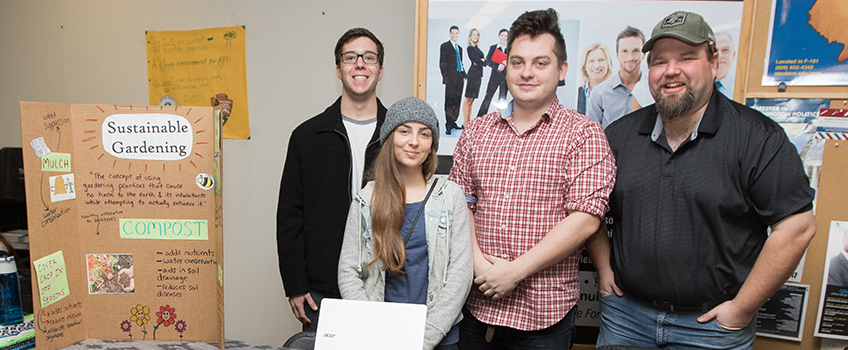 ---
8. Study and relax in the new Academic Quad
New places to study, learn and hang out! The new Academic Quad, which features the Unified Science Center 2, a new Health Sciences Building and a central outdoor location for the Stockton community to gather is set for a soft opening in spring 2018. Learn more.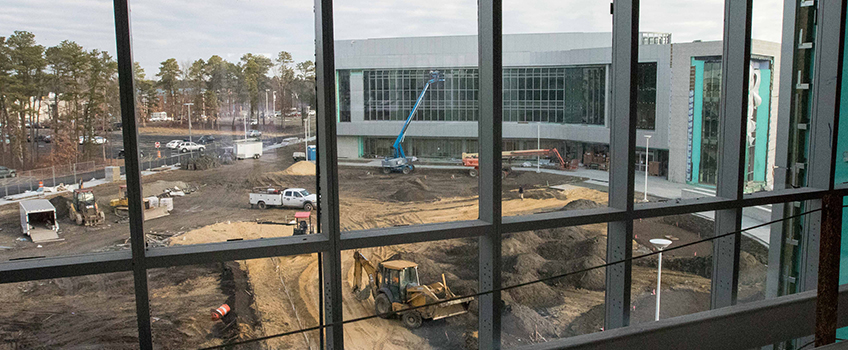 ---
9. Watch a second student project head into space.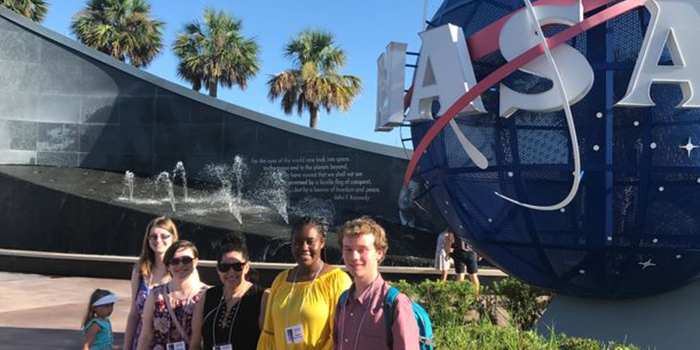 Ready for liftoff, again! A second experiment designed by Stockton students is scheduled to head into space in 2018 as part of the Mission 12 Student Spaceflight Experiment Program (SSEP). Learn more about the mission.
---
10. See a student veteran's view of war
Art work by Iraq veteran and Stockton alumnus, James Raczkowski will be featured in the Stockton Art Gallery from Jan. 16-March 28. Through his paintings, Raczkowski recounts and reimagines his experiences of combat. Learn more.
---
11. Celebrate our All-American athletes
Join us

at half-time of the 8 p.m. Jan. 17 Men's Basketball Game at home against Rowan University, when we'll be honoring our five most recent All-Americans: Colin Wharton, Men's Lacrosse; Jared Lewis, Indoor and Outdoor Track & Field; Alicia Belko, Cross Country and Track & Field; Stephanie Kovacs, Volleyball and Cassandra Hrusko, Outdoor Track & Field. Follow the Ospreys.
---
12. Congratulate the ETTC on its 20 years of teaching teachers.
The Southern Regional Institute (SRI) and Educational Technology Training Center (ETTC) is celebrating 20 years of supporting education by providing state-of-the-art professional development opportunities for more than 24,000 preK-12 educators, administrators and other education professionals in more than 75 school districts in six South Jersey counties. Learn more.
---
13. Go into the woods at the Pinelands Short Course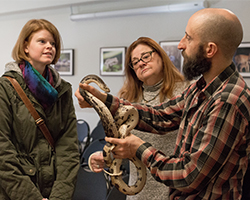 Explore the Pines! The 29th Pinelands Short Course on March 10 is a daylong event featuring educational presentations that explore the unique history, ecology and culture of the Pinelands. Past events have included tours of Hammonton Blueberry farms, lessons on the ecological effects of the insects in the Pines and visits from birds and snakes inhabiting the Pines. Registration opens in January.
---
14. From Bach to Prince, find something you like at the PAC

The Stockton University Performing Arts Center will celebrate Bach, Prince, Sherlock Holmes and more with a series of events to suit all artistic tastes. Learn about future shows and order tickets.
---
15. Get ready to SOAR (Stockton's Outdoor Adventure Retreat)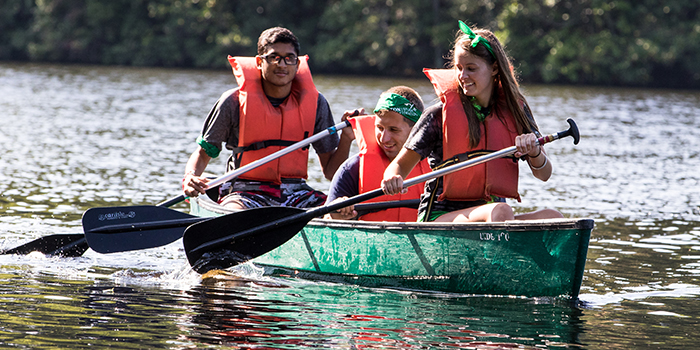 The ultimate freshman experience, each year, the Office of New Student Programs hosts the Stockton Outdoor Adventure Retreat (S.O.A.R), a three day/two night experience at Camp Ockanickon in Medford, NJ. Incoming freshmen bond over canoeing, archery, group activities and more!
---
16. Stand together at Unite Against Hate Day
Why do people hate? How should society respond? As a continuation of the September 2017 Unite
Against Hate rally on campus, Stockton will host a day-long symposium on Feb. 6 dedicated to studying and deconstructing hate and terror. The event will include guest speakers and discussions that reflect Stockton's mission to develop engaged and effective citizens with a commitment to life-long learning and the capacity to adapt to change in a multi-cultural, interdependent world.
---
17. Line up for Commencement at Boardwalk Hall
On May 11, we're heading back to the shore where thousands will fill the seats of Atlantic City's Boardwalk Hall as the Class of 2018 becomes the second Stockton graduating class to celebrate commencement at the historic venue. The deadline to apply for graduation is February 1. Learn more about graduation and commencement.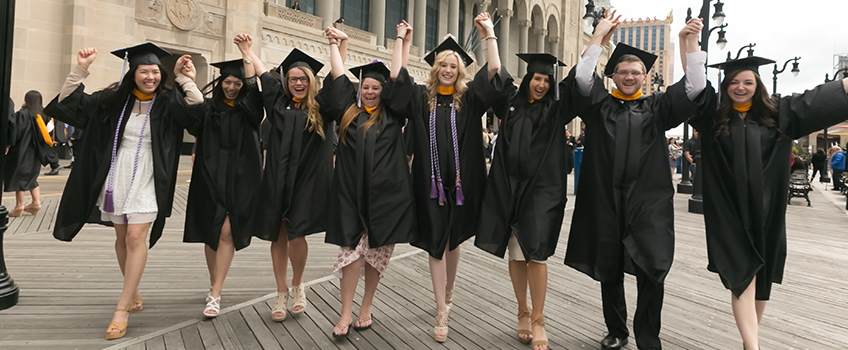 ---
18. Hit the books and the beach at the new Atlantic City campus
Catch the newest wave of opportunity as Stockton's new Atlantic City campus opens its doors in fall 2018. Over 100 courses in six undergraduate and graduate degree programs will be offered at the new site, which also includes student housing for 500 on the Boardwalk and a convenient parking garage. Look for housing and class registration information in the coming weeks! Learn more!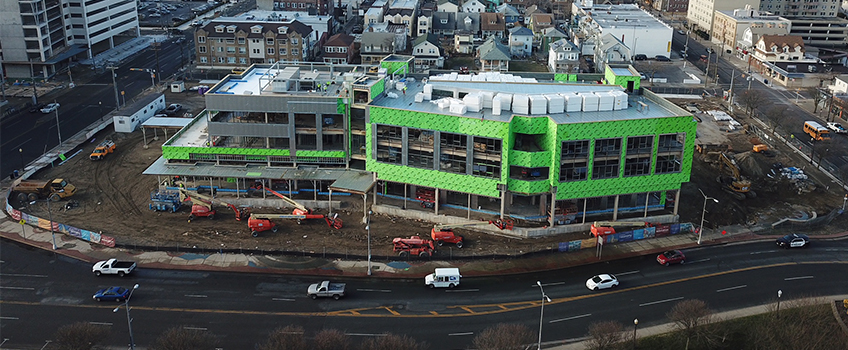 Contact:
Diane D'Amico
Director of News and Media Relations
Galloway, N.J. 08205
Diane.D'Amico@stockton.edu
609-652-4593
stockton.edu/media