Dual Credit Teachers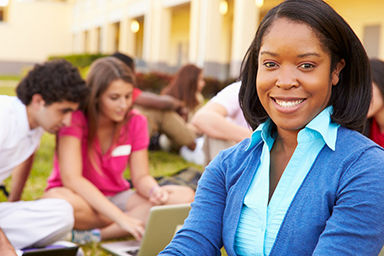 When you are selected to become a Stockton University dual credit teacher at your high school, you are chosen because you are among the best, brightest and most talented teachers in your field of study. Your role as a Stockton dual credit teacher is to teach college level coursework in a designated dual credit course in order to offer your students both high school and Stockton University credits for the same course. High school teachers are in a unique position to inspire their students to earn their diplomas and motivate them to go on to receive college degrees. When you are selected to be a Stockton University dual credit teacher, it is through your efforts that you bridge the gap between high school and college for your students. By challenging your students in your dual credit course, you can help establish a drive and a desire in them to succeed in education and in life. Stockton University and your high school are making a commitment to excellence. The job you do as a dual credit teacher is something that you, your students, staff and administration will be proud of.
Qualifications
To be a Stockton Dual Credit Teacher, you must first have the permission and recommendation of your school administration. Academic qualifications vary depending on your field of study. A master's degree in your discipline is preferred; however, a B. A. degree in your discipline plus additional college credits, a number of years of teaching experience, and professional experience may qualify you for approval. Submission of your curriculum vitae to one of Stockton's dual credit coordinator/mentors assigned to you is also required.
Course Alignment
The proposed dual credit course must be aligned with a Stockton University on-campus class. With this in mind, the coordinator of dual credit reviews the high school's existing curriculum, such as syllabi, copies of assignments, exams, textbooks and other supplemental materials in addition to reviewing the teacher's grading rigor. In most cases, the high school teacher is able to make modifications to the proposed dual credit course and syllabus that are required by the dual credit coordinator so the alignment can be accomplished.
High Standards
Dual credit teachers, once approved, are responsible for ensuring that their dual credit course standards remain high. Course content, assignments, projects, exams, textbooks, teaching materials and grading must be maintained and remain comparable to the course offered on Stockton University campus. This coordination of curriculum helps ensure students meet University standards.
Responsibilities
(The responsibilities of a dual credit teacher)
Prepare a course syllabus and c.v.
Ensure all learning outcomes for the course are achieved.
Work in partnership with a Stockton University dual credit coordinator/ mentor to ensure the integrity and the level of college coursework is being met.
Allow coordinator/mentor to sit in on the dual credit class once a year for evaluation.
Keep your high school administration informed of your dual credit course and collaborations with Stockton University.
Help build collegiality and community with other Stockton University dual credit high school teachers in your field.
Verify course roster is accurate after registration has closed.
Enter grades by Stockton University's grade submission deadline.
Attend Stockton University dual credit high school teacher symposia and other professional development functions.
Act as a mentor to dual credit students.
Note on Mentoring
In addition to dual credit classroom instruction, dual credit teachers act as mentors to their students. They inherently set an excellent example through their own academic success and the earning of a college degree. They help guide students through academic policy and procedures and offer advice, encouragement and guidance. They facilitate conversations with their students to establish themselves as a welcome support throughout the dual credit process. They might explain that the significance of being a Stockton University dual credit student is the student is considered a University student, and his/her commitment to the dual credit course will be reflected on his/her college transcript. Dual credit teachers also make themselves available when students and their parents come to seek information specific to their dual credit courses and the direction their education is taking them.
Grades
The grade a student receives in the high school class will be reflected on an official Stockton University transcript. Grade submission is done on Stockton University's website. Each dual credit teacher goes on–line with their login and password information to record grades on the class list of the dual credit course they taught.
Collegiality
Stockton University encourages the building of professional relationships with other Stockton University dual credit teachers at other high schools. This community building between high school dual credit programs has a significant positive influence on dual credit teachers. Developing a collegial professional bond by sharing ideas, pedagogy, programs and syllabi and discussing issues in the field increases enthusiasm and motivation among dual credit teachers.
Professional Development
Your high school and Stockton University encourage you in your pursuit of academic excellence. Attending professional workshops and earning additional college credits in your field is always a good thing, which in the end serves your students well. Staying current in your field of study in addition to participating at conferences, giving presentations, writing articles, submitting written papers for publication, producing creative work or earning an additional college degree in your field of study is highly regarded by your school and Stockton University.