Vakaz Akram - Choose Stockton
Vakaz Akram
Class of 2023

Major: Nursing
Hometown: Atlantic City, NJ
Why did you choose Stockton University?
I decided to apply to Stockton because of its competitive nursing program, but in the end, it was the friendly and knowledgeable staff that what pushed me to accept. Stockton's active and supportive faculty and student-led organizations, financial support and academic programs make it a safe space for first-generation college students. As the first member of my family to attend a 4-year institution, Stockton made my transition to college easy.
Why did you choose your major?
I aspire to serve my country as a Registered Nurse Anesthetist in the U.S. Navy. I look forward to being there every day and every night of every year as a clinician, a teacher, a student and a leader for the sailors, marines, soldiers and airmen who serve our country.
What have you gotten out of your academic program so far?
I've learned organizational skills that will allow me to take care of multiple patients, proper patient teaching and therapeutic rapport. I've also learned to administer medication, maintain sterile fields and deal with catheters, IVs and suctioning.
What unique opportunities have you had at Stockton?
While at Stockton, I've been heavily involved in service learning and peer mentorship. The Bonner Program that I am a part of has enabled me to serve my campus and the local community, including leading service projects on- and off-campus at the Martin Luther King Jr. Day of Service, Make a Difference Day and Making Strides for Breast Cancer Research. I've attended several conferences at other universities engaging with student-led initiatives.
How is Stockton preparing you for the next chapter of your life?
Stockton is providing me with the education, resources and support I need to become a successful RN.
What organization and activities are you involved with at Stockton?
Educational Opportunity Fund, Bonner Program and Sankofa
Tell us about your experience training for a field that is traditionally female-dominated.
At first, I was worried about the potential social stigma involved with pursuing nursing as a career. However, from my experience, those fears were a bit exaggerated. I'm very comfortable in classes regardless of their gender ratios. The social dynamics of a group are what you make of it. At the end of the day, I'm pursuing a rewarding career with high levels of job security, upward mobility and a variety of fields to choose from.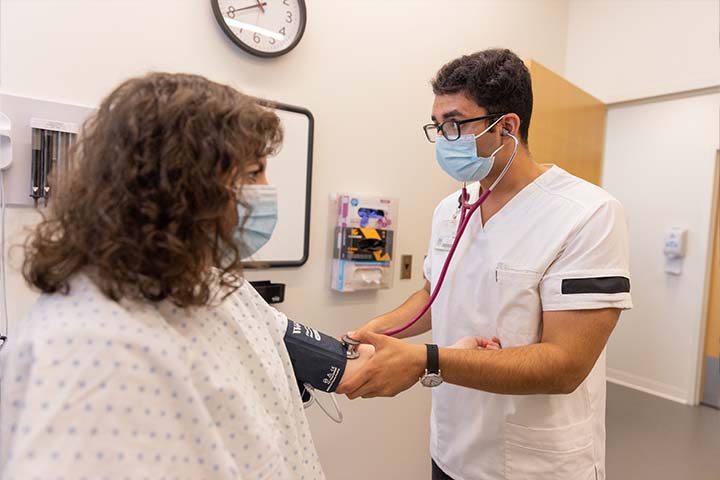 ---