University News

Hughes Center Honors Hon. Steven P. Perskie, 4 SJ Hospitals
Steven P. Perskie's first visit to Stockton campus was in 1971, when the campus was still under construction.
His most recent visit was Nov. 10, when he received the Distinctive Lifetime Achievement Award at the Hughes Center Honors, sponsored by the William J. Hughes Center for Public Policy at Stockton University and held in the Campus Center Event Room.
In between he served as the first president of the Stockton University Foundation in 1974, where he helped the fledgling group apply for non-profit status and continues to support its mission.
"The fact that this award is from Stockton is very special to me," Perskie said before an audience of some 150 friends, family and guests. "I was a friend and colleague of Bill Hughes. Tonight, I really consider myself the luckiest man on the face of the earth."
The biennial awards ceremony recognizes outstanding New Jerseyans for excellence in their field and for a commitment to public service, civility and bipartisanship that reflects the life and career of the late Ambassador William J. Hughes.
Other awards presented include:
Distinctive Student Achievement Award: Danielle Combs '21

Distinctive Alumni Leadership Award: Richard Dovey '75

Excellence in Community Leadership Award: AtlantiCare, Cape Regional Health System, Inspira Health Network, Shore Medical Center
---
Ospreys Give Raises more than $116,000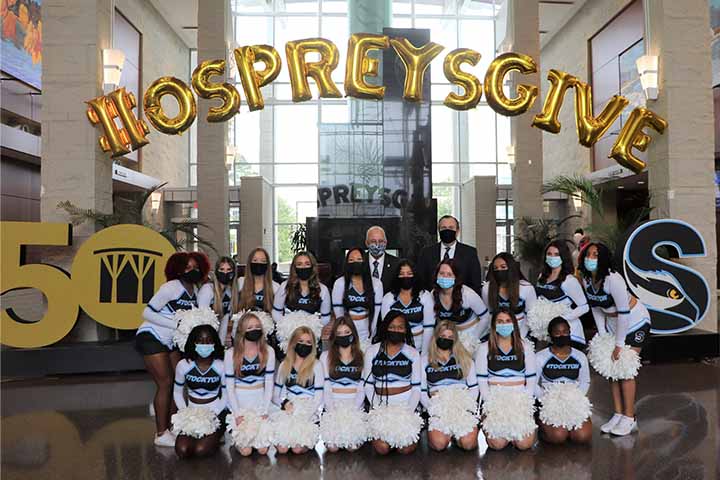 The Stockton University Foundation's fourth annual Ospreys Give raised $116,337 for student and university programs. A record 763 donors contributed during the 24-hour event from Oct. 6-7, exceeding the anticipated goal by 38%.
The theme of this year's fundraising event centered around the University's 50th anniversary and asked donors to support university priories to help keep students first, advance academic programs and centers, strengthen the community, advocate for social justice and equity and inspire athletic excellence.
Nearly $40,000 was received in matching and challenge gifts from alumni, friends, faculty and staff. Matches and challenges supported a number of worthwhile initiatives including the University's forthcoming Multicultural Center, student study tours and Veterans' initiatives.
---
Ta-Nehisi Coates Encourages Diversity in Storytelling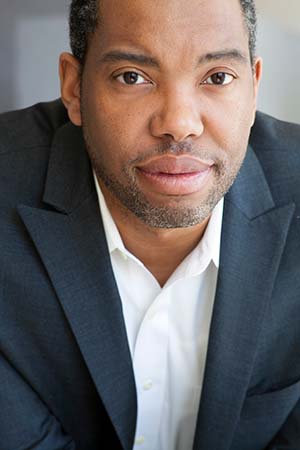 Listening to him speak during the Pappas Visiting Scholar Series held Nov. 16 on Zoom, it is almost as if Ta-Nehisi Coates was born to be a writer. The best-selling author offered Stockton students insight into his life and book Between the World and Me, which was this year's common reading for first-year students.
Coates spoke frankly about his upbringing, writing process and what it means to him to be a successful author, while tackling themes such as racism, representation and diversity in storytelling and the importance of critical thinking. The question and answer-style discussion was moderated by Donnetrice Allison, professor of Africana Studies and Communication Studies.
An author, journalist, screenwriter, executive producer and soon-to-be Howard University professor, Coates has published eight books including Between the World and Me, winning the National Book Award in 2015. In April 2018, it was adapted for the stage, premiering at the Apollo Theater. Then, in November 2020, it was adapted for film and aired on HBO.
Stockton Earns 4th National Diversity Award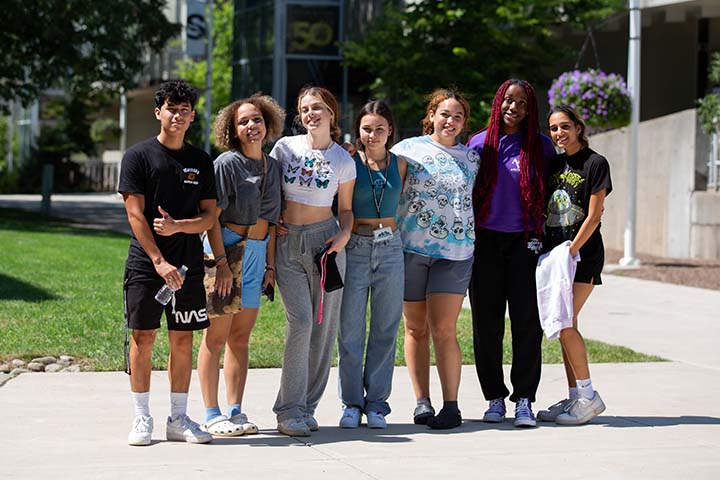 Stockton University has received its fourth national Higher Education Excellence in Diversity (HEED) Award from INSIGHT into Diversity magazine in Washington D.C. The award recognizes the diversity and inclusion efforts of the university, which also previously won awards in 2016, 2017 and 2018.
"The fact that this is our fourth award is a tribute to the ongoing, campus-wide commitment of university faculty, staff and students," said President Harvey Kesselman.
Stockton Chief Officer for Diversity and Inclusion Valerie Hayes said the application process and subsequent award serves not just as recognition for the work at Stockton, but also an opportunity to learn what other universities are doing.
"We learn from each other," she said.
Among the accomplishments included in the 2021 award are:
The Board of Trustees passed a resolution on Diversity, Equity, Inclusion and Social Justice, in which the board stated that Stockton would be a leader in social justice issues.

The establishment of the Race and Racism Education course requirement for all students to ensure critical issues are embedded within all programs.

The creation of an Office of Academic Achievement Programs in the Division of Student Affairs to improve retention of Black and Latinx students.

The Student Senate established a Senate Diversity and Inclusion Committee that centers on supporting diverse student groups on campus and ensuring their voices are heard.

A new Multicultural Center will open in spring 2022.

Development and Alumni Relations established the Alumni Conference on Diversity, Equity and Inclusion in collaboration with alumni and others on campus to host virtual conversations on important topics facing Stockton and higher education.
---
Stockton Earns N.J. 'We Value Our Veterans' Award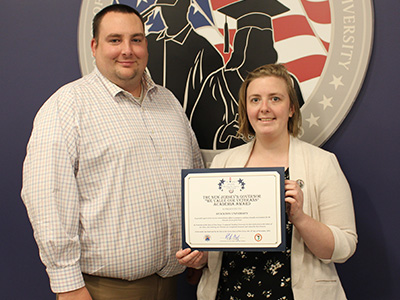 As Stockton celebrates its 50th anniversary of teaching, Stockton's new Director of the Military and Veterans Success Center, Michael Barany, wondered how many student veterans had attended the University.
"To our best research, we found just over 7,300 military students served by Stockton since its creation," Barany said at the annual Veteran's Day program in the Campus Center on Nov. 9.
The program was held early this year so that representatives from the University could attend the Veterans Day Ceremony at the New Jersey Vietnam Veterans' Memorial in Holmdel on Nov. 11 to receive the "We Value our Veterans" New Jersey Governor's Academia Award from Gov. Phil Murphy.
The award recognizes the efforts made by the University to serve student veterans. Those efforts include offering priority registration to veterans, having a designated office and lounge for veterans, and a Student Veteran Organization. Stockton also has a wall of honor and memorial and holds ceremonies to recognize Veterans Day.
Read the latest news from Stockton online and follow us on Facebook, Twitter, YouTube, Instagram and Snapchat.