Distinctively Stockton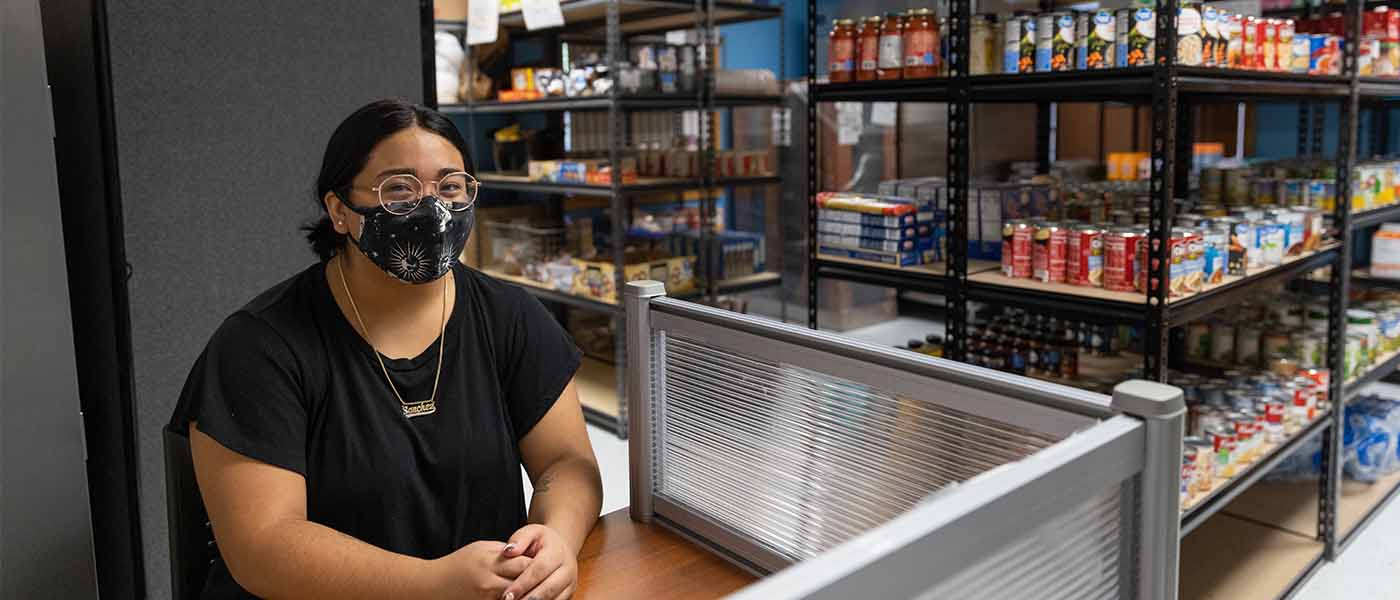 Osprey Food Pantry Expands
There are a few tried and true tricks to succeeding in the classroom: supportive faculty, dedicated time for studying, and a full stomach.
To ensure that no student goes hungry, Stockton University has expanded the main campus food pantry, now located at the Townsend Residential Life Center (TRLC).
The University received an $80,000 grant from the State of New Jersey as a part of the Hunger-Free Campus Grant program. The grant allows Stockton to keep the pantries in Galloway and Atlantic City fully stocked and pay student workers such as first-year student Yanet Reyes.
Reyes says that she saw the pantry position on the Stockton website and it was something she really wanted to do.
"I love being able to see students have full access to this resource here on campus," Reyes said. She also appreciates being able to spread the word about the food pantry to students who may not know about it.
"This is more than just a job," said Reyes. "My hope is that talking about this option will create a domino effect so that every student will know that the food pantry is available to them."
Food Assistance Program coordinator Monica Viani said making connections with the students is just as important as providing them with food.
"I like to engage with the students that visit and make connections. Getting to know them better is the best part of my job," she said.
The Food Assistance Program launched in Spring 2015 as a collaborative effort between Student Senate and the Board of Trustees. Overseen by the Dean of Students Office, the pantry is open to all students. Once enrolled in the program, students have access to both pantries and advisors who can connect them to other resources and programs.
State Assemblyman John Armato, D-Atlantic, N.J. Assembly Speaker Craig Coughlin and Atlantic County Commissioner Caren Fitzpatrick toured the expanded space over the summer along with President Harvey Kesselman, Haley Baum, dean of students, and Craig Stambaugh, assistant vice president of Engagement and Community Development.
According to Stambaugh, the food pantry receives inventory from about seven different sources, including Stockton's sustainable campus farm which helps provide Ospreys with fresh produce.
"Reliable access to healthy food has a significant impact on people's wellbeing and their ability to achieve social, emotional and academic success," said Coughlin. "Understanding how our state-level initiatives are empowering our public institutions of higher education to fill food access gaps is critical to evaluating their success and strengthening our efforts. During today's visit, we heard some incredible stories from students whose struggles have been made more visible by the Hunger-Free Campus Act passed in 2019 and who have gained confidence by having access to a network of on-campus support."
Nancy Ayala '21 from Newark talked about her initial hesitancy to ask for help from the food assistance program. But she quickly realized accepting help was better than struggling on her own.
"Sometimes, you have to count on other people," said Ayala, "that's how you survive."