Stockton Elevates Voices Speaking on Race and Equality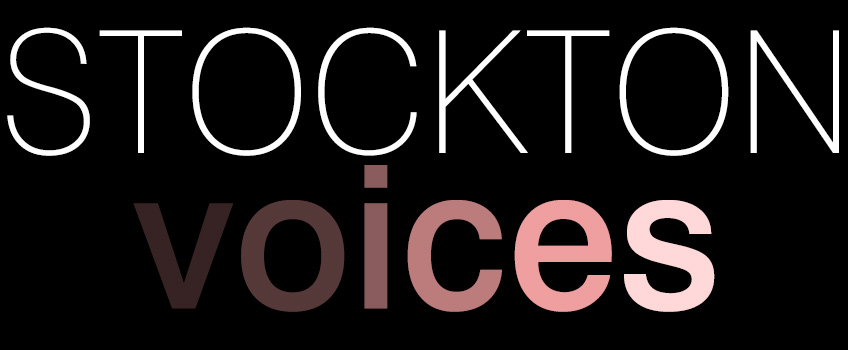 To embrace diversity is to care enough to listen with an open mind and to speak up during difficult conversations. The #StocktonVoices social media series gives students, faculty and staff a platform to both speak and listen to our own diverse voices.
The featured profiles highlight reflections on current events, ways to see a different perspective and stories that center on the themes of race, culture, equality, inclusion and diversity.
Rachel Rodriguez
"Being a first-generation college student means being the first in my family to pursue a higher education that will set a new path for the next generation. To my family, being a first-generation represents the efforts and sacrifices my parents faced to provide me with the opportunities they did not have. If not for my parents, I would not be here today. Their hard work and resilience are what motivate me to keep going.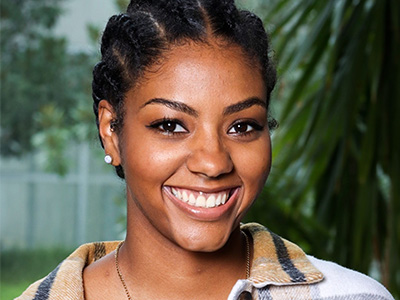 "As a first-generation college student, you navigate through your college experience filled with uncertainty and face obstacles you may not always be equipped to overcome. We set extremely high expectations for ourselves that sometimes make us question our potential. However, being first-gen is a constant reminder of why you are here and whom you are doing this for.
"The (Educational Opportunity Fund - Galloway) EOF program and its amazing staff have supported me throughout this challenging journey. As an incoming first-year student, my ideas about the program were unknown even during the course of the summer program; I remained unsure of how beneficial it would be to me. As days passed, I realized that the relationships I was creating and supplemental instruction would result in the most useful part of my enrollment in this program.
"When I joined Los Latinos Unidos, I found my home away from home. I was not alone in being a first-generation Latina who could have quickly fallen through the cracks of college life. Today I am privileged to be part of a club that creates a safe space for Latinx students here at Stockton and work hard to continue to bring the Latin community together."
Rodriguez is a Biology major with a concentration in Pre-Professional Studies and a minor in Behavioral Neuroscience.
Stockton is celebrating First Gen Week Nov. 7-11. #CelebrateFirstGen
Cierra Johnson
"Being a first-generation college student is special to me. It means accomplishing a milestone in which I am the first in my family to do so.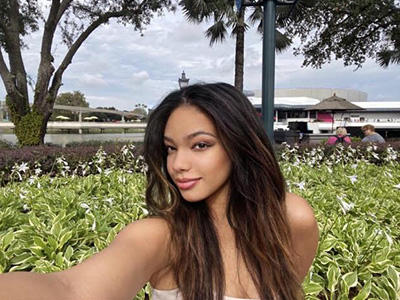 "Reflecting back on my college experience now as a senior, it has had its highs and lows. I felt lost compared to my peers who had someone in their families to whom they could go for college guidance. However, I am so grateful for organizations such as the First Ospreys Club as it has helped guide me during my time at Stockton University.
"Being able to join clubs as well as being a member of (Educational Opportunity Fund – Atlantic City) EOF-AC has helped me network over the years. I am thankful for the opportunities as I have been able to partake in internships at schools such as Temple University, Rutgers University and Rowan University.
"I have also been able to attend an Edward A. Bochet Conference at Yale University and had the opportunity to present my research on "The Effects of Nutritional Intake for Neonatal Sepsis" as a finalist at the poster symposium for Cooper Medical School. Stockton has really supported me in finding and participating in these experiences."
Johnson is a Biology major and member of the sorority Sigma Delta Tau, student organizations Circle K, Pre-Med Club and First Ospreys. She is also a Change Builder through the Stockton Center of Community Engagement and Service-Learning.
Stockton is celebrating First Gen Week Nov. 7-11. #CelebrateFirstGen
Britney Marrugo
For this year's First-Generation Week celebration, junior Britney Marrugo has shared what it means to be a first-generation student (or First Osprey), how it impacted her college experience and the support she has received since. #CelebrateFirstGen
"Being a first-generation student means breaking generational curses and setting up my future generations for success. To my family, it means that my parents' sacrifices and hard work to support me in my success were worth it. I was able to endure my experiences and learn because of their sacrifices and my embracing of how I can make sure my future is successful.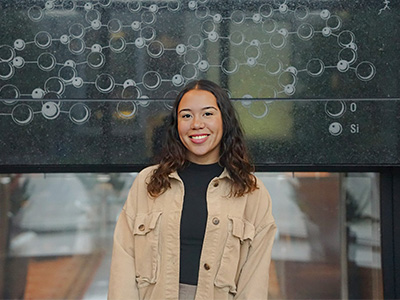 "My college experience as a first-generation college student is different from those who aren't first-gen because college was an experiment. I had to make various mistakes, jump through hoops and constantly ensure that I was taking the right steps. After trial and error, as a junior, I am now more educated than I was in my first year here.
"I came in during the pandemic and the (Education Opportunity Fund - Galloway) EOF staff greatly supported me during my new beginning. When I joined Los Latinos Unidos, I felt incredibly supported by my peers. Getting involved definitely changed my life and now, as president of the club, I make sure that we continue to have that safe space for students like myself.
"I can confidently say that all the Stockton University offices made me feel heard and cared for as an individual. As a first-gen student, I had a lot of questions for our offices like Admissions, Financial Aid and the Bursar, and someone from their staff made sure to correctly guide me and be patient with me every time. When I graduate, I can wholeheartedly say that I wouldn't have been able to do it without the support I received from this university."
Marrugo is a Communications Studies major and president of the student organization Los Latinos Unidos.
Esmeralda Rivera
Esmeralda Rivera's favorite memory of her childhood in Guatemala is participating in Semana Santa (Holy Week). The first-year Literature student talked about the traditions she grew to love during her 13 years living in Guatemala at a recent Story Space event.
"It's a way of not forgetting that part of who you are. I don't want to forget my life in Guatemala or the fresh memories of my experiences. It's all made me who I am.
"My favorite part of Story Space was just telling the story in general. It took me back 13 years, to when I'd first moved to Guatemala. And when someone suggested we recreate the tradition here at Stockton, my heart soared. It was such an incredible idea, and I'm so glad the idea is in the air.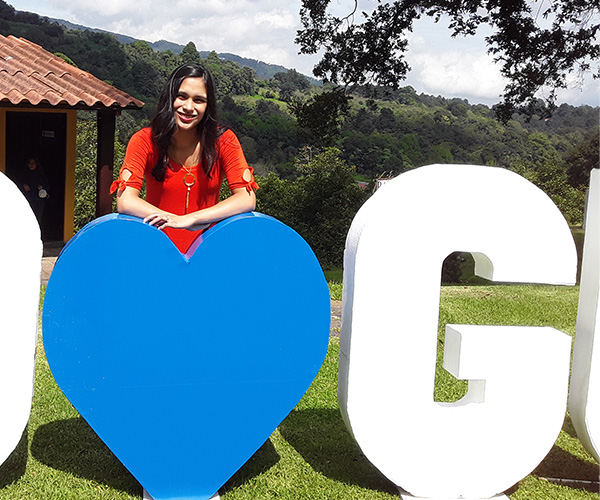 "I was so happy that I could share more about my life in Guatemala since it is a small, almost undiscovered country. At least, I feel it is since there aren't as many Guatemalans that come to the U.S. as in some other Latin American countries."
Rivera also wants to explore more of her Puerto Rican culture. "There isn't much I know about it, although the food is amazing. Nothing beats my grandma's food: her arroz con gandules (rice with pigeon peas) is literally the best!
"As for my Guatemalan culture, I am eternally grateful. In the first years of living in Guatemala, I didn't appreciate the Guatemalan culture as much since I had a bad first impression. But as I grew older, I realized what a privilege it is to have firsthand experience of Guatemalan traditions and holidays. I've learned to appreciate this side of me, and I'm glad I got to experience enough of it in my years there.
"I also want to embrace my American half after being away from the United States for so long. I love Guatemala, and always will, but I felt that it was time to come back. I've always felt truly at home here, surrounded by my huge family, and I'm glad I can experience the American culture, as well."
Rivera is also part of the Literature Club, Stockpot student magazine, the Argo student newspaper and the Stockton Theatre Club.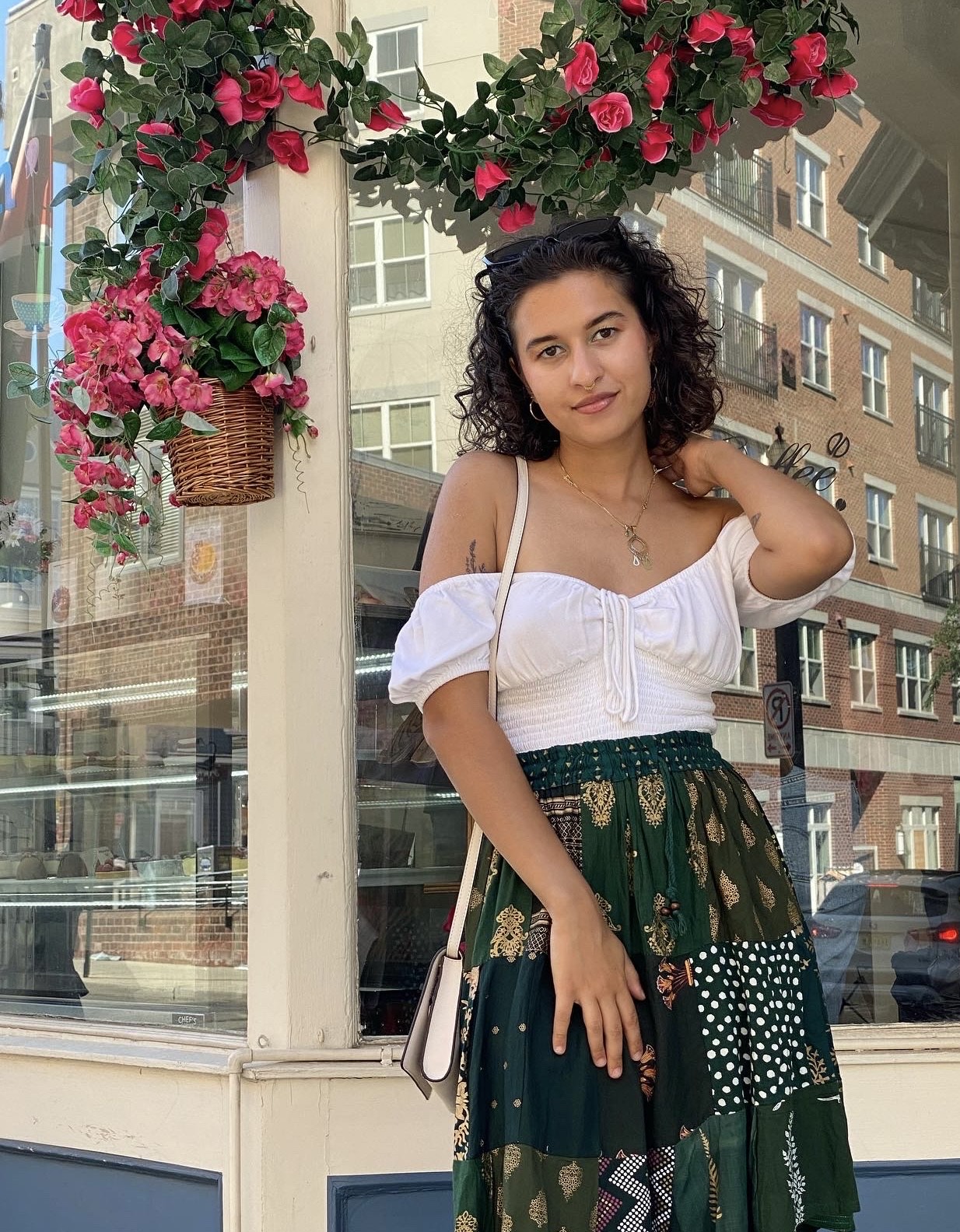 Dalia Moamed
Despite the short distance, Dalia Moamed, a senior Psychology major with a concentration in mental health, experienced culture shock when she moved from northern to southern New Jersey.
"Although I met and spoke with so many kind people at the Stockton Galloway campus, I met very few who were like me, or who I felt could openly relate to me. As a queer woman of color myself, it was very hard to connect to those around me, and it was often a lonely experience," she said.
As a second-generation immigrant with a Polish Catholic mother and a Muslim Egyptian father, her multicultural upbringing "influenced so much of who I am, not just in my own identity and my roots, but also in the way I understand others."
She wondered how many other LGBTQ+ people of color (POC) on campus were also feeling isolated. Were they "watering down or adjusting their most authentic selves," she often thought?
As the questions compounded in her mind, she was bothered by the lack of community for people like herself. Where could she go to talk with someone who would understand?
"I wished there was a space where queer POC could meet one another, befriend each other, and feel the comfort of knowing they're not alone here," she said.
Finally, someone told her, "if it bothers you so much, then just do it yourself."
And she did. Dalia is the founder and president of the Stockton Queer and Trans People of Color Society (QTPOCS).
She now laughs at the "provocative reaction" to her very real experience of being underrepresented, but she is grateful that it gave her the push to make a change not only for herself, but for all LGBTQ+ POC at Stockton who are looking for connection.
This fall will be Stockton QTPOCS second semester, And Dalia is excited for meetings, open discussions, potential field trips and many activities. "It is here where we are free to talk about all possible triumphs and frustrations that we otherwise feel uncomfortable talking about any place else. Our doors are always open to all, and we are so excited to watch our Stockton QTPOCS family grow," she said.
Dalia looks at her major, Psychology, through a cultural lens. "So much of what I'm passionate about in regard to representation and affirmation of marginalized peoples will definitely be applied to my career ambitions. I hope to specialize in cultural competency within the field of clinical psychology, and perhaps focus on treating immigrant clients as well as queer and transgender clients of color—both these populations face unbelievable mental health disparities, and they are also people that reflect familiar experiences of my loved ones' as well as my own."
Her work to create Stockton QTPOCS showed her what's she's capable of. "My past self would have never imagined I could organize a collective and propel change like this," she said.
Get connected with Stockton QTPOCS:
Osprey Hub
Email: stocktonqtpocs@gmail.com
Instagram: @stockton.qtpocs
Brian K. Jackson
Brian K. Jackson, chief operating officer of Stockton Atlantic City, shared powerful remarks about his experiences as a black male with students at the Black Gala in February. Below is an excerpt from that speech.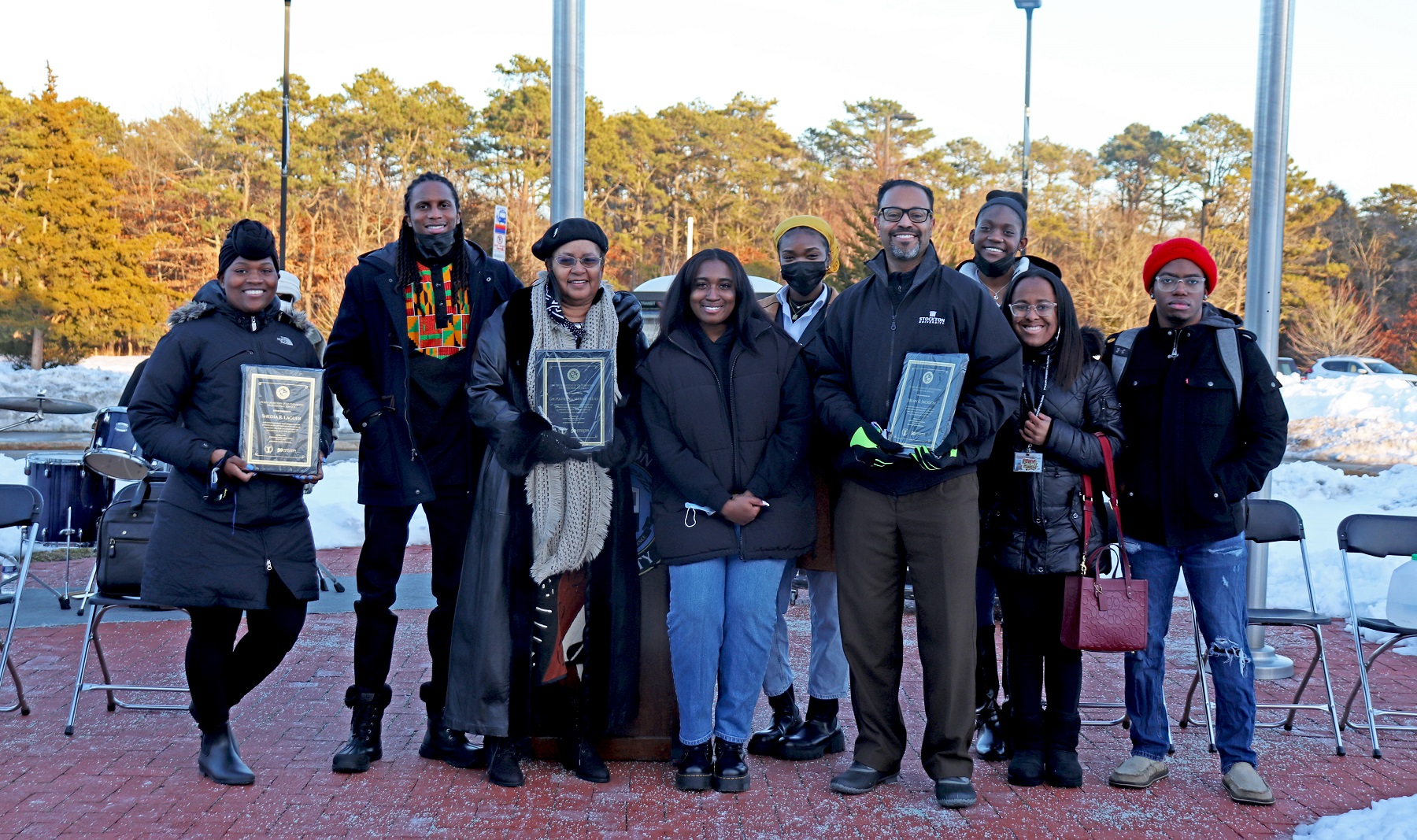 "I spent my formative years in Baltimore. My high school was predominately black, but my friendship circle was diverse because of the clubs and organizations I was involved in. I lived in a historically Jewish, but mostly black neighborhood comprised of black professionals, with careers as educators, doctors, lawyers, ministers, city officials, and business owners. I felt well prepared for the rigors of college life.
I look back on my time at a New Hampshire college as generally positive. I received a great education and gained lifelong friends. However, I was reminded that I was in the minority.
In my sophomore year, I was an RA doing rounds on a Saturday night with another RA, when during an exchange I was called the N-word by two white males. This was the first time that ever happened to me. I was shocked and angry. Unfortunately, it would not be the last time I would experience that level of racism.
In my junior year, I joined a historically white national fraternity. I'll never forget being told by one of the fraternity brothers that he never really viewed me as being Black because I "didn't talk or act black." He thought that I should take it as a compliment!
There were times I felt completely isolated and unsupported by college staff. … I had to find the courage to confront those difficult situations, especially those that were designed to break me or make me feel less than. I synthesized all that I felt about those experiences and turned them into something that would give me the strength to persevere.
My career aspirations never included working in higher education; however, I'm grateful for the opportunities this career has provided. It has not been easy. As a black, gay man in the world, it required sacrifice, mitigating fear and anxiety, acknowledging, and accepting who I am as an individual, and fully embracing my black excellence.
The recent murders of Breonna Taylor, George Floyd, Ahmaud Arbery, and others, in addition to the rise in homicides in black and brown communities, have hit me hard and caused me some anxiety and many sleepless nights.
But it also presented opportunities to talk more openly about race. Last year I co-led a conversation with the president's cabinet about race, and I opened and shared examples of experiences I had that had never been shared before in that kind of setting.
Like when I walked into a car dealership and the salesman walked right past me to greet my husband, who is white. It was clear the salesman assumed Michael was a more viable customer. Michael angrily informed the salesman that he was talking to the wrong person. We turned and immediately left the showroom.
What has helped keep me grounded in those difficult times is knowing that I represent the best of my family… and that I stand on the shoulders of my ancestors, mentors, teachers, and community.
Whether you know it or not, you represent the best of your families, your communities, and Stockton. Your commitment to a high level of excellence in your academic pursuits and your dedication to representing what Black or Latinx or LGBTQIA or Female Excellence means to you are incredibly strong indicators of the level of success and achievement you will have in your future."
Yesenia Pacheco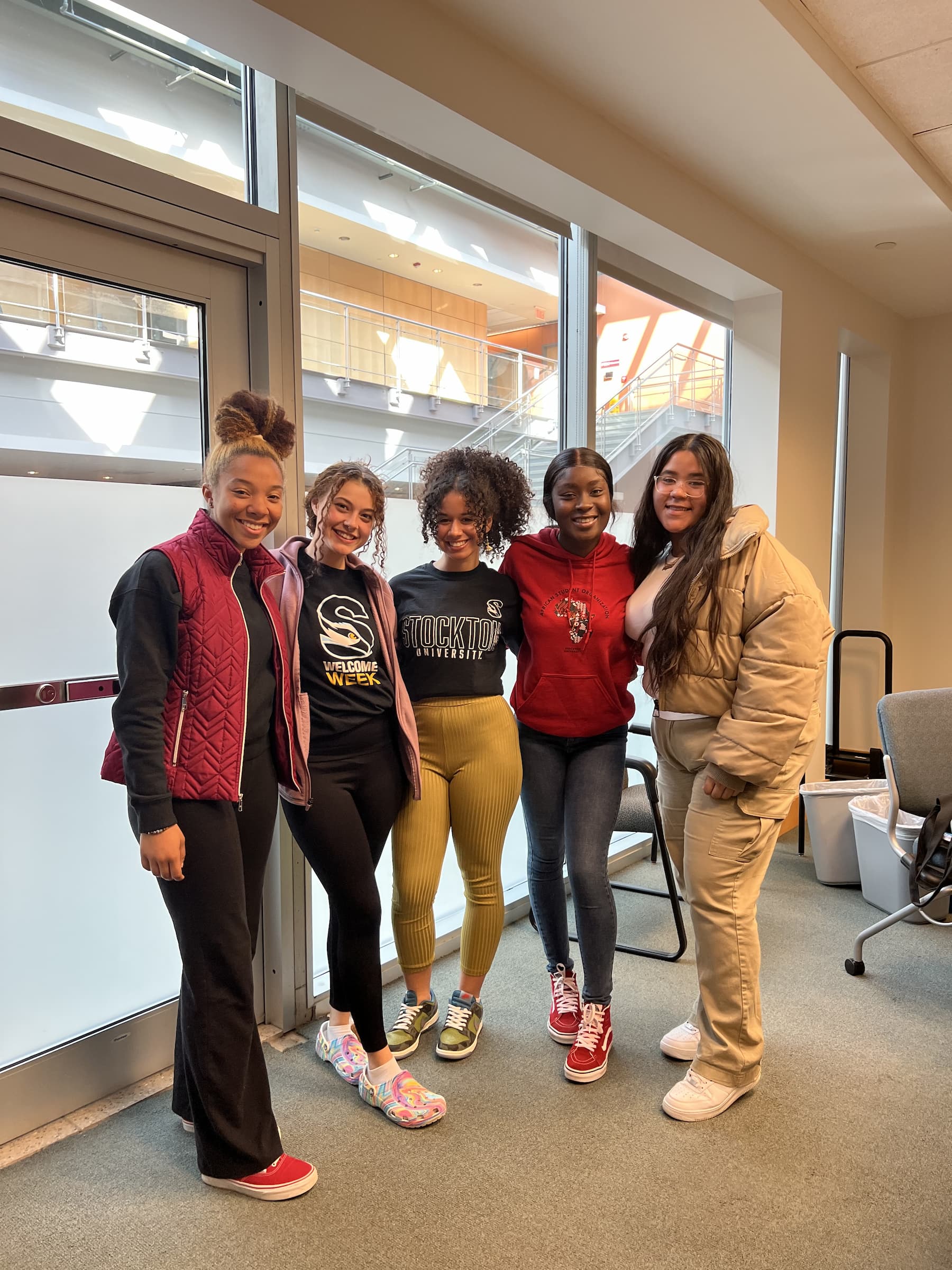 Unhealthy racial experiences in higher education can create barriers for first-generation women of color. Yesenia Pacheco, an equity intern in the Office of Student Transition Programs and a senior Social Work major, saw lower graduation rates for Black and Latinx female students reflected in past data and wanted to do something to reverse those trends for future generations.
She reached out to Maya Lewis, associate professor and program chair of the Social Work Program, for her support in creating a space where women of color can "unpack racial experiences and work on rebuilding trust and healing through discussion circles," Pacheco explained.
That space began as a cohort of six first-generation women of color who met for five sessions and ended as a circle of friends who bonded over often personal conversations that left them feeling empowered to be social justice advocates.
Lewis was honored when Pacheco reached out to her and was impressed by her initiative in planning and developing the program. "To me, it was like a dream come true," she said, noting that they share the same sentiments "with regard to having a place for women of color to talk about what it means to be a woman of color at Stockton and how to translate these experiences to the future."
Talking is a step in facilitating healing and verbalization leads to validation, Lewis explained.
Participants expressed their thoughts in reflection journals that Pacheco made, and they discussed topics ranging from "Trauma or Drama"' to "Getting by at a PWI" while touching on microaggressions, societal beauty standards, mental health within communities of color and more.
"I think people are realizing that it's not enough to just draw diverse students to your institution. But, when they are there, they have to feel included because if not they are more likely to leave," explained Lewis.
In listening to the students' stories and struggles, Lewis witnessed first-hand just how much support means to them.
Pacheco explained that the sessions were designed to "help rebuild trust among the group members, share racial experiences and best practices for navigating home and college, and identify their own strengths and their role in promoting social justice within their communities."
Their healing circle became known as "Woman's WORTH." The word WORTH was selected as an acronym to stand for Working on Rebuilding Trust and Healing.
"Yesi is a dynamic woman who has a lot of passion and wants to make a difference in the world. She's smart, but she also knows how to relate to anyone. I don't know if you can teach that. That's inherent," said Lewis.
From her own experience participating, the discussions allowed Pacheco to feel vulnerable, but also "powerful and resilient by just being empowered."
Another participant said, "The amount of closure, perspective, and bonding was much more than I had anticipated and left me feeling very welcomed and understood."
The healing circle gave each woman the opportunity to feel included, seen and heard.
"This is just the beginning for Yesi," said Lewis, who is happy she decided to choose Social Work and excited to see where she goes next.
Pacheco was recently awarded a $10,000 scholarship from the Taco Bell Live Mas Foundation that will help her reach her goal of becoming a licensed clinical social worker.

Kendall Ficili
Kendall Ficili's friends call her the network because connecting people comes naturally to her.
"I love people around me," the junior Criminal Justice major said.
She's the person in the room who makes you feel welcome. She won't judge you. If you need to talk, she'll listen.
During a photoshoot for International Women's Day in the Women's Gender and Sexuality Center (WGSC), Kendall wore a green jumpsuit that she got at Stockton's transcendence clothing swap. She accented the outfit with green eye shadow, leather boots and a glow of confidence that she spread to those around her.
As her friends posed for photos, she made them laugh, smile and feel comfortable and empowered to be themselves.
When Chrissy Feil, of the Dean of Students Office, arrived, she too was wearing a green jumpsuit. The two quickly discovered that the jumpsuit Kendall was wearing was donated to the clothing swap by Chrissy.
"I dreamt that one day I would see that jumpsuit out in the wild on a student who rocked it with confidence," said Feil, who wore her new jumpsuit for the "boost of confidence and energy" she needed that day.
The serendipitous moment became a photo op as they posed together for a #BreakTheBias portrait. The crossed arms symbolize one's commitment to end stereotypes.
"I was so excited to meet Kendall and see not only that the green jumpsuit made her feel powerful and self-assured, but to also learn that Kendall spread that energy every day. Kendall makes the people around her feel not only seen but celebrated. She spreads energy, joy, and positivity everywhere she goes. It is like each person she comes into contact with walks away wearing their own invisible bright green jumpsuit," said Feil.
The color green is what first caught Ficili's eye and lead her into the WGSC. "I was walking down the F-Wing hallway and stumbled upon the center by accident. I saw the color and said let's go for it," she recalled.
That visit, prompted by the courage to be curious, introduced her to "everyone I want to talk to," she said.
As she navigates her new trans identity, she found "people who understand me and respect me."
In high school she hid her identity, but in the WGSC, "I get to be who I am without feeling the judgement," she explained.
The inclusivity she encountered at the WGSC is what keeps her coming back. "I want to build a community around who I am because I do not have that community as much at home."
Kendall sometimes gets strange looks, stares, or eye rolls, but others will ask questions with genuine and respectful intentions. "I love when people do that. It's okay to not understand. They are willing to learn more," she said.
Kendall chose to study criminal justice. As a domestic violence victim of seven years, she's made it her mission to help children. Her personal experience gave her strength and taught her that she can do anything she sets her mind to.
"I have been looking at the FBI and learned that there are trans people in the FBI, which makes me very happy being a criminal justice major and knowing there will be people like me going into my profession," she said.
"I want to do child advocacy for the FBI and get certified as a child advocate. Eventually I want to move on to the Crimes Against Children Unit where you have to go in with a lot of heart," she said.
"You know you are going to see things you don't want to see, but you know you can make a difference," she said.
We asked Ficili to share some words of advice.
To anyone transitioning, she said, "Always create a community of support around you. You can't do it alone. You need someone to pick you up when you fall. It gets tough."
To criminal justice majors in the LGBTQ+ community, she said, "Hold your head up [when people question your choice of major]. Stick to what you want and what makes you happy."
Elaina Jackson
Elaina Jackson, a senior Criminal Justice major with a minor in Forensics Investigation, has three small businesses inspired by her interests in fashion, health and web design. We asked her to talk about her experiences as a Black Muslim woman.
How and when did you develop an interest in fashion?
I've been interested in fashion since I was a child, but it wasn't until I was approximately 14-15 that I took it seriously. I discovered how critical it is to have a sense of fashion, even more so as a Muslim woman. Having fashion while remaining modest became a goal, which aided in my development of self-esteem and confidence in wearing Islamic dress. Throughout my middle and high school years, I was renowned for my fashion sense and was always known for my intricate style. In high school, I was nominated and won the yearbook title for best dressed. When I dress, I constantly consider how I may be free while adhering to the precepts of my faith. There is no other style comparable to Islamic dress.
Can you explain the hijab's cultural and religious significance?
The hijab is a scarf worn by Muslim women to protect their modesty and privacy from males. The hijab is a sign of religious commitment, modesty, and faith. The hijab is not just about the covering on your head; it is also about your demeanor while wearing it. My hijab is my salvation; it is my identity; it is the crown that I will never lose; it makes me feel proud, whole, and at peace each time I wrap it around me.
How did your Islamic fashion store come to be?
My sister Evelyn Jackson and I founded Glitz' N Glam store. As we recognize how difficult it is for Muslim women to buy modestly in today's generation, our purpose was to assist and make shopping simpler for one another. By increasing shopping opportunities for our covered sisters. Glitz 'N Glam's revolutionary style evaluations, which place a premium on assisting women in developing their own distinctive styles, will further establish our boutique's image as a genuinely unique destination.
You have two other businesses. Can you tell us about them?

I grew more focused on my physique and health throughout the pandemic and decided to bulk up, develop strength, and muscle. I noticed that my eating habits were not as healthy as they could be and that I was missing so many meals everyday, prompting me to eat fast food more frequently than necessary. I began weekly meal prep for myself and quickly saw how much easier it made my life and how I began to notice a difference in my physical appearance. I found that meal planning allows you to prepare for the week without worrying about what to do for supper today. After seeing positive outcomes from meal preparation for myself, I received notes urging that I convert this into a company, which I did, renaming it Elaina's Meal Prep Service. I also own a second business, Elaina's Editorial Service. I've always had strong computer abilities and chose to expand on them by constructing and designing websites from scratch for customers, as well as writing resumes and aiding with document preparation.
Are you confronted with any pre-conceptions or difficulties as a Black Muslim woman?
Being a Black Muslim woman in today's culture may be difficult; I encounter sterotypes on a near-daily basis. Having to deal with ignorance, strange glances, and nasty inquiries on a regular basis can be aggravating, but there is nothing that can be done about it. I like to maintain a courteous demeanor and educate those who are uneducated of the subject at hand. Stereotypes such as muslim women being oppressed, muslim women being terrorists, muslim women lacking hair, and others. I am certain that through peace, love, respect, and mutual understanding, Muslim women can encourage one another to challenge these prejudices and show them as incorrect.
Why did you pick your major and what are your plans after Stockton?
I picked my major because, as a child, I was always curious about the criminal justice system and how things worked. Choosing a major in which I was most interested was the best decision I made during my time at Stockton. After graduation from Stockon, my ambition is to work as a street police for a few years before transitioning to the FBI as a special agent.
Larider Ruffin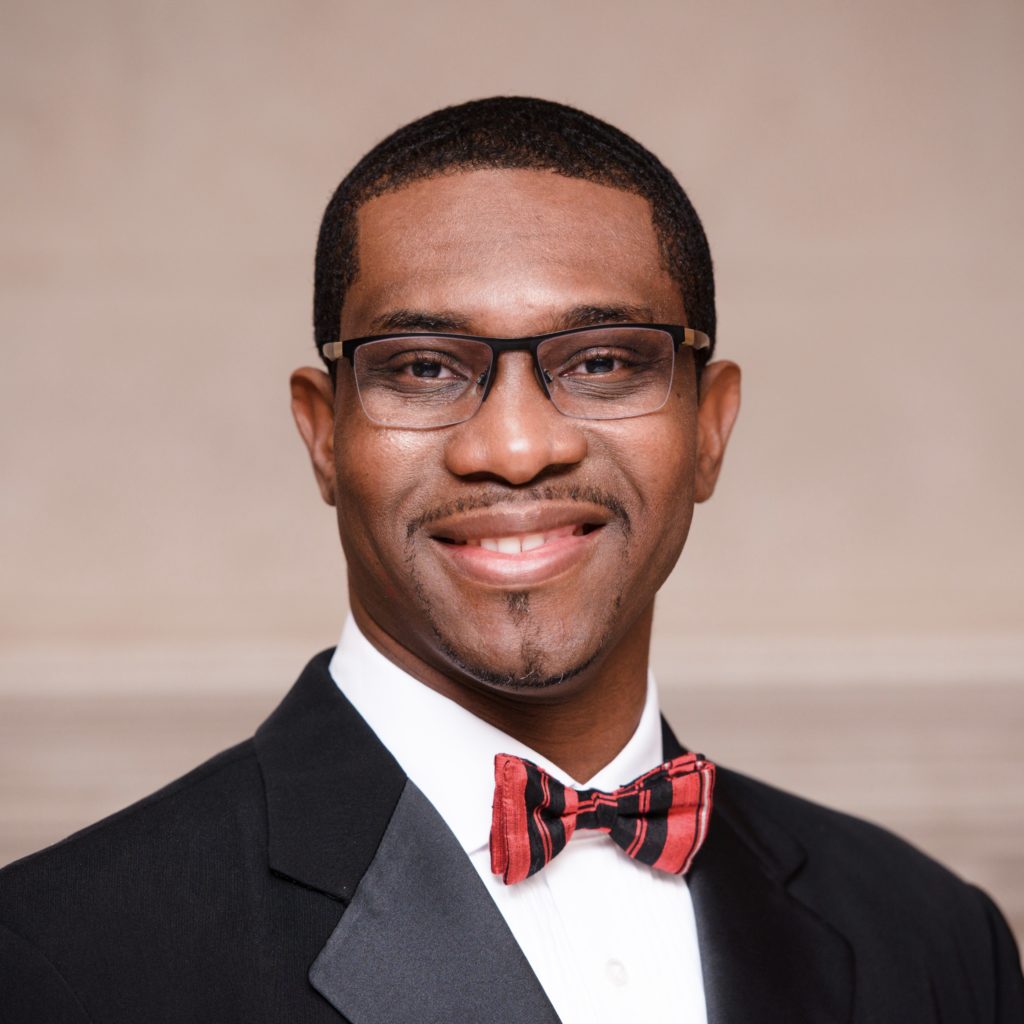 We spoke with Larider Ruffin, assistant professor of Nursing, about black health and wellness, which is the 2022 Black History Month theme.
Being a black man in health care, he has seen how a history of social injustice has led African Americans to lose trust in the health care system, putting black and brown people at risk during the pandemic. Trends have shown that African Americans have been less likely to get vaccinated than other racial and ethnic groups.
"The vaccine is here to protect you and help us get to a point close to the way things used to be. We need people to get vaccinated to protect themselves and their loved ones," Ruffin said.
He brought up the 1930s Tuskegee Experiment, a long-term syphilis study, as an example of where the mistrust stems from. Researchers wanted to document the progression of untreated syphilis in black males. When the penicillin treatment became available about 10 years into the study, participants were not treated, which allowed researchers to study the entire progression of the disease as participants, who never gave informed consent, died from syphilis. The experiment later raised questions about ethics, racism in health care research and consent.
Ruffin noted a recent study that found that 97 percent of the nursing workforce believes that racism exists in their field. "We need to get to a point where people trust the system," he said.
Ruffin is a Certified Tobacco Treatment Specialist and created a Smoking & Vaping Cessation program. He recently went to Washington, D.C. to advocate for legislation that would ban menthol cigarettes to save more lives. Ads for these addictive cigarettes that use menthol to numb the throat and reduce coughing target people of color.
Ruffin's wish is for people to see a primary care doctor annually and to get health screenings that can detect potential problems early. "Don't wait until you're really sick. Be pro-active. Prevention is the goal," he said.
Aaron Moss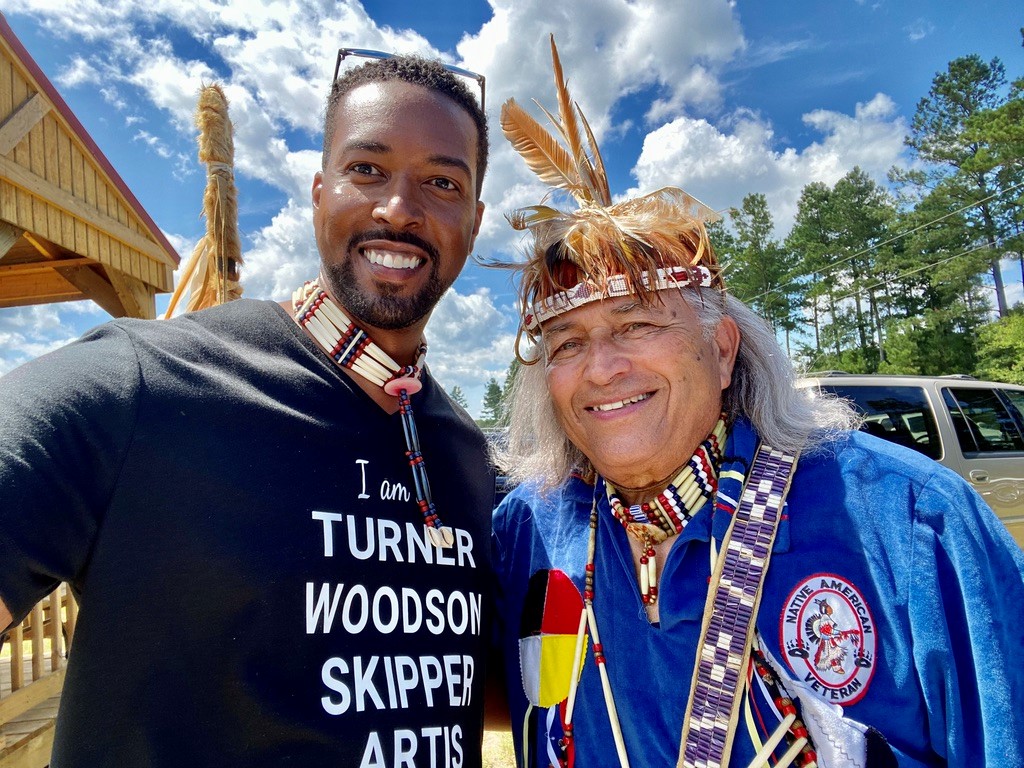 Aaron "Great River Moon" Moss, assistant professor of Theatre/Directing and descendant of the Cheroenhaka/Nottoway, Pamunkey, Accomacke and Cherokee nations, reflects on what Indigenous Peoples' Day means to him:
"'Hunte EE Sunke Waswekr' (Creator, my heart speaks). I share this phrase from my 'Ena Darsunke' (mother tongue)—Cheroenhaka (meaning 'People at the Fork of the Stream'). It reminds me of the importance of Indigenous Peoples' Day—an opportunity for truth telling. A moment to speak and be heard. A moment for honesty.
As history details and archeology confirms, the aboriginal people of the Americas (Turtle Island) encountered visitors from across the world throughout pre-historic America. People came and went; some remained and immersed themselves into the local cultures. Some came and conquered small regions—but none were as cataclysmic as the arrival of the Spanish and Portuguese in 1492. That arrival marked the beginning of a horrific era in American history—one we are still reckoning with today. As a result of massacres, genocide, and removal, the myth was perpetrated that we no longer existed. The legacy of that myth is that we are the only people in America expected to substantiate our identity.
Being an Indigenous American in the United States has meant having teachers describe me in history in mere past tense—characterizing our governments, architecture, spiritual practices, languages, culture, and blood as extant. It means having people doubt my existence when I don't resemble those natives who have been selected to represent me in the media. It entails people trying to hyphenate my nationality when my identity precedes the need for hyphenates. As described in the 1828 Black's Law Dictionary, American is defined as '…originally applied to the aboriginals, or copper-colored races, found here by Europeans; but now applied to the descendants of Europeans born in America.' Being an Indigenous American means reminding people that we are American and that we are still here.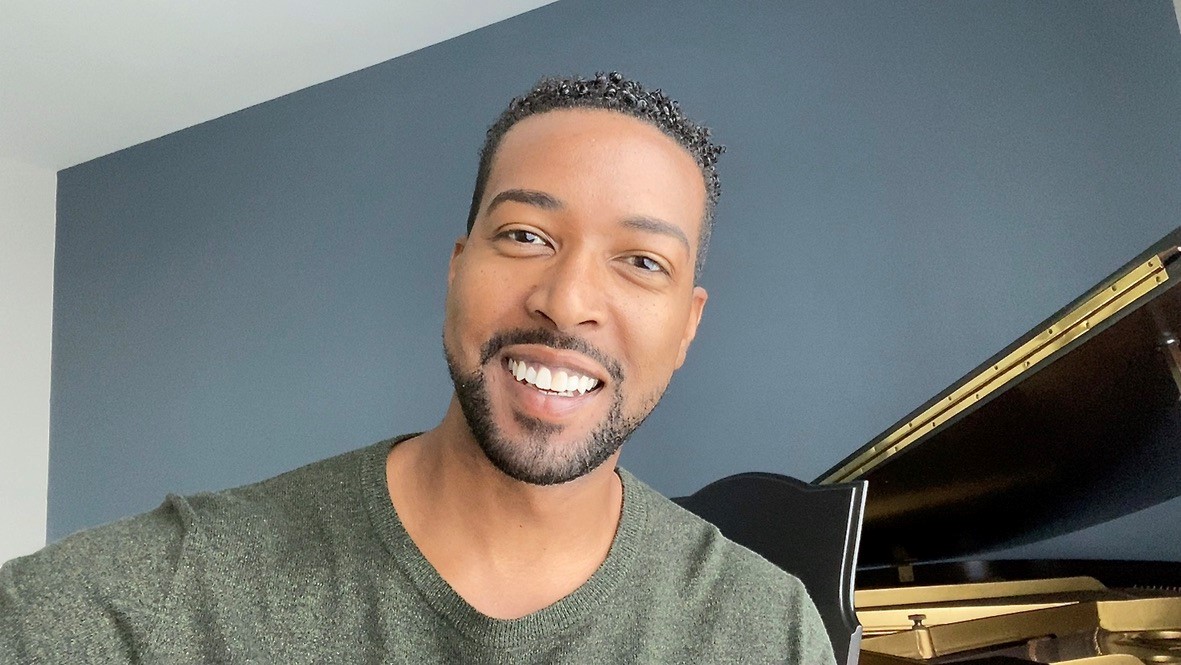 Today, being an Indigenous American means repairing the paper genocide throughout history by addressing the negative impact of people such as Walter A. Plecker, a eugenicist and first registrar of Vital Statistics in Virginia during the first half of the 20th century. To support his fictitious view of a 'superior race,' Plecker insisted that society only have two racial categories—Black and White. Therefore, he changed Indigenous people's government records to reflect those two racial categories. Through the age of Pleckerism, correctly identifying one's self as Indian became a crime.
Today, being an Indigenous American means hearing my grandparents tell stories of having clean water, clean air, and real food—a reality I do not know today. It means learning the history and culture of being stewards of the land, while having to watch those life necessities being poisoned and detrimentally altered. For me, today is also an opportunity to reflect on the extraordinary journeys and resiliency of my Indigenous ancestors. Despite having ancestral lands stolen, being displaced, and enslaved, they survived so that we could still be here.
As I consider even the change in nomenclature from Columbus Day to Indigenous Peoples' Day, I am inspired by those who are willing to reflect and repair. In the same ways we reclaim our identity as Aboriginal Niijii, today represents reclaiming the true history and meaning of this day. Embracing Indigenous Peoples' Day means that instead of commemorating hatred, violence, and genocide, we celebrate ourselves! We celebrate that we are still here!"
Haley Baum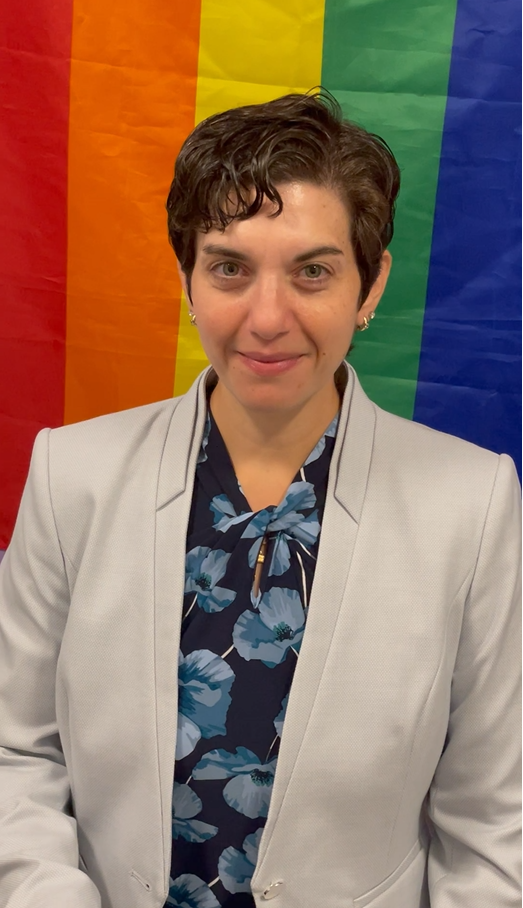 Dean of Students Dr. Haley Baum shared what celebrating LGBTQ+ History Month at Stockton means to her at the annual flag raising ceremony on Oct. 1:
"I have the distinct privilege to welcome you as we begin LGBTQ+ History Month. It's extra special for me to do so because this celebration and what it stands for is incredibly meaningful to me and my own journey.
There really are no words to express how significant it is to serve as your Dean of Students, having the opportunity to welcome you and reflect on the importance of today, not only representing Stockton but also as a proud member of the queer community myself.
When I think about LGBTQ+ History Month, I can't help but be reminded of the strength and courage of those that came before us. The grit, perseverance, determination, struggle, advocacy, tears, love, laughter… and, of course, the pride of so many that never gave up. Those that dared to lead and to be the first so that I could stand here now, so that we could raise this flag today.
Of course, there is still much work to be done. And we must be reminded that all of us have the opportunity each day to live with love and to take care of those around us, that our choices and our words matter. When we take pause to reflect in this way, it honors those that came before us.
I could not be more proud of the work we are doing together as a community at Stockton to create space to have conversations that matter; to continue the important work of advocacy and inclusion; and to ensure that our campus community is a place that everyone feels welcome, safe, and seen.
Thank you for being part of this month-long celebration as we remember and acknowledge the strength and courage of those that came before us."
Andrew Torres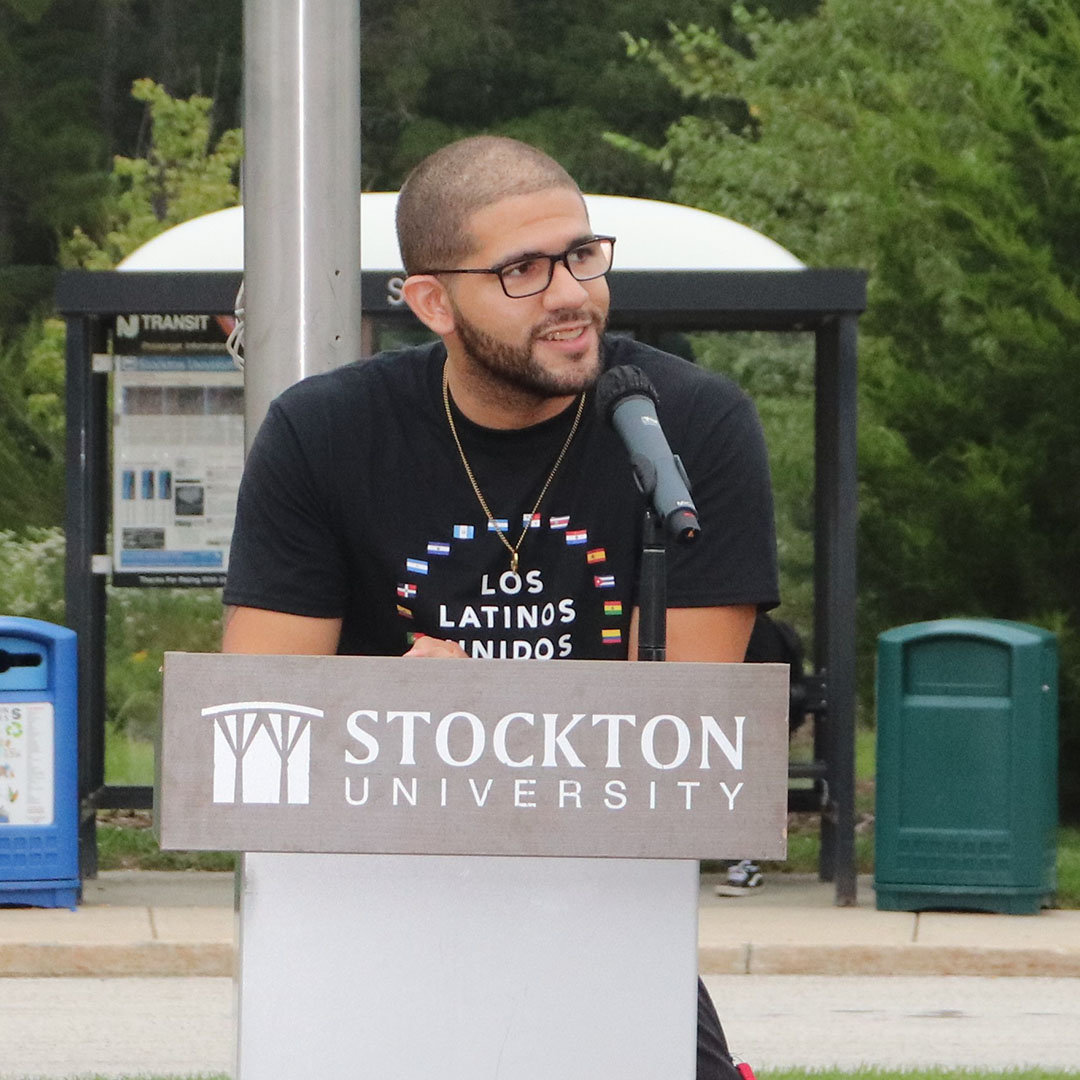 I came to Stockton from North Jersey where diversity was the norm. Once I left that bubble it was a big adjustment to say the least. I began to not only see my peers in different ways, but I really began to delve into my own culture as well. Who I am as a Puerto Rican man, who I am as a Brazilian man, and how can I ensure I keep this culture alive but also make an impact?
So, when I first saw the Los Latinos Unidos table at the Get Involved Fair I took a jump to get involved in it and almost immediately I fell in love with the club and the family I would begin to build there. I was not alone anymore here; I was not alone in being a first-generation Latino who thought he could have fallen through the cracks of college life.
What makes me proud about being a Latino is the strong family bond. It motivates me to do more for our community here and beyond and to show those kids just like me that college is not impossible, that you can break those generational curses and begin a new trend of success in your family. That no matter where you go, who you meet and what you choose to study, we are right here with you, we are your family, we love you and we are proud of you. Hispanic Heritage Month is the beginning of the celebration of our heritage but not the end of all our hard work.
Arnaldo Cordero-Roman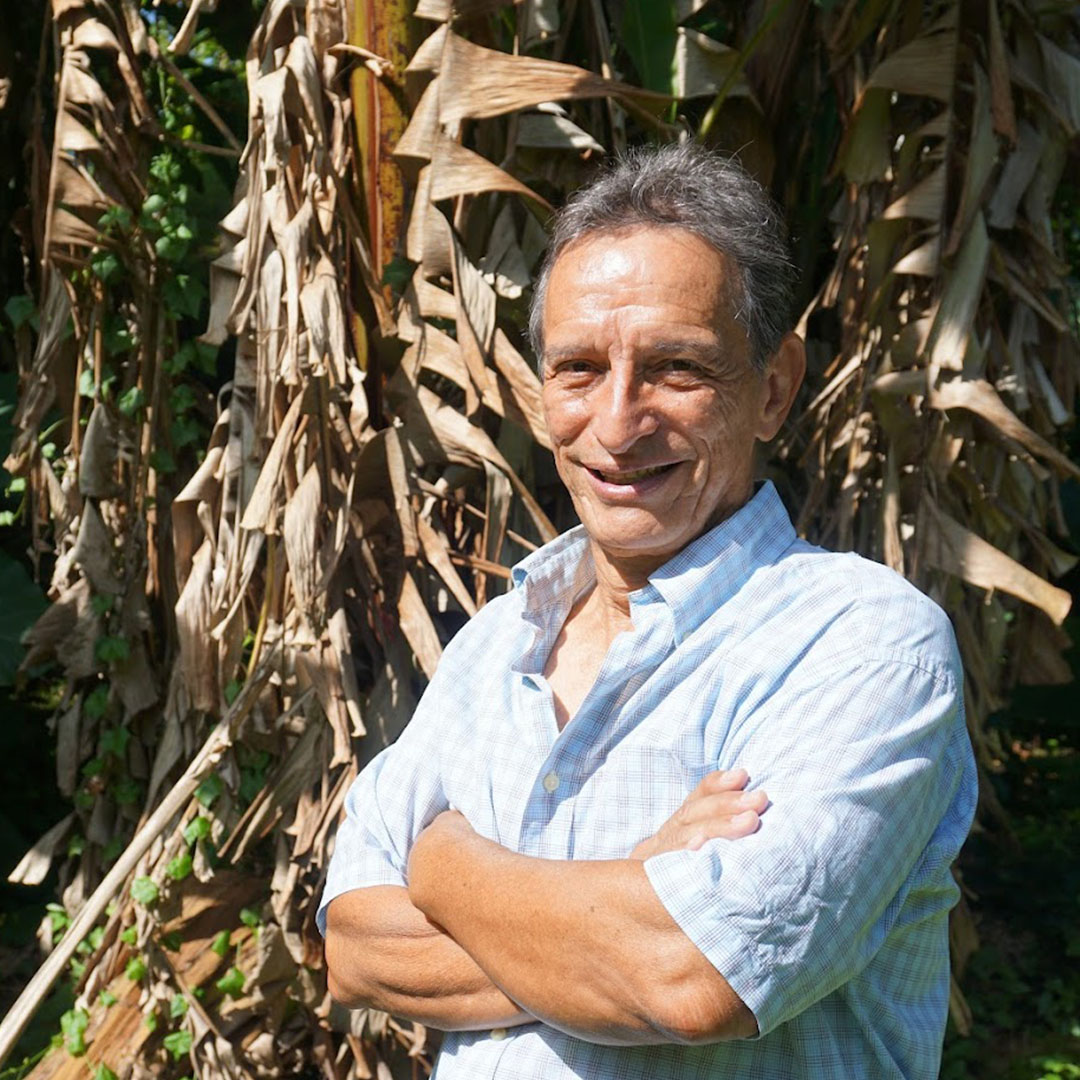 In honor or National Hispanic Heritage Month, which is celebrated Sept. 15-Oct. 15, Arnaldo Cordero-Roman, associate professor of Spanish and president of Stockton's Unidos organization, shares his #StocktonVoices perspective:
It is with great pride that every year, especially during my time at Stockton, I have engaged in promoting socio-cultural activities that celebrate our rich, vibrant presence in varied disciplines. Who can deny our past and present histories, our intergenerational diverse ethnicities, dialects, customs and traditions?
Throughout 50 years, Stockton's footprint in the Hispanic/Latino communities continues to grow. Stockton's locations now provide more access to multiple community partnerships, outreach programs and civic engagement. That Stockton may soon become a regional Hispanic Serving Higher Education institution is not a far-fetched idea. ¡Sí, se puede! Together, we can make this happen, sooner than later!
As current president of Unidos, one of my main goals is to foster a greater sense of belonging, one that exudes self-worth, goodwill, confidence and empowerment. Hispanic multicultural connections to Stockton's core institutional mission exist beyond traditional instructional classroom settings. The Unidos board members network and collaborate closely with Hispanic/Latino community members, employees, students, staff and faculty.
Frank Weiss III '13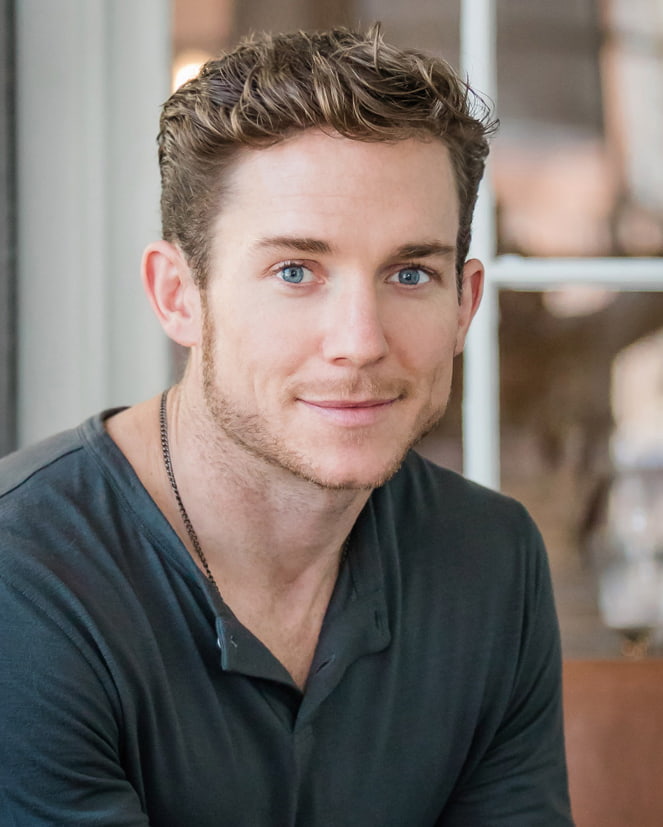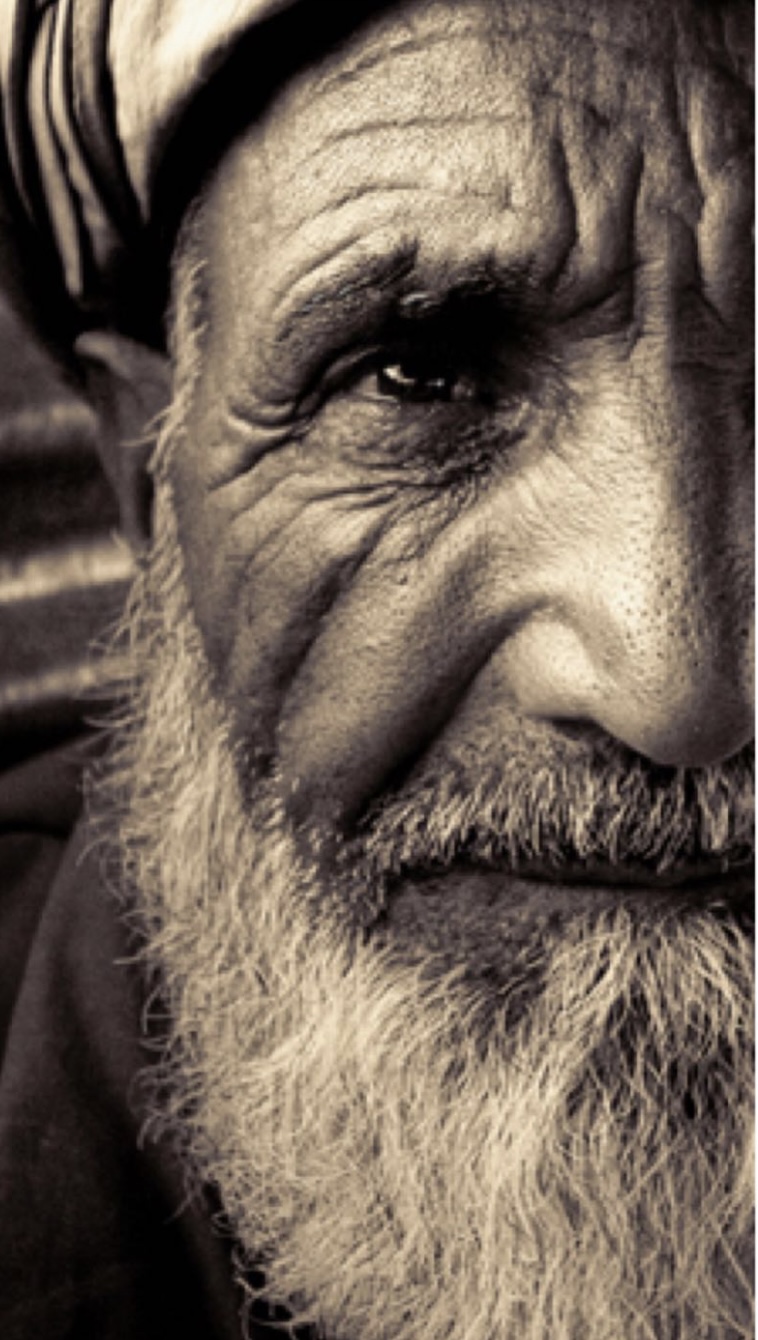 Following the U.S. military's withdrawal from Afghanistan after nearly two decades of war, the Taliban overtook the capital city of Kabul.
Frank Weiss III '13, a Liberal Arts graduate, shared photos he captured in Kandahar, Afghanistan in 2007 while he was working with the Dutch Army as a member of the U.S. Air Force Security Forces.
"The best part of my day was hanging out with these guys, taking their pictures and printing them out to give to them the next day. Sadly, most of the photos were lost on a failed hard drive, but their excitement and eagerness to socialize with 'an American soldier' is as vivid as ever," recalled Weiss.
The last image he took before his camera was run over by a humvee was a portrait of an Afghan man with a twinkle in his eye that invites viewers to wonder what stories he has to share. In Detroit, the photograph was awarded best in show at a cultural photography exhibition.
In an interview as a student, Weiss said, "Art has a purpose. Art should enlighten people and move them to action." Read more about Weiss in Stockton Now.
Linh Tran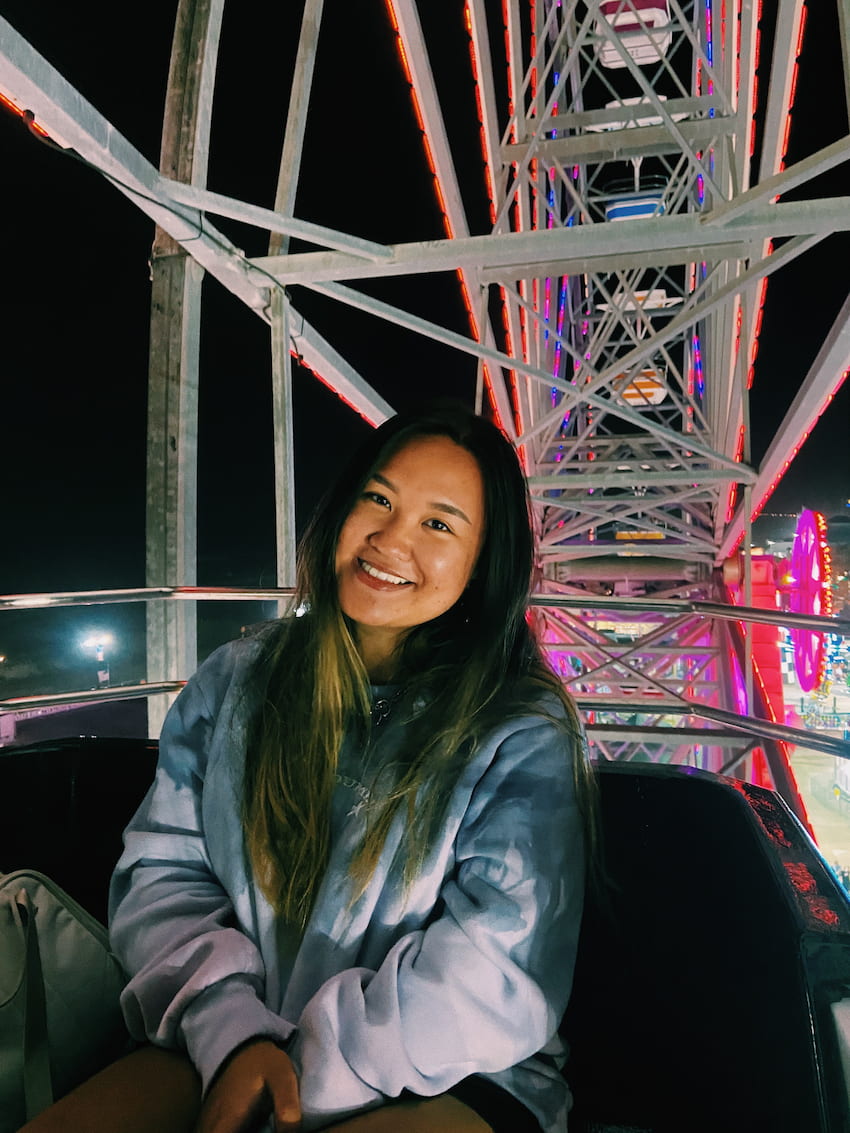 Linh Tran, a sophomore Economics major, wrote a reflection on the #StopAsianHate movement for the Argo and offered ways for the community to help stop hate by spreading education and awareness. The article was published the day before the March 16 series of tragic spa shootings in Atlanta, Georgia that killed eight victims. The following week, a grocery store shooting in Boulder, Colorado killed ten victims.
Tran reported in the Argo: "The pandemic has negatively impacted many communities, especially Asian Americans and Pacific Islanders. Former president Donald Trump's use of the term 'Chinese virus' in reference to COVID-19 has created an uncomfortable and unsafe atmosphere for the Asian community. This also has led to an increase in widespread xenophobia. There has been a 150% spike of hate crimes towards Asian Americans in major cities.
The Asian Student Alliance of Stockton University (ASA) is an organization that brings a wide range of cultures together and hosts events all year long. They educate students on the Asian American Pacific Islander (AAPI) community by constantly discussing difficult topics about the hardships that Asian Americans have to face.
As Stockton students see the news of hate crime towards Asian Americans rise, ASA aims to make sure that Stockton students don't feel alone."
Read the full article and ways to promote diversity and inclusion in the Argo.
We asked Tran to discuss the long history of stereotypes and how to show your support for the Asian community.
"The recent violent crimes have brought light to the daily struggles of Asian Americans to the mainstream media. However, xenophobia and hate crimes against Asian Americans have long existed in America.
The creation of the Chinese Exclusion Act of 1882 intended to keep Asians out of the country. Not only that, the lingering stereotypes of Asian people as 'quiet, good at math, wealthy, bad drivers, weak, unable to see, etc.' along with 'yellow-fever' and numerous racial slurs are utilized as hate speech and for comedic effect in pop culture. The safety and feelings of Asian Americans are often neglected. As a result, it has produced an uncomfortable atmosphere and negative burdens for the community to endure.
The help of the Asian Student Alliance trying to stand with the Asian community is not enough. Simple ways to support the #StopAsianHate movement are to support your local Asian-operated businesses, be a listener, speak out and educate people on this topic. Overall, I hope Stockton University, along with other institutions will improve the environment for Asian Americans to thrive in."
In addition to her Economics degree, Tran is pursuing a pre-law concentration along with two minors in Global Studies and Philosophy. She is an economics tutor in the math tutoring center, a Bonner Leader and a recipient of the Engelberg Leadership Program Scholarship. Her interests are in pursuing law school, government policy work and economic inequality.
Shedia Laguer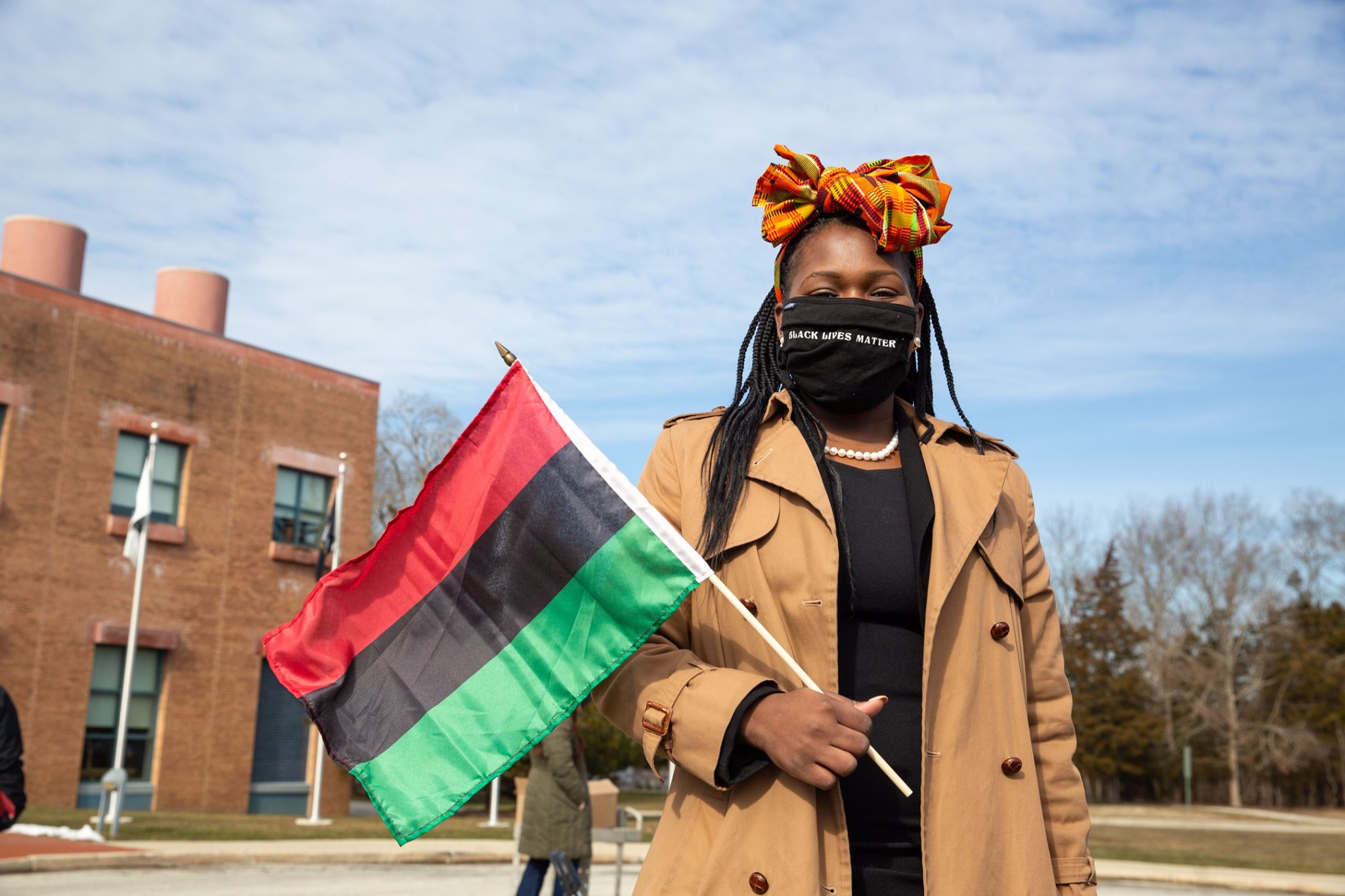 Shedia Laguer, assistant director of Stockton Student Development, describes herself "as someone standing at the intersection of Black and woman" who is "reminded daily that America is stained with the oppression and hate of Black people."

Laguer shares what #BlackExcellence means to her.

"I recognize there is a long way to go in obtaining justice and equity for Black people, so today I stand to acknowledge Black excellence. Black History is undoubtedly American history. There isn't an industry, professional or purpose that hasn't been better by the presence, brilliance and involvement of Black people. Black people are excellent. Dominant culture has taught some that excellence is white normative - maybe white, male, cisgenders, able body and mind etc. but we know better than that. In my experience, excellence has often been coupled with Blackness. The notable difference of black excellence is that it is achieved while meeting the resistance in the form of institutional racism.

Black excellence is Jazmine Sullivan, H.E.R and Warren "Wawa" Snipes at the 55th Super Bowl. Black excellence is Simone Biles. Black excellence is Toni Morrison. Black excellence is Black Girl Magic and Black Boy Joy. Black excellence is half a million people turned out in nearly 550 places across the United States to protest the injustice of Black people in America on June 6, 2020.

Black excellence is turning oil drums into instruments, rotten fruit into pie, and scraps to soul food. Everything Black people do is excellent because it's practically a superhuman to live in a world that systematically hates you yet profits from your existence. Black excellence is Black twitter. Black excellence is the first woman to become Vice President of the United States. Black excellence is loud. Silence... it's 'Who all gon be there?' Black excellence is First Ospreys. Black excellence is the National Pan Hellenic Council. Black excellence is Delta Sigma Theta Sorority, Incorporated. OO-OP!

Black excellence is tenacious. Black excellence is fixing each other's crowns. Black excellence is Ida B Wells. Mary Church Terrell. Dorothy Height. Black excellence is bubble gum bubble gum in a dish. Black excellence is Robyn Rihanna Fenty. Black excellence is 'turn to your neighbor and say neighbor' Black excellence is blues, soul afro beats, salsa, bhagrhra, kompa, soca, reggae, trap, merengue. Black excellence is peace, sholom and Assalamualaikum. Black excellence is you, me, us.

Colin Powell told us that 'If you are going to achieve excellence in big things, you develop the habit in little matters. Excellence is not an exception, it is a prevailing attitude.'

In reflection, Black history is the accomplishments of 100 years ago and this morning. Let us honor and thank the Blackness that makes Stockton University better. I'd be remitted if I did take a moment to acknowledge a Black woman, who was president of this university for over 20 years, Dr. Vera King Farris. #BlackExcellence!

Do your part to celebrate Blackness. That might be attending a program, engaging in service or doing the self work to address your own bias, bigotry and hate to create a safer and better space for someone else. Every action counts. As my mom says, no snowflake in an avalanche ever feels responsible. While we celebrate Black history and reflect on the Black contributions remember that history is being made here as well. We have Black excellence right here on our own campus- in our residence halls, classrooms, student clubs, student organizations, honor societies and dining halls. Black excellence within our faculty, staff, students and community members.

Rosa Parks once said, 'I had no idea history was being made. I was just tired of giving up.' Let's make history by not giving up. Happy Black History Month. Stay excellent, ospreys!"

Laguer shared these words in a speech during the Unified Black Students Society's Black History Month flag raising.
Jesus Barnes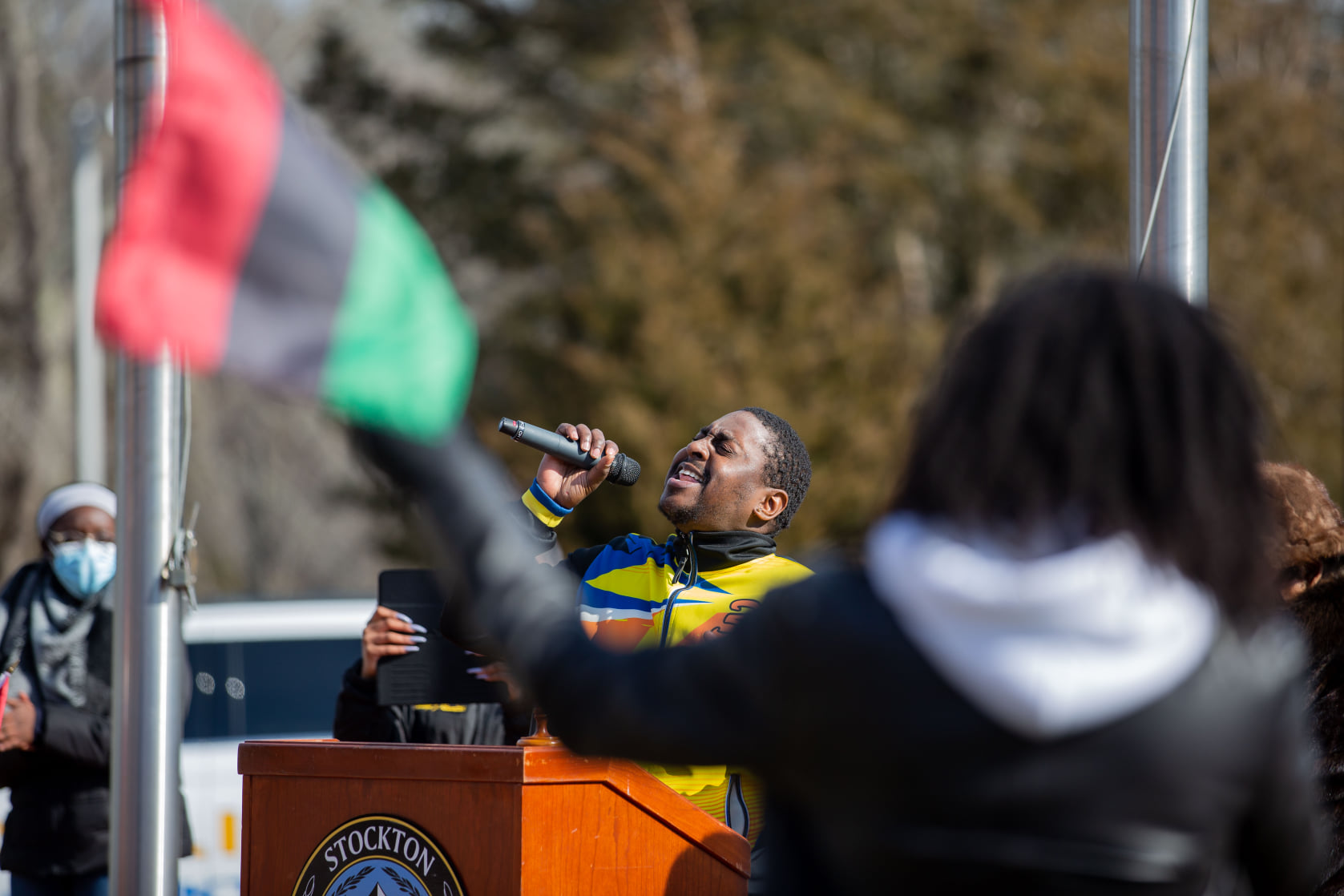 "How do I celebrate diversity through music? I feel that music in itself is a celebration of diversity!" said Jesus Barnes, a junior Studies in the Arts major with a concentration in Theatre Performance.
Jesus shares his music talent with the Stockton community at many events and most recently sang at the Black History Month flag raising ceremony.
We asked him to talk about diversity and music.
"I do not aim to be diverse. I listen to music and I AM diverse! I indulge in all genres! Every culture has a music like every culture has its own food, and so the freedom to listen is an inclusive buffet that I am honored to take part in any time I open my mouth to sing!" he explained.
Listen to his
performance
at last semester's Community Conversation on understanding systemic racism. In describing his song choice, he said, "I feel like there is a struggle of the past. I hope for the future, and I picked this song because it lives right in the middle."
Maya Lewis
Associate Professor of Social Work Dr. Maya Lewis reflects on what Inauguration Day meant to her & her twin girls: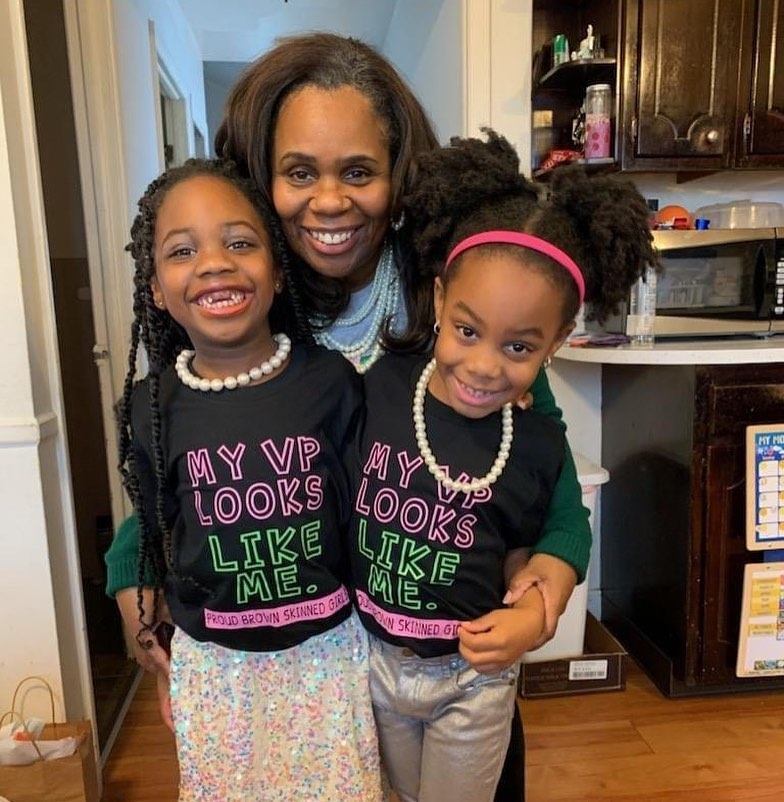 "It was a glorious day, indeed! We were decked out in our pearls and pink and green shirts that shouted, 'My VP Looks Like Me!' We had on our fancy pants and our shiny skirts on as I rustled the girls up to gather in front of the TV and see this brilliant Black woman take the oath as the next VP of these United States. I was elated and had tears, the girls were captivated at the ceremony. Even at 6, it seems they understood the gravity of moment (well they should since I've talked about it relentlessly since forever). After the oath I cheered, they cheered and we ate a cupcake and they both turned to me and asked, 'Mommy can we go change and play now?'
"I grew up here in South Jersey, a Black girl in a school full of white kids always feeling as though I wasn't enough. It wasn't my parent's fault, they poured esteem and love into me. It was society constantly hitting me over the head making me feel as though I was smart but not smart enough, I could be expected to do well but it was still only going to be well enough. There were limits in America. As a Black woman, I could get right up to the edge of greatness but would not be allowed to cross the threshold.
"When I found out I was having twin daughters, I was excited, and I was also determined. After spending critical years at Spelman College, meeting and befriending, and being among the most dynamic Black women, I began to understand that the limits America placed on us were fake. When I had them, I knew I would do my best to raise my daughters with fearlessness and freedom and joy. I wanted them to know that they have the absolute right to be in any spaces where they desired to be. I wanted them to experience the world from the position of the center and not the position of the outsider or other. I wanted them to know their strength, to know the power they bring from their ancestor women warriors, and to know that they belong.
"I think we are on the way to realizing this goal. The girls are constantly questioning the patriarchy (lol). They always are asking me, 'Mommy why is it always he, why not she?' They asked when we say the blessing before dinner if we could refer to God as she, and they want to know why Kamala Harris is only the first woman VP? To them, Black women already belong in the greatest and most important of places. I know that they are still so young and that their view of the world is very controlled by me. I know also there is a chance of that confidence waning when they reach adolescence. But, with the election of Kamala Harris, the glimmer of hope that their view of themselves and the world won't change, is getting so much brighter. So yes that day, that January 20th, was a glorious one indeed!"
Malikah Stafford
Malikah Stafford reads her powerful poem, "On Your Knees," written for the Stockton Theatre Club's cabaret.
"I hope that my piece opens people's eyes to the historical, continuous injustices committed against Black people which have left us imprisoned on our knees for centuries. I hope people will feel inspired to make meaningful, advocative change and feel the urgency to contribute to the fight against oppression," she explained.
Stafford is a Communication Studies major and Africana Studies minor and a member of the Unified Black Students Society.
Kameika Murphy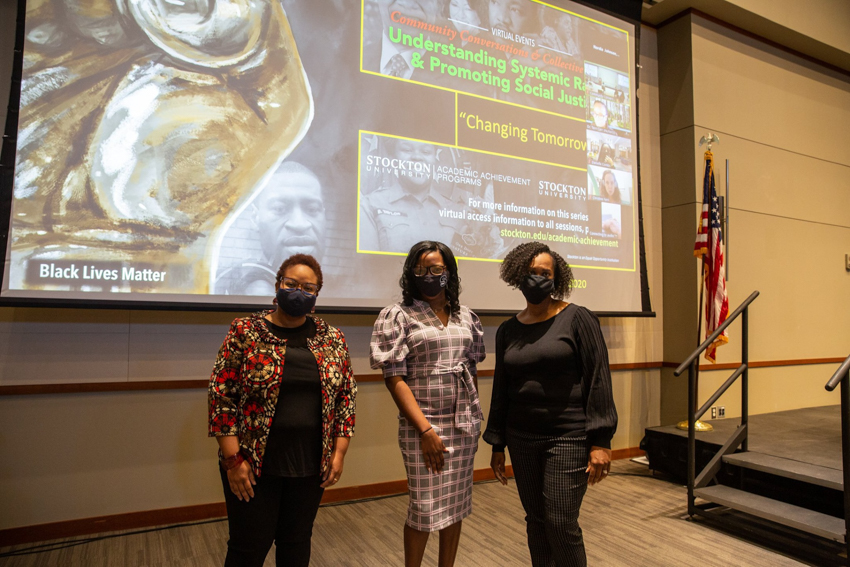 Kameika Murphy, assistant professor of Atlantic History, explains the power of storytelling and its impact on social justice.
"Stories of African-Americans, stories of Afro-diasporic peoples outside the U.S., and representations of blackness shape the perceptions and the treatment that people receive. And therefore social justice includes paying closer attention to those stories and who gets to tell them," she explained.
As a graduate student, Murphy began to see gaps in history. "The narrative I was being given in class started with slavery. We had not been given any other context. The image and memory that was being reinforced in my mind was of my people, people who looked like me, my ancestors, only in servitude and nothing else," she said.
The history of slavery is incomplete when stories from the enslaved's perspective are silenced.
"When we think about the African American experience, we see black people as such, people, humans, not a process through which they were being dehumanized," she said.
Watch Kameika Murphy's full presentation on YouTube.
Pictured are Kameika Murphy, Nordia Johnson and Donnetrice Allison at the Community Conversations event.
Megan Coates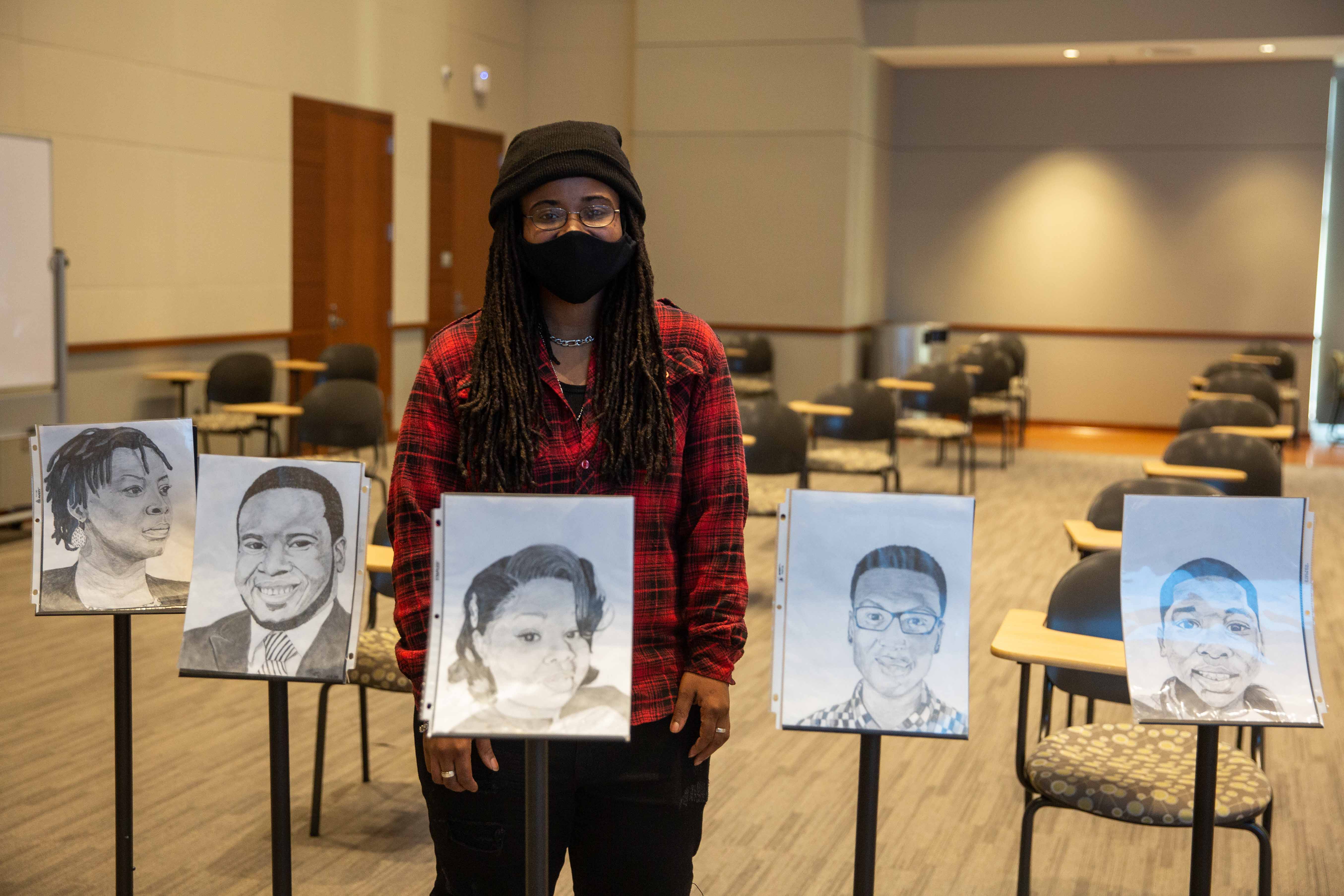 How will they be remembered?
Megan Coates, a senior archaeology major, didn't want to see another image or video of brutalized bodies--that's not how the black lives lost unjustly should be remembered, she thought.
Recalling that Martin Luther King Jr. encouraged activists to march in their Sunday best, she got out her drawing supplies to memorialize the human lives how she feels they deserve to be remembered.
Coates is making a calendar that shows hand-drawn "pictures of these people as they lived in everyday life."
The project started from a place of "powerlessness" that resulted from watching the traumatizing footage over and over again. Turning off the news felt too much like "ignoring it."
"We're used to seeing the faces with bruises and autopsy photos. I was so tired of that. In the calendar, we would look at the faces, these victims of injustice and police brutality, in a different way. I wanted people to see these people as human beings. Not just as victims, as bodies, as corpses, another case study and another case of some black person being murdered," said Coates.
Their stories are told through her attention to detail.
In describing her drawing of Tamir Rice, Coates recalled, "as I was sketching his teeth and mouth, I specifically remember that his teeth hadn't fully formed yet. They don't show this picture very often. They show the still of him being murdered. He was outside playing with a toy and he was murdered."
Coates said the hardest part of the calendar project is choosing the 12 faces to include. There are so many lives to choose from.
Coates began drawing a few years ago. "I went to Greece in 2017 and remember being inspired by the light. It's so beautiful there. When I returned to the states, I missed the light, and regretted not having taken more pictures. So I started drawing and painting what I remembered, and I've been painting and drawing ever since," she said.
Coates holds the student role as executive director of Diversity Initiatives at Stockton and Aristotle University in Thessaloniki, Greece. She plans to pursue a Phd in Archaeology and hopes to become a professor at Stockton.
"I want to continue the work of Professor David Roessel. He's my mentor and the man who brought me to Greece and gave me the courage to pursue my passion," she said.
Watch Coates's presentation given during the Community Conversations series on YouTube.
Meg White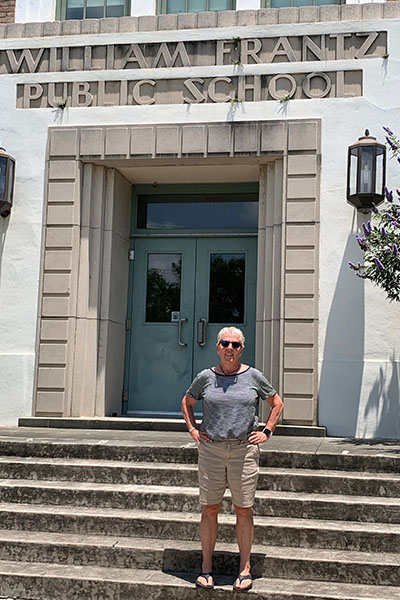 Meg White, associate professor of Education at Stockton, recently collaborated with colleagues to publish the book, "William Frantz Public School: A Story of Race, Resistance, Resiliency, and Recovery in New Orleans," which highlights the stories of school desegregation in New Orleans beginning with Ruby Bridges in 1960 through the devastating impact of Hurricane Katrina on public education.
"It matters that society has historically marginalized Black students and continues to do so. It matters that attempts to dismantle systemic racism in schools and other institutions still face strong resistance and these issues continue to deeply divide the United States," White says. "It matters that discrimination and systemic racism in public education is indicative of that which occurs in other social institutions. It's important to know where we came from so we can be better about where we're going."
Much of her work at Stockton focuses on recruiting and training pre-service teachers to be effective educators in urban environments. "Most teaching vacancies are in urban areas where we need our most dedicated and prepared teachers. Our program strives to fill this need with students who have had a variety of fieldwork experiences and are prepared from day one to teach in any classroom."
Monica Viani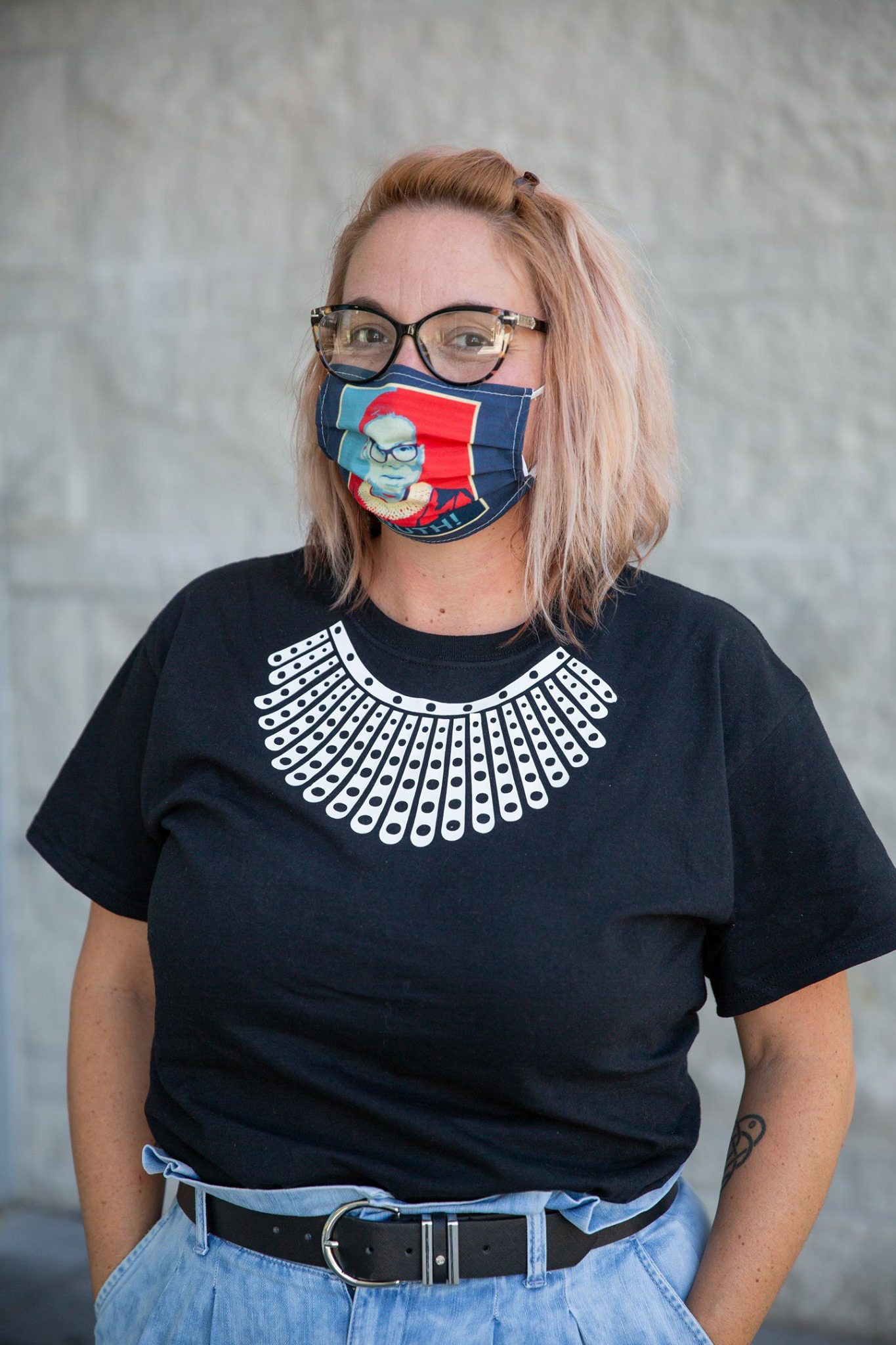 Monica Viani from the Dean of Students Office wore a shirt adorned with the late Supreme Court Justice Ruth Bader Ginsberg's favorite white jabot from South Africa. Her mask said "Ruth" underneath a stylized portrait of the second woman to serve on the nation's highest court.

We asked Viani to share how RGB has inspired her.

"From graduating first in her class at Columbia Law, to overcoming gender discrimination in her field, to using her position to advocate and become a champion for women's rights and equality, to the gumption she showed in her dissents on the Supreme Court, Ruth Bader Ginsberg is truly an inspiration to me.

A quote of hers which is most poignant to me is, 'If you want to be a true professional, you will do something outside yourself. Something to repair the tears in your community. Something to make life a little better for people less fortunate than you. That's what I think a meaningful life is- living not for oneself, but for one's community.' This mantra resounds with me as it is how I aspire to live my life, both personal and professional.

Thank you RBG for your life of service and for fighting for what is right; gender equality and justice.

Rest easy, knowing we will continue the good fight."
Wendel White
Red Summer is a visual series that illustrates racial violence in the American landscape through the lens of Wendel White, Distinguished Professor of Art. The phrase "Red Summer" refers to the concentration of racial conflicts (at least 25) that took place across the U.S. in 1919.
White revisited a number of the communities where the significant events occurred to make landscape photographs. He then searched for newspaper clippings that described the events at those sites and crafted collages.
A selection of White's photographs from his Red Summer portfolio and Manifest series are now on display in the Stockton University Richard E. Bjork Library Learning Commons. "Red Summer," artwork by Casey Ruble and Wendel A. White, is coming to the Stockton Art Gallery Jan. 19-April 1, 2021.
Nastassia Davis
Photographer Nastassia Davis asks us to look inward and to think about what paths we will choose in life with her self-portrait titled "Fork in the Road."
Davis used her camera, a tripod and a self-timer at the Knife & Fork Inn restaurant in Atlantic City to capture the portrait and then superimposed images of forks on the ground. Of her image, she said she is "making a statement about going through life and overcoming obstacles or moving through the forks in life to make major decisions on the right path to go."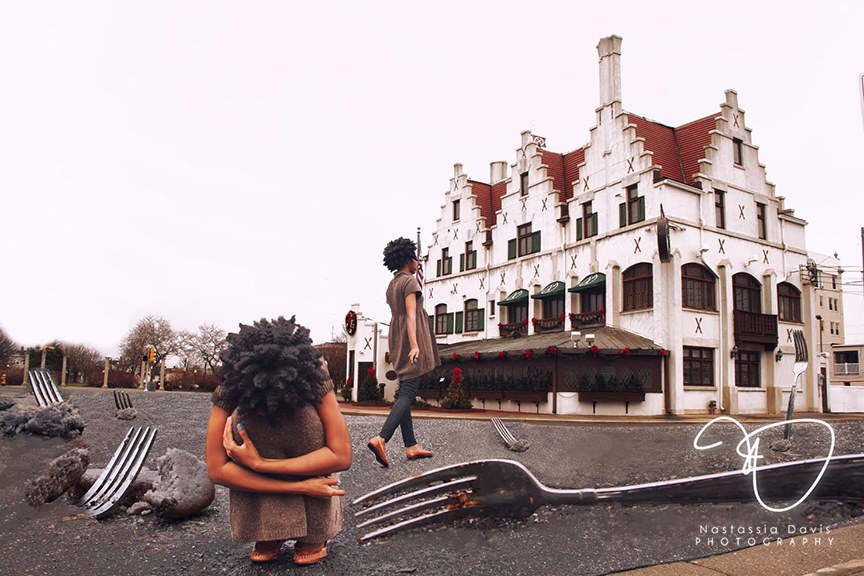 We asked Davis to share how she is navigating her journey. "Overcoming obstacles comes with having a strong sense of self, perseverance and a goal in mind. Write down your destination and keep it some place where you can see it everyday. What has gotten me through my toughest obstacles was always following my gut, my instinct. Sitting in a quiet space to center myself, praying and then listen to what my heart tells me to do. If it doesn't feel right, I don't move forward," she said.
The first photographs that caught Davis' eye were taken by her father who created portraits in the 1970s and early 1980s. "He had a real talent for capturing people's personalities and style. I fell absolutely in love with photography from that moment on," she said.
Davis founded youth photography workshops called Lightshooters as a way to use art and photography to combat gun violence. She has worked on many art related projects for the Noyes Arts Garage of Stockton University and the School of Arts and Humanities.
In the summer, she leads photography classes for Atlantic City and Pleasantville youth through the Coalition for a Safe Community. See more of her work on her Facebook page Nastassia Davis Photography LLC and at ndavisphoto.com.
Ralph Hunter
A first grade experience inspired Ralph Hunter to become involved in history by preserving and sharing it with audiences at the
African American Heritage Museum of Southern New Jersey, located at the Noyes Arts Garage of Stockton University.

When Ralph Hunter's teacher read Little Black Sambo to his class, where he was one of four African Americans, he'd put his hands over his ears to block out the story. Then at recess, the students would call him Little Black Sambo.
"That was my introduction to Little Black Sambo and how people would treat you as an African American," he said.
Many years later, he began collecting Little Black Sambo books and African American memorabilia, and today, his collection of thousands of pieces of history serves as a reminder of our past and asks viewers to question where we are today and where we are heading.
Ralph Hunter talks about how he created the museum in this PBS interview.
Ahmiya Jones
Senior Ahmiya Jones turned her insecurities into her super power after transferring to Stockton University and starting The Plus-Size Project, the first organization on campus dedicated to creating an inclusive space for plus-size women and loving the skin they're in.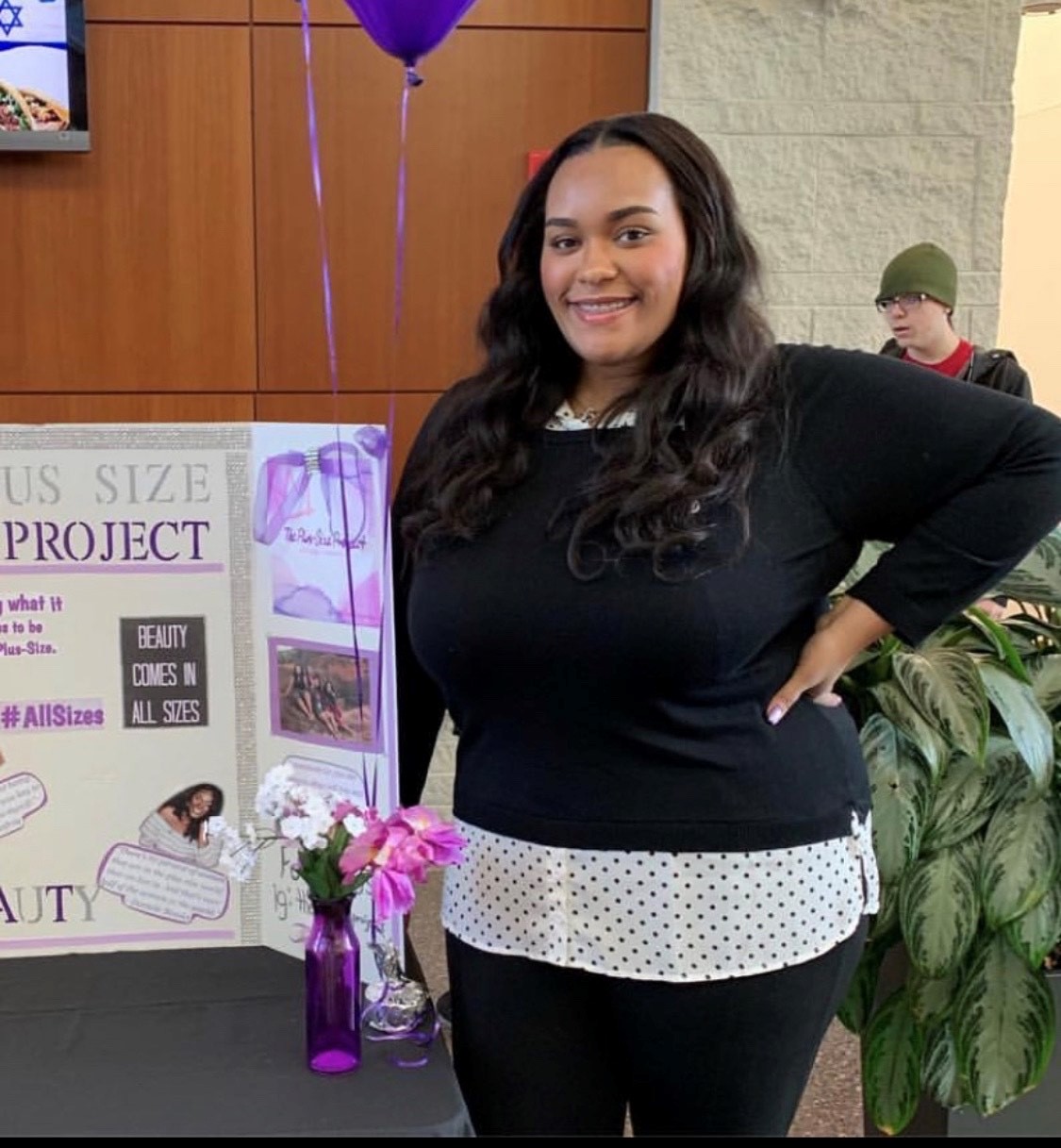 "When I came to Stockton, I couldn't find a club that highlighted body positivity, self-love and self-empowerment on campus. It was definitely a little difficult starting the club; I noticed there weren't many people who looked like me and were actually being heard at Stockton. It was a process, but the safe space the club creates is like no other. My advisor Laurie Dutton and mentor Dianne Stalling helped me like no other as I was starting the club. The Plus-Size Project is a community of people coming together to uplift one another, no matter their size. I've always struggled with body positivity, but since starting college and The Plus-Size Project, I've overcome that.
"People struggle with accepting their body every day. Many people feel uncomfortable just walking through the hallway, and may need that one compliment to make their day or that one organization where they feel safe. The Plus-Size Project makes room for an environment where plus-size individuals can feel safe in their own skin, the focus being on us and how we feel in our everyday life.
"African American plus-size women specifically have always struggled with acceptance amongst our bodies. Many of the problems we face in our community are criticisms over our weight, whether it be from our family or even acquaintances. By just going into a store and not being able to look in certain sections, the plus-size community is separated from the real world, especially when it comes to aspects like the fat tax or our size not being available. Little things like these make a big difference, and the change starts with us.
"I hope The Plus-Size Project remains on campus even after I graduate because the message the club brings is like a movement that I hope never changes. I want incoming students who may struggle with body confidence or self-love to know that I hear you and I am here for you. I hope to leave a positive mark on the Stockton University campus, and shine light on how being positive and staying true to yourself is something that can't be compared to ANY process."
Donnetrice Allison
Donnetrice Allison turned her restless thoughts on the death of Chadwick Boseman into a reflection and a tribute to the actor who showed us that black images matter. She draws on her research and teaching on media portrayals of African Americans to show us how he was a part of something much greater than just movies.
"I have spent more than two decades saying this phrase to whoever would listen – it's not 'just a movie.' You see, over the years, I have been very critical of certain movies, actors and directors, who have made artistic choices that I believed were damaging to the Black community. In the early days of film and television, we didn't have a choice but to shuck and jive, step and fetch it, smile extra wide and make our eyes pop for the white gaze, but in more recent years a growing number of Black creators, producers and executives have been positioned to offer us images of ourselves that are more three dimensional.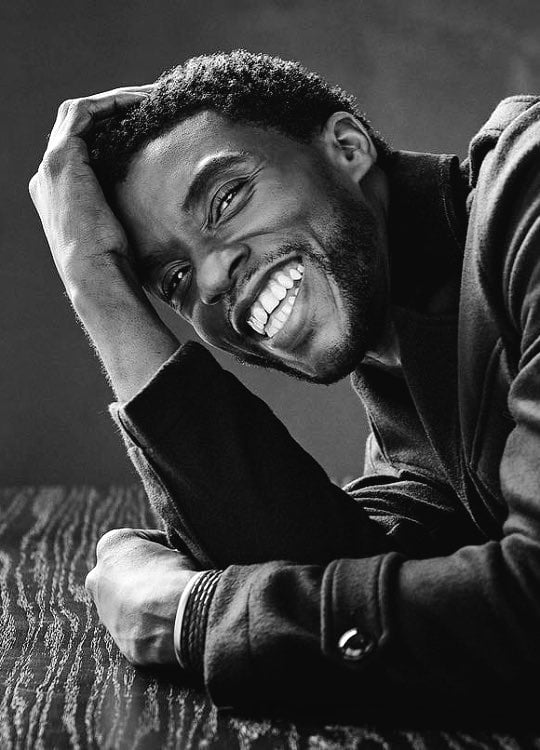 And no, I am not suggesting that Black characters always have to be dignified and upstanding and perfect on stage and screen, but I am saying that our men don't always have to be criminals and thugs, and our women don't always have to be loud and ratchet. We are so much more than that. Black people are so much more than that. We range from intellectuals to criminals and everything in between. We are mothers and fathers, we love country music, classical music and opera, not just hip hop and R&B. We are diverse and complex, just like our ancestors on the continent of Africa were diverse and complex and spoke hundreds of different languages. All of that should be reflected in film and television, not just the handful of stereotypes that were created in the white imagination to degrade us.
And the reason so many of us are so hurt by the death of Chadwick Boseman is because he understood that. HE GOT IT in a way that many actors and creators still don't, and he got it at a very young age.
While most young actors are out there hustling and trying to catch their first big break, they are willing to take whatever roles they can get to put food on the table or get their name in lights – not Chadwick. From the very beginning of his career, he wanted to say something profound and he wanted to represent us in a way that we could be proud of, so he struggled early on and he refused the thug roles that Black male actors are so often expected to accept. He understood that he was meant for more, he was capable of more and we deserved more; and boy oh boy did he give us more.
There is a saying that 'success is when preparation meets opportunity.' Chadwick Boseman embodies that, because as soon as opportunity came knocking, he was prepared to give us his all. And contrary to what some may believe, he didn't just come out of nowhere. He wasn't an 'overnight success.' He worked at his craft for more than 20 years. Unfortunately for us, we only really got to know of him in the last seven years. But in that short time, he blessed us. He gave us images and reflections of ourselves that made us stand tall in ways that Hollywood often does not. Hollywood does not honor and love us the way Chad did.
He was a legend in his own time, and he deserves all the accolades we can give him. So, to anyone who thinks we're doing too much right now in our public mourning of him, I say, 'it's not just a movie.' This year has brought us blow after blow. We lost a basketball legend, a civil rights icon and our first Black superhero, all while COVID-19 has ravaged our communities and police have taken our lives. So, cut us some slack as we publicly mourn our superhero – Chadwick Boseman. Black Images Matter!"
Allison is professor of Communications and professor and coordinator of Africana Studies. "African American Movies," "African Americans on Television" and "Women, Minorities and the Media" are just a few of the courses she teaches, and she is editor of the book "Black Women's Portrayals on Reality Television: The New Sapphire."
Photo credit: This image was from Chadwick Boseman's final tweet that has become the most-liked post in Twitter history.
Linda Wharton
Linda J. Wharton, professor of Political Science at Stockton, has taught and lectured about issues of gender equality throughout her academic career. Her earlier legal career also focused on issues of gender equality. She served as the Board Chair of the National Women's History Alliance and currently serves on the ERA Coalition's national Legal Task Force.
"Today (August 18, 2020) marks the centennial of the ratification of our Constitution's 19th Amendment, guaranteeing women the right to vote in all states. It's a truly momentous occasion and one that must be celebrated and acknowledged. I am personally awed and inspired by the accomplishments of the suffrage movement that resulted from decades of advocacy and hard, hard work by a huge, diverse group of women.
"Yet, its legacy is complicated. While the 19th Amendment immediately secured voting rights for some women, others, including many Black women, were systematically kept from voting for decades. And, of course, egregious forms of voter suppression continue today. The movement was also marred by racist tactics and politically expedient compromises by some white suffrage leaders. So, while it's a day to celebrate, it's also a day to reflect on this history and learn from it so that we do not repeat its mistakes.
"Moreover, the 19th Amendment's guarantee of gender equality is limited to the specific context of voting. Fortunately, in January, Virginia became the 38th state to ratify the Equal Rights Amendment, an amendment that would extend protection for gender equality beyond the voting context to all aspects of citizenship and provide a constitutional foothold for strengthening protection in areas such as pregnancy and parenting discrimination and sexual harassment in education and the workplace. Most of the world's constitutions guarantee sex equality. It's truly shameful that the US Constitution does not.
"I hope that each of us will do what we can to contribute to completing the unfinished work of the movement to achieve full constitutional equality for all women. That's the best way of honoring the legacy of our constitutional foremothers."
Nazia Kazi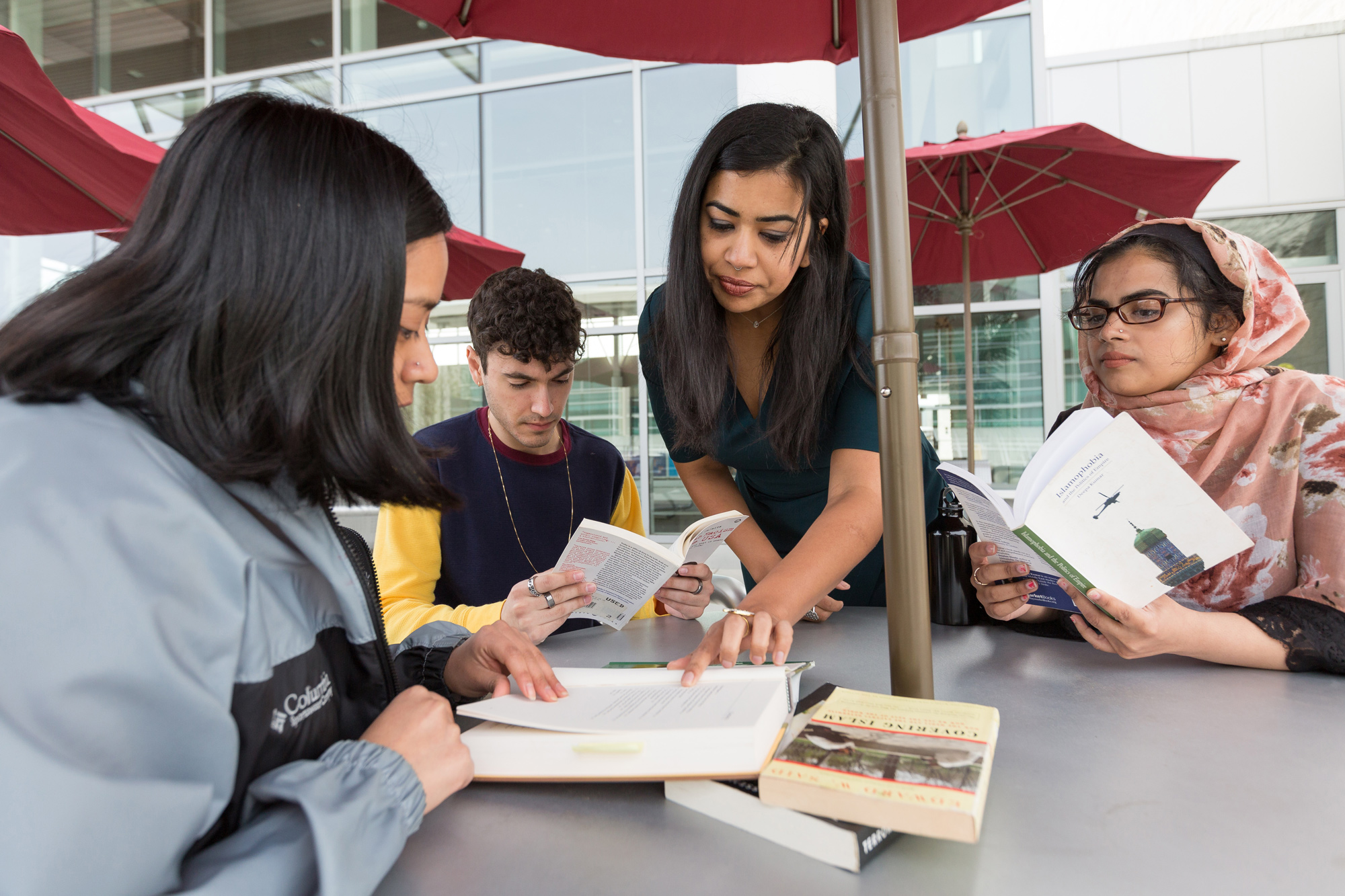 Just one class can open minds to new perspectives. Nazia Kazi, assistant professor of Anthropology, reflects on her experiences teaching on topics related to race.
"One of the things that strikes me while teaching about topics such as race, migration and Islamophobia is just how little so many of our students know about our racial past. Their social studies classes have reminded them time and again about the Boston Tea Party and how a bill becomes a law. But students all too often arrive in my classes with scant knowledge about, say, the murder of Fred Hampton, the MOVE bombing in Philadelphia, or the militant abolitionism of John Brown (and if you, too, are unfamiliar with these histories, well – you've just proved my point). Once our students are presented with the uncomfortable facts of America's racial legacy, I am stunned at the compassion and diligence they bring to their studies and their eagerness to pursue social justice outside of the classroom.
One student told me that, before taking my "Race & Islam in the U.S." course, her only exposure to Muslims was an experience as a child at an airport, when her father led her away from Arabic-speaking passengers, telling her 'don't look at them.' She told me that taking the class changed her entire outlook on the relationship between the U.S. and 'the Muslim world.' I find such paradigm shifts inspirational; it gives me great hope to see students willing to revisit, revise, even abolish their long-held assumptions about race and difference.
As a faculty member, it is my responsibility to ensure that the classroom and the campus at large is a site for the open exploration of such ideas. I regularly invite students to challenge and disagree with class material (provided they do so in an informed, educated, and thoughtful manner)."
Kazi is author of "Islamophobia, Race, and Global Politics," which is required reading in college classes across the country.
Irvin Moreno-Rodriguez
One day, several years ago, while working in retail as a manager, one of Irvin Moreno-Rodriguez's delivery drivers called him and said, "I'm done. I'm not delivering to this person anymore. They are rude and treat me terribly."
Moreno-Rodriguez, who is currently a graduate student and staff member at Stockton, accompanied the driver to the house on the next grocery delivery to see if he could mend the relationship between the driver and the customer, and together they knocked on the door.
Unknowingly, the sounds of their fists innocently banging on the door took the homeowner back to Nazi-occupied Europe.
"Knocking on the door was the mistake because, to make a long story short, this person was a Holocaust survivor. And she told me that every time somebody knocked on the door--and we would knock on the door loudly to get a customer's attention--she would go back to that time period during the war. That day, a lesson was reinforced for me, and my driver learned something new," said Moreno-Rodriguez.
"I'm a product of the education that Stockton University provides, and what's always stuck with me is my ability to look at issues and problems from a different perspective—the human perspective," he said.
The first thing we must do to solve any issue is to listen.
Irvin is a Criminal Justice graduate who earned a minor in Holocaust & Genocide Studies and is currently enrolled in Stockton's Master of Arts in Holocaust & Genocide Studies program. He is a program assistant in the Sara and Sam Schoffer Holocaust Resource Center.
Danielle Combs
Senior Danielle Combs is president of Stockton's Chapter of the NAACP and organized the Juneteenth March for Justice. Danielle, a Political Science major with a pre-law concentration, closed out the march by delivering a powerful poem she wrote called "I Can't Breathe."
Christina Jackson
"COVID and increasing police brutality has only further proved the urgency of my recent book Black in America: The Paradox of the Color Line. The disproportionate effects of COVID on Black communities and the recent deaths of Breonna Taylor, George Floyd, Tony McDade and Ahmaud Arbery further clarifies that the foundation of our system based on racism and classism is flawed. The recent rebellions across the nation teaches us that reform is not enough—and that we as a country need to push the abolition of our criminal justice system, among others."
Christina Jackson is assistant professor of Sociology.
Ana Rodriguez
"We must stop tolerating the disparities in graduation rates between Latinx and White students if we truly believe that every student matters! Let's take ownership of our sphere of influence and create a campus that is more inclusive and welcoming for Black and Brown students inside and outside of the classroom. We as an institution should be adapting to educating this student population who are departing college way too soon!" - Dr. Ana Rodriguez, Director of Student Transition Programs
Fannie Lou Hamer
It was 56 years ago this week that civil rights activist Fannie Lou Hamer traveled from her home state of Mississippi to Atlantic City, where she and other members of the Mississippi Freedom Democratic Party challenged the all-white delegation representing the state at the 1964 Democratic National Convention.
In her testimony, she talked about the beatings she had endured during her fight for the right to vote. "All of this is on account we want to register, to become first-class citizens. And if the Freedom Democratic Party is not seated now, I question America. Is this America, the land of the free and the home of the brave, where we have to sleep with our telephones off the hooks because our lives be threatened daily, because we want to live as decent human beings, in America?"
Although her efforts failed to unseat the delegation, her speech galvanized the nation, and in 1965 the Voting Rights Act was passed. Stockton University pays tribute to her historic presence in Atlantic City with the annual Fannie Lou Hamer Human and Civil Rights Symposium in October, and in 2018 named the Event Room in the new Atlantic City Campus in her honor.
Terri Carr
"Black and Latinx people are highly discriminated against throughout their college-to-career experience. Entering a job market that was not created to receive their talents, skills, skin or knowledge is a painful one. But we are here to support them in the process, and change and disrupt the system. If not now, when? This is the time that we make the change, this is the time that we provide the true support to expand the social capital of the students that we bring in...I cannot take on the system of discrimination alone. However, in the place of my practice, in career services, in Career Education and Development here at Stockton, alongside with institutional agents, my community partners, faculty and staff, together we can cultivate a strategic effort to support Black and Latinx students and their college-to-career transition."
Kiara Padilla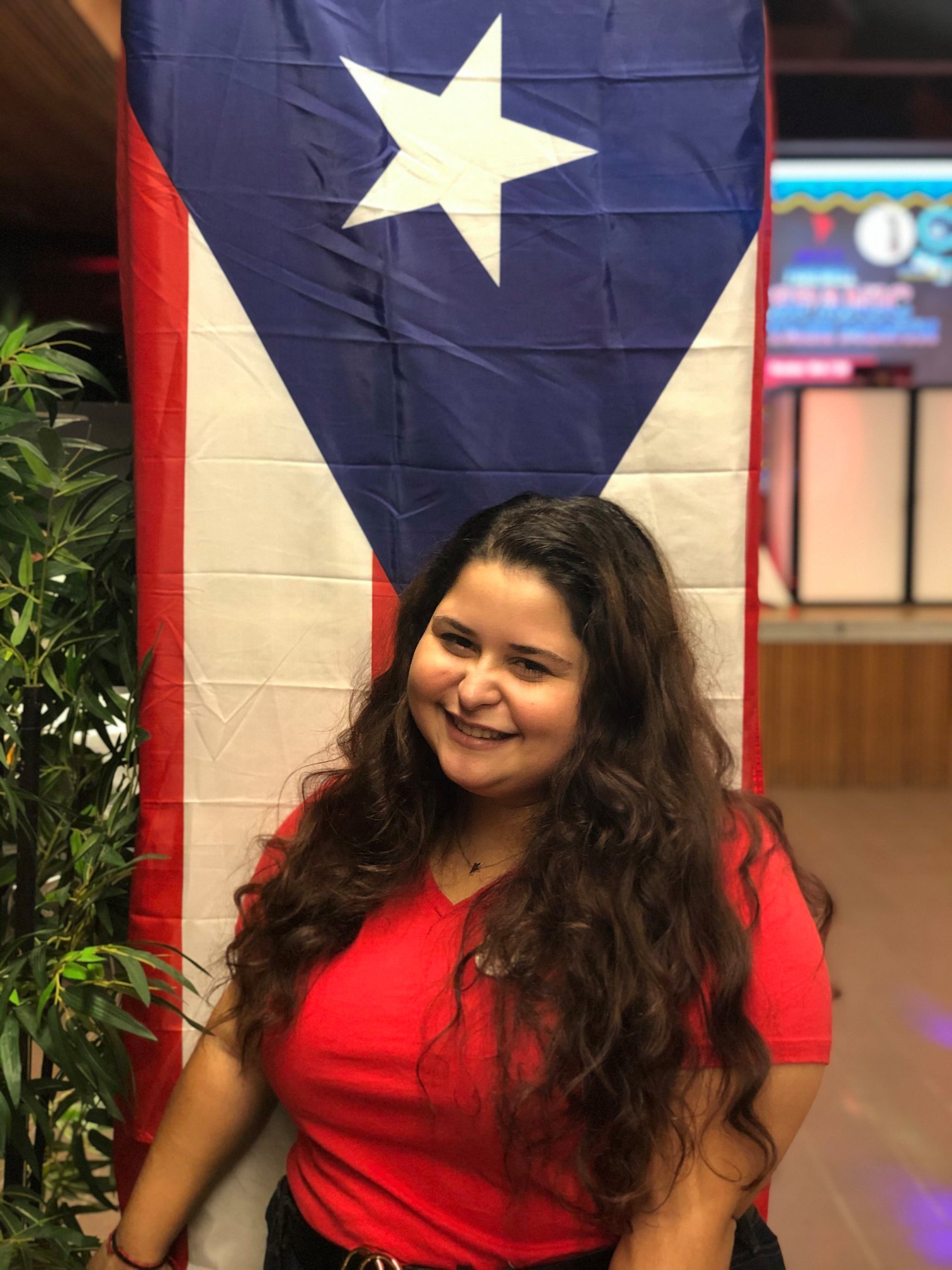 Kiara Padilla knows what it feels like to be far away from home and her family, but her love for her culture empowered her to create a new home at Stockton that celebrates her heritage.
"As a first-generation, post secondary education student, collegiate education was a difficult goal to achieve. With the support and encouragement of my mother, at the age of 17, I decided to embark on a journey of self improvement moving from Puerto Rico to New Jersey completely alone. This decision led me to discover Stockton University and become part of the Stockton community I have grown to love and be proud of. I am now 20 years old and a senior Communication Studies major with a concentration in Public Relations and a dual minor in Spanish and Global Studies. Although I spent my first year focusing on work and classes, I decided to get involved my sophomore year. Being in a PWI, it was often difficult to find a community I felt comfortable in, that is until I came across Los Latinos Unidos. The ability to have a safe space where I can share my language, culture and journey with people similar to me allowed me to feel at home here at Stockton University. My decision to be involved with LLU led me to obtain the courage to become someone future students can look up to and rely on. I am now proudly involved on campus not only as President of Los Latinos Unidos, but as a TALONS, Resident Assistant and student worker at the Office of Student Development.
Although at times balancing work, classes and time to improve my personal self seemed nearly impossible, obtaining a community of supportive staff and peers here allowed me to flourish, inspiring me to be an example for future Ospreys to follow. As the diverse and multicultural community grows within our campus, I want to ensure that students of color will have the ability to feel safe and proud of their heritage within their campus. I want students to have the ability to freely and openly share their culture and know that the Stockton community will listen and care for them. I pride myself in my background, heritage and story and will celebrate it not only throughout this Hispanic Heritage Month (3rd Annual Celebration at Stockton University) but throughout my life journey as well."
Angel Hernandez
When someone or something changes your life for the better, the best way to say thank you is to do the same for others. The Educational Opportunity Fund (EOF) changed Angel Hernandez's life, and now he is changing lives at Stockton.
"As an EOF student, I had to come to terms with the painful reality that we all experience(d) P-12 education with varying levels of academic preparation, financial stability, access to resources, and social and emotional support. I questioned many times if I was enough--smart ENOUGH, eloquent ENOUGH, and prepared ENOUGH.
One of the biggest struggles I faced in undergrad was living beyond my means to fit in and keep up with students that could afford things I could not. I depleted my high school savings by the end of my first semester of college, so I had to work. At one point, I was studying full-time, working two jobs, and also held two internships. There were countless nights when I was working or doing homework while my peers were socializing and having fun.
My experience was different because of my socioeconomic status and need to work. I wish someone spoke to me about budgeting, not living beyond my means, and the importance of slowing down, taking in the moment, and striving for balance and wellness. I wish I didn't pressure myself to "keep up" with my friends and classmates. I worked so much that I was always stressed and tired—this was my norm. This fuels my desire to have authentic (and even difficult) conversations with students to help them avoid making similar mistakes.
As Associate Director of EOF and Co-Chair of First Ospreys at Stockton, I get to "Pay it Forward" and help students from similar backgrounds who are highly motivated and capable, but lack adequate preparation and/or the financial means for college.
There is a "village" of faculty, staff, and alum who are here to mentor, guide, and assist students. We want you to surpass us and to continue to break barriers.
My advice is to take in as much as you can and to try new things. Go to office hours, attend campus events, join clubs, engage in service-learning, and find ways to pay it forward--that's where growth happens!"
Last updated November 2022