Spotlight On: Student Presenters 'Role Models' for Younger Researchers at National Conference
Galloway, N.J. – As Americans prepare to celebrate the 50th anniversary of U.S. astronauts landing on the moon, Stockton University students are doing research that is out of this world... literally.
Seven students had the opportunity to present their research at the 2019 Student Spaceflight Experiments Program (SSEP) National Conference on July 1-2 in the Air and Space Museum Annex, in Chantilly, Virginia. These students were responsible for Stockton's Mission 12 and Mission 13 projects that focus on sending student-driven science into space.
The students gave seven-minute oral presentations describing their projects, design, the expectation from the experiments, and the problems they encountered along the way.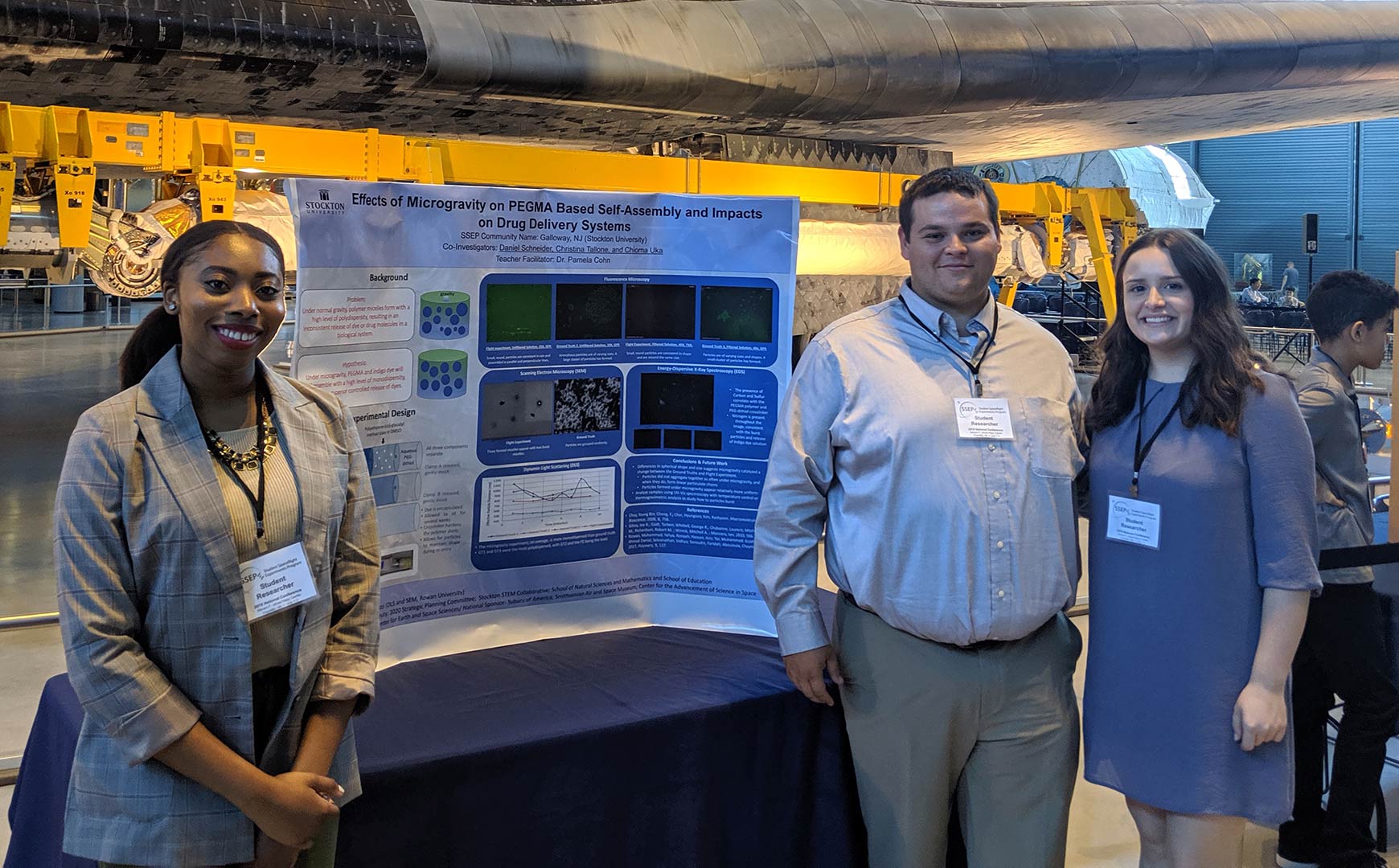 Students Chioma Uka, Daniel Schneider and Christina Tallone, who were responsible for Mission 12 experiments, presented their experiment, "Effects of Microgravity on PEGMA Based Self-Assembly and Impacts on Drug Delivery Systems."
"The SSEP Conference allows students to see that science is not performed in isolation, but by communities of scientists and researchers that tackle real problems," said Pamela Cohn, associate professor of Chemistry at Stockton. "The program itself has been instrumental in reinforcing that lesson for students at all stages of their education." Cohn mentored the students during their work on Mission 12.
Mission 13 students Joseph Romanowski, Matthew Elko and Daniel Stoyko discussed their research, "Analysis of double stranded break repair in haploid Saccharomyces cerevisiae under spaceflight conditions."
Michael Law, assistant professor of Biology, worked on this project with the students and also attended the conference. He said this type of experience was important for several reasons.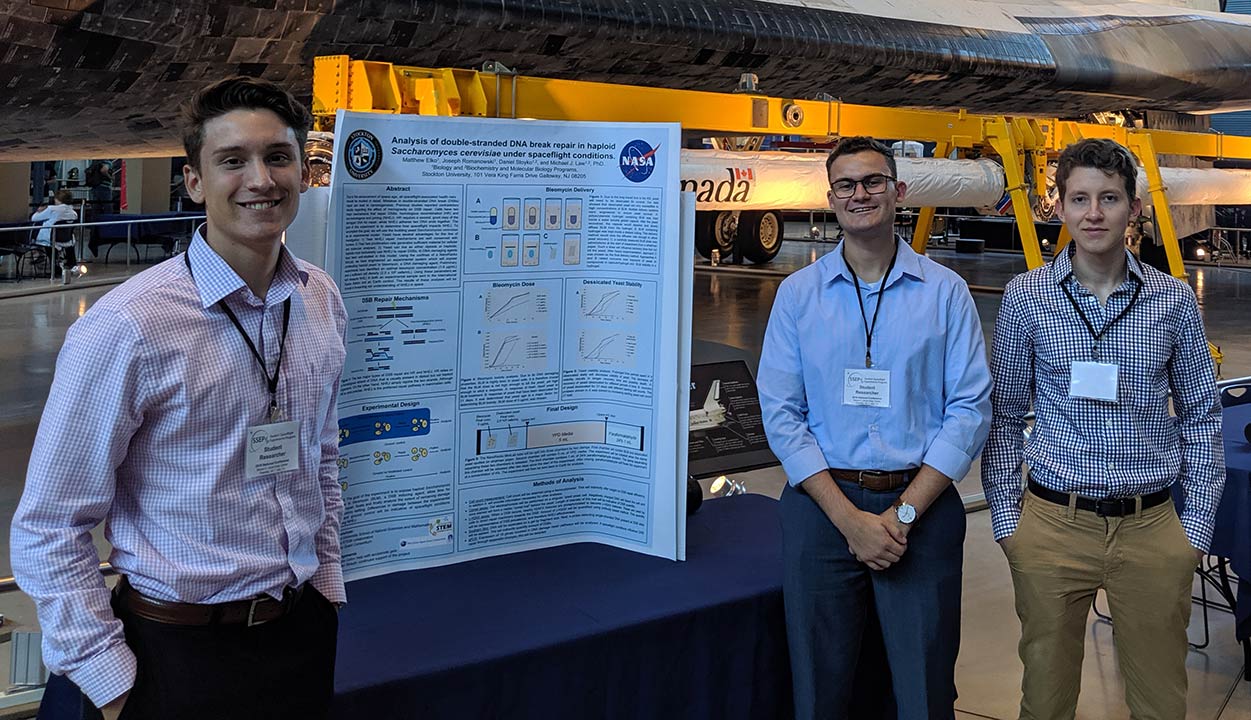 "The students were able to present their work in front of other groups participating in the student spaceflight program. Undergraduates are the most senior of the student researchers at this conference, so they were definitely an attraction for the younger students to interact with," said Law. "Both groups of Stockton students were called 'role models' by Dr. Jeff Goldstein, the director of the National Center for Earth and Space Science Education, which we all viewed as an honor."
Additionally, Health Science major Francesca Caravano participated in the conference, sharing her project, "Assessing the SSEP Program: Effects of Student-Driven Experimental Design on Interest."
Melissa Zwick, assistant professor of Biology, said Caravano's project assessed the effectiveness of the SSEP program on cultivating and/or maintaining student interest in scientific research. Zwick has been collecting assessment data on the SSEP program since the program began at Stockton in 2016.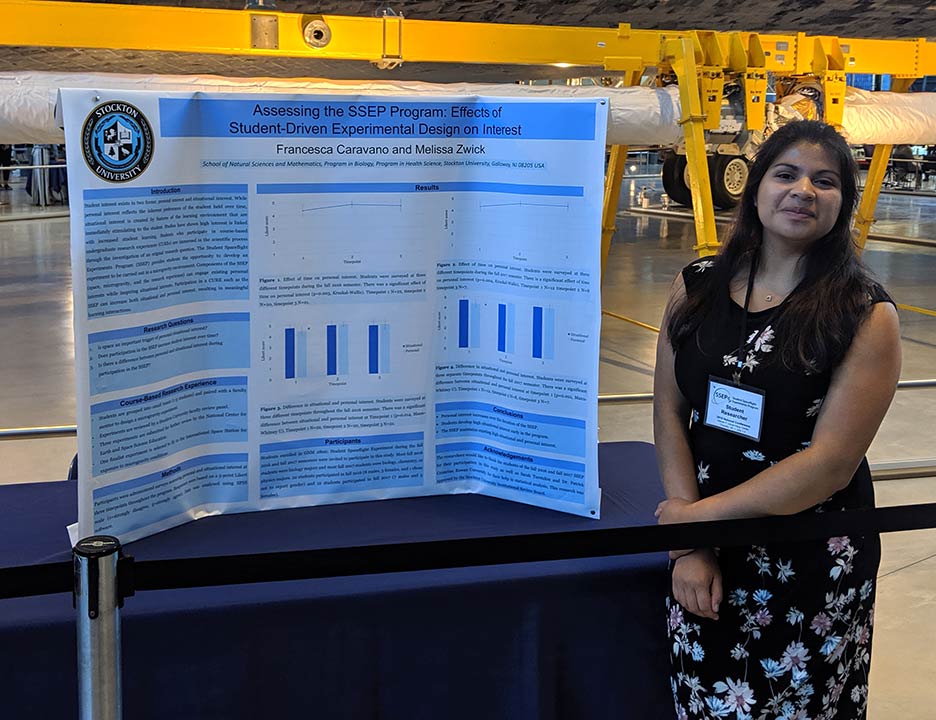 "This program fosters a competition that allows Stockton undergraduate students to design and carry out authentic microgravity experiments in space. The quality of experiments proposed and carried out by our students has been extraordinary," said Peter Straub, dean of Natural Sciences & Mathematics at Stockton.
The Student Spaceflight Experiments Program (SSEP) is a program of the National Center for Earth and Space Science Education (NCESSE). It is enabled through a strategic partnership with DreamUp PBC and NanoRacks LLC, which are working with NASA under a Space Act Agreement as part of the utilization of the International Space Station as a National Laboratory.
Reported by Mandee McCullough