Tech Trek Earns 2018 'Inspiring Program in STEM Award'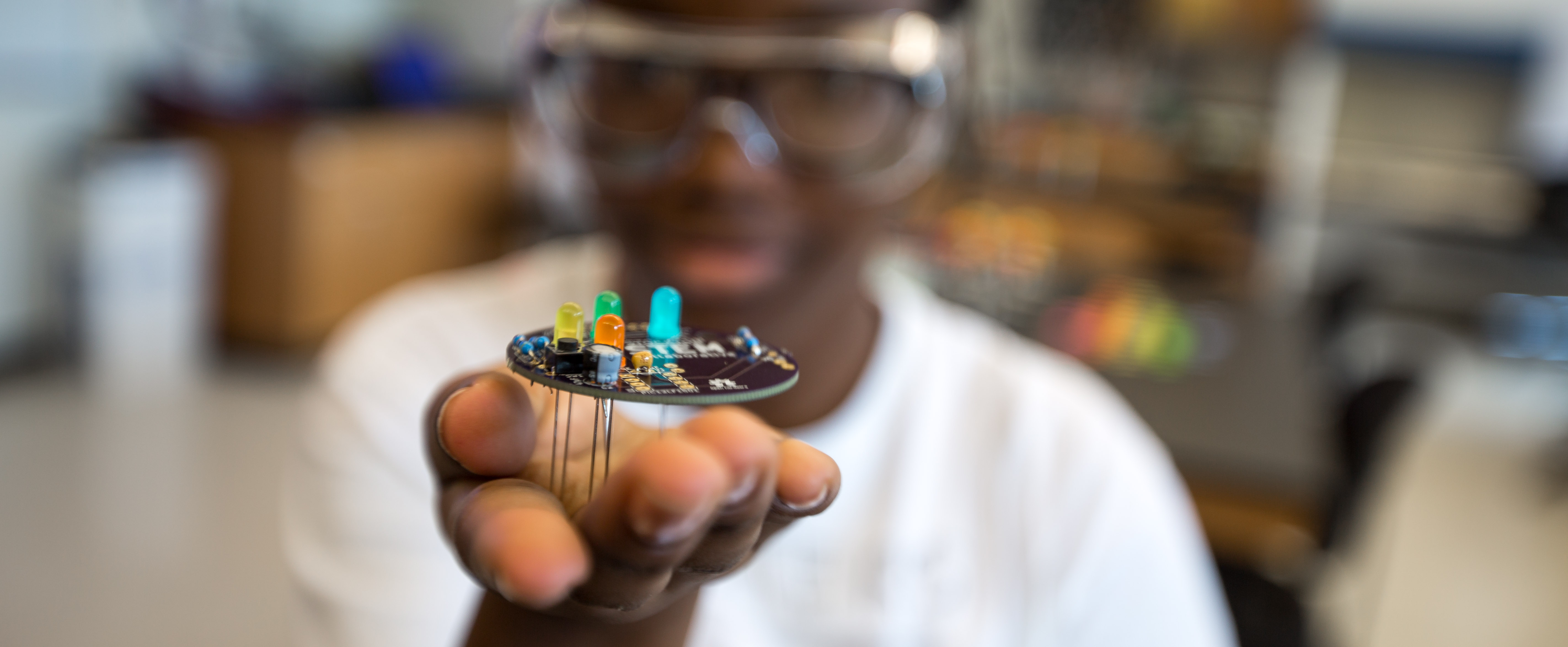 Galloway, N.J. - Stockton University's AAUW Tech Trek Camp has been named a recipient of INSIGHT Into Diversity magazine's "2018 Inspiring Programs in STEM Award."
The American Association of University Women (AAUW) and Stockton partner to offer middle school girls the opportunity to participate in a weeklong summer STEM experience, called Tech Trek Camp. The focus is on recruiting a demographically diverse group of young people from across New Jersey. Stockton faculty, staff, students, and alums lead classes on STEM topics, while additional staff volunteers facilitate hands-on experiences, including access to Stockton's 1,600 acres of Pinelands Preserve, science and computer laboratories, and more.
This year the 60 girls participating in the camp worked with drones, created electric-powered origami figures, and examined microscopic life in Lake Fred.
"Research shows that the summer between 7th and 8th grade is a pivotal point when we can provide encouragement, motivation and unite each girl to a like-minded peer group of women in STEM fields. This camp does just that," said Claudine Keenan, dean of the School of Education.
Through in-depth and engaging content, INSIGHT Into Diversity sparks meaningful conversations about the critical role diversity plays in higher education and connects prospective employees with institutions that recognize the value of a diverse workforce.
Lenore Pearlstein, publisher of INSIGHT Into Diversity magazine, stated in a letter to Stockton that "It's a fact that underrepresented professionals who work in STEM fields enjoy significant opportunities to engage in new discoveries and innovations on a global scale. To advance diversity, promote equality, and build a stronger U.S. workforce, we at INSIGHT recognize the importance of increasing the number of people from underrepresented groups entering the STEM professions. Colleges and universities have the opportunity to accomplish this through innovative programs and initiatives for current and future students."
This award is presented as a tribute to institutions whose programs encourage and inspire a new generation of young people to consider careers in science, technology, engineering, and math. Stockton's AAUW Tech Trek Camp program continues to make a significant difference through mentoring and teaching, research, and other efforts worthy of this national recognition.
Below are photos from this year's camp.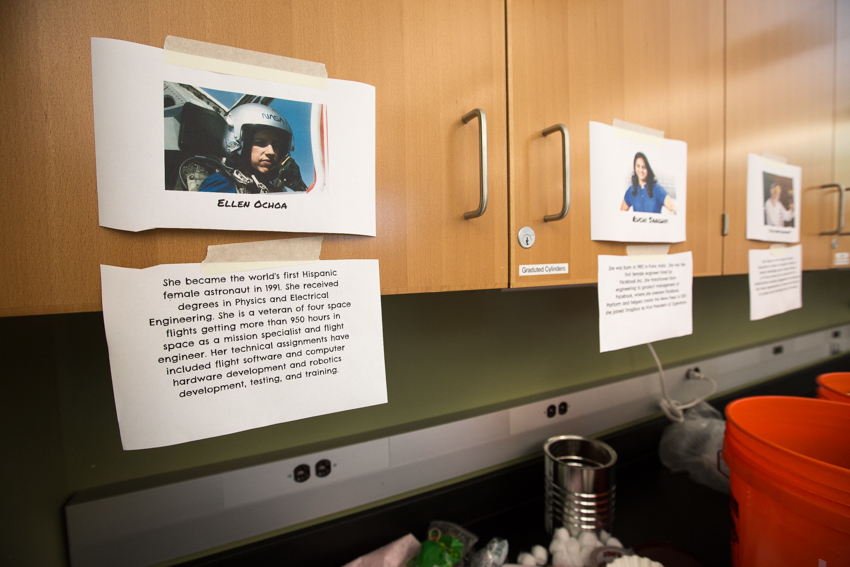 Stories of successful women leading the way for other women to pursue careers in science are displayed on the laboratory cabinets in the Unified Science Center.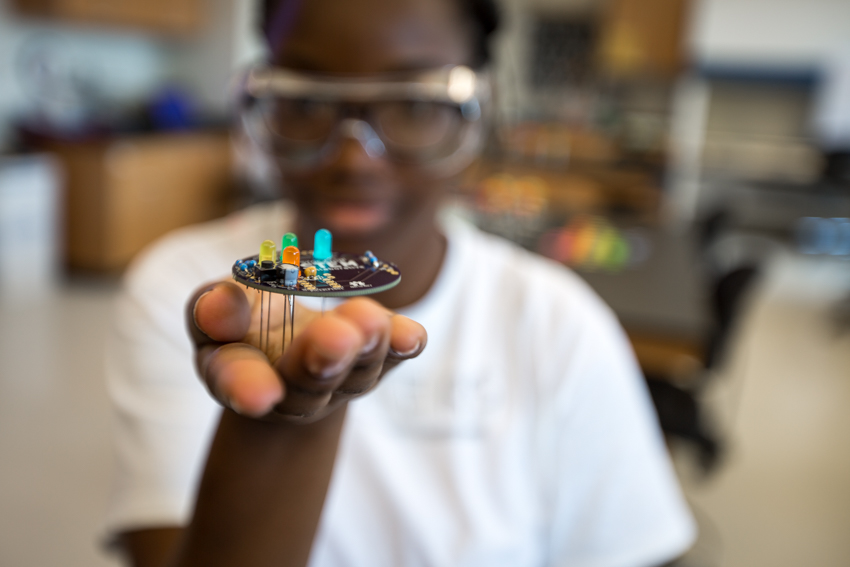 A camper shows off her work-in-progress that will soon be a wearable flashing pin.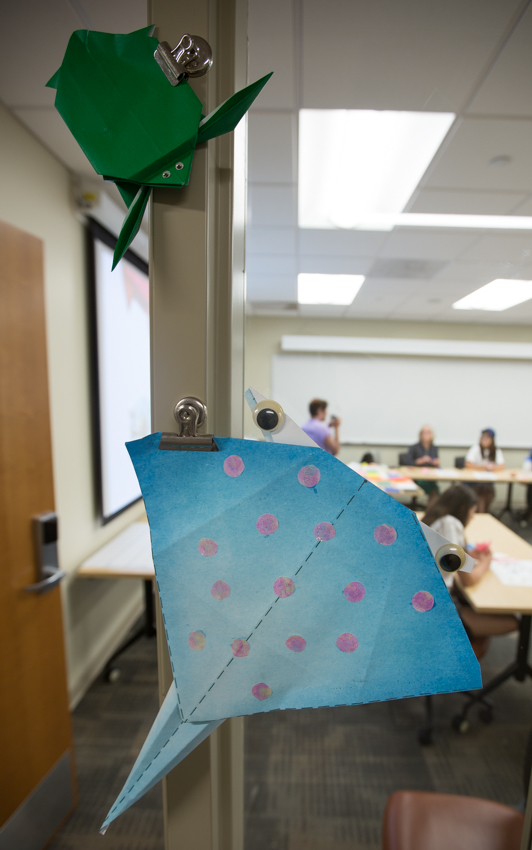 A sea turtle and a stingray greet campers to Norma Boakes's origami workshop.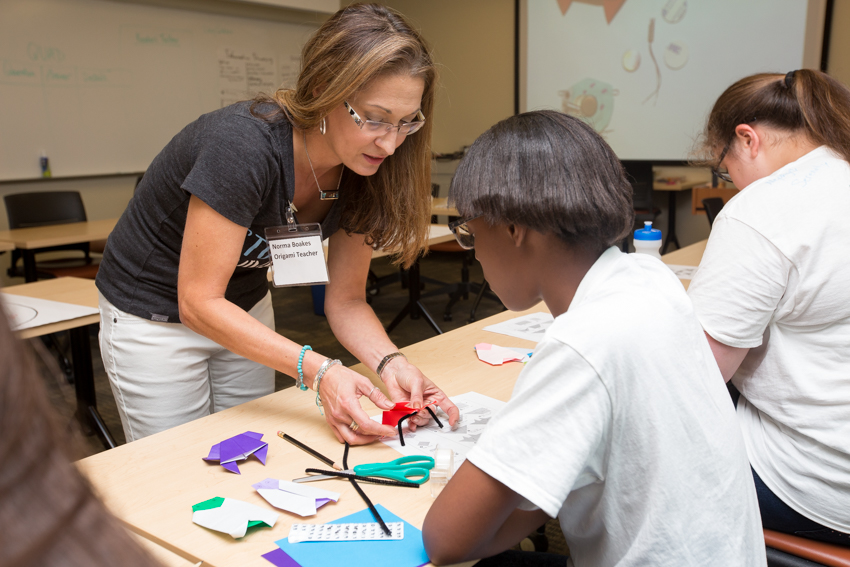 Norma Boakes, associate professor of Education, helps a camper bring an origami creature to life by adding an electric motor to her paper model.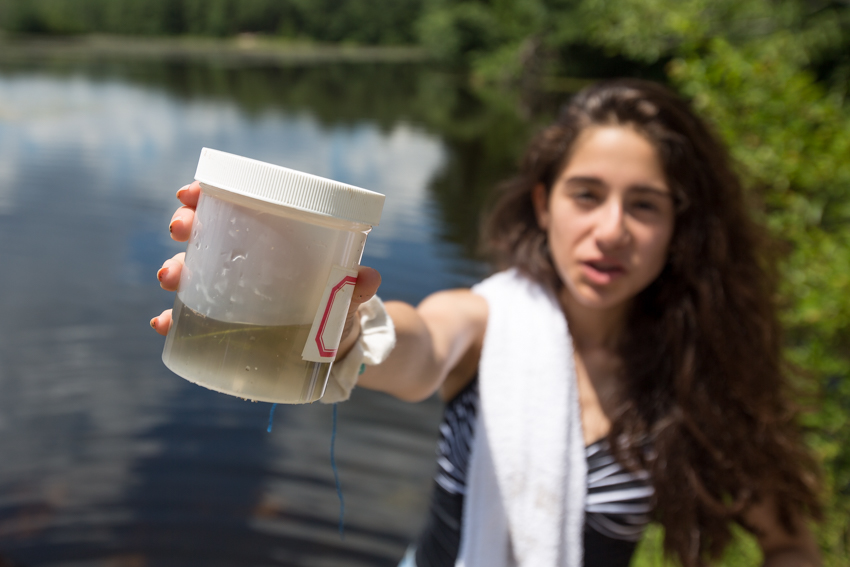 Using plankton nets, campers explore the microscopic life in Lake Fred.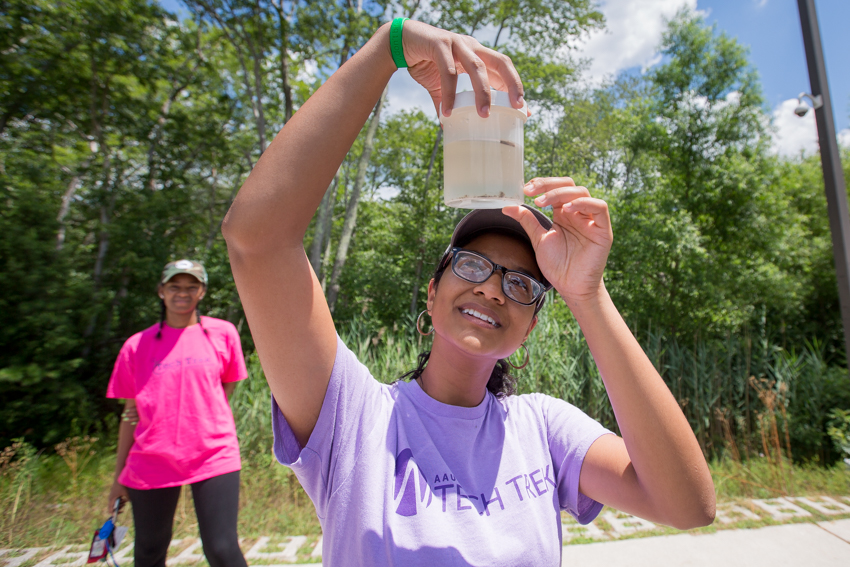 A camper peers into a water sample before heading to the lab to view the microscopic life under a microscope with Anna Pfeiffer-Herbert, assistant professor of Marine Science.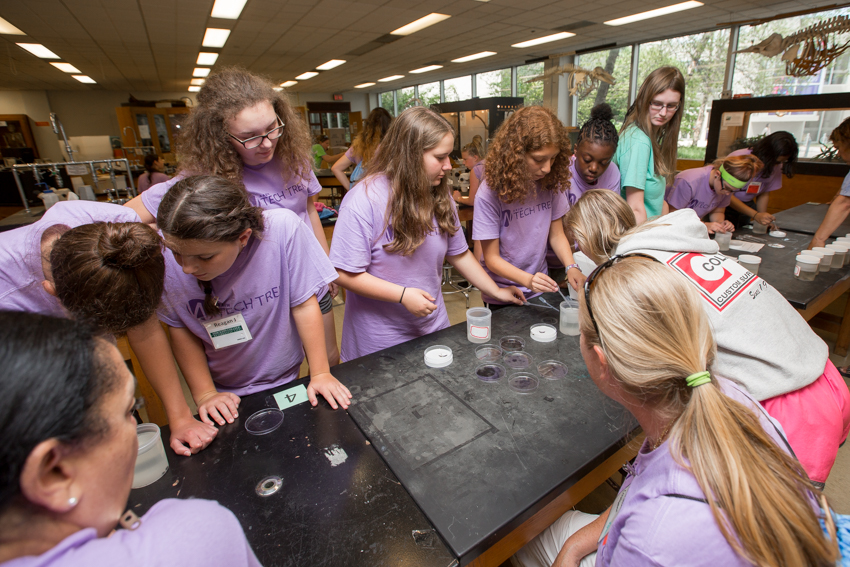 Campers excitedly prepare microscope slides with their water samples to get a closer look at Lake Fred's invisible creatures.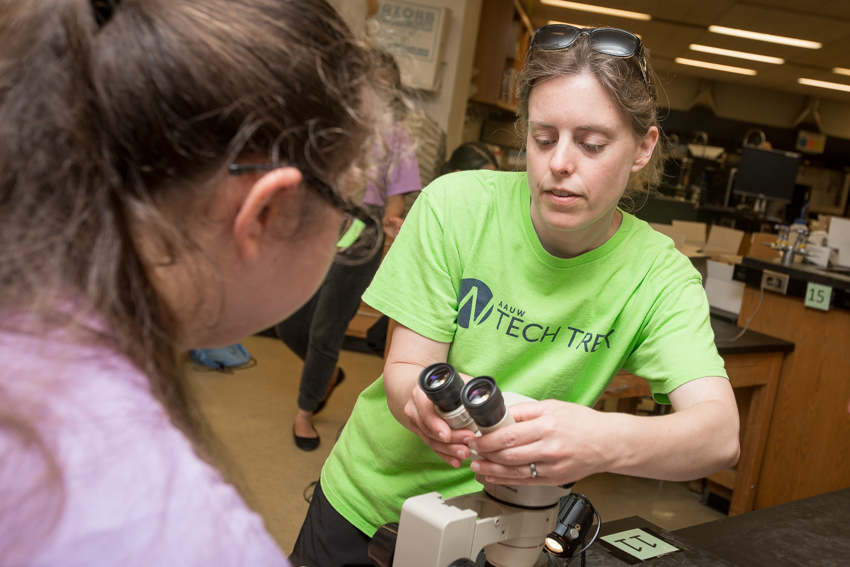 Anna Pfeiffer-Herbert, assistant professor of Marine Science, helps a camper set up a microscope.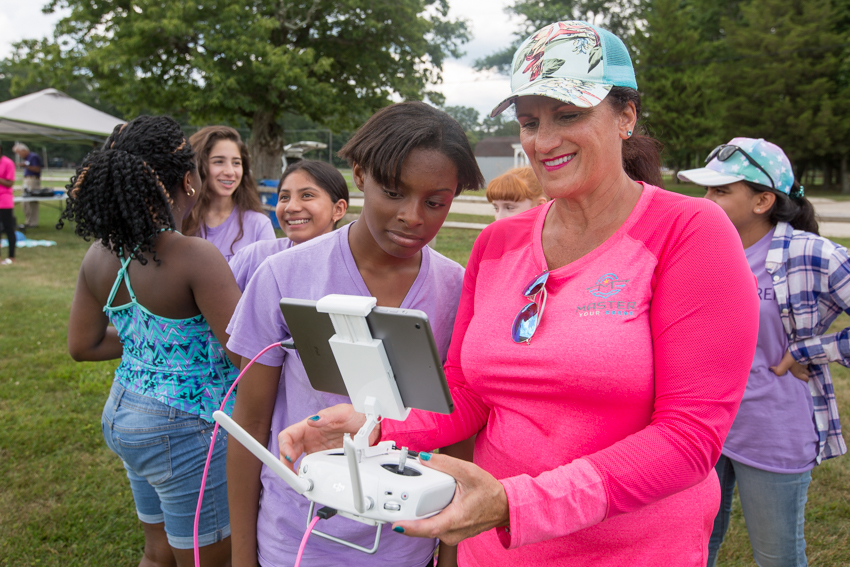 FAA-certified drone pilot Kim Players, who is known as the First Lady of Drones, introduces a camper to the world of flight.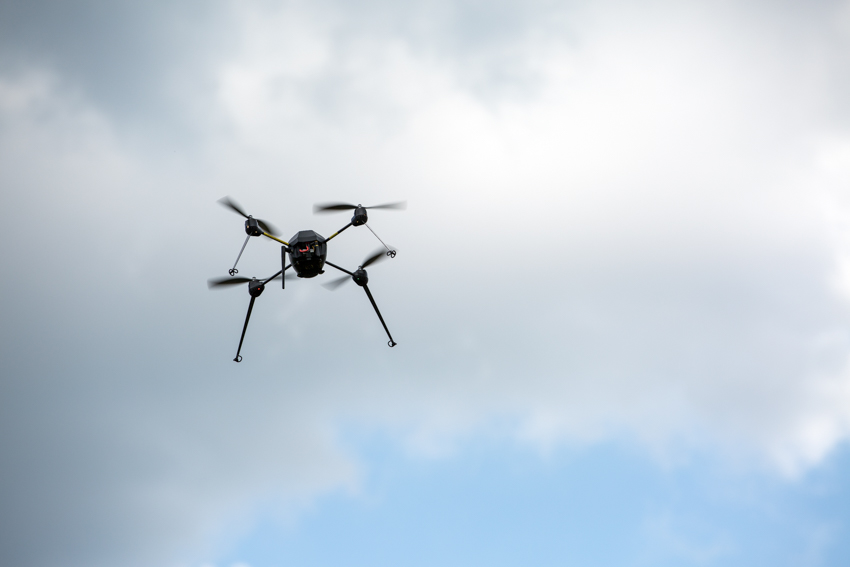 A drone, flown by a 7th grade camper, buzzes through the sky.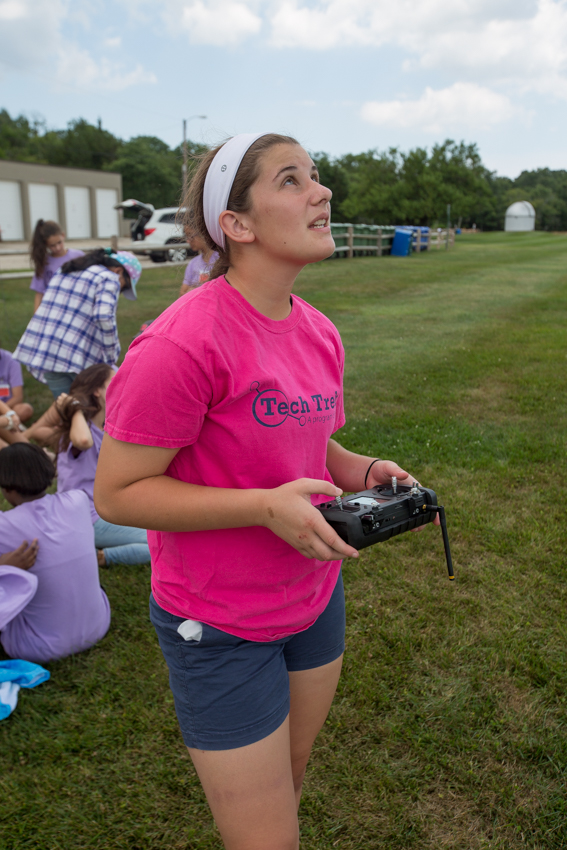 A camper looks into the sky as she navigates a drone over an athletic field.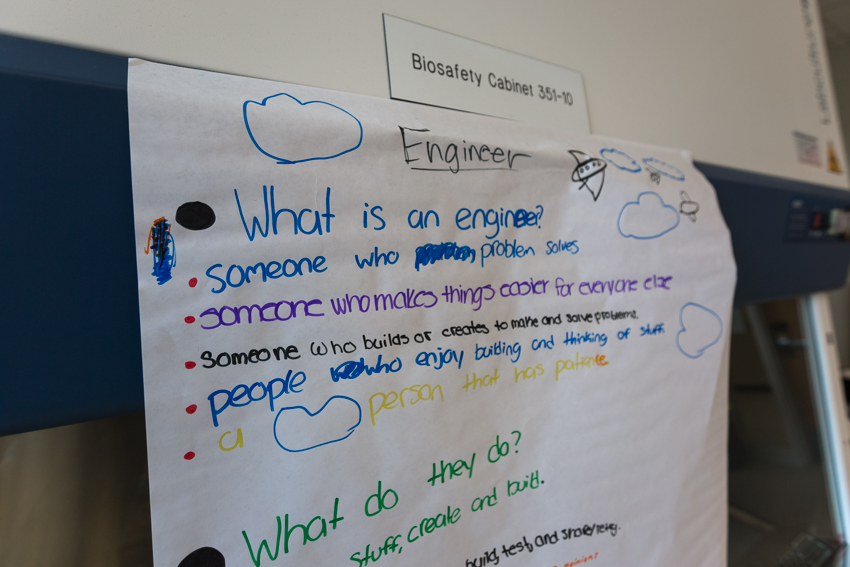 A brainstorming poster shows the girls' perspectives on how an engineer makes an impact.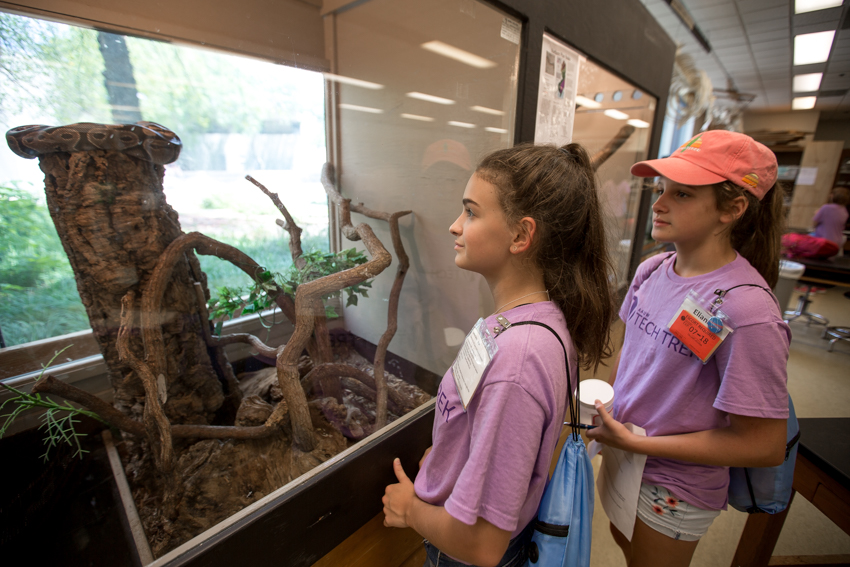 Campers meet a ball python in the science lab.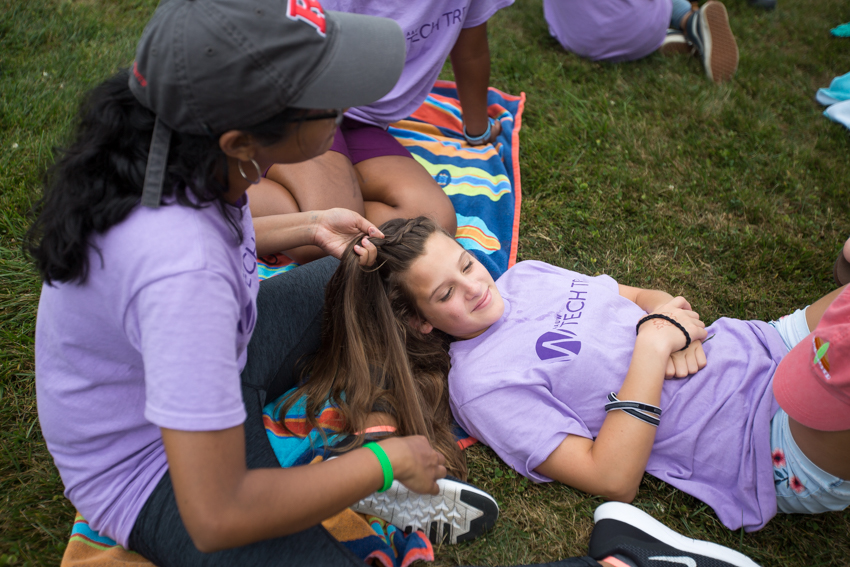 The girls enjoy a break-time braid session.