Students and Faculty Tour and Teach in Taiwan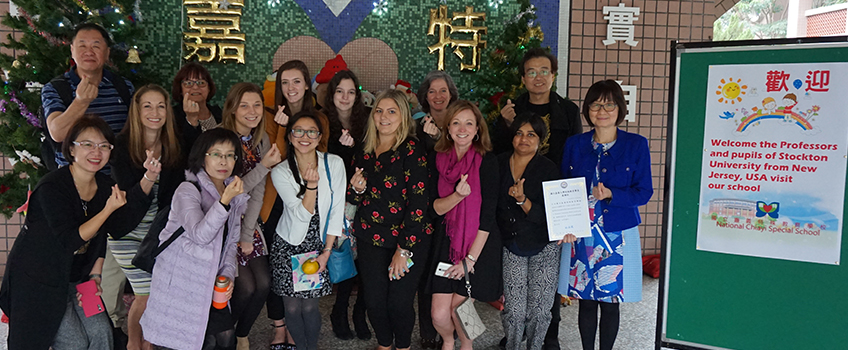 Galloway, N.J. – The National Chai Yi Special School in Taiwan has a vegetable garden, a sensory room where students can go to relax and a working car wash where students train in vocational skills.
"Special education students in Taiwan engage in a very focused experience," said Claudine Keenan, Dean of the School of Education at Stockton University.
Ten students and faculty from the School of Education experienced an enriching and life-changing seven-day educational tour of Taiwan in December 2017 that included school visits and an academic conference arranged by Stockton Professor of Mathematics Chia-Lin Wu.
"This trip provided an opportunity for Stockton faculty and students to explore a different culture and varied educational systems," said Professor Wu. "It also fit perfectly into Stockton University's 2020 Initiative: Global Perspective and strengthened the partnership between our higher education programs."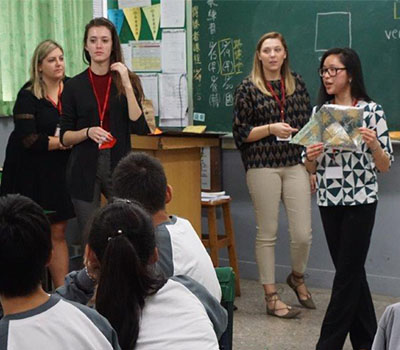 The visit included a tour of a residential school for special education students, a private middle school and a public elementary/middle school. The group also had the chance to visit a Buddhist temple, a windfarm and two universities.
"I had never been to any Far East countries. I was very impressed right from the time I landed at the Taiwan Airport until it was time to come back," said Priti Haria, associate professor of special education.
"Their generosity is truly unmatched," said Jessica Kelleher. "We were so lucky to have collaborated with so many intelligent, hard-working, and genuine individuals!"
Christina Patella said it was a 'one of a kind' experience.
"The students we met along the way and the professors we connected with showed us their way of life, and they were kind enough to share their culture with us while being patient since everything was brand new," said Patella.
One highlight from their trip was when three Stockton student teachers Emily Mahler, Alexis Di Mercurio and Patella taught a math lesson in English to seventh-grade Taiwanese students.
"Their performance greatly impressed faculty and students," said Professor Wu.
"Even though this was only a middle school class, they were already introducing concepts and levels of thinking that I hadn't seen until college," said Kelleher.
Taiwan is ranked fourth in global math education by the Organization for Economic Cooperation and Development (OECD), based on international test scores.
"The students were very motivated and engaged in learning mathematics," said Di Mercurio. "Their special education program also had many features to help the students prepare for life skills and succeed in learning, including a sensory room many students enjoyed."
Keenan said the Taiwanese schools were very teacher-centered and had a high rate of parental involvement. Both the school day and year are much longer than in American schools, and some classes had as many as 45 students.
Kelleher said the most valuable part of the trip was learning about how their culture influences their educational practices.
"Even though the teacher we observed in Taiwan was responsible for instructing a group twice as big, he still had incredible control over the class," she said. "They were well-behaved, attentive, and focused. Their culture places a lot of emphasis on respect, and you can see that the children are taught to behave this way from a very young age."
Patella said that going to Taiwan was one of the best experiences for her educational journey after months of hard work and research.
"Throughout the whole journey I could not stop thinking about how lucky I am that Stockton rewarded me with this opportunity. This trip helped me gain an immense amount of knowledge of what I want my future classroom to embody and how I want my students to enjoy their learning just as the students did in the schools we visited," said Patella.
Plans are in the works for a small delegation of Taiwanese students and faculty to visit in November.
"We brought back what we hope will be the beginning of a partnership that will last for many years" said Keenan.
_ Reported by Jessica Jacob
# # #
Contact:
Diane D'Amico
Director of News and Media Relations
Galloway, N.J. 08205
Diane.D'Amico@stockton.edu
609-652-4593
stockton.edu/media