Health Science Students Share Research on Communication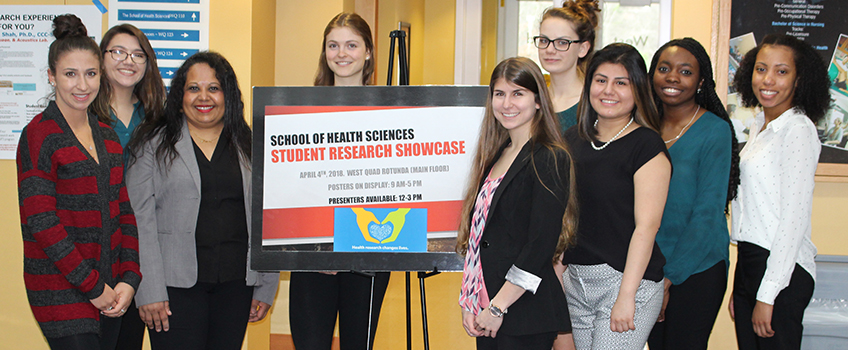 Galloway, NJ – Associate Professor of Health Science Amee Shah has students with a lot of SMARTS.
Shah started Student Mentoring for Achievement in Research and Technological Skills, or SMARTS in 2015 as a Stockton 2020 initiative to give undergraduate students the opportunity to do independent research. The nine students in this year's cohort displayed their project posters recently in the West Quad lobby as part of the first School of Health Sciences Student Research Showcase.
"This gives them the opportunity to get experience so they can distinguish themselves and get into graduate school and become distinctive healthcare professionals," Shah said. "It started in my lab, and this year it really took off with specific guidelines and expectations for participation."
All of the participating students are currently in the Bachelor of Health Sciences, but Shah would love to see the program expand to all programs in the school of health science for a full Day of Scholarship for students, similar to the event currently held for faculty research.
"I really want everyone to see the potential of these students," Shah said. "There are two students presenting at Yale, two got Board of Trustee Fellowships and all got into graduate programs. There is so much we can do with research-based teaching."
Here are the projects students presented this year. All of the projects focus on accents as part of the larger theme of research in the Cross-Cultural Speech, Language & Acoustics Lab, directed by Dr. Amee Shah:
"The Undergraduate Research Experience: What's in it for You?" by Kimberly Bernal of Dover.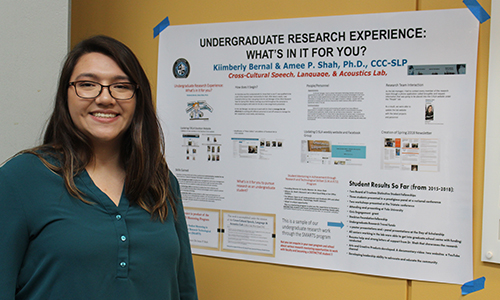 "This is about my experience as a lab manager with Dr. Shah," Bernal said. "I did social media, and inventory, and created a newsletter on research. I gained a lot of different skills such as communication, time management, organization and leadership. "
Bernal wants to be a speech language pathologist working with children. She is minoring in childhood studies.
"Interactive Globalization Practice" by Emily Descano of Woolrich Township.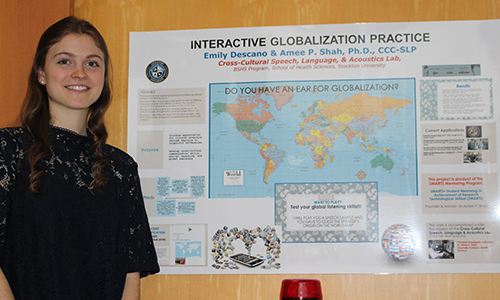 Descano created a new format of a game to test global listening skills in which people try to identify the nationality of a person speaking on a tape.
"In the previous format of this game created by my mentor, Dr. Shah, 70 students took it last year, and by the sixth week they got 100 percent correct in identifying accents," Descano said. "They also learn more about the culture of the different countries. We would like it to reduce stereotyping and improve communication skills."
"The Effects of Acculturation in Hispanic Millennials" by Jessica Perez of Galloway Township.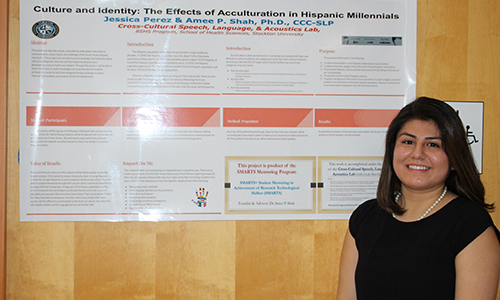 Perez discovered that the further people are from their original immigrant status the more they lose their culture.
"I consider myself a Hispanic Millennial," she said. "I want to embrace my culture, learn more about it, and bring awareness of it to others. But a lot of other Hispanics don't embrace their culture and it is something we should be doing."
She said she would also like to address the older generations who tend to only stay within their own culture.
"They don't speak English, which makes it harder for them to get jobs," she said.
Perez' family is from Peru, and while she has returned there, she believes she is losing contact with her native culture.
"By the second or third generation here they start losing it," she said.
"Alcohol and Accents – The Scientific Connection" by Amanda Griglack of Wayne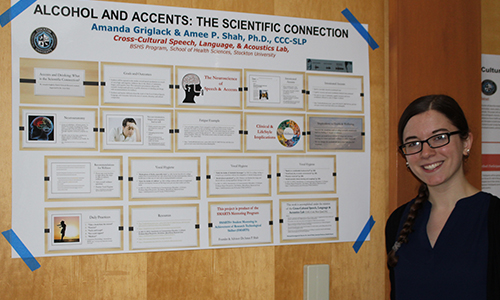 Griglack is learning from Shah, who got the idea for her project when Shah was interviewed by NBC News to explain why actor Reese Witherspoon sounded southern when she was stopped for a DUI.
"When parts of the brain are inhibited, we don't make as much effort to speak a certain way," Griglack said. "My mom is Italian, and her accent gets stronger when she has some wine. It takes the brain more effort to speak a certain way and when the brain is impaired, people are less inhibited and don't make that effort."
"Barriers to Cross-Cultural Communications and Student Learning" by Jasmine Branch of Williamstown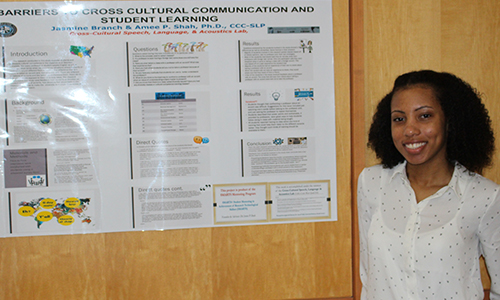 Branch examined the impact in the classroom when students or professors have an accent.
"I surveyed students and found that students are more reluctant to talk to a professor with an accent because they are worried they won't understand them," she said. "This is something that colleges should be aware of."
She recalled talking to a student who had a teacher in high school who was very hard to understand at first, but she wound up learning a lot.
Branch said students might be reluctant to take a course with a professor who has an accent, even though they could be excellent.
"Racially-Based Policing" by Amanda Schuler of Palermo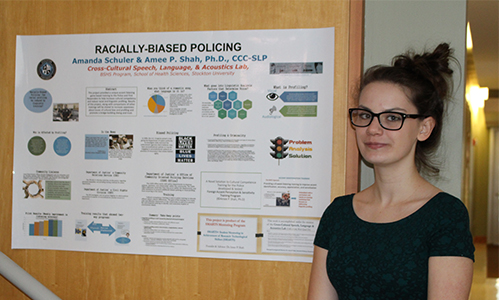 "Racial profiling is a big issues, but most assumptions are based on what we see," Schuler said. "In working with Dr. Shah, I am learning about her work in looking at linguistic profiling based on what we hear."
She said certain people will sound more intelligent based on how they speak, or their accent, which could impact the testimony of witnesses or victims, or response to 911 calls.
"A 911 call is all based on what is heard," she said. "If someone is hard to understand, it could affect the response."
She said law enforcement officials could use specific training to become more linguistically aware. Shah has been providing training to local police and first responders' communities in Atlantic City, Egg Harbor, and Pleasantville.
"How to Assess Diversity and Inclusion on a University Campus" by Jade Gallucci of Sayreville and Dana Lisi of Freehold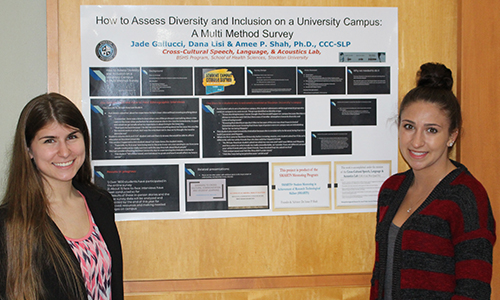 Gallucci and Shah had designed the online Student Climate Survey that is currently running on campus; and along with Lisi, conducted in-person interviews.
"I realized that people really wanted to tell their stories," Lisi said. "Some questions on the survey came from our pilot research."
Gallucci said it helped to work with a partner on interviews because they knew different people and could get a more diverse group of responses.
"It really was eye-opening to see different views, some of which were very different from mine," Gallucci said.
"There is so much diversity that no one really speaks about," Lisi said. "It does affect us. Not everyone is accepting."
Gallucci said the project also made them realize that thing can be done to make sure everyone can feel comfortable.
"Accents in Academia" by Ashley Golden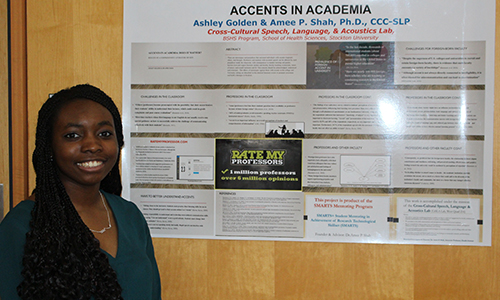 Ashley presented on her work with Dr.Shah over two years of studying the challenges for foreign-born faculty and the impact of accents in the classroom for profesors and students, as a means of increasing awareness and providing solutions for effective teaching and student learning.
.
Contact:
Diane D'Amico
Director of News and Media Relations
Galloway, N.J. 08205
Diane.D'Amico@stockton.edu
609-652-4593
stockton.edu/media