Stockton's Marine Field Station Recovers Lost Oyster Cages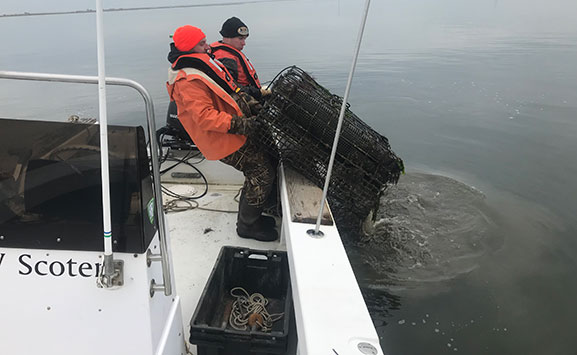 Local oyster farmers are locating gear that was displaced by the recent bay freeze with help from Steve Evert, associate director of the Stockton University Marine Field Station, and his team.
During the freeze, buoys moved with the tides for days, dragging cages full of oysters off their leases, Evert explained.
Stockton University, operating under a NOAA Marine Debris Removal Grant, was able to identify the location of 67 lost oyster cages during a one-day survey in February. The project, an initiative of the Conserve Wildlife Foundation of New Jersey funded by NOAA, hired Stockton's Marine Field Station to conduct the work.
Stockton loaned the oyster farmers a side-scan sonar device and provided training. The oyster farmers have been working to recover their gear with the hired help of previously trained commercial crabbers Karen and Warren Unkert.
Stockton has a long history of supporting and training commercial crabbers to use sonar and grapple techniques to recover their gear. The same techniques are now helping oyster farmers.
Researchers at Stockton are actively seeking funding to engage these communities and support a healthier bay and a better bottom line for those who depend on it. Read more about the Marine Field Station's efforts in the Asbury Park Press.
Pictured, from left-right: Oyster farmers Matt Gregg and Matt Hender pull an oyster cage out of the bay after locating it with side-scan sonar.
-Reported by Susan Allen