Social Work Students Display Honors Projects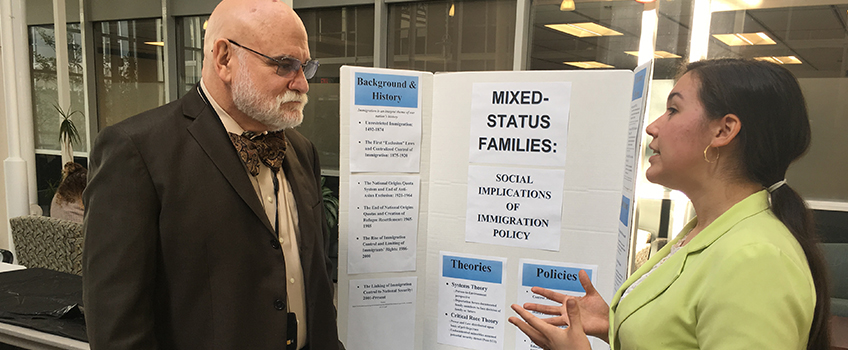 Galloway, N.J. _ Thirteen students in the Social Work Honors Program presented their projects at a reception in the C-D Atrium.
Student topics showed the range of work done by social workers.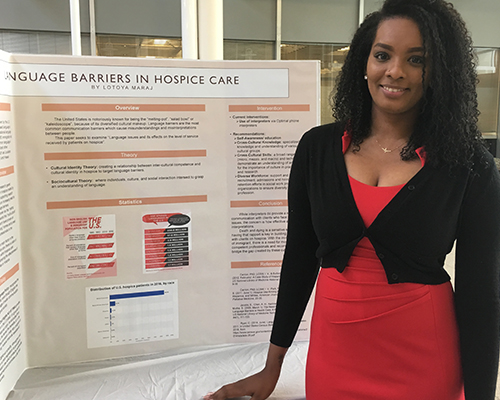 LaToya Maraj of Atlantic City's topic was "Language Barriers in Hospice Care." She said during an internship she saw first-hand how language barriers between clients and social workers can reduce the effectiveness of the care clients receive.
"How can we show empathy if we need a third party to communicate," she said. "But many don't see this as an issue. They think having an interpreter is the solution. But I think more can be done, such as hiring based on the population that is being served and hiring more bilingual staff."
Alyssa D. Rodriguez of Bridgeton addressed the issue of "Mixed-Status Families: Social Implications of Immigration Policy." She said she is aware of families in which some of the family members are American citizens and some are not, and the impact it can have on all of the family members.
"If parents are deported, children can end up in foster care if they stay here," Rodriguez said. "Both the emotional and financial costs should be considered."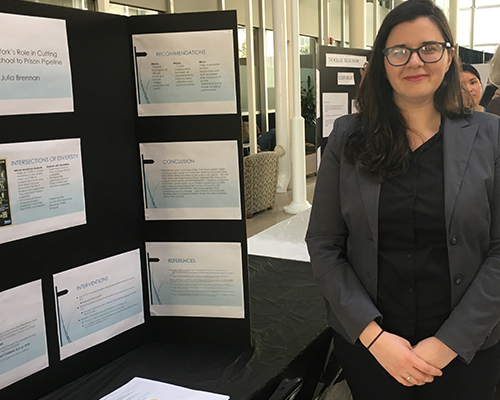 Julia Brennen looked at the role social workers could play in reducing the school-to-prison pipeline. She noted that African-American students are suspended or expelled from school at a far higher rate than other students, and social work intervention could assist in addressing why that is happening and how to reduce school suspensions.
"There just aren't enough social workers in schools," she said.
Other participating students were Nathalie Chavez, Ashley Molina, Stephanie Rahinsky, Kierra Mills, Cheuk Chau, Cherelle Crook, Courtney Loglisci, Shelby Kline, Morgan Griswold, and Leanna Megaro.
The projects were reviewed for program distinction status by social work faculty members Theodore Alter, Lisa Cox and Patricia Reid-Merritt.
# # #
Contact:
Diane D'Amico
Director of News and Media Relations
Galloway, N.J. 08205
Diane.D'Amico@stockton.edu
609-652-4593
stockton.edu/media