SJ Federal Credit Union Pledges $25,000 to Foundation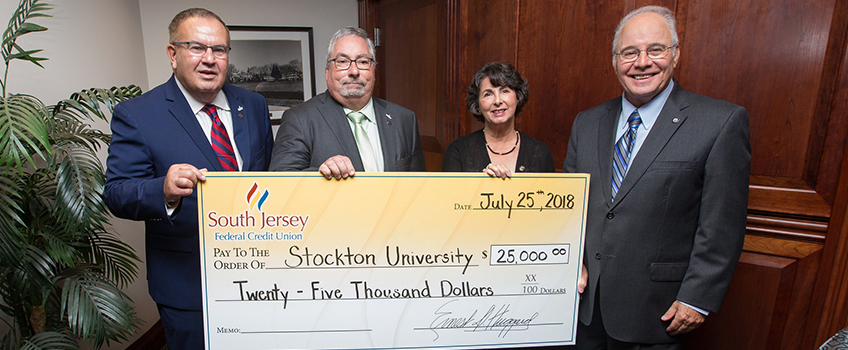 Galloway, N.J. – South Jersey Federal Credit Union (SJFCU) has pledged $25,000 to the Stockton University Foundation for student scholarships.
Harvey Kesselman, president of Stockton University, Ernest Huggard, chief executive officer & president of SJFCU, Kenneth Barnshaw, senior vice president governmental affairs & community relations of SJFCU and Johanna Johnson, chair of the Stockton University Foundation Board, signed the agreement at Stockton on July 25.
"On behalf of students and Stockton, thank you," said Kesselman. "This really does make a difference. These scholarships help with buying books, food and all other obstacles to retention and graduation. We appreciate this from the bottom of our hearts."
SJFCU has pledged $5,000 per year for five years to establish the South Jersey Federal Credit Union Endowed Scholarship. Recipients are expected to be full-time undergraduate or part-time or full-time graduate students in good academic standing with a minimum GPA of 3.0.
South Jersey Federal Credit Union is a diverse, full-service financial institution serving more than 48,000 members and over 700 employee groups throughout South Jersey. From its original roots in Camden County, the credit union has expanded its presence all the way to the Jersey Shore with eight full-service locations.
"We have an 85-year relationship in Atlantic County serving residents and businesses," said Barnshaw. "We are delighted to be able to participate with such a great foundation program and are excited about our relationship in serving students and residents."
"This is our way of saying thank you," said Huggard. "This is what we want to do. We give back."
Huggard received his Master in Business Studies in Management from Stockton in 2000. He is the also president of the Galloway Township Board of Education and the assistant boys' crew coach at Holy Spirit High School.
Also in attendance were Susan Davenport, executive vice president & chief of staff, Daniel Nugent, chief development officer & executive director, Stockton University Foundation, Alex Marino, Director of Operations Atlantic City Campus and Nikki Strothers, associate director of records & stewardship.
# # #
Contact:
Diane D'Amico
Director of News and Media Relations
Galloway, N.J. 08205
Diane.D'Amico@stockton.edu
609-652-4593
stockton.edu/media