Students Display Their Creativity at Senior Exhibition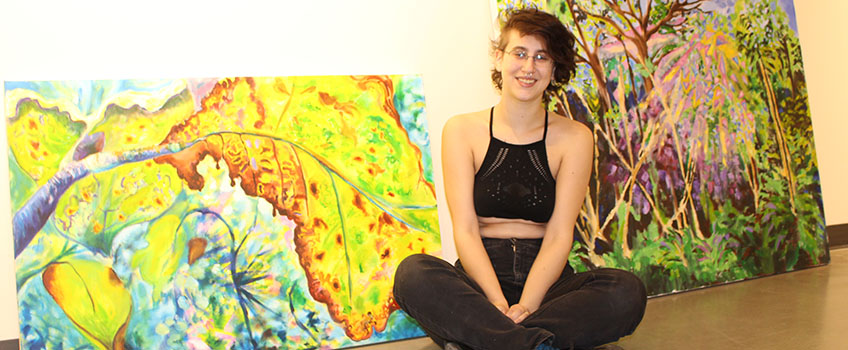 Galloway, N.J. - More than 20 students are participating in the Bachelor of Fine Arts Senior Exhibition this year and exhibition coordinator Denise McGarvey said this is the largest she has seen since she began in 1991.
"At the end of the spring semester, the seniors are required to exhibit their work as part of their degree program," McGarvey said. "Technically, this is their first professional show. Students are supposed to design the layouts of how their work will be shown, and I assist them with that."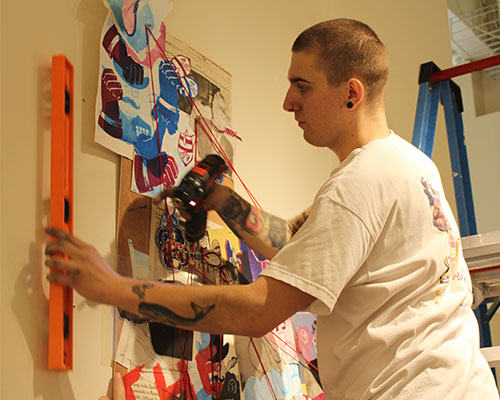 The exhibition is on display at at Stockton University's Art Gallery in L-Wing through April 26. The work of students receiving the BFA includes painting, visual communications, print-making and photography.
"We want to make sure that the piece and the layout show the best of each individual while also complimenting the other artists involved" said McGarvey.
Harley Jarret of Egg Harbor Township recalls back to the roots of her art.
"My art is about emphasizing the natural geometry of nature. That's the best way to describe it. I feel as a person that my spirituality is connected emotionally to Mother Nature, and the sun charges me like a battery," she said.
On display is one of her paintings depicting the view from the ground looking up at treetops.
"We learned to make this geometrical cube shape in our art courses, and when I looked up through these treetops, I felt that I saw that shape within them and just had to paint it," said Jarrett.
Jarrett currently works as a temporary employee with Stockton installing exhibitions. She is hoping to one day work for an art gallery as a handler installing and taking down pieces of art.
Hanna Rose DeMarco of Stone Harbor is also concentrating in painting.
"My work is all figurative. It's about me being a woman, painting women figures and embracing the feminist base of women alone," said DeMarco.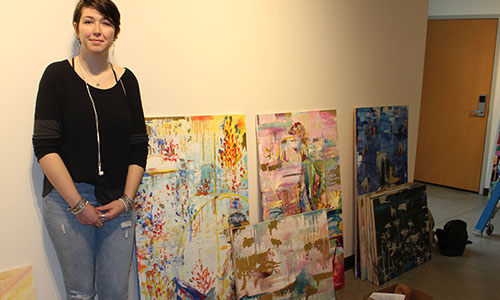 Many of DeMarco's works depict the female nude figure in natural, solitary spaces. Using careful color choices and organic shapes, each painting was shaped around a particular momentary emotion and feeling.
"I used gold and silver leaf on top of oil because of the monetary value both gold and silver represent and the value on the solitary feminine space."
DeMarco will be attending the New York Academy of Art next fall for their MFA painting program. She hopes to have her own art studio in New York City one day.
Christian Bostwick of Asbury Park is the only student pursuing the print-making concentration.
"My work consists of prints and found objects to create collages. It's all really inspired by the Dada art movement of the early 1900s," he said.
Dada was an artistic and literary movement that began in Zürich, Switzerland. It arose as a reaction to World War I and the nationalism that many thought had led to the war. Many images used in Bostwick's centerpiece represent political figures and political environments. Bostwick hopes to work in a print studio after graduation and to eventually own his own studio. His goal is to become a master printer.
Kelly Gibson of Edison said meaningful moments have helped her as a photography major during a difficult time.
"My pie

ce is called 'Transition,'" said Gibson. "Last year, I lost my father very unexpectedly. The past year has been my transition into a new way of life."
"The pictures on display are of family, friends, things in my life that brought about meaningful moments. My classmates were a big form of support as well. I really tried to find the beauty in the ordinary," said Gibson.
Zachary Ferdman of Absecon is displayed his work as a visual communications major.
"I've designed album covers for a few artists, done some video work and created this book based on 'The Twilight Zone', " he said "I'll also have on display some work I've done for beer packaging.
He plans to stay in New Jersey after graduation before eventually travelling to work in Los Angeles.
"Visual communications is very comfortable for me. I'm a hands-on guy, but I like to take the hands-on experience and make it digital and incorporate it into graphic design," said Ferdman.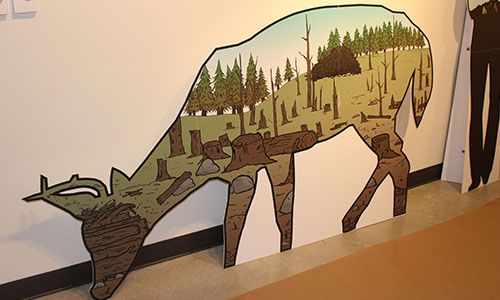 Thi Dinh of Garland, Texas, who is focusing her work in visual communications on illustration, displaying cardboard cut-outs, pins, stickers and a self-made book.
"The theme of my work is pollution and deforestation," she said. "One of my main pieces is a silhouette of a deer with the backdrop of the deer itself showing the process of deforestation and losing its home."
Dinh's other main piece is the silhouette of a person with a budding leaf inside them.
"This is a symbol of hope to me. It shows that we can still do something to reverse the effects we put on the earth," said Dinh.
Her ultimate goal is to be a freelance illustrator. She is also considering graphic design for major companies.
Bryan Armstrong of West Orange specializes in logo designs as a visual communications concentration.
"My centerpiece is a poster of all the logos I made this past year using letters of the alphabet. I have designs involving the letter 'O' and 'P' crossing together to represent 'Optical Perception'," said Armstrong.
In addition to logo designs, Armstrong is also interested in graphic designs for catalogues and books. He created a color book for children that explains different colors and shades and what they represent.
"It's funny because I'm color-blind. For certain shades, I needed help from classmates to make sure they were the right one," said Armstrong.
Admission for the opening reception is free and open to the public. The exhibition will remain open until April 26, 2018.
Additional students with work on display are: Joseph Alberti, Alex Blundetto, Dakota Bocelle, Christian Bostwick, Joshua Candelaria, Kaitlyn Doyle, Sarah Dudley, Anna Hubbs, Caitlin Kauffman, Mallory Maugeri, Ryan Middleton, Zhane Roberts, Vanessa Spollen, Haleigh Stergin and Matthew Tarquinio.
The art gallery is free and open to the public on Monday through Saturday from 12-7:30 p.m. and Sunday from 12-4 p.m.
For more information on Stockton's BFA or the Art Gallery, visit Stockton Visual Arts.
To view a gallery of photos from the exhibit, click flickr.
_ Reported by Jessica Jacob
# # #
Contact:
Diane D'Amico
Director of News and Media Relations
Galloway, N.J. 08205
Diane.D'Amico@stockton.edu
609-652-4593
stockton.edu/media