Pittenger Recognized as 'Female Choreographer to Watch'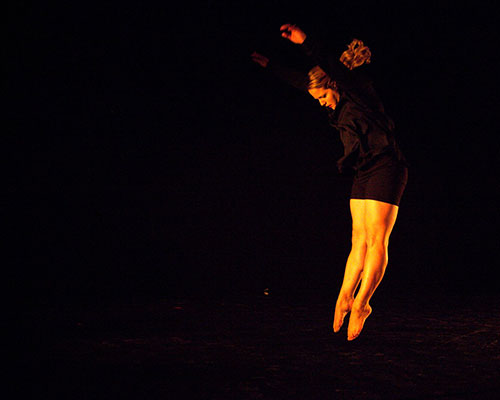 Assistant Professor of Dance Caitlin Quinn Pittenger was recently recognized as a female choreographer to watch by Jeanne Ruddy, executive director of the Philadelphia-based Performance Garage.
In the organization's January newsletter, Ruddy wrote that Pittenger's work, Passage, "stood out in its ability to combine imaginative sets, multimedia, evocative music and costumes, and structured choreography."
Pittenger said the recognition was "a huge honor" because Ruddy is highly respected in the dance community, as a former principal dancer with the Martha Graham Company. Ruddy also directed the modern department at the Alvin Ailey American Dance center and was a faculty member of the Juilliard School.
Pittenger said "Passage" is a collaborative work between herself and Assistant Professor of Art Mariana Smith. A Stockton R&PD grant supported the opportunity for Pittenger and Smith to present the work performed by students from Stockton's Dance program during the Philadelphia Fringe Festival and beyond in other venues as well as most recently New York City.
"The experience of getting to collaborate with Mariana and setting this work on the students was beyond wonderful experience that has opened so many doors for me," Pittenger said. "The dancers, Alisa Iacovelli, Morgan O'Shea and Jaclyn Salerno, were fabulous to work with and really highlight the professionalism we are dedicated to and the strengths of our Dance program. I am excited to continue to present this work and provide these professional experiences for our students."
-Reported by Meaghan Haugh Resta