Pinelands-Themed Events Attracts Hundreds to Campus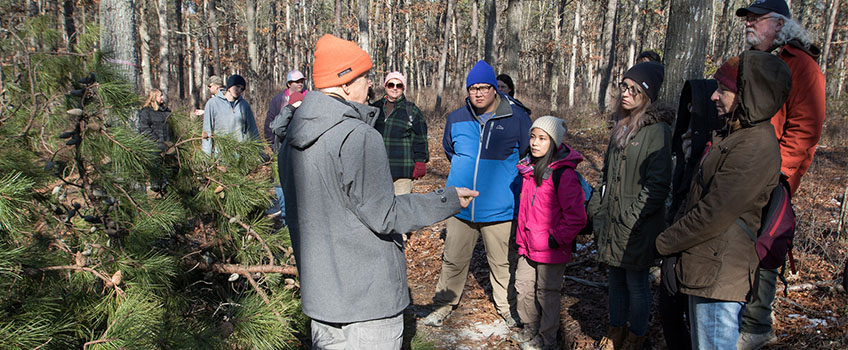 Galloway, N.J. _ Hundreds of people plus a crew of K-9 crisis response dogs, a handful of snakes, an otter, a blind screech owl and a baby goat, converged on Stockton University on March 10 and 11 for a weekend immersion into Pinelands ecology, history, culture, arts and crafts.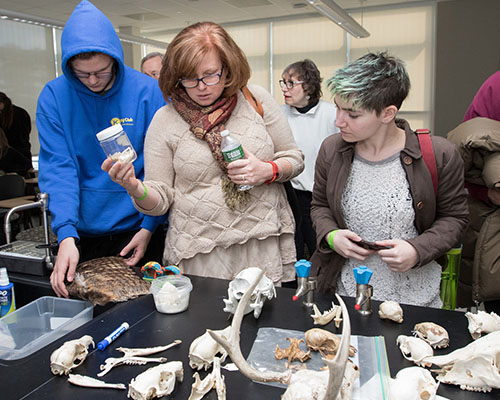 The 29th Annual Pinelands Short Course on Saturday drew almost 600 people for workshops that included nature walks and courses on Pinelands plants, bald eagle recovery, the excavation of Cedar Bridge Tavern in Barnegat Township, and the passage of the Pinelands Preservation Act.
On Sunday, hundreds more returned to Stockton for the 13th annual Lines on the Pines, a celebration of the arts and culture of the Pine Barrens that filled the Campus Center Event Room and main hall and spilled down a hallway where children's activities included basket making, and the chance to paint a Jersey Devil or get their own face painted.
An otter made a rare appearance at Lake Fred during a birding excursion on Saturday. Nazar, the blind resident screech owl from Woodford Cedar Run Wildlife Refuge posed for observers both days.
Christopher Huch, a two-time Stockton graduate and adjunct instructor, focused on tides, storm surge and sea level rise in his Saturday presentation on coastal flooding. Initially, his career focused on protecting the environment from people, but following Hurricane Sandy, it switched to protecting people from the environment.
He said the Pinelands are seeing the effects of sea level rise in cedar forests where salt water intrusion is causing cedar stand die-offs. The dead zones are referred to as ghost forests for the stark, looming spokes that emerge from the swamp.
Huch shared a childhood memory of watching the movie "The Perfect Storm" the night before going out on a charter boat. "That's when I decided I would be a coastal scientist," he said, laughing.
Stockton graduate Larissa Smith, a wildlife biologist for the Conserve Wildlife Foundation of New Jersey, shared her work monitoring the state-endangered bald eagle breeding population and the state-threated non-breading population.
In 1970, only one eagle pair remained in the state. When Smith began working with eagles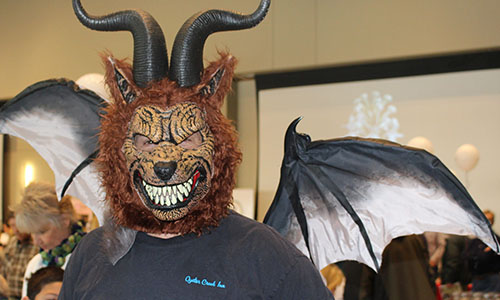 , there were 23 pairs in the state and she knew every single nest.
Now, there are too many nests in New Jersey to know each one individually. Last year, 153 active pairs produced 190 young.
"How many of you have seen an eagle in New Jersey?" she asked.
Nearly everyone raised their hand.
"When I first began talking about the project, only one or two people would raise their hand," she said.
A crew of 85 volunteers monitor eagle nests in the state, including Jack Connor, professor emeritus of writing at Stockton and the author of "Seasons at the Point: The Birds and Birders of Cape May."
An eagle named Nacote, born not far from Stockton on Nacote Creek, is among a group that wear solar-powered GPS transmitters, which enable their movements to be tracked and mapped online.
The Pitch Pines, a local South Jersey music group, and Denizen Pine, an instrumental trio, performed during lunch on Saturday.
Jason Nargiz, of Manchester, N.J., took a skull identification workshop. As an archeologist who manages cultural resources, he was particularly interested in learning more about the bones he could potentially uncover in his work. Nargiz worked on the Pomona Road parkway entrance project where a Native American arrow head was found and collected for display in a state museum.
The atmosphere was festive on Sunday and authors, artists and artisans displayed and sold their works accompanied by the music of Dulcimer Guy Rich Carty, the Groggy Pine Boys and Cranberry Jam.
Zachary D'Augustine, 11, from Mays Landing showed off the basket he made while his younger brother returned with his face painted as a tiger.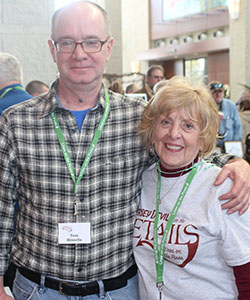 This was the first year the event was held at Stockton, and participants praised the larger space.
"This is a perfect fit for us," said Lines on the Pines organizer Linda Stanton, who coordinated with Professor Tom Kinsella, director of the South Jersey Culture and History Center at Stockton, to bring the event to the university.
Francis Paulsgraf, president of the Mullica in the Pines Historical Society said he liked how the Campus Center provided space for each group.
"The kids have a section, and the historical societies and the crafts," he said. "This is a really nice site."
As Kathy English displayed her paintings and the poster she created identifying 76 Treasures of the Pine Barrens, her husband, the normally quiet Jeff English, growled his way through the event as JD, the Jersey Devil.
Jersey Dragons were in ample supply in books, paintings, and Josiah Westcott's detailed Timber Dragons made of bamboo skewers, pine cone petals and corn husks.
Mike McCormick shared information on the 165 South Jersey Trails he has documented while hiking with his children.
"It's a way to get us all outdoors," he said.
Crafters sold jewelry, baskets and handmade soaps and lotions. Joanne Thomson of Angels in the Pines Goat Farm added a little incentive for buyers of her products – the chance to hold the baby goat she brought to the event.
A gallery of photos is online at Pinelands Short Course and Lines on the Pines.
_ Reported by Susan Allen and Diane D'Amico
# # #
Contact:
Diane D'Amico
Director of News and Media Relations
Galloway, N.J. 08205
Diane.D'Amico@stockton.edu
609-652-4593
stockton.edu/media