Fairy Tales Take Shape in 'Art and Math of Origami' Class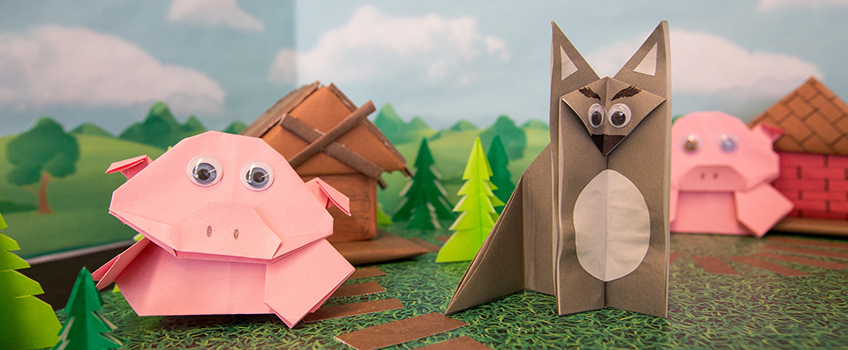 Galloway, N.J. – Who knew that combining math and art could make fairy tales come true?
More than 20 students enrolled in the general studies course, The Art & Math of Origami (GNM 2257), learned the ancient art of paper folding, or origami, while exploring the art's connection to a variety of disciplines.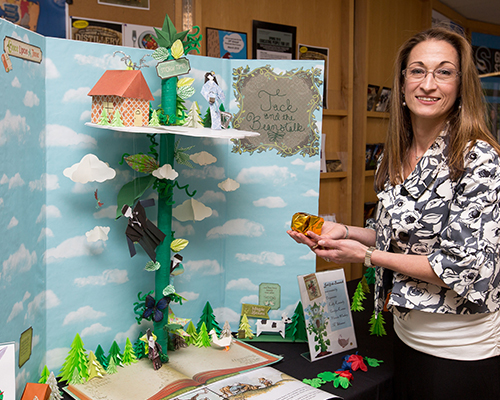 The Origami Showcase featured the origami artwork of the students using this year's theme of fairy tales.
The course is taught by Norma Boakes, Associate Professor & Program Coordinator of Education, who shows how to incorporate art, history and culture into mathematical coursework. The course is intended for all majors, and is designed to review and strengthen mathematic knowledge through discussion and hands-on exploration.
"Students get to design the theme every year," Boakes said. "We come up with a list of ideas, pick the one that suits the students most, and then they separate into groups of five to design their display."
This semester's showcase included themes from "Little Red Riding Hood", "Jack and the Beanstalk", "Peter Pan", "Robin Hood" and "The Three Little Pigs".
Boakes has taught this course every spring for the past eight years. She was originally a math teacher within Greater Egg Harbor Regional Schools before pursuing her career at Stockton.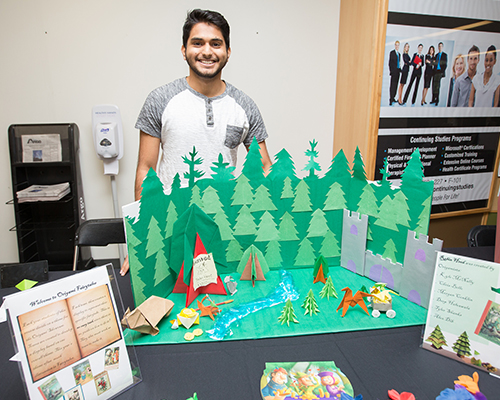 "I created this course to get students to see origami as a tool to teach math. I wrote my dissertation on the art and still research the impact of its use on children," said Boakes.
"I never knew there was this math concept to origami that you needed to think about," said Brittany Salva of Mays Landing, senior Economics and Business major. "It involves line symmetry, rotation and how the creased lines can form shapes, like trapezoids."
Many students also displayed artwork involving sports, flowers and geometrics.
"My flower artwork is made from my own recycled paper. I thought my collection should relate to nature since paper used in origami comes from trees," said Salva.
One student used the entire semester to create an eagle using 400 pieces of paper. Another took three hours to create a chess set out of recycled business cards.
"My collection includes an origami laptop, cellphone, fidget spinner and phone stand. It has a technology feel to it because of my interests and degree program in Computer Science," said Deep Halvawala, Stockton senior from Atlantic City. "I also made a Grumman F-14 aircraft because I wanted a more challenging project throughout the semester."
"It's a lot harder than it looks" said Psychology major Mary Kate Donahue of Marlton. "It was a really fun experience and way to connect to math. It makes math a lot easier to understand while also having fun.
"Especially with bigger pieces, there's a lot of hard work and patience to make these pieces work. It wasn't always easy," said Kyle McNally, a junior Geology major from Frenchtown.
"This course definitely taught me that patience is a virtue," said senior Health Science major Marina Bertolotti of Clifton. "You have to work really hard and following directions is crucial. I have three difficult courses this semester so this class gave me an opportunity to feel relieved and relaxed."
"This course teaches students patience and perseverance," said Boakes. "It gives them this sense of Zen and gets them focused. I had one student tell me she passed accounting because of this course."
"This was the best way for me to get my feet wet with my interest in origami," said Halvawala. "When you look at these pieces, they may seem hard. But when you break it down with patience, you can achieve whatever it is you're trying to make. It motivates you in a way to do more."
A gallery of photos of the Origami Showcase can be viewed on flickr.
_ Story reported by Jessica Jacob
# # #
Contact:
Diane D'Amico
Director of News and Media Relations
Galloway, N.J. 08205
Diane.D'Amico@stockton.edu
609-652-4593
stockton.edu/media