Noyes Museum Hosts Summer Art Camp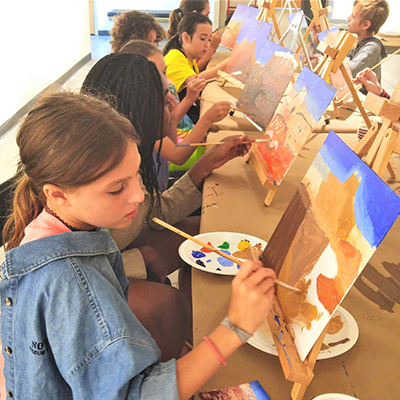 Galloway, N.J. _ The Summer Art Camp at the Noyes Museum of Art at Stockton University has openings for the final session from July 23-27.
The camp runs from 9 a.m. until noon at the Art Gallery on the Stockton campus and is open to children ages 6 to 13.
The theme for the week is Awesome Animals. Campers will create animal art of all kinds inspired by art from ancient Egypt to modern times.
Ancient Egypt: Sculpt and incise your clay hippo with lotus designs inspired by "William", the blue mascot of the Metropolitan Museum of Art.
Middle Ages: Illustrate a bestiary book, a collection of drawings oanimals both real and fantastic.
19th Century: Create an Art Nouveau animal poster, a style inspired by forms in nature.
20th Century: Paint animals on paper 'bark' in the style of Australia's Aboriginal people, as if viewed with "x-ray vision" with fantastic insides.
20th Century: Create and ink an animated character and a painted backdrop inspired by the techniques Disney used in Snow White and the Little Mermaid.
The cost is $190 and there is a discount for Noyes Museum members and Stockton staff, students and alumni. The registration deadline is July 18.
More information is available by email at education@noyesmuseum.org or online at noyesmuseum.org
# # #
Contact:
Saskia Schmidt
Noyes Museum Director of Education
saskia.schmidt@stockton.edu
(609) 652-1776 ext.5200