Student Bryan Gonzalez-Mejia Named Newman Civic Fellow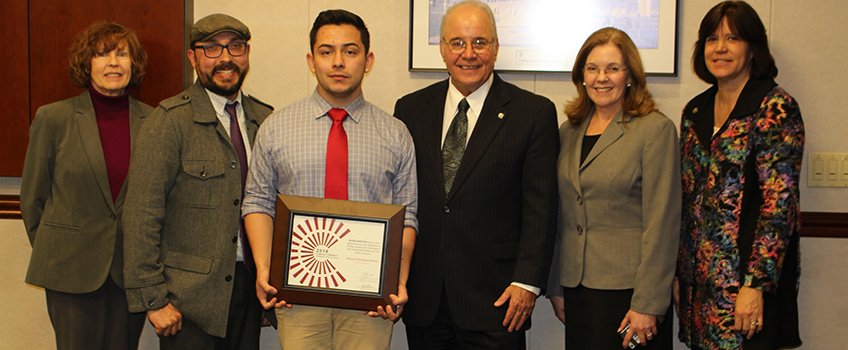 Galloway, N.J. – Bryan Gonzalez-Mejia of Ewing, a junior political science major at Stockton University, has been named a Newman Civic Fellow by Campus Compact in recognition of his work on campus promoting civic engagement and community involvement.
President Harvey Kesselman presented Gonzalez-Mejia with a framed copy of the award certificate, which states: "In recognition of your civic leadership and your dedication to finding solutions for challenges in the communities where you live, serve and learn."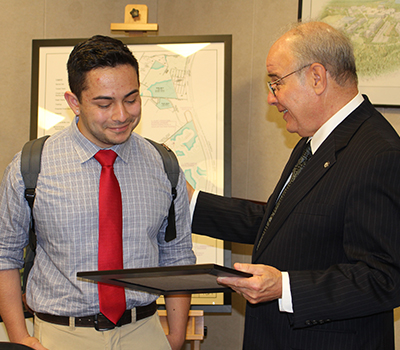 A graduate of Ewing High School, Gonzalez-Mejia is a Student Senator and has been active in Stockton's Political Engagement Project and American Democracy Project, encouraging people to learn more about their legislators and register to vote. As a member of the Model UN he is excited about the trip to China in November.
He is a tutor in Stockton's Center for Community Engagement's after-school homework project in Atlantic City and Pleasantville, assists with the naturalization classes offered by Stockton at the Carnegie Center in Atlantic City, and participates in afternoon tea programs are area retirement and assisted living homes.
"I really found myself and what I am interested in here at Stockton," Gonzalez-Mejia said. "I want to empower my peers here at Stockton by showing them our voices matter and we need to be more involved."
Gonzalez-Mejia plans to attend law school after graduation, and has applied to summer pre-law workshops this summer to help him prepare. He plans to specialize in Constitutional Law and said he may also run for public office in the future.
He thanked Kesselman, Service-Learning Director Daniel Tomé, Executive Director of the Center for Community Engagement Merydawilda Colón, professors Claire Abernathy, Jen Forrestal and Linda Wharton and others who have motivated and assisted him.
"None of this would have been possible without the leaders on this campus who encourage students like myself," he said.
Kesselman said Gonzalez-Mejia represents the best of Stockton.
"I was very honored to hear you were selected," Kesselman said. "This validates what you do here, so keep on doing it."
Tomé, who nominated Gonzalez-Mejia, cited his extensive involvement with the American Democracy Project.
"He is the pinnacle of a Stockton civically engaged student," Tomé said.
Campus Compact is a national coalition of more than 1,000 colleges and universities committed to the public purposes of higher education and building democracy through civic education and community development.
As a Newman Fellow Gonzalez-Mejia will attend the 2018 Newman Civic Fellows National Conference on Nov. 17-18 in Boston and will have access to virtual learning opportunities throughout 2018-19. The Newman Civic Fellowship was created in honor of Frank Newman, one of Campus Compact's founders, and is supported by KPMG Foundation and Newman's Own Foundation.
# # #
Contact:
Diane D'Amico
Director of News and Media Relations
Galloway, N.J. 08205
Diane.D'Amico@stockton.edu
609-652-4593
stockton.edu/media