Model UN Attends Conference in Galapagos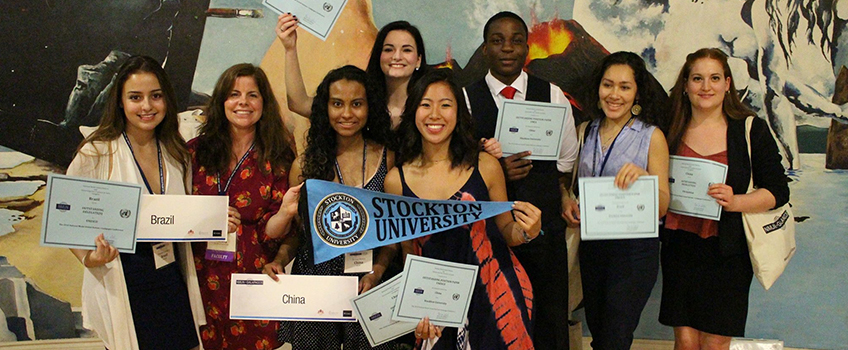 Galloway, NJ – Stockton University's Model United Nations International Travel Team represented the politically powerful China at the January conference in Galapagos, bringing home a Distinguished Delegation Award for their efforts.
"It is a strong country," said Jessica Cathcart of Glassboro, vice president of Stockton's Model UN who served on the Security Council at the event. "We had a big role, but we trained well."
Several other students earned commendations. Leighanna Ritter of Bordentown and Bright Wiafe of Egg Harbor Township both earned a Best Position Paper awards. Ritter and Rebecca Hilbert of Pennsauken earned Outstanding Delegate awards. Other team members were Airiana Munoz of Toms River, and Kasandra Vega of Union City.
Alejandra Londono of Pleasantville, who also attended representing Brazil, earned both Outstanding Delegate an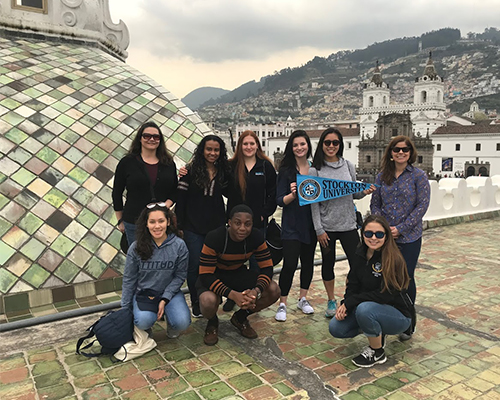 d Best Position Paper awards for her work.
Cathcart said their success came from staying in character as the countries they represented.
"China's presence is growing and we were trying to be China as they are," she said. "As a member of the Security Council I had veto power, so if I voted "no" on a resolution, it would fail. It was hard to watch other countries do so much work on something knowing that I would have to say 'no'."
The students also visited a tortoise reserve and participated in a Service Learning project at a cooperative organic farm on San Cristobal Island. This farm is in a public-private partnership with the Galapagos National Park to conserve giant tortoises.
The goal of the National Model United Nations is to advance understanding of the UN and contemporary international issues. More than 1,000 university students from around the world participated on the nine simulated UN committees.
Associate Professor of Political Science Tina Zappile formed the Model UN program at Stockton and serves as the club advisor. She also teaches a class on the UN Experience.
The team attends conferences in both the fall and spring semesters. About 25-30 students participate each year in the spring conference in New York City. Each winter, approximately 6-10 students on the International Travel Team attends a conference abroad.
The 2018 conference is in China, and applications are being accepted through Feb. 28. Students must demonstrate a willingness to learn how to use diplomatic means to solve world problems and to listen to different perspectives.
The teams that travel in the U.S. are supported by the Student Senate under Student Affairs/Student Development, and the team that travels abroad is supported by the Presidential Initiative.
Students interested in participating in this conference have the option to attend as a Model UN student club member or as a student registered in the UN Experience-NY class.
More information on Stockton's Model UN program as well as application information for the upcoming conference is available at https://stockton.edu/model-un/
Below are the assignments and position paper titles for each team member who attended the Galapagos conference.
Security Council (SC) for China- Jessica Cathcart
The Impact of Climate Change on Peace and Security
Environmental Migration as a Concern for Peace and Security
Conference of the Parties to the United Nations Framework Convention on Climate Change (COP) for China- Kasandra Vega
Development and Transfer of Technologies to Support the Implementation of the Paris Agreement
Adapting to Sea Level Rise in Low-lying Areas and Small Islands
High-level Political Forum on Sustainable Development (HLPF) for China- Airiana Munoz
Promotion of Sustainable Industrial Development and Innovation in Rural Areas
Implementing SDG 6: Ensure Availability and Sustainable Management of Water and Sanitation for All
United Nations Educational, Scientific and Cultural Organization (UNESCO) for China- Leighanna Ritter
Comprehensive Review of the Standards for Sites to be Included in the World Heritage List
Community Engagement for the Protection of Cities and Towns Listed as World Heritage Sites
United Nations Environment Assembly (UNEA) for China- Bright Wiafe
Management and Reduction of Waste in Urban Areas
Development of Eco-friendly Technology for the Protection of Oceans and Seas
United Nations Human Settlements Programme (UN-Habitat) for China- Rebecca Hilbert
Management and Control of Urbanization and Tourism in Protected Areas
Sustainable Transportation between Urban and Rural Zones
United Nations Educational, Scientific and Cultural Organization (UNESCO) for Brazil- Alejandra Londono
Comprehensive Review of the Standards for Sites to be Included in the World Heritage List
Community Engagement for the Protection of Cities and Towns Listed as World Heritage Sites
# # #
Contact:
Diane D'Amico
Director of News and Media Relations
Galloway, N.J. 08205
Diane.D'Amico@stockton.edu
609-652-4593
stockton.edu/media