More Than 800 Give Back at 14th MLK Day of Service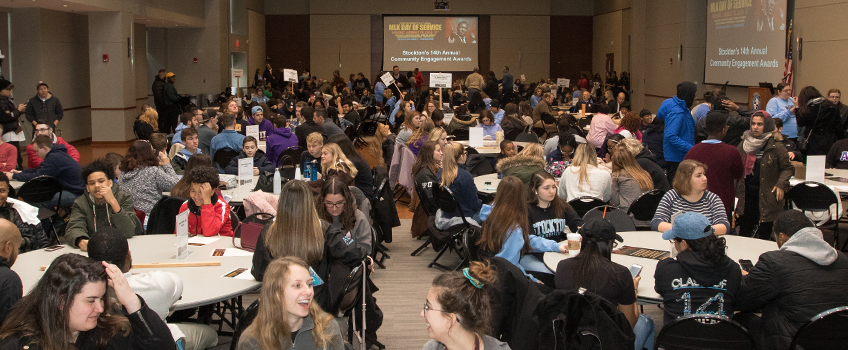 Galloway, NJ _ More than 800 Stockton students, alumni and community volunteers spent the Martin Luther King, Jr. holiday Monday giving back to their communities at more than 40 public service projects at multiple sites including Tuckerton Seaport, Hammonton and the Atlantic City beach.
"At Stockton, this is a day on, not a day off," said Dean of Students Pedro Santana in welcoming the volunteers.
The 14th annual event, coordinated by the Office of Service Learning is even longer this year, with a weeklong celebration that will include film showings, an art exhibit and a panel discussion on hate speech for local high school students.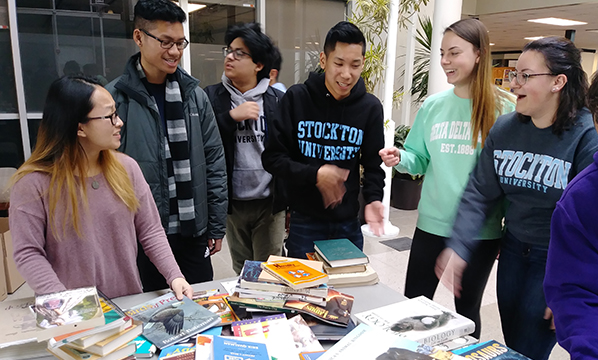 Stockton President Harvey Kesselman thanked all those who participated, saying public service helps build compassion.
"Your service is our collective way of answering Martin Luther King, Jr's charge of 'what have you done for others,' " Kesselman said.
Incoming N.J. Labor Commissioner Robert Asaro-Angelo and a group of staffer's from Governor-elect Phil Murphy's campaign also participated. Angelo, whose family is from the Atlantic City area, said he looks forward to being a good partner with Stockton and Atlantic City.
"We are a large and diverse family in New Jersey," he said. "Today we highlight the values by which we will govern."
Atlantic City mayor Frank Gilliam, a Stockton alumnus, said he is a living example of Martin Luther King, Jr.'s dream, but there is still much work to do.
"We must fight against all injustices," he said. "He gave his life so we could go out and give to others today."
Community Engagement awards were presented to students Olivia DeCicco and Jodie Davis, Assistant Professor of Sociology Jessie K. Finch, Associate Director of Residential Life Haley Baum, alumna Samantha Jerry, '17, and student organization Active Minds.
Then it was off to work on community projects.
In the C-D Atrium members of Books without Borders sorted and packed boxes of donated books. President J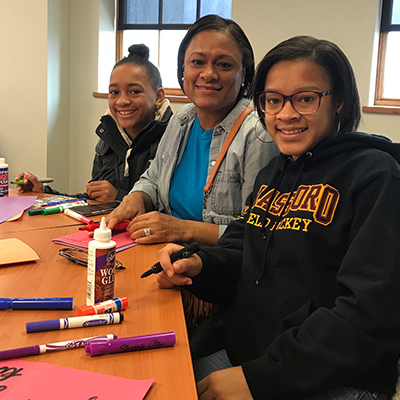 ake Grootenboer said they are more than halfway to filling a shipping crate and will also begin raising the more than $10,000 needed to ship the books overseas.
In the campus center Circle K and Galloway Boy Scout Troop 634 made hundreds of peanut butter and jelly sandwiches for the Atlantic City Rescue Mission and the residents of Jeffries Towers displaced by a fire. The troop also did a canned goods drive in Galloway Township, dropping off 2,000 empty bags for residents to fill.
During lunch, Stockton Activist-in-Residence Travis Love led a group of activist in a pop-up theatre performance, re-enacting speeches of famous Civil Rights leaders.
Stockton shuttles took students to off-campus sites.
At Kramer Hall in Hammonton, volunteers from South Jersey Industries made cards for residents of a local nursing home, and helped with an inventory of the Noyes Museum collection.
"I felt like it was important to come out, especially with our upcoming move to Atlantic City, where we'll be sharing a parking garage with Stockton," said Shawn Abner-Purnell, Manager of Diversity and Inclusion at South Jersey Industries. "This was a great event to honor the sacrifices of Martin Luther King Jr. and civil rights activists like him. It enabled my children to get involved as well."
Carson Lee, 16, from Hammonton had so much fun helping last year, he came back again.
"I really love doing community service," he said. "It's fun and enables me to make connections with other people and help the community at the same time."
Tuckerton Seaport and Baymen's Museum Director Brooke Salvanto was thrilled with the crowd that came to help out on multiple projects there.
"We usually only get about 10 volunteers, but today we have a turnout of 40 thanks to Stockton's Satellite Campus in Manahawkin," she said. "We only have two full-time and three part-time staff members here. This influx of generous people r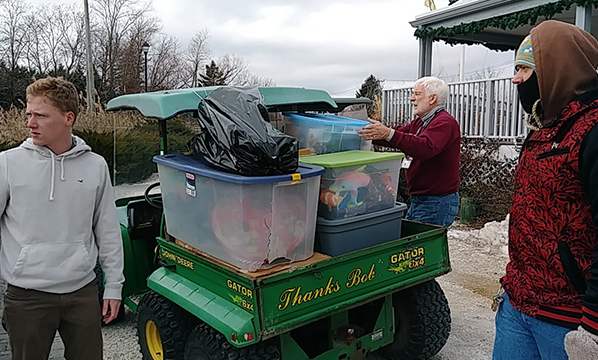 eally helps us accomplish all our work, and we wouldn't be able to do any of this without the help of Stockton's students."
Several alumni also turned out to help.
"I was off of work today and saw an opportunity and outlet for volunteer work," said Avery Rech, of Medford, who graduated in 2013 with a degree in environmental studies. "I just felt I had to do something today, and I was excited to see other Stockton students."
Laura Moyer. 2003 graduate from Bass River with an arts management degree said volunteering was a way to honor Dr. King and help the community.
"We can only do our little part in this world so we might as well do it," she said.
Waist-high waves crashed onto the beach at North Carolina Avenue in Atlantic City as two dozen volunteers filled garbage bags with litter. Others recorded data detailing the types of trash collected.
The data is entered into the national Surfrider database and used to support environmental policies that limit single use plastics. Krissy Halkes, of Egg Harbor Township, cleanup coordinator for the South Jersey chapter of the Surfrider Foundation said raising awareness of single-use plastics and encouraging people not to use them are focal points for her group.
Best friends and pre-med majors Suravi Islam and Laura Santos work in Atlantic City and grew up visiting the local beaches.
"We wanted to be more involved, so we came to the beach cleanup," said Santos.
They joined President Kesselman and his wife, Lynne, as they walked down the beach, picking up trash and leaving behind a healthier habitat for coastal wildlife.
Alexis Carr, a freshman Health Sciences major from Barrington, N.J., ended her walk with a full garbage bag.
"I love to volunteer, and what better day than Martin Luther King Jr. Day of Service to make a difference," she said.
For President Kesselman, it was also trip back to Stockton's beginnings. He pointed to an empty lot between the Irish Pub and Fralinger's, the location of the former Mayflower Hotel where Stockton's first classes were held in 1971.
"This is where I began my life at Stockton," said Kesselman, who was in the first class. "And down the Boardwalk will be our new campus."
Stockton's new residential campus in Atlantic City will open in fall 2018.
Other events for the week are:
An art exhibit from 8 a.m. to 2 p.m. Jan. 16 in the Campus Center, sponsored by the African American Heritage Museum of Southern New Jersey, featuring the work of Aaron Pines.
A showing of the film "Tell Them We Are Rising" at 8 pm. Jan. 17 in the Campus Center Meeting Room 5.
A panel discussion with area high school students on "Free Speech vs. Hate Speech: What's the Difference from a Student Perspective" from 9-11 a.m. on Jan. 18. The panel will discuss First Amendment rights in education.
A special project with the Atlantic County Animal Shelter on Jan. 19 from 10 a.m. to 1 p.m. where students will help with the socialization of animals at the shelter.
View a gallery of more than 100 photos on flickr.
# # #
Contact:
Diane D'Amico
Director of News and Media Relations
Galloway, N.J. 08205
Diane.D'Amico@stockton.edu
609-652-4593
stockton.edu/media