Master of Social Work Program Celebrates 10th Anniversary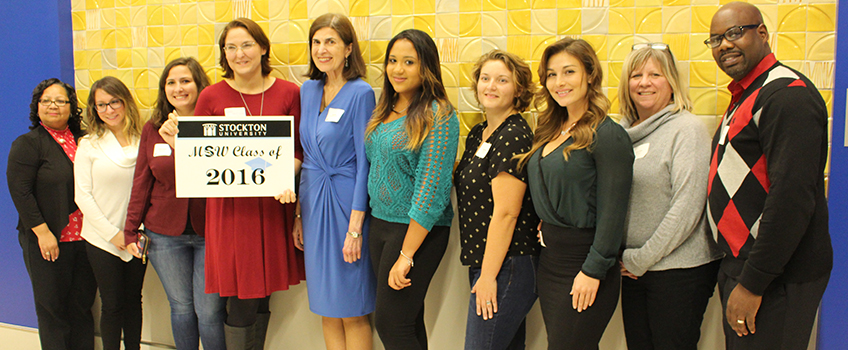 Atlantic City, N.J. _ Social work has a long history at Stockton. It was one of the first programs offered when then Richard Stockton College opened in 1971.
Almost 40 years later, a Master of Social Work program was added, enrolling its first students in 2009. On Nov. 5, the MSW program celebrated its 10th anniversary at now Stockton University with a reception at its new home, the Stockton University Atlantic City Academic Center.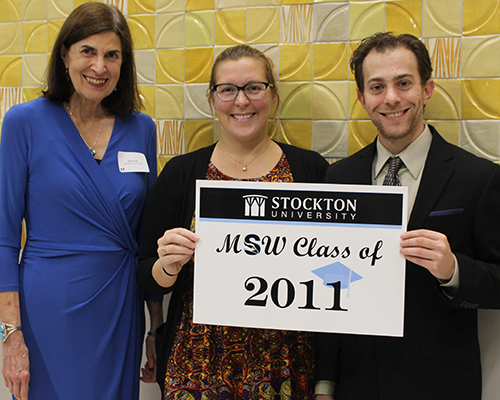 "The first year really was crazy," said Matthew Moskovitz of Northfield, who was in the first class of 20 students that met at the Carnegie Center in Atlantic City. "The program was building from the ground up. But, it changed my life. I consider myself lucky that I can get up every day and practice social work, and it's because of Stockton."
More than 100 graduates, current students, faculty and staff attended the event in the Fannie Lou Hamer Event Room. Associate Professor Robin Hernandez-Mekonnen served as mistress of ceremonies.
Provost Lori Vermeulen said the program has now graduated 334 social workers who performed some 275,000 hours of internship service in and around Atlantic City.
"That equals 120 years of work," Vermeulen said. "It means lives have been changed."
Associate Professor Robert Barney, one of the inaugural faculty members and MSW program director, said the expansion to the new location provides the opportunity to get even more involved in the city in a way that involves the entire university.
"We have gone through a lot of growth," he said of the program, which now teaches more than 100 students. He credited Professor Diane Falk for leading the charge to bring the MSW to Stockton.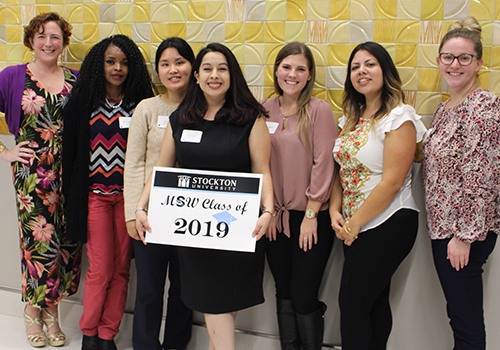 "She brought the MSW to life," he said. "She saw the need, and she developed the first curriculum,"
Falk said it was a major financial commitment for Stockton to start the program since it required six full-time faculty devoted just to the MSW program. She said a major crisis in the state child welfare system in 2005-06 highlighted the need for more social workers with more advanced and managerial training.
The federal government had funded a Stockton undergraduate initiative that was so successful that the state funded Stockton to take it statewide, putting the university in the spotlight.
Falk said it was decided early on that the master's degree program would focus on social work practice with diverse individuals, families and communities.
"New Jersey is a diverse state," she said. "Atlantic City is diverse. If they could learn the skills to do that, they could do anything."
The program offers specializations in leadership and management, clinical social work and child welfare education, but is always changing to meet current and future needs.
What is in store for the future? Falk said she would like to see more scholarships since financial aid is a challenge for graduate programs. She also wants to get more involved in Atlantic City and has visions of a social work clinic or center.
""I've been talking to people," she said. "It's time to engage even more with the community."
Graduates Dr. Kate Werner of Beach Haven and Moscovitz, who were in the first graduating class in 2011, and Shawn Hudson, '16, of Sewell, spoke about their experiences in the program.
Werner recalled feeling overwhelmed as she walked into the Carnegie Center.
"We are proof that it worked," she said. "We came out with a lot of knowledge."
Hudson was able to get his degree free through the Masters Child Welfare Education Program, a partnership with the N.J. Department of Children and Families that is open to state casework supervisors. He said the MSW program changed how he worked.
"It really opened my eyes," he said. "I look at people differently. Before, I had never thought about cultural differences and behaviors, and differences in families, even though I work in Camden County, which is very diverse. This program really changed my thinking about why people need help, how we can help them."
Associate Professor Guia Calicdan-Apostle emphasized the importance of scholarships and said an MSW scholarship that was started by faculty has now raised more than $25,000, enough to start an endowed scholarship of $1,000 a year.
"We do it little by little, every day, and this is possible," she said. "Every little bit counts."
She also encouraged the graduates to start an alumni group to support each other and future students.
Associate Professor Maya Lewis closed the program by thanking everyone who helped the students, including the security officers at Carnegie who encouraged the students to persevere.
"Every single graduate is affecting and changing lives on a daily basis," Lewis said. "You are changing the world."
A gallery of photos from the event is on flickr.
# # #
Contact:
Diane D'Amico
Director of News and Media Relations
Stockton University
Galloway, N.J. 08205
Diane.DAmico@stockton.edu
609-652-4593
609-412-8069
stockton.edu/media