Lanterns Shine Bright on Lake Fred in Memory of Loved Ones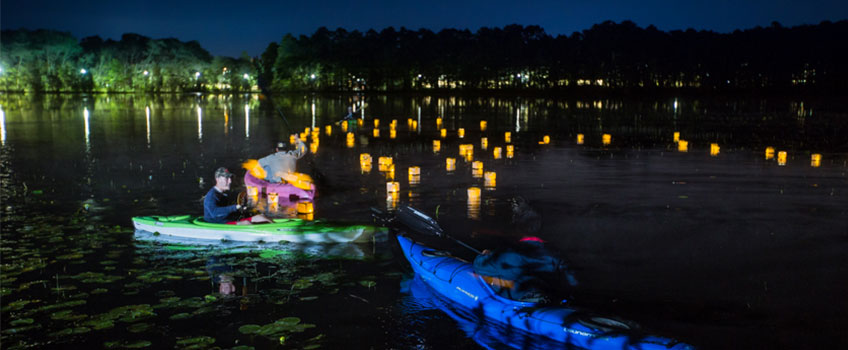 Paper lanterns with messages to loved ones lost to cancer floated on Lake Fred under the moonlight during Kappa Sigma's Light Up Lake Fred benefit for the Ulman Cancer Fund for Young Adults Oct. 12.
Kappa Sigma fraternity brothers paddled kayaks through a layer of fog rising from the surface where the warm body of water met the crisp autumn air. One-by-one, each message was released onto the lake while the Stockton community gathered on shore watching and remembering those lost too soon.
Stockton's Kappa Sigma fraternity chapter organized the event to remember Steve Hensle who lost his battle with cancer in 2017. Hensle was vice president of recruitment for Kappa Sigma, an Activity Leader of New Students (TALONS) and an "active and inspiring brother who really cared about and represented our values," said Nikolas Douvris, president of Kappa Sigma and a senior Finance major.
"He was someone we all looked up to as an inspiration," Douvris added.
Lisa Hensle, Steve's mother, attended the event honoring her son, who was an avid runner and had a dream to run to destinations across the country through the Ulman Cancer Fund in support of others battling cancer just like he was.
Hensle's fraternity brothers are keeping his dream alive by supporting the Ulman Cancer Fund, which creates support communities and cross-country cycling and running journeys for those affected by cancer.
"We are grateful for the support and hope to have more opportunities to give," said Douvris.
The message #HensleStrong shined bright on Lake Fred.
View the photo story by Susan Allen