Attorney's Briefcase Holds a Civil Rights Story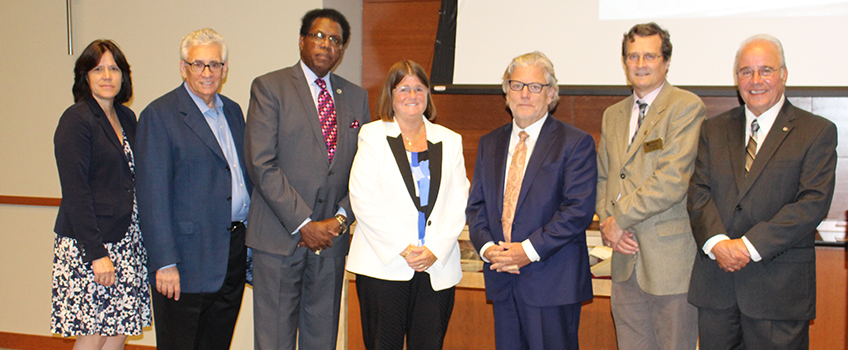 Galloway, N.J. _ In 1966, Atlantic City attorney James Cooper spent two weeks in Mississippi representing African-Americans during the height of the Civil Rights era as part of then President John F. Kennedy's Lawyers Committee For Civil Rights.
After his death last year at 87, his daughter, Cynthia, discovered an old briefcase filled with case notes, maps, photos and other memorabilia from that trip.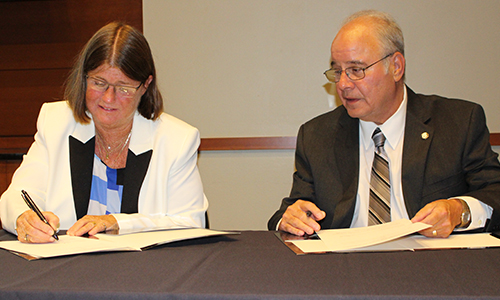 Cynthia Cooper donated the briefcase and its contents to the Stockton University archives, where they were formally accepted at an event Aug. 6, at the Campus Center Board of Trustees room.
"This is important information that we can learn from," said Robert Gregg, Dean of the School of General Studies. "It's a window into the work of a little known organization that worked closely with the NAACP Legal Defense Fund. It was potentially dangerous work."
Gregg said Cooper got to personally see how the law discriminated against African Americans.
"There were always all-white juries because you had to be a registered voter to serve on a jury, and blacks did not have the right to vote," he said.
Stockton Provost Lori Vermeulen said Cooper's legacy is to be an inspiration to others and that Stockton shares his commitment to civic engagement through such events as the American Democracy Project, Constitution Day and the Fannie Lou Hamer Civil Rights Symposium. Stockton also has a new concentration in Civic Leadership and Community Engagement.
"(Cooper) did the things we would like to see our students do with their lives," she said.
Friends and colleagues remembered Cooper for his lifelong dedication to civil rights issues.
"James' experience in Mississippi left an indelible mark," said Russell Lichtenstein from Cooper Levenson, Attorneys at Law. "He was a passionate lawyer and teacher."
He recalled when Cooper taught at Stockton he loved to discuss his lesson plans. He was equally passionate about his work on casino gaming, the development of Gardner's Basin, sailing and his candy and ice cream story C.W. Sweets.
Atlantic City Councilman Kaleem Shabazz recalled when he was a college student he and others involved with a group called Direct Action Youth decided hold a block party but failed to get a permit.
They were arrested, but within about 20 minutes Cooper arrived and said he was representing them.
"He said it was a civil rights issue, and he won," Shabazz said "He was a giant in Atlantic City and he had a strong, sincere commitment to civil rights and social justice. He was always involved in social justice issues."
He recalled Cooper convincing him over multiple objections to make a day trip to Mississippi for an event in memory of three civil rights workers who had been killed there in the 1960s.
"I said no, I do not want to go to Mississippi," he said. "But, that was the kind of courage, commitment and concern he had, to go to Mississippi for an afternoon."
Stockton trustee Leo Schoffer recalled a trip to Russia he took with Cooper when he was president of the Jewish Federation of Atlantic and Cape May Counties.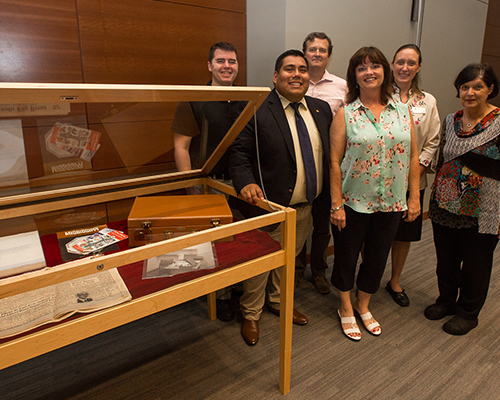 "He visited people behind the scenes who were opposing the government," he said. "He needed to make a statement and he took it on."
Cynthia Cooper remembered her father talking to students about how democracy was on a slippery slope and how they needed to vote and get involved.
"The four lessons of Jimmy were: Brush the mind, broaden the base, break the mold and always give back," she said.
Stockton President Harvey Kesselman said he met Cooper through his predecessor Vera King Farris, who adored him.
"He had such charisma," Kesselman said. "His favorite course was Anatomy of Democracy and it covered the evolution of government, the Constitution, the separation of powers, and most importantly the role of civic involvement. That epitomized the man and his commitment to students and civic engagement. I am proud to accept this gift. We need more Jimmy Coopers today than ever."
Stockton archivist Heather Perez is cataloguing the materials, which will be put on public display in the fall.
The event was sponsored by the Sara & Sam Holocaust Resource Center, the William J. Hughes Center for Public Policy and the School of General Studies.
View a gallery of photos from the event on flickr.
# # #
Contact:
Diane D'Amico
Director of News and Media Relations
Galloway, N.J. 08205
Diane.D'Amico@stockton.edu
609-652-4593
stockton.edu/media