Former Ambassador William J. Hughes meets with teachers from Panama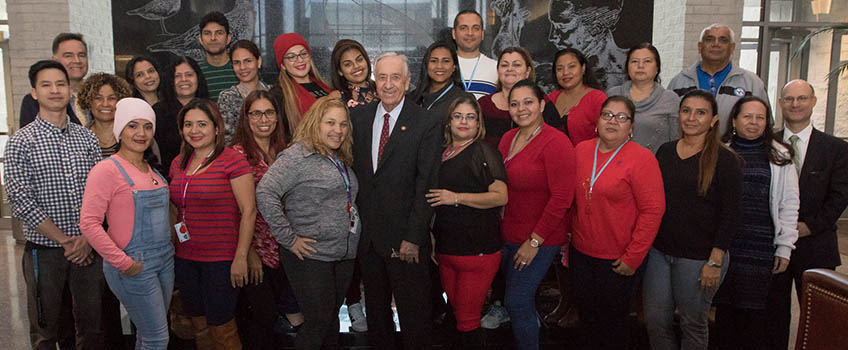 Galloway, N.J. - Former Congressman and Ambassador to Panama William J. Hughes met some teaching ambassadors from Panama at Stockton University on Feb. 26 during a reception at the university.
Stockton is hosting 21 teachers from Panama for eight weeks as part of the Panamanian government's Panama Bilingue Initiative to train 10,000 teachers in English and the latest teaching methods.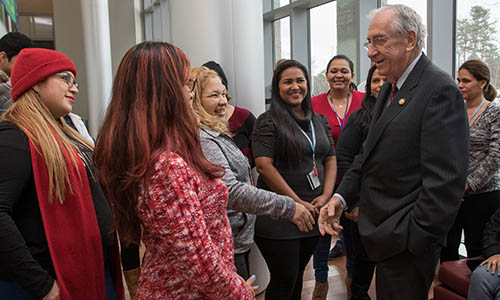 Interim Executive Director Michael Klein and the staff of the William J. Hughes Center for Public Policy at Stockton worked with India Karavackas from Stockton's Office of Global Engagement to arrange for the center's namesake to meet with the teachers and Stockton's General Counsel Brian Kowalski, who coordinated the Panama Bilingue agreement, and Provost Lori Vermeulen.
It was a trip down memory lane for Hughes, who apologized in Spanish for his rusty language skills, then switched to English with Stockton student advisor Yibin Feng translating as needed.
Hughes, who lives in Ocean City, recalled when he first arrived in Panama he was surprised the media who met him at the airport had no questions for him.
"My son, Bill, said it was probably because they didn't understood word I said," he said.
As ambassador, Hughes oversaw the transition of the Panama Canal back to the Panamanian people. He reminisced about traveling the country, and visiting different towns where his wife, Nancy loved to shop and he loved to eat, adding that his favorite dish was ceviche, a marinated raw seafood dish.
"I traveled quite a bit," Hughes said. "It was a wonderful experience. It's a magnificent country. What I liked most was the friends I developed and still communicate with."
Hughes spent time with small groups of teachers, asking them where they were from and what they had been doing in class. The trip to New York City was popular, and the teachers said they feel like royalty staying at Seaview.
Their only complaint is they are not used to the cold weather.
"But I love the snow," said teacher Alena Cruz. "When it was on the ground and in the trees without the leaves, it was beautiful."
A gallery of photos of the event are in flickr.
# # #
Contact:
Diane D'Amico
Director of News and Media Relations
Galloway, N.J. 08205
Diane.D'Amico@stockton.edu
609-652-4593
stockton.edu/media