First Stockton Career Fair in A.C. Attracts Thousands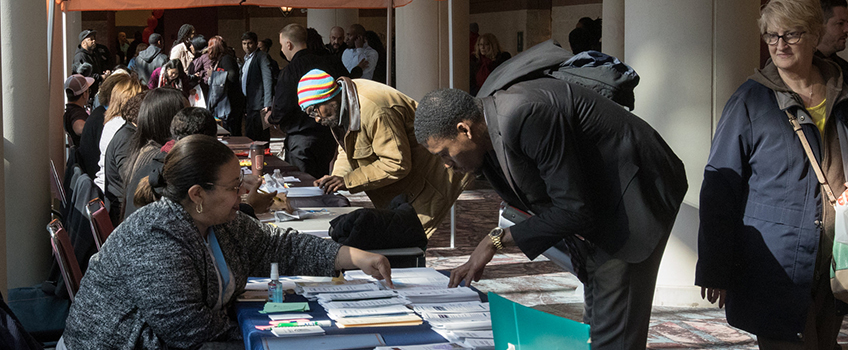 Atlantic City, N.J. _ More than 4,800 job-seekers attended Stockton University's first Atlantic City Gateway Career Fair on Feb. 13, taking advantage of the opportunity to meet with more than 80 employers from Atlantic City and South Jersey.
"This is amazing," said Brian Jackson, chief operating officer of Stockton's Atlantic City campus, who coordinated the event. "It shows how many people want work."
People began lining up hours before the 10 a.m. opening, but stood patiently as the line circled the Convention Center lobby and hallways up to the Career Fair. Many brought resumes with them and employers said that was a good idea.
"I got a lot of qualified candidates," said Thomas Chiusano, a talent acquisition specialist at South Jersey Industries, which has job openings in customer service, IT and sales.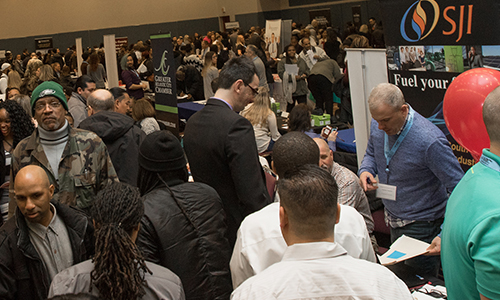 "A lot of people are excited about us coming to Atlantic City and said they've been trying to get jobs with us," Chiusano said. "They came today to see us face to face. This was a success for us."
South Jersey Industries is building an Atlantic City office as part of the Gateway Project on Albany Avenue that includes Stockton's Atlantic City campus.
Wesley Wallace, regional manager of Source4Teachers was thrilled that they signed up 150 good candidates to work as substitute teachers.
ShopRite also had a stack of completed job applications that will be reviewed then distributed to hiring managers for eight stores in the region.
"This was a good day for us," said ShopRite South District HR Manager Gemma Freeman. She said they have both part-time and some full-time positions in different areas to fill.
While some job-seekers were disappointed that they would still have to go online to apply for jobs with some companies, employers said talking with prospective employees and leaving resumes does help.
"We answered questions, looked at resumes and talked to people about where they might fit in," said Borgata customer care manager Carmen Sansweet. "We had 10 people here today and we do a lot of hiring. We want to get people interested in jobs."
Many of those attending have part-time jobs and are searching for more stable full-time positions.
Harry Mears of Atlantic City worked for 16 years at Bally's but is now just working part-time at Tropicana as a dealer.
"I'm looking for a full-time job so I don't have to scrimp and save so much," he said. "I saw a lot of people I used to work with here today."
Samantha Gaskins just recently moved to Atlantic City from Sicklerville and is looking for an entry level job ideally in a customer service area. She also got information about Atlantic Cape Community College's culinary program.
"It was worth it to come and talk to people," she said. "I did see someone put stars on my application, so I hope that's a good sign."
Jackson said he was thrilled that Stockton could provide the opportunity to so many area residents and businesses.
"This is part of Stockton being an anchor institution in Atlantic City," he said. "These are the types of things that we can take the lead on as part of our commitment to Atlantic City and South Jersey."
# # #
Contact:
Diane D'Amico
Director of News and Media Relations
Galloway, N.J. 08205
Diane.D'Amico@stockton.edu
609-652-4593
stockton.edu/media