Stockton Receives National Excellence in Diversity Award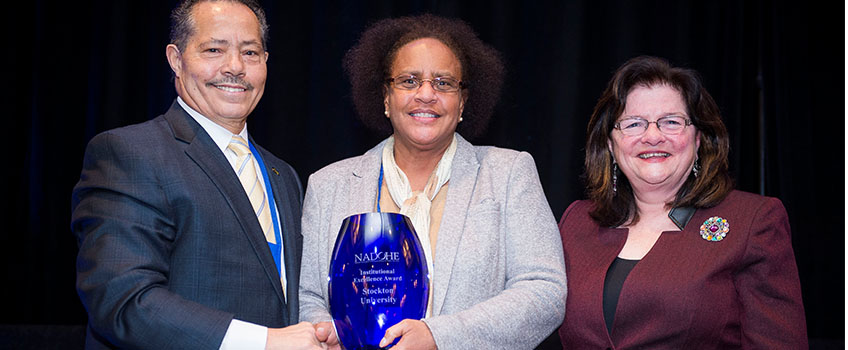 Galloway, N.J. – Stockton University has received the 2018 Institutional Excellence Award from The National Association of Diversity Officers in Higher Education (NADOHE).
Chief Officer for Institutional Diversity and Equity Valerie Hayes accepted the award on behalf of the university at the NADOHE conference in Washington, D.C. in March 9.
The award was one of four presented in different categories.
NADOHE President, Archie W. Ervin said: "We are delighted to recognize this year's Inclusive Excellence Award recipients and their institutions for their stellar accomplishments with moving the needle toward inclusive excellence practices within American higher education."
Hayes said she is proud that the award brought national recognition to Stockton. She said representatives of other universities have expressed interest in learning more about Stockton's initiatives.
The award recognizes the results of institutional leadership transformation. It is given to an institution that has demonstrated measured progress in promoting and sustaining innovative diversity efforts within the campus community.
The award recognized Stockton's commitment to diversity from its inception through the Stockton 2020 program, which has promoted and funded initiatives related to diversity and inclusion, including the International Writers in Residence Program, and "Growing Up in the Other Atlantic City," a production in collaboration with the Atlantic City African American community.
Stockton's commitment to diversity also includes student initiatives such as the Martin Luther King, Jr. Day of Service, the Stockton Center for Community Engagement, and the Office of Global Engagement.
Stockton academic programs include minors in Holocaust and Genocide Studies, Africana studies, Global Studies, Jewish Studies, Latin American/Caribbean Studies, Disability Studies, and Women's Gender and Sexuality Studies.
In November 2018 Stockton will host the Annual Diversity Issues in Higher Education Conference, an annual event of the American Conference on Diversity.
Stockton President Harvey Kesselman said he is proud that the award recognizes not just one program, but years of work by dedicated faculty and staff.
"Our commitment to diversity and inclusion is embedded in the mission and culture of Stockton," Kesselman said. "We are honored to receive this recognition."
# # #
Contact:
Diane D'Amico
Director of News and Media Relations
Galloway, N.J. 08205
Diane.D'Amico@stockton.edu
609-652-4593
stockton.edu/media