Claudine Keenan Inducted into Atlantic County Women's Hall of Fame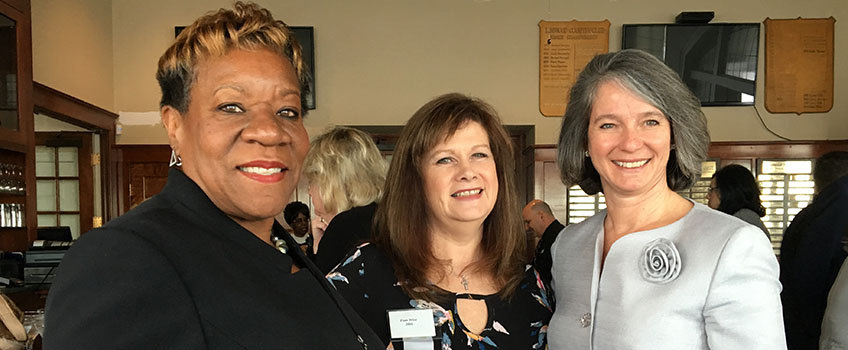 Claudine Keenan, dean of the School of Education was inducted into the Atlantic County Women's Hall of Fame, on March 22.
Each year, the organization inducts a select group of women from Atlantic County into its Hall of Fame. Candidates are nominated and selected for induction based on their work and commitment to enhancing the lives of women.
Keenan has been very active in the Atlantic County community and beyond. When Keenan's family moved to Galloway in Atlantic County in 2004, she became an active volunteer in all of her children's youth programs, including recreational basketball, baseball, soccer, track, 4-H, U.S. Pony Club, youth theatre, wind ensemble and marching band. Keenan also served on the Galloway Township Business Association, an Economic Advisory Council for the township, and as a school board member for the Galloway Community Charter School.
Keenan's work as dean of the School of Education has created numerous opportunities for her to volunteer in Atlantic County schools as a guest reader, a Career Day speaker and a tutor. In 2014, Keenan joined the American Association of University Women. As an Atlantic County branch member, she became a champion of youth programs that encourage young women to pursue Science, Technology, Engineering and Mathematics (STEM) fields of study. She worked collaboratively with fellow Atlantic County branch members to establish Tween Tech, a one-day program for 6th-8th grade girls, and currently hosts several Teen Tech one-day programs for 9th-11th grade girls, in addition to the weeklong Tech Trek residential camp for rising 8th grade girls.
Keenan also volunteers her time to Atlantic Cape Community College on accreditation and assessment projects and is a member of the United Way Women's Leadership Initiative, Success by Six program.
"I am humbled by being recognized among so many accomplished women in our county," Keenan said. "For me, it means that empowering other women is now an even more important part of my pathway than it has previously been."
_Reported by Marielena Dottoli