MLK Day of Service Recognized by CIANJ
Galloway, N.J. - Stockton University's annual Martin Luther King, Jr. Day of Service was honored as a "Champion of Good Works" by the Commerce and Industry Association of New Jersey (CIANJ) and COMMERCE Magazine at their Fifth Annual Chairman's Reception on March 20 at Nanina's in the Park in Belleville.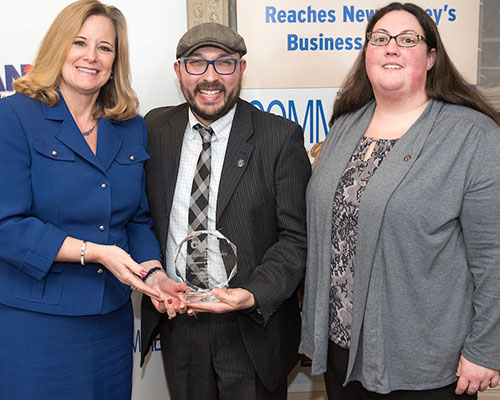 Thirty-nine companies, hospitals, colleges and universities, were honored at the gala reception, attended by more than 200 business executives.
"For most of the companies that we are honoring tonight, their generosity and kindness is part of their culture," said Anthony Russo, President of CIANJ. "The public is often unaware of the magnitude and scope of these good works. This reception is our way of shining a spotlight on 'Companies that Care'."
Stockton's annual Martin Luther King Day of Service reaches out to both local and global communities. Activities include clearing brush on a local horse-rescue farm, feeding the hungry in Atlantic City's Rescue Mission, packing supplies for the United Way, loading thousands of books to be shipped to schools in Zimbabwe, and wrapping toys for children in war-torn Syria. These efforts involve some 900 students doing projects with 36 community partners.
The award was accepted by Stockton Director of Service Learning Daniel Tomé, and Day of Service co-chair Diana Strelczyk, who drove to the event in the snow.
"We made great contacts and had an overall good time," Tome said. "We are looking forward to engaging our new friends in more opportunities for our faculty, students and community."
CIANJ is a statewide business advocacy organization, representing more than 900 corporate members from every industry sector. The organization asked the business community to share stories of its philanthropy. Their stories became a special section of the March issue of COMMERCE Magazine that was distributed at the reception.
Photo Caption: Kathleen Alexander, left, treasurer of CIANJ's Board of Directors and a partner with Sax, LLP, presents the CIANJ award to Stockton University's Daniel Tomé, Director of Service Learning and Diana Strelczyk, co-chair of Day of Service.
# # #
Contact:
Diane D'Amico
Director of News and Media Relations
Galloway, N.J. 08205
Diane.D'Amico@stockton.edu
609-652-4593
stockton.edu/media