Carluccio's Pizza Joins Chartwells at Atlantic City Campus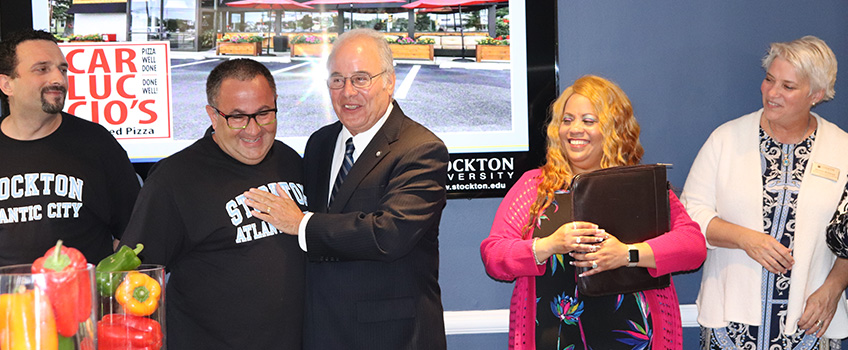 Atlantic City – Carluccio's Coal-Fired Pizza of Northfield will expand to the shore, joining Chartwells Higher Education to provide a variety of food options for students and the general public at the new Atlantic City campus.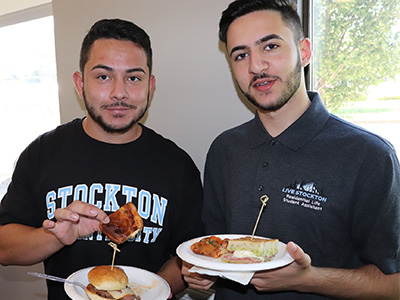 "I can't wait to bring my pizza to the students and the local residents in Atlantic City," owner Carlo Citera said. "I'm very excited."
Carluccio's, which was featured on the Food Network Show "Diners, Drive-Ins and Dives" with Guy Fieri, will offer a variety of pizza, calzones, Stromboli, and Carluccio's meatballs. Citera said they may also try some new varieties of pizza.
President Harvey Kesselman joined representatives from the Chelsea neighborhood to sample the pizza, burgers, calzones and sushi that will be offered at the Stockton Dining site in the Academic Center.
"I think they'll get a lot of people," said Carol Ruffu, president of the Chelsea Neighborhood Association.
Kesselman said he was thrilled that Stockton would continue its relationship with Chartwells in Atlantic City as well as welcome Carluccio's. Chartwells is the food service provider at the main Galloway campus.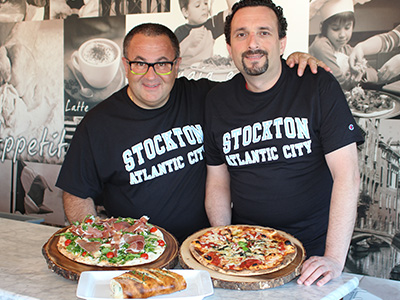 "Chartwells is a historic partner with Stockton, and it's also great to have Carluccio's, someone from our region, to be part of our new campus," Kesselman said.
In addition to Carluccio's the Southside Bistro will offer customized burgers, as well as cheesesteaks, quesadillas, Reubens and tuna melts.
The new AC Chop'd & Wrap'd will offer soups, build-your-own-salads, wraps, and paninis, featuring artisan breads.
Both locations will also offer breakfast starting at 7:30 a.m. with breakfast wraps to go and a create-your-own omelet station.
Sushi will also be available, and an "On the Go" site will offer pre-made sandwiches, salads and snacks.
"As the food service provider on campus, Chartwells Higher Education is proud to serve food that is not only well balanced, but that students love to eat," said Stephanie Moye, Resident District Manager for Chartwells Higher Education.
Stockton students will be able to use their meal plan service in Atlantic City as well as on the Galloway campus. Students living in Atlantic City are not required to have a meal plan, but can choose one if they wish. Housing units in the new residential complex include kitchens.
# # #
Contact:
Diane D'Amico
Director of News and Media Relations
Galloway, N.J. 08205
Diane.D'Amico@stockton.edu
609-652-4593
stockton.edu/media