Broadway Arts Lab Brings Professionals to Stockton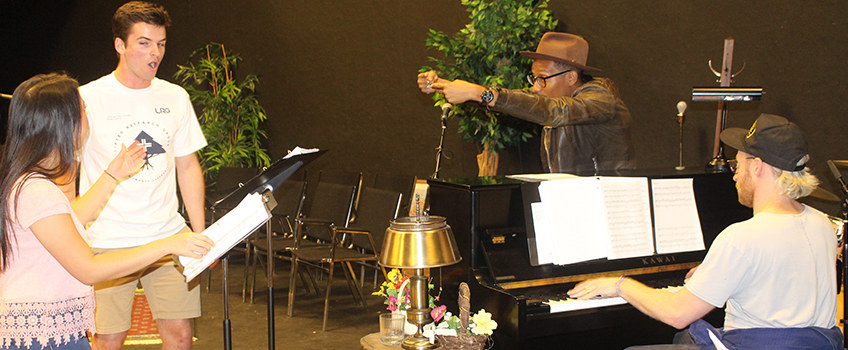 Galloway, N.J.– Thump, thump, thump thump…
The heel of Matt Gould's tan boot hits the floor in time with the music as Gould, seated at the piano, explains to students Jenna Purviance of Mantua and Liam McGettigan of New Gretna that they are not just singing a song, they are telling a story.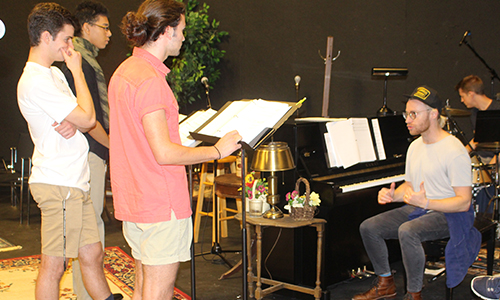 "How do I communicate this story?" he asks the students who are playing brother and sister. She is a Marine in Iraq, he is back home, and they are writing letters to each other in song.
"You have to re-live it," Gould says. "You are not just reading letters."
Gould and his partner, Griffin Matthews, spent two intense weeks at Stockton's first Broadway Arts Lab, which brings professionals to work with students on an original play.
That play, "The Family Project," will debut in the Experimental Theatre at Stockton on Nov. 7-11.
"It's been very, very emotional," said sophomore and stage manager Stephanie Maehr from Flemington, show is double majoring in theater management and hospitality and tourism management. "They are really into connecting with us emotionally and pushing us past boundaries. Everyone in the cast has improved tenfold since they've been here."
Theater Professor David Reiser applied for a Stockton 20/20 Initiatives Grant grant to fund Broadway Arts Lab project because he wanted students to have the experience of what it's like to create theater. The two-year grant will fund a dramatic playwright next year.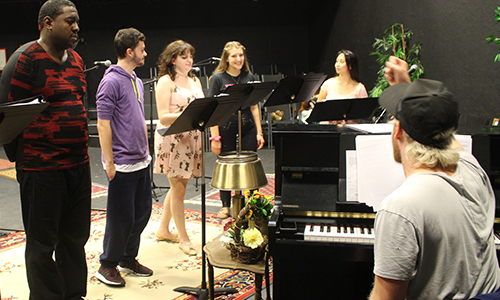 Gould and Matthews, who wrote the musical Witness Uganda, about their work there, first spent a day at Stockton in March 2018, meeting with theater as well as African-American studies and Understanding Global Learning classes. As part of the Arts Lab they also met with classes on small business, African American Theatre, Jewish Storytelling, Sociology of Gender and Black Lives.
"Matt and Griffin are creators who use the liberal arts, research, and a broad knowledge to make a performance," Reiser said. "They are showing students how things are not going to just be handed to them. They are going to have to work for it. It's making the students think about what's really important to them in their lives."
For Matthews and Gould, it was their first time working with university students, and they loved it.
"They are so open," Matthews said. "They have no baggage. They are inspiring. And it's always good to see your work on young people. They will give it to you straight. They won't lie to you. "
"They are just so passionate about what they are doing," Gould said. "They have been pushing themselves. They've been uncomfortable, and they've been pushing beyond it."
During rehearsal of a song sung by three students about a young man coming out as gay to his father, Gould is less concerned with the music than he is the message and the connection among the three.
"You have to trust each other," he says. "Just give into the group. That's the magic space. It's instinct and breath. It's that simple and that hard."
"This is unlike anything I have ever done," said McGettigan, a theater major. "We've been so involved creatively. It's a work in progress and we are part of the creation."
Marisa Mast, a theater major from Northfield, said it was thrilling to work with professionals.
"The cast is taking it very seriously," she said. "The fact that they trust us with their work is nice, but we don't want to mess it up. There's pressure. But it's good pressure."
As Gould works with students on the final piece, a song called "Echo" about history being forgotten and repeated, he again urges them to feel the message, not just sing it.
The lyrics include the lines "They say we'll never forget, then we forget, then we forget, we forget." Gould tells them they are sending a challenge to the audience to not forget, and to take action.
"This is the song at the end of the show," Gould says. "We are telling the audience that we invited you here because we want you to go out into the world a do something. So when you are singing, go for it. Go ahead, get angry. This is your future. Make the connection to what you are singing."
"The Family Project" will be performed in the Experimental Theatre at Stockton University at 7:30 p.m. Nov. 7-11 and 2 p.m. on Nov. 10 and 11.
# # #
Contact:
Diane D'Amico
Director of News and Media Relations
Galloway, N.J. 08205
Diane.DAmico@stockton.edu
609-652-4593
609-412-8069
stockton.edu/media