Volunteers Share Their Talents at 48 Blocks Atlantic City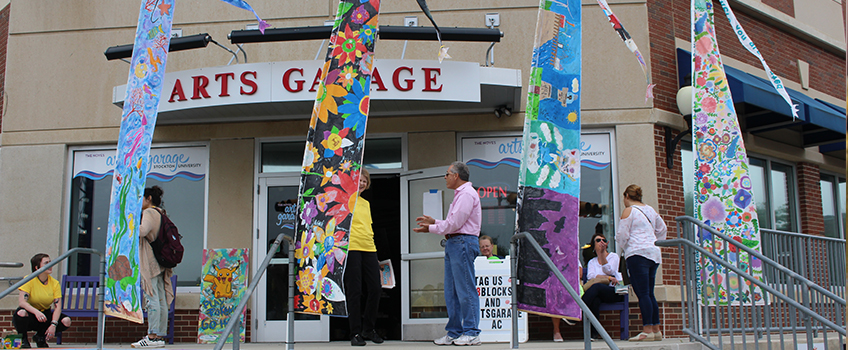 Galloway, N.J. _ From making peace flags to painting murals and helping children decorate playgrounds, Stockton University faculty, staff, students and alumni played an enthusiastic role in the second annual 48 Blocks Atlantic City celebration June 22-24.
While the weather was a bit overcast Saturday, the Noyes Arts Garage offered a colorful welcome, with banners at the entrance created by students in four Atlantic City Elementary Schools.
Noyes Museum of Art at Stockton Director of Education Saskia Schmidt and volunteers helped children create peace flags, while Stockton alumnus Vanessa Spollen, '18, of Northfield, a fine arts major at Stockton, painted a mural of the Atlantic City shoreline that will be hung in the Arts Garage alley.
Spollen first painted a colorful smaller version of the shoreline, then drew the outline on the larger mural. On Saturday she set up in the Arts Garage and began painting it in. She said she took her inspiration from the city.
Merydawilda Colón, executive director of the Center for Community Engagement, led projects at Buzby Village and Stanley Holmes Village to create :Where We Live" ribbons installations. She arrived with boxes of biodegradable paper streamers that children in the Homework Completion Programs used to decorate their fences and playgrounds.
"Everyone had a wonderful time," Colon said as the children took a snack break then posed for photos.
"48 Blocks Atlantic City," a community celebration of arts and culture featured dozens of projects and events along Atlantic City's 48 blocks.
Other Stockton involvement included performances by Levi Fox, who impersonated Enoch "Nucky" Johnson at the opening reception at the Claridge. Tim Kinsella and the South Jersey Culture and History Center offered oral histories at the Public Library and Emari DiGiorgio helped organize Poets on a Jitney.
On Sunday, Peter Murphy did a poetry reading at Dante Hall and musical entertainment was provided by Jed Gaylin and Chris DiSanto from the Bay Atlantic Symphony. Professor of Music Beverly Vaughn led area choirs at Kennedy Plaza.
48 Blocks AC was organized by the Atlantic City Arts Foundation in partnership with Stockton University, which will open a new residential campus in Atlantic City in the fall. Lisa Honaker, Dean of the School of Arts & Humanities, coordinated for Stockton.
View a gallery of photos from 48 Blocks on flickr.
Contact:
Diane D'Amico
Director of News and Media Relations
Galloway, N.J. 08205
Diane.D'Amico@stockton.edu
609-652-4593
stockton.edu/media