Stockton Receives Purple Heart Designation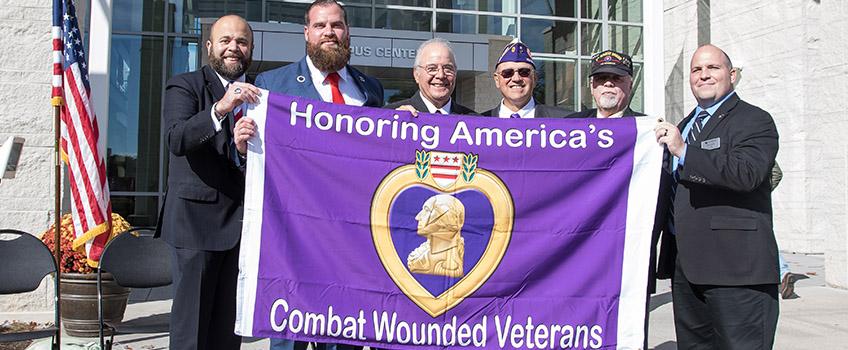 Galloway, N.J. _ Stockton University received two honors at its annual Veterans Day celebration Friday, one that recognized its services for veterans, and one from a veteran who had been the recipient of those services.
"You made me feel like I matter" said James F. Ryan, 55, of Mays Landing, a 2015 graduate of Stockton with a degree in social work who is now working with veterans.
Ryan presented a check for $1,850, the first installment of the James F. Ryan III Military Relief Fund that will provide scholarships and a revolving grant and loan fund to help veterans with costs ranging from books to car repairs or ren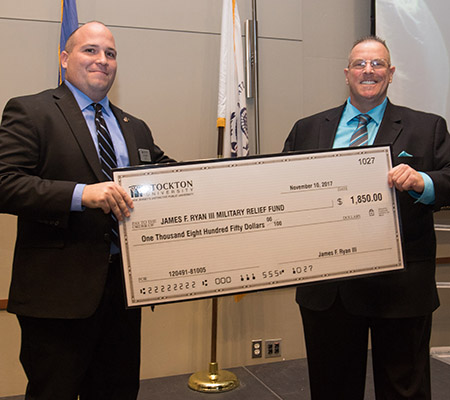 t if they are struggling.
Stockton was also recognized by the New Jersey Order of the Purple Heart for its level of veteran services. New Jersey Commander Joseph Belardo and Senior Vice Commander Norman Glover presented a flag, a welcome sign and Purple Heart coins to University officials.
Belardo said the group is working to recognize colleges and universities, towns, and counties that exemplify service to veterans and show genuine concern. Stockton is the third university to receive the designation.
"Veterans need guidance, understanding, support and a friendly environment," Belardo said. "You meet and exceed our requirements."
Stockton president Harvey Kesselman said many of Stockton's founding members and students in the early 1970s were Vietnam veterans.
"They helped establish the Stockton we know," he said.
Kesselman extended the Stockton community's gratitude to all veterans.
"Some served in wars long ago, and some just returned yesterday," he said. "We are deeply indebted to you."
Ryan said Stockton helped him when he was a struggling student veteran recovering from a car accident and surgery and he wants to show his Osprey Pride by giving back. He served in the Marines for more than 16 years, owns a car cleaning business. He is currently studying towards advanced degrees in military social work and social work management and policy. He has an internship with the Department of Veterans Affairs and will begin working for them in May 2018.
"My sole priority is to work with veterans," he said. "They need my time."
He said his goal is to raise $25,000 in 12 years for scholarships as well as the loan fund.
"I'm excited and ready to do this," he said.
Student veteran Caleb Taylor, who served as a rifleman in Afghanistan, said veterans have a responsibility to "our country, our families and ourselves."
"May you never stop striving to be the best you can be," he said. "Make the world around you better, and never forget the fallen."
Stockton's Assistant Director for Counseling Services, Karen Matsinger, who works with student veterans, called them "mirrors that reflect who we are as Americans." She said they come from diverse backgrounds and have very different experiences, and she feels privileged to get to know them, share their lives, and help them.
"They are the best reflection of who we are as a people," she said.
Stockton's Director of Military and Veterans Services Jason Babin also presented plaques of appreciation to several people who have worked for and with Stockton to help veterans. They are: Student veterans advocate and VFW Memorial Post 9462 Quartermaster Robert Ford, Stockton alumna and Army National Guard member Jessica Layton, Stockton employee Jenifer Robin, and N.J. Order of the Purple Heart Commander Joseph Belardo.
Contact:
Diane D'Amico
Director of News and Media Relations
Galloway, N.J. 08205
Diane.D'Amico@Stockton.edu