Stockton Recognizes Student Leaders, Clubs for Service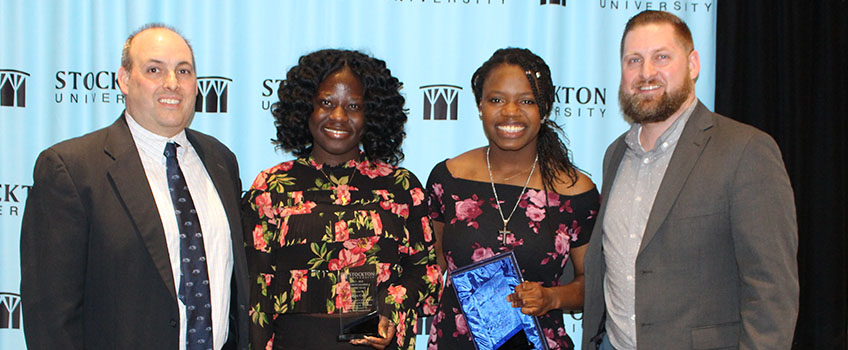 Galloway, NJ – With nearly 2,000 student-led events happening on campus this academic year, the Student Involvement Awards celebrated these initiatives—and the people behind the programming—at the annual ceremony April 19.
"There is great work happening here, and I'm looking forward to next year so I can see it from the beginning," said Chris Catching, vice president for Student Affairs, who joined Stockton in February. "Take this opportunity to reflect back on the impact you had," he advised the students in attendance.
Jeff Wakemen, director of Student Development, also noted that engagement leads to success for Stockton students. "The average GPA of an involved student is 3.40. There are 210 ways to get involved on campus," he said.
President Harvey Kesselman presented the first award of the evening to Eileen Conran-Folks, director of Hammonton & Manahawkin Instructional Sites, calling her "a game changer in every role she has had at Stockton."
The complete list of awards and honorees includes:
Dr. Harvey Kesselman Community Impact Award: Eileen Conran-Folks
Dean of Students Environment for Excellence Awards: Darius Edwards, Patricia Kelly, Maralyn Mason and Monica Viani
Community Service Award: Taylor McKay and the Graduate Physical Therapy Club
Be the Change Award: Teal Ribbon Project
Stockton Spirit Award: Dolma Sherpa
Graduate Community of Scholars Award: Jia "Miki" Liang and the Masters of Science Occupational Therapy program
L.E.A.D. Awards: Kathleen Connelly, James DelRocini, Kathleen Murray, Casey Van Newenhizen and Andrew Smythe
Outstanding Adviser of the Year Award: Doreen Golberg, Rotaract Club
Outstanding Program of the Year Award for Best New Program: Artist Reveal Party sponsored by the Stockton Entertainment Team
Outstanding Program of the Year Award for Best Educational Program: Drag Queen Sex Toy Bingo sponsored by Stockton's Pride Alliance
Outstanding Program of the Year Award for Best Cultural Program: Multicultural Fashion Show sponsored by the African Student Organization
Student Development Engagement Awards: Meranda Cardona, Kathleen Connelly, Vinh Dang, Pete Evangelista and Ryan Greene
Student Leader of the Year Awards: Adjoa Cofie and Rukayat Olunlade
Student Organization of the Year Award: Commuters on the Go and Community Gardens
Campus Champions Awards: La-Tasha Randolph and Andrew Smythe
Dean of Students Service Award: Mackenzie Porch
A gallery of photos from the event are available here.
# # #
Contact:
Stacey Clapp
Director of Digital Engagement
Galloway, N.J. 08205
Stacey.Clapp@stockton.edu
609-626-3645
stockton.edu/media